By Greg Carannante
City & Shore PRIME
Ten years ago, Julio Iglesias, Jr. was performing a private show in Moscow when someone in the audience called out a request that ultimately changed the young singer's career.
"Crazy! Please sing Crazy!"
"And I said to myself, Crazy? Do I even know the lyrics?" Iglesias said. "I've heard it so many times that I told the pianist, 'Same key as my dad, play Crazy.' And I sang the song for the first time. And people loved it. And I saw the reaction in peoples' faces, 'cause I reminded them a lot of my father when I sang that song. And that's the day I said, I've got to take all of my dad's songs and sing them my own way. This is what I've got to do."
Iglesias is speaking on The Baby Boomer Report podcast, the brainchild of South Florida broadcasting legend Tony Segreto. It kicked off earlier this year on thebabyboomerreport.com, and in September officially launched "just about everywhere in the podcast space," according to co-producer and entertainment industry veteran Frank Fiore.
The podcast features interviews with celebrities ranging from CBS This Morning's Gayle King to former Yankees star Bucky Dent to legendary disc jockey "Cousin Brucie" Morrow — all considerably older than the 47-year-old son of Julio Iglesias.
"It was so emotional for me 'cause I'd never done a song like that," Iglesias said, "and it's such a signature song … Willie Nelson, Patsy Cline. And the way my dad sings it is so beautiful. I've listened to it so many times that I actually knew the lyrics just by listening to my father. It's crazy that I sang Crazy! And that's when I realized that those are the songs that make me happy."
Still happy about them a decade later, this Valentine's Day Iglesias released his latest EP, Timeless, featuring covers of his father's To All the Girls I've Loved Before and other romantic classics.
During the interview, Iglesias revealed a fun fact about his grandfather — he fathered two children at the age of 92 (not a typo) — which kind of takes the point of the podcast to the nth degree.
"I believe there is a good percentage of people who are retired who have a lot of value to give in various areas of our society," says the 70-year-old Segreto. "Sometimes you need some inspiration. Sometimes you need a push. Sometimes you need to understand that there are other people in that baby boomer space who are still very active, vibrant and giving and have found themselves in positions to continue to thrive and do things that they want to do. And there are a lot of other seniors who would also want to be involved and need to hear from these people that, oh, my gosh, there is an opportunity, there is some value."
Though Iglesias was born about 10 years after the last baby boomer, his interview — like that of fellow Gen-Xer Tito Puente Jr. — underscores another of Segreto's reasons for targeting boomers.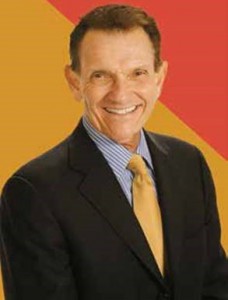 "I think we have a lot to learn," Segreto says. "Talking to younger people is extremely important because it's important for the boomer to stay current. I think it's great to be foundational. It's great to be traditional. It's great to have your comfort foods and comfort TV shows. But I also think it's important that we stay current … with how technology works, how we can stay in touch."
The Davie resident says one of the ways he stays in touch is by watching Avengers movies with his 22-year-old daughter, Samantha, a Florida State student. "I'm loving watching them," he adds. He and his wife of 30 years, Roseann, a former Kiss Country deejay, also have a 26-year-old son, Anthony.
Segreto's is a familiar voice to a large segment of South Floridians. For much of four decades, if they got their sports news on TV, there's a good chance it was his telegenic face delivering it on Miami's WTVJ. He also served as the station's news anchor before retiring in 2008. He can still be heard on South Florida air waves "Kickin' It Old School" on Jeff "Defo" DeForrest's 940 WINZ radio show.
As you'd expect, Segreto has also remained active in the community, with such affiliations as the Orange Bowl Committee, the Boys and Girls Club of Broward County and his alma mater, the University of Miami, for which he's recently hosted a number of virtual town hall events.
"At the end of the day, I'm a storyteller," Segreto says. "And I want to tell really good stories. And I want to tell stories from the mouths of those who helped create those stories. And to me, the people I've interviewed are not only inspiring, but they have great stories to tell."
Among them is drummer Cubby O'Brien. "To me that was one of the more inspirational ones. He was an original Mouseketeer when he was 8 years old. He wound up being the drummer for the Carpenters for 11 years, and now he's touring the country with Bernadette Peters. And he's 74 years old."
And one of the original rock 'n' roll radio personalities, Cousin Brucie spins some memorable tales about his days "spinning wax," such as the time Elvis just popped into his studio.
"That interview was such a kick for me because I grew up listening to Cousin Brucie," Segreto says of the 84-year-old deejay. "And now he's back on the air at WABC in New York, where it all started. So it just goes to show you what you can do."
Future guests are expected to include members of the Miami Dolphins 1972 undefeated team. But who would be Segreto's No. 1 dream guest?
"Gosh, if I could interview somebody like James Taylor, I think that would be pretty cool," he says. "But the whole idea is to eventually umbrella this out so that we're talking to not only high-profile people, but also everyday people who are doing some really cool things in their 70s.
"My father, God rest his soul, used to say if you hang onto your style of clothes long enough, they'll come back in style. And I think that's really kind of true about life, because we need the foundations which we all stand on. We stand on these shoulders and these foundations that have been built by men and women long before us. And to understand where we are at this moment, we need to understand where the moments were before us.
"I think that that plays into what we're doing with The Baby Boomer Report, and that plays into what I truly believe in."
 As well as on thebabyboomerreport.com, The Baby Boomer Report with Tony Segreto can be heard on Apple Podcasts, Google Podcasts, Spotify, Amazon Music and several other platforms. It's also on Facebook (@babyboomerreport) and Instagram (@thebabyboomerreport).
PHOTO: Segretto with New York Yankees great Bucky Dent (Courtesy)
Related Articles
Share
About Author
(0) Readers Comments