By Marcia Raffel Levin
City & Shore PRIME
In 2015 I had four fender-benders. Then I broke my leg in two places. I realized that at 81 I might have to give up driving – and ultimately, that I might have to consider life in a Senior Living Community.
I made the big decision on my own. I'd moved to a condo on the ocean a few years after my husband passed away and loved life on the beach. But I knew nothing lasts forever. And I knew I didn't want my kids to make the decision for me.
A friend and I had visited several Adult Living Facilities in Broward the summer before I made the decision. Researching a major lifestyle change is important. We looked at accommodations, public and dining areas, transportation services and programming.
I chose Five Star Residences in Hollywood because it's in Hollywood, the community I've lived in since 1960. It's where our three sons grew up, went to school and got married, although only one remained in the area. My friends were here, my physicians, favorite shops, etc.
Hollywood was home.
So in early February 2016, still in a wheelchair because of the double break, I moved into Five Star. I didn't know what to expect but felt I would be safe and comfortable.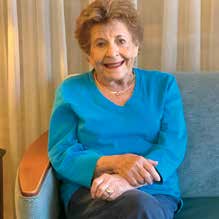 Marcia Raffel Levin (photo courtesy)
I already knew – from my years of living in the community and working for a local newspaper in the late '70s and early '80s – many of the residents. Many of them knew me, too – from the picture above my column as the paper's travel editor. A couple of former neighbors also lived in the building. The transition was easy.
That was almost five years ago. Then along came COVID-19.
A friend and I had been booked on a Cunard cruise, leaving from Port Everglades in mid-March for Southampton, England. Our cruise, of course, was canceled, as were all of my traveling plans. Meals were served to us in our apartments three times a day and quarantine became a way of life.
One day a friend asked, "want to learn to Zoom?"
While technology is not usually my thing, I'll try just about anything once. In this case it took the combined and very patient efforts of my friend and a grandson – who Zooms regularly – to teach me.
From a daily hour visit among three of us, we've accumulated some 25 members over the past six months. It's been a highlight of isolation to see at least a dozen of our friends each day from their own apartments. Many of our sessions are taped and broadcast on the facilty's in-house television network once a week, permitting hundreds of our neighbors a glimpse of other people.
Sure, we are seniors – and there are the inevitable calls of "do you see me?" and "can you hear me?" But we have each told our stories on Zoom, talked about current events, our travels and how we became engaged to that special person so many years ago. It's forged bonds and friendships and fostered an incredible interest in Zooming.
Many of us now take classes, participate in Zoom discussion groups via a variety of sources about anything from religion to theater, books, sports, grandkids and great grandkids and, of course in 2020, the coronavirus, climate change and politics.
One day about four months into quarantine, David Schism, our Lifestyle director, asked to interview me about my life before Five Star. We talked for a while.
Seemingly every talking head on television was discussing the isolation of the elderly and offering shopping lists of how to involve them in activities. All that advice, political news leading up to the election and the daily stats of deaths, hospitalizations and tests led to an uptick in depression and anxiety in many residents (as well in many younger people.) Five Star agreed, our residents needed some distraction.
David thought it might be a good idea to offer a televised interview program featuring residents, administrators and employees.
Suddenly, many years after my career in journalism, I found myself interviewing residents and employees of Five Star on a weekly TV program piped into residents' apartments.
It works for our residents and for me!
I have become a latter-day Barbara Walters. Getting to Know You, courtesy of the Lennon Sisters, is our theme song. I film a couple of shows a week.
I've interviewed a woman, born in Italy who came to the United States as a GI War Bride in 1947. She simultaneously raised a family, learned English and opened a grocery store in Flushing, N.Y. She later moved to Hollywood and operated a popular pizza place, then a restaurant and began catering a line of fine canapés to major area hotels. In 2006 she sold the catering company to a national firm for six figures and wrote a book entitled Only in America.
There's the retired meteorologist, who worked for both NOAA and NASA for many years and traveled the world. When asked to explain what a weatherman does, he replies (as he has for more than 50 years,) "I look into her eyes and ask 'whether'?"
One of my personal favorite interviews was with Executive Director who came to the States from Cuba at 19 and spoke no English. He and his family wound up in South Florida. He began work as a hotel bellman and moved to guest relations, switching to a career in Adult Living Facilities. He and his crew have kept us safe through this pandemic.
Another Cuban, a resident, went to college in Havana with a guy named Fidel Castro. One of the men managed a traveling soccer team, while a dining room supervisor plays bass guitar and entertained viewers with a performance of  Jamaican music.
As for me? Just shy of 87, I'm enjoying my age, my family – including three precious grandchildren – and still "getting to know you."
Related Articles
Share
About Author
(0) Readers Comments