By Robyn A. Friedman
City & Shore PRIME 
We Floridians already know the advantages of living here. Fabulous weather. Year-round golf. The beach. No income taxes. World-class cultural opportunities, dining and shopping.
Retirees know that too. And, now that a new study finds four of the five best cities for retirement are in Florida, it looks like our secret is out.
In early September, personal finance website WalletHub released "2020's Best and Worst Places to Retire," comparing 182 U.S. cities across 46 key measures, including affordability, quality of life, health care and availability of recreational activities. The data analyzed ranged from the cost of living to retired taxpayer friendliness to the states' health infrastructure.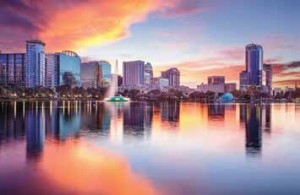 Orlando (Shutterstock image)
Orlando topped the list, ranking highly for affordability and activities. Tampa, Charleston (South Carolina), Miami and Fort Lauderdale rounded out the top five on the list of best retirement cities.
"Florida is a popular retirement destination," says Jill Gonzalez, a WalletHub analyst. "Its tax friendliness toward retired people and the lack of an inheritance or estate tax are some of the reasons for that."
Gonzalez says Florida cities also ranked highly because of the abundance of recreational and cultural activities here, along with the large number of healthcare facilities.
In case you're wondering what the worst cities to retire in are, Newark, N.J. ranked last, followed by Stockton, Calif. and Bridgeport, Conn.
"There are several things to take into account when choosing a city to retire to," Gonzalez says. "People should consider the range of available activities, affordability and healthcare, as well as the overall quality of life in each place."
But for many people already living in Florida, there's no place like home.
Related Articles
Share
About Author
(0) Readers Comments