By Carol Brzozowski
City & Shore PRIME
Melissa Schwartz had been doing kickboxing and Kenpo karate when her sensei added running to the training. Noting her exceptional speed, he suggested she race.
"Always up for a challenge, I signed up for the Tamarac Turkey Trot in 2006, my very first 5K," says Schwartz, who finished sixth in her age group.
She then channeled her competitive nature to do better in her next race – the Butterfly Run in Coconut Creek – and she was the top finisher in her age group. She was hooked.
The 61-year-old globetrotting vice president of sales for Williamson Home and Coral Springs mother of two adult sons now laces up her shoes almost daily to run for pleasure or competition in distances up to a half marathon.
"My attitude on race days is always to give it an honest, 100 percent effort," Schwartz says. "When you do that, there are no regrets."
She embraces cross-training, adding swimming to work through running injuries, to take on a new challenge and compete. Her weekly fitness regime also encompasses cycling, Pilates, weight training and Tai Chi.
And with a focus on optimal sleep and good nutrition, her approach is key to maintaining her overall physical and mental fitness and preventing injuries associated with overuse.
Among the races in which Schwartz competes: the Run for Beigel 5K, honoring cross-country coach Scott Beigel, killed in the 2018 Marjory Stoneman Douglas High School shootings. When she's not running races, she's volunteering at the events.
Schwartz credits her karate sensei, Kai Blackstar, and her first swim coach, the late Chris Jackson, "for pushing me to do things I never thought I would do."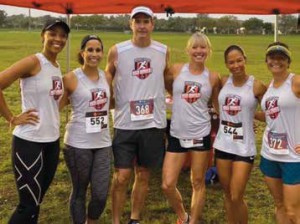 Now she serves as a Level 1 certified USA Track & Field coach. She's also a long-time board member and vice president for the Northwest Broward Road Runners Club (NWBRRC) and head coach for its youth program.
The NWBRRC Youth Running Program – promoting running as a healthy lifestyle for children ages four to 14 – has twice received a Road Runners Clubs of America Kids Run the Nation youth running program grant. The program was recently expanded to include families.
Suffering multiple injuries over the years has given Schwartz an appreciation for people's "come back" attitude after facing challenges.
"Between stress fractures, strains, sprains, broken toes and a broken foot, I have managed to stay fit through the recovery and rehab and make it back out there to race again," she says.
"Every time I do that, I feel an overwhelming amount of gratitude in being able to get up each morning to do the things I love: running and swimming. My fitness level is a happy by-product of doing the things I love to do every day."
PHOTOS: Courtesy Melissa Schwartz
Related Articles
Share
About Author
(0) Readers Comments