Later this year, pay lanes from I-95 in Miami-Dade are scheduled to spread north to the Palm Beach County line and west on I-595. Most of Broward County's expressways will officially have a luxury option.
When they do, everyone who drives the roads regularly will be thinking about a hybrid. Because here's the kicker: Hybrids don't pay express-lane tolls.
It's then that a whole lot more people may be thinking about the Lincoln MKZ Hybrid. It's just as luxe as any other luxury hybrid, while clocking in at a considerably cheaper price tag.
It's also a whole lot less hybrid-ish.
You know what that means if you've driven gas-electric combo cars before. Most of them have economy rental car interiors matched with the performance of your average scooter.
Luxury hybrids are limited to a few BMWs, Mercedes, and Lexuses – all of which will set you back several years worth of luxury lane tolls compared to the MKZ. Our tester rang in at just shy of $44,000, five grand less than a comparably equipped Lexus. Spec out a BMW with the toys in our MKZ Hybrid tester and you'd be spending a whopping $27,000 more.
It's also worth noting that Lincoln doesn't charge more for the hybrid, so there's no reason not to go for that extra electric engine.
The fact that the MKZ is different from other hybrids is evident from first glance. The front grill spreads like wings to aggressive-looking headlights. Sharp creases continue along a sporty shape that ends in a dramatic tail fin jutting from the trunk. Along the back is a stretch of artistic LED lights.
There's also something absent from that shape that only the greenest of drivers won't see right off: The word "hybrid." While most hybrids shout their green stature with colorful leafs or gaudy decals, the MKZ promises 45 mpg without broadcasting it to the neighbors.
You'll be reminded of its hybrid status after a moderately sized grocery trip, as the bags will just about fill up a trunk that's partially booked with a shelf holding the batteries. While driving, however, you'd be forgiven for forgetting about the gas-electric engine under the hood. Even when the gas engine kicks in, this Lincoln remains as silent as a library on a Saturday morning.
There's a window in the 8-inch touch screen on the dash that shows when the gas engine has kicked in. The display surrounding the speedometer also offers an option for the driver to track the progress of recharging the batteries from braking. You can even select an option where computer-generated leaves sprout when you're driving economically, for those who want to not only save the Earth but also watch it sprout virtually.
While growing pet plants, you'll be doing it with nearly every luxury feature needed in a car, including maybe the coolest AC-equipped seats around. There's a backup camera and adjustable-tint mood lighting. The retractable roof removes the top to almost convertible levels. The key can turn the MKZ remotely, while also opening and shutting the trunk. The wide seats and leather-wrapped dash and steering wheel all give the MKZ the feel of a car with a far larger window sticker.
If you haven't been in a Lincoln in a while, the MKZ might surprise you by how very European it feels. And it feels even better in the expressway pay lanes.
—Eric Barton
Lincoln MKZ Hybrid: Pompano Lincoln, 2741 N. Federal Highway, Pompano Beach, 954-782-8110; Margate Lincoln, 2250 N. State Road 7, Margate, 888-867-7096; Lincoln of Delray, 2102 S. Federal Highway, Delray Beach, 561-454-1800; Pines Ford Lincoln, 8655 Pines Blvd., Pembroke Pines, 954-443-7000, lincoln.com.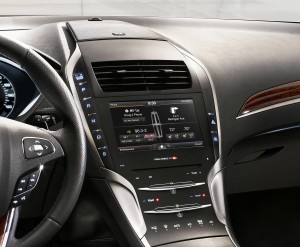 Related Articles
Share
About Author
(0) Readers Comments