By Eric Barton
City & Shore Magazine – The Luxury Issue
We often rely on them to produce the meals of our biggest moments in life. Birthdays, anniversaries, the marriages of our children – we cross those milestones with plates sent out by the chefs we sometimes see as part of our families.
And so we wondered: what do those chefs who so often help to define our celebrations see as a truly special meal? If some of South Florida's finest chefs were to splurge on an especially lavish meal, what would that look like? How have they defined it on their own celebratory moments?
Their answers spoke of family memories and trips taken to somewhere memorable. They told us about the importance of ingredients and creating a show for your next dinner party. The chefs are, of course, just like us, wanting to cross milestones with a plate of something amazing. Here then is how they define a truly momentous meal.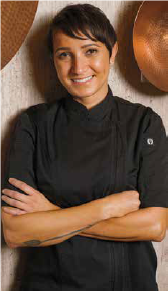 Paula DaSilva
Executive chef of the Ritz-Carlton Hotel in Fort Lauderdale
We never went out to eat when I was growing up. My parents owned restaurants for many years, and my Mom couldn't get past trusting people to cook her food properly. During special holidays, however, we had a feast. Every animal was on the table. Four to six different starches and legumes. A plethora of salads and other vegetables and sweets galore. We had leftovers to last a week. It's something I still do today. During quarantine, I purchased octopus, bluefin tuna and dry aged steaks from one of my vendors. I also visited my local farmer and picked up some beautiful vegetables. They were all trying to get things off their hands, as restaurants were shut down, so I was able to get some amazing product and put together the kind of feast I would have as a kid. Cooking at home is different from the restaurant, where there is so much coordination and attention to the process. It's something I recall picking up while traveling. Over a decade ago, I visited a two Michelin star restaurant in Holland called Da Vinci. I was fascinated by the level of service, décor and the precision of attention to everything. The kitchen was open, and everyone moved like a bunch of swans, so graceful and smooth. It made me raise my own stakes once I returned to my kitchen in Florida. I brought back this experience with me, this extreme level of detail. While over a decade later, I can't tell you what I ate – I know that it was all very well put together and meticulous. I can tell you the feeling I had was unforgettable.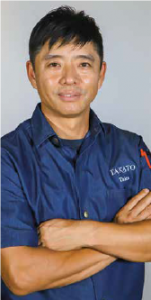 Taek "Taka" Lee
Executive Chef and co-owner of Takato on Fort Lauderdale Beach
When I lived in Japan many years ago as a student, I loved trying new restaurants around town. One afternoon I stumbled upon an Italian restaurant. I can still clearly remember the chef making the noodles by scratch and the aroma of fresh-baked bread. He welcomed me in and said, 'Let me create a meal for you!' Of course with all the amazing aromas and the action going on I said yes. My mind was blown from the fresh ingredients to the presentation of each dish. When the bill came, my heart dropped. It was the most expensive I have ever seen in my college years: $68 for one person. Growing up in South Korea, I lived near the mountains and far away from the city. There weren't many choices for going out for a meal. When we did celebrate birthdays, we went to a small traditional Korean barbecue restaurant owned by my ahjumma, or auntie. Her homemade banchan, the small side dishes served in Korea, were so flavorful, and the meat was marinated perfectly with all different spices. So that experience at the Italian restaurant was my first real experience with what for me was a major splurge. But it still helps me even now, because the way I felt about walking into that restaurant is how I want all my guests to feel, to enjoy and appreciate every dish I make – the aroma, ambience and passion, from the moment they walk in.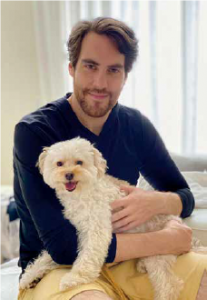 Max Lipton
Owner of Viva la Playa and Benny's on the Beach in Lake Worth
Alinea. That restaurant changed my life. Alinea is a three-Michelin-star restaurant in Chicago helmed by Chef Grant Achatz. It was the first time I had a multi-sensory dining experience done in a buttoned-up and professional way: white chocolate and caviar shaped like a rock, a course that was cooking in front of you in the centerpiece for a majority of the meal without you even knowing it and a dessert that incorporated every cook in the kitchen painting or placing various components on a mat that was pulled down from the ceiling. Alinea taught me that anything is possible, and it forever changed the way I looked at food and the possibilities of how it could be served. For a home cook looking to create that kind of experience, start with the highest quality ingredients. From there, creativity is your friend. Strawberry and mushrooms, coconut and corn, banana and caviar – explore combinations that shouldn't work, but do. Last year I decided to cook a multi-course meal for eight people for my Mom's birthday. The first course was an homage to one of my favorite restaurants in New Orleans, with a crispy, breaded, deep-fried soft-poached egg atop creamy smoked paprika spaghetti. Next came the 'ceviche,' freshly caught wahoo cured in lime juice and red chili flake, sliced thin and placed in a broth of coconut water, green apple juice, activated charcoal and ginger. Next came crispy duck leg confit over a thick Thai green curry and crispy rice garnished with sliced red Fresno chili and green onion. For dessert I did a toasted s'mores panna cotta with a little campfire built on top. Instead of sugar I used marshmallow fluff, and I smoked the base of the panna cotta using a smoking gun. Once the panna cotta was set, I used sugar-coated chocolate 'river rocks' in a circle on top and made a little graham cracker/ginger pile in the middle so it resembled a fire pit. To serve, I covered the dish with a clear cloche and added more applewood smoke underneath so that when it was placed in front of the guests all they could see was a dome of smoke. Once they removed the cloche, the smoke would dissipate and reveal the campfire scene below. As Alinea taught me, it is this kind of dramatic presentation that can add something special to the dining experience.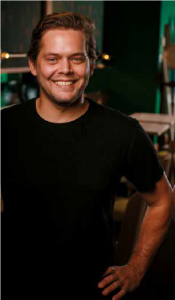 Alex Meyer
Co-chef and co-owner with Luci Giangrandi of Boia De in Miami
For Luci and I, our splurge is always sushi. It started years ago in Brooklyn when we started dating. We'd go to this Japanese place once or twice a month called 1 or 8. Chef Kazuo Yoshida, one of the top five sushi chefs in New York and one of the funniest and best human beings, served a $100 omakase: an appetizer or two and, no joke, 25 pieces of unique nigiri pieces, plus miso soup and dessert. The GM, Shinji Mizutani, knew everything about every bottle of sake he gave us, history, terroir, technique and backstory on the producer. He came to understand our tastes and never once gave us a repeat bottle in the two years we went there. His wife ran to the door and was so excited every time we walked in. It was the perfect combination of comfort, familiarity and luxury. For the home chef to translate this, the first step is knowing your audience. Do they like juicy California cabs or peppery Beaujolais? What are their food preferences? And once you know all that, you need to understand there's a whole song-and-dance element to the evening. You don't just sit them at the table and cook them food in the other room. You drink wine and b.s. with one another while you cook the food, so it better be something you're comfortable making. Comfort, familiarity and luxury. I helped a friend execute an excellent meal for his wife's birthday just two weeks ago. He and his wife had an incredibly memorable meal years ago at The Nomad in New York, where I worked for almost three years. The signature dish at that place was a whole roasted chicken with foie gras, black truffles, butter and brioche breadcrumbs stuffed under the skin of the chicken. I'd made it thousands of times, but it's a daunting task for a home cook. I butchered and stuffed the chicken and sent it to him with detailed cooking instructions. He nailed it, and his wife loved it. I felt like that was a really special extra touch on an already thoughtful meal he had planned, and I couldn't have been happier to be a part of it. Again, comfort, familiarity and luxury.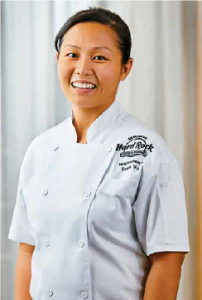 Tram Vu
Executive Chef of Cipresso in the Seminole Hard Rock Hotel & Casino in Hollywood
In Taiwan, my husband and I went to a very intimate restaurant up in the mountains that only does about 20 covers a day. It's called Shi Yang Tea House, and the chef grows all of his own produce and every dish is created based on the harvest and what's in season. We had an amazing 10-course meal, and the standout was the lotus flower on mushroom bamboo soup – it was beautifully presented with the flower appearing to bloom when you pour the soup over it. In terms of the ingredients, everything was fairly simple, but the quality and the flavors of the fresh produce came across so clearly. It really goes to show the importance of quality and freshness in the kitchen. My husband and I, we're both chefs, so when we get the rare night off together, we don't always want to go out to eat. We prefer the comfort of cooking in our own kitchen and making meals together that are meaningful to us. It was like that growing up too; my Mom preferred to cook at home instead of going out to eat. The act of cooking together as a family also made these special occasions extra memorable. A traditional splurge meal in the Asian culture would be a whole-roasted pig or pipa roast duck. You see it served frequently for Chinese New Year, weddings, Christmas. My Mom makes one that she stuffs with shiitake and wood ear mushrooms and dried lily. Recently, for my Dad's birthday, we did a braised short rib, grilled lobster, crawfish, traditional stir fry noodles and kimbap, a Korean-style sushi. Everyone had a role in the kitchen, and it was wonderful getting everyone together to celebrate Dad's birthday.
Main photo: Tagliatelle Bolognese, from Cipresso at the Seminole Hard Rock in Hollywood; chef photos courtesy.
Related Articles
Share
About Author
(0) Readers Comments