By Thomas Swick
City & Shore HOME Issue
For the pantheon of Miami streets, Coral Way rarely gets a mention, yet it does more to lift my spirits than Calle Ocho or Collins Avenue or even Ocean Drive. And this despite the fact that, unlike them, it's not a destination – it's a corridor, used by many to reach another fabled thoroughfare, Miracle Mile. But it combines, as few streets do – even in worldly, peerless New York – the richness of an international bazaar with the beauty of an arboretum.
Coral Way is a long street, stretching from the southern edge of Brickell to west of the turnpike, and absorbing Miracle Mile in its alias-prone journey. But it comes to full flower between the I-95 overpass and the entrance to Coral Gables, in a section that could be named Banyan Way.
Those massive yet ethereal trees line the median and create an emerald canopy, a sun-dappled dreamscape. Most of them alone would look impressive – like something you'd find in a jungle enveloping a ruin – yet here they come one after the other, block after block of thickly roped trunks – middle-of-the-road musculature – and lanes-spanning branches. When I first saw Coral Way, as a transplanted northerner, I was as dazzled by the trees' architecture as by their profusion: an uninterrupted ribbon (except at intersections) of exotic grandeur. More than anything else I'd seen – Art Deco hotels in South Beach, roosters in Little Havana – the trees told me I'd arrived in a place that was different.
Carlos Eire didn't find them foreign – they were just like the trees in his old neighborhood in Havana – but he did see them as celestial beings. "Those trees on Coral Way suddenly turned into angels," he wrote in Learning to Die in Miami: Confessions of a Refugee Boy. "Guardian angels thrusting spears and swords into demons." He was fantasizing from the backseat of a social worker's car, a Pedro Pan kid uprooted from parents, homeland and native tongue. "As long as these trees are here," he told himself, "I'll be all right."
The banyans are so striking they tend to overshadow Coral Way's equally entwined but somewhat less extravagant humanity. Add the fact that people tend to drive and park on the street rather than stroll and chat and it's understandable that the vegetation gets all the attention. But like any great boulevard, it is a midway of commerce and communications, services and interactions, all conducted, as on any great American boulevard, in a hodgepodge of languages and accents.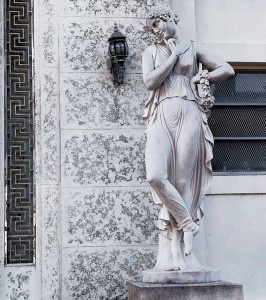 There are apartment houses and office buildings, corporations and foundations, schools and houses of worship. The big three – Beth David Synagogue, St. Sophia Greek Orthodox Cathedral, Our Lady of Lebanon Maronite Church – dramatically depart from the street's low-slung posture and everyday feel: classical statuary adorns the cathedral grounds. In non-pandemic times, the Greeks and the Lebanese hold annual festivals.
Just down from the synagogue, the SGI-USA Buddhist Center stands next door to the American Museum of the Cuban Diaspora, which occupies another of the street's rare stately buildings, formerly used by the Florida Grand Opera.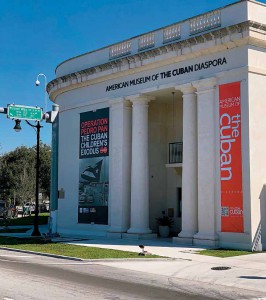 Otherwise, Coral Way is fairly pedestrian (without pedestrians), populated by bike shops and clothing stores, ballet studios and martial arts academies, travel agencies and hair salons. (The Dominican flags painted on the front of Mambo Style Barbershop nicely duplicate the colors of its barber's pole.) There are clinics and pharmacies, acupuncturists and chiropractors, opticians and lawyers. The office of Gerson & Schwartz, personal injury attorneys, conveniently sits next door to Hope Physical Rehabilitation.
There are gas stations – slaking the traffic's thirst and further discouraging flâneurs – but they include perhaps the prettiest in the county: Marathon Gas, on the corner of 17th Avenue, with its orange-tiled porticos supported by columns that vaguely resemble air springs. And there are other stations: Radio Caracol, broadcasting in Spanish, and WDNA, playing "serious jazz" from a building whose façade is graced by the silhouette of a trumpeter.
Yet Coral Way's greatest gift to the city, apart from trees, is food. Oriental Bakery and Grocery advertises "Imported Syrian, Greek & Armenian Fine Foods" while, not far away, The Middle East Best Food Bakery and Grocery offers seven types of baklava (including borderline blasphemous chocolate). Zerpa's Antojos Criollos stocks an array of Venezuelan products, and the air in Ricky Bakery is redolent of pastelitos and fried empanadas. (A few years back New Times declared the empanadas the best in the city.) At Romanicos Chocolate, truffles are made from a beloved grandmother's recipe, and across the street at Oh My Gosh!!!, rows of Brazilian brigadeiros sit in glass cases like edible golf balls.
And then there are the restaurants. They're numerous – even discounting the chains – and, like the street they're on, generally unsung. They rarely garner the splashy write-ups that places in hipper neighborhoods get, a situation that people who like good food in unpretentious surroundings view as a plus. Xixón (the Asturian name for the city of Gijón) serves Spanish classics – velvety gazpacho, bubbling paellas – to the sounds of a guitar instead of house music. There are two Greek restaurants – Maria's and Mykonos – and a couple Chinese (one with the irresistible name of Yum Yum). Italy of course is well-represented, as are Peru (305 Peruvian Modern Cuisine joining the old favorite Farolito) and Portugal (Braga the new kid a couple blocks east of Old Lisbon). Last year saw the arrival of Majestic, a bright, cozy Portuguese café and bakehouse where a sophisticated clientele savors pastéis de nata (egg custard pastries) while listening to fado and Bossa Nova.
At Doggi's Arepa Bar the crisp, white cornmeal pockets (worlds removed from the sweet greasy discs sold at festivals and ballgames) come with a variety of delectable fillings. On the corner, La Boulangerie Boul'Mich stands like a nod to the street's urban if elongated elan.
Al Carbon is popular for stuffed burgers and craft beers, and The Mighty is a friendly neighborhood bar – that serves oysters and other fare. They share the same block, creating a kind of U.S.A. enclave (even with the burger joint's name). But outside their doors the banyans align.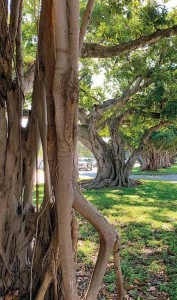 Photos by Thomas Swick
Related Articles
Share
About Author
(0) Readers Comments