By Mark Gauert
City & Shore Magazine
Bryan and Sarah Baeumler are big on HGTV Canada. Maybe not American HGTV stars Chip and Joanna Gaines big. No, not yet.
But big enough, they get mobbed at Canadian airports when they travel to their homes in West Palm Beach or the Bahamas. Everybody wants to say hello or shake their hands. Everybody wants to take a selfie with the Baeumlers, who HGTV compares to the Swiss Family Robinson.
"We can't go anywhere in Canada without being recognized,'' says Bryan, a licensed contractor who does most of the heavy knock-down on the family's long-running home-improvement TV show.
"In Canada, it's like that all the time," says Sarah, who does the finer interior work.
You've probably never seen Bryan, Sarah and their four kids' wildly popular, award-winning shows – which have aired in 32 countries, but are just getting started in the United States – but they often talk like this, quickly completing each other's sentences.
How do they escape the crush of all that attention Up North?
"We moved to Florida!" Bryan says of the family's home in West Palm Beach.
Actually, "We're now on an island in the Bahamas,'' Sarah corrects.
"Yeah, we moved to an island," Bryan says.
The "island" is South Andros in the Bahamas, the sparsely populated home to a rundown, termite-infested resort called the Emerald Palms. No one had stayed there in years. It had been on the market for at least 10 years – never a good sign in any real estate market.
But, "We were there like five minutes and we said, 'Should we buy this place?''' says Bryan, the contractor turned TV star.
"I knew he was serious,'' says Sarah, the interior designer. "And that was it."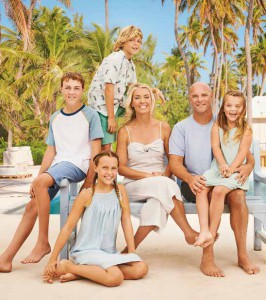 If the story of a telegenic family of do-it-yourselfers finding a fix-'er-up project on a beautiful, remote island filled with friendly natives (and the occasional scorpion) reads like the plot of an HGTV series, it did to the Baeumlers, too. The two-season, 23-episode series, about their renovation of the old resort, debuted on HGTV Canada last April as "Island of Bryan."
In Season 1 of the now renamed "Renovation Island," which will made its U.S. debut at June 7 on HGTV, the Baeumlers, "pack up their family and move to a tropical island with the dream to renovate an entire resort," according to HGTV. In Season 2, "after a roller-coaster year of construction, Bryan and Sarah will have to tackle the seemingly impossible to transform their spectacular vision, Caerula Mar Club."
And, spoiler alert, their Caerula Mar Club is spectacular. "Condé Nast Traveler" included it in this year's hot lists of the Best Hotels and Best New Hotels in the world.
"Caerula Mar has achieved that elusive vacation maxim, one that other hotels promise but rarely deliver on," "Traveler" pronounced. "[That is,] ensuring you have the best time possible, even when you're doing nothing at all."
TV crews from Canada flew into the tiny Congo Town airport on South Andros to interview the Baeumlers in mid-February, just before the grand opening. The boutique resort's six private villas and 18 Clubhouse Suites – set along white-sandy beaches swaying with tall coconut palms – were booking up fast with fans from around the world who'd seen the show.
Word about the resort on the relatively unknown island in the Bahamas was just starting to spread into South Florida, too. People knew Nassau, Freeport, Bimini, sure – but Andros? Not so much. All the same, according to "Traveler," "Andros may be the spot to watch for in 2020."
"It's quick and easy to travel here and from Fort Lauderdale," Sarah says, "and really come here and escape."
Then the world started shutting down, as new coronavirus restrictions began to spread in March. The slender connections to the mainland that made South Andros such an appealing escape – the Congo Town airport and Driggs Hill Dock, where almost all supplies come onto the island twice a week – began to shut down, too.
"The Bahamas was very quick to shut down – and thankfully, because there are no cases [of Covid-19] here on Andros," Sarah says. "But it has quite a few limitations, because there's no boats, there's no planes. What the island has is what we have, in terms of food and medical supplies."
They managed to get their remaining few guests on one-way flights off the island, but the Baeumlers decided to stay together on South Andros and ride out the pandemic there.
"We were talking to family [in Canada and Florida], and they were talking about food rationing, and problems in the grocery stores," Sarah says, "and Bryan said, 'I really don't want to take our children back and expose them to that, because right now, we're together and can discuss everything happening globally.'"
"If the world goes fully crazy, this is where I'd want to be," Bryan had said in February about how easy it would be to live off the sea – brimming with grouper, conch and spiny lobster – and surrounded by islanders who'd always shared burdens together.
"When you talk with [the islanders, many of whom work at the resort and appear on the show], there's so much positivity still coming from them," Sarah says. "We're fortunate to be surrounded by a community whose response is, we know this hotel will be open again, and we'll be right here ready to help you again."
For the moment, they don't know when that might be. Maybe July, Sarah says, maybe late summer – although that might mean they'd be reopening near the height of hurricane season, when they'd normally be taking time off anyway. They're all still mindful of Hurricane Dorian's destruction last September, which largely spared Andros but caused the deaths of dozens of family members of the Caerula Mar's staff elsewhere in the Bahamas, Sarah says.
"We're really at the mercy of Bahamas government, and when they reopen travel," she says. There's also the question of opening up the island – now free of Covid-19 cases – to the world.
"That's a big question," Sarah says, "and Bryan and I both feel that for us to open the floodgates and start bringing travel in internationally, we have to be 100 percent sure we're doing it in a responsible way."
"That's a big question. Bryan and I both feel that for us to open the floodgates and start bringing travel in internationally, we have to be 100 percent sure we're doing it in a responsible way."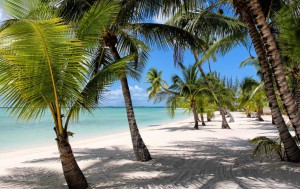 So, for the moment, they wait. Home-schooling the kids, ages 14, 12, 9 and 7. Taking long walks on the beach. Meeting with staff they've kept on to maintain the resort, and with staff they've had to lay off for now – but hope to bring back soon.
"One thing that's very fortunate about the Bahamian people is their resilience," Sarah says. "They've said quite honestly, we had to exist for over a decade before the hotel was open, with no employment. And they lived off the land in a very humble manner – and I think, unlike some people in North America, and the U.S. and Canada – they can survive very well, they are resilient people."
Until then, there's the TV show to show how they got where they are now. The tear downs and build backs. The DIY debris fields. The beach sand piled up like dunes against Egyptian tombs. And the occasional scorpion.
Bryan and Sarah Baeumler may not be Chip and Joanna Gaines big. No, not yet.
"Right now, once every two weeks or so, someone in Florida will recognize us," Bryan says. "[But] if the show does as well in the U.S. as it has in Canada, it could just ruin our anonymity in Florida.''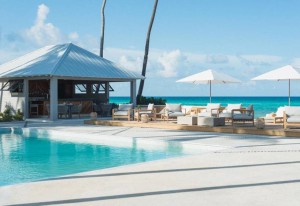 IF YOU GO
The Caerula Mar Club on South Andros Island in the Bahamas is temporarily closed because of coronavirus travel restrictions, but is accepting reservations for new arrivals from Oct. 24, 2020. "As we continue to monitor this evolving situation, this date may be adjusted." See the latest updates at caerulamar.com/covid-19/.
"Renovation Island," the HGTV Canada series about Sarah and Bryan Baeumler's renovation of the property, airs at 8 p.m. Sundays on HGTV.
Photos: Courtesy Bryan and Sarah Baeumler or by Mark Gauert
.
Related Articles
Share
About Author
(0) Readers Comments