By Eric Barton
City & Shore Magazine 
There comes a moment in your life when, for the first time, you get to pick where to spend the holidays. Perhaps it's after you've established a young family of your own and you decide staying home with the kiddos sounds a whole lot easier than going to see their grandparents. Or maybe it's later when the whole family, your kids and maybe their kids too, heads west and spends a white Christmas around a lodge's roaring fire.
Perhaps the islands are a less expected holiday getaway, and that's a downright shame. Yes, you will surely not get snow on Christmas. But head into the Caribbean basin this December and you'll find Mardi Gras-like parades, parties that run until sunrise and rich cultural traditions that just might be the new way you celebrate.
Finding these festivities isn't always as easy as just showing up to a sandy resort, so we've found a few ideal spots to celebrate the holidays in the Caribbean basin.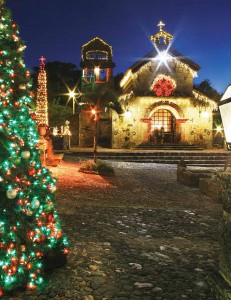 Casa de Campo/courtesy
The Land Where the Holidays Are Everything
It would be hard to find a place more excited about the holidays than the Dominican Republic. Located on the eastern side of Hispaniola, Dominicans begin their Christmas celebrations sometimes as early as late October, with months of parties and concerts and a whole lot of ways tourists can participate.
"In general, as a people, we are just very, very festive in the Dominican. I mean, really festive," says María Pérez, who works for Casa de Campo, a sprawling resort and housing community on the southeast coast.
Most Dominicans, Pérez says, begin the holidays by hanging lights and putting up a tree by early November at the latest. That begins two months of get-togethers with family and friends. There's a long tradition of angelitos, or secretly exchanging small gifts the entire month of December, leading up to a big reveal close to Christmas. At many of the gatherings, there will be jengibre, a traditional ginger tea. "We have a lot of gatherings running up to the holiday," she says. "It's like we're warming up for Christmas."
At Casa de Campo, the property begins the holidays the first week of December with Altos de Chavón, when lights and the trees are lighted at a concert to kick off the season. The gathering typically includes a couple hundred people, mixed between tourists visiting the resort and locals. Santa makes regular appearances at his North Pole village, a tradition that's more American than Dominican. At night, bands strike up traditional music, ballet dancers from the Academy of Dance perform, a bazaar displays local crafts, carolers stroll the grounds, and children from a local mission perform a live nativity scene. The big meal for Dominicans is on Noche Buena, Christmas Eve, and Casa de Campo's restaurants roll out a traditional menu of roast pork, Russian salad, rice and beans, fluffy telera bread, and a spiced coconut drink similar to eggnog called ponche.
Christmas Day in the Dominican is typically a smaller affair with just direct family, but Pérez says the resort accommodates requests to recreate meals or celebrations for guests. But Pérez recommends also embracing the Dominican traditions.
"This is a very special place to celebrate Christmas. I would definitely recommend it," Pérez says. "We are very festive. We have music, we have food, we are just very, very happy this time of year."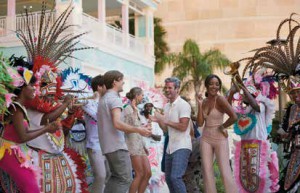 Junkanoo parade at Baha Mar/courtesy Jerry Balderas and Baha Mar
Party Like a Bahamian on Boxing Day
Sure, there is Christmas in the Bahamas, and it's not much different than the way we celebrate it here in the States: family, friends, a big meal with maybe a spiral ham or turkey. But if you plan a holiday trip to our island neighbor to the east, be sure to be there on Boxing Day, when the islands turn into one huge party.
Early the morning of Dec. 26, junkanoo groups put on colorful parades full of floats, costumes and dancing that'll continue through most of the night. In Nassau especially, the junkanoo crews fill Bay Street in downtown with an all-day festival that encourages everyone to join in.
The parades have a rich history on the islands going back to plantation times, when the enslaved people had one day off a year: Boxing Day. It would begin when they'd clean up the boxes and wrapping paper left out by the family that owned the plantation, and then the slaves would turn those colorful papers into costumes that they'd wear during an all-day dance. That might sound like a melancholy tradition, but Nicole Uriasz, a Nassau native, says it's celebratory.
"The ties to junkanoo run very deep," Uriasz says. "It may be tied to the days of slavery, but we look at it as a way to honor our history and the people who came before us."
Uriasz works as the marketing manager for the expansive Baha Mar resort, and she encourages guests to take part in the junkanoo festival. In between the parade floats created by junkanoo groups, anyone can jump in, and everyone typically dances along all day and night.
But it's not just about the junkanoo. At the Baha Mar, Uriasz says the resort is decked out with traditional Christmas decorations, with massive trees in the lobbies of the property's three hotels. A Santa strolls the property, and there are cooking classes where guests can make traditional Bahamian holiday foods, like johnny cakes and souse soup.
"Some people come to the Bahamas at Christmas and they don't know what to expect," she says. "Some are worried our traditions are going to be so foreign it's not going to feel like Christmas, so we try to make the property feel like home for them."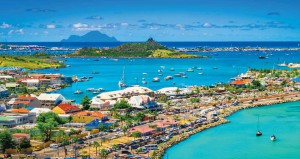 St. Martin/Saint Maarten (courtesy)
On St. Martin, Sing Until Christmas Day Sunrise
On many of the islands in the Caribbean, caroling has a rich history, but don't think of sedate singers in Dickens-era costumes. Generally, it's a party, on some islands an all-night one, and often a total surprise to the people getting serenaded.
On the island of St. Martin/Saint Maarten, split in half between the French and Dutch, the serenading begins after midnight on Dec. 25 and continues until the sun rises, called "fo'day morning." Traditionally, a collection of singers and neighborhood musicians go house to house playing trey guitars, güiros, marimbas, bath pans, tambourines and accordions. In response, family members would spill out into their yards and give the carolers coconut tarts, potato pudding and johnny cakes.
Tamara Groeneveldt, author, poet and owner of the pastry shop St. Martin's Sweetness, can remember as a young girl the first time the serenade showed up at her home in the fishing village of Grand Case. "We danced, sang along, conversed, ate, drank and it was merry," she says. Not long after, "the band struck up the music again and departed to the next neighbor's home to do the same."
These days, noise complaints have largely curtailed the traveling groups, and now it's more about carolers going to houses where they know they're welcome, says Rita Merle Alexander Carty, a first-grade teacher who moved from Dominica to St. Martin in 1980. Her six children join with another family to serenade each other every Christmas morning as a way to carry on the tradition. "The joy on their faces as they join in singing along and even dancing, with lots of laughter," she says. "It's really a cool way to spread joy."
For tourists, the easiest way to take part is the Christmas Serenade Festival held on the French side in December, and on the Dutch part of the island there's often singing by choirs on the boardwalk.
To take part in the traditional early morning Christmas serenades, Groeneveldt recommends asking at your hotel in advance – it's likely someone there will know someone who's part of a serenade. Nowadays, many of the bands perform from the backs of pickups, traveling between houses in the traditional neighborhoods of Grand Case, St. Peters, Rambaud and Marigot.
If you take part, it's a good idea to bring along something for the carolers. Pick up a bottle of guava-berry liqueur, Groeneveldt recommends. It's a sweet-tart and woody drink that's a holiday tradition on St. Martin, often drunk listening to the carolers go house to house long before the sun rises.
************
If You Go
Baha Mar Bahamas
bahamar.com
The Baha Mar in Nassau, Bahamas, boasts three massive hotels spread out across 15 beachfront acres, a waterpark, high-end restaurants, a casino and so many pools you may actually not hit them all. The property gets properly dressed up for the holidays, and a junkanoo group dances through the resort regularly through the holidays. It's also not far from the main junkanoo parade held in downtown on Boxing Day, a party that goes all day and into the next morning.
Casa de Campo
casadecampo.com.do
The Dominican's first resort, Casa de Campo bills itself as the world's best golf resort, with three Pete Dye-designed courses. There are also seven restaurants, an equestrian center, a shooting course and a shopping center that looks more like a small city. Just like most Dominicans, the resort takes the holidays seriously, with a full month of activities from concerts to carolers.
Coral Beach Club St. Maarten
coralbeach-club.com
If the idea of spending the holidays in a tight hotel room sounds less than ideal, the Coral Beach Club has a remedy, with its 24 private condo-style villas. With views of the ocean, the villas are sandwiched between two of St. Maarten's most stunning beaches and have views of the mountains nearby. Ask at the resort for help finding one of the local caroling traditions to take in the island's traditional way to start Christmas Day.
Main photo: Bluehole pool at Baha Mar/courtesy
Related Articles
Share
About Author
(0) Readers Comments