By Eric Barton
City & Shore Magazine
Chef Daniel Boulud wandered into the Montagu Beach fish market in the Bahamas one morning in 2019 wearing his crisp chef's jacket. Boulud noticed first the piles of pastel conch shells on the beach, and followed them like a culinary trail of breadcrumbs.
The vendor wielded a hook to snatch conch from their shells, tossing the used shells out to the beach. The man then chopped the sea snails with a butcher's knife on an ancient board. Boulud asked the man how he'd end up preparing the conch, and so the vendor whipped up a quick ceviche with tomato, onion and lime.
"He was trying to get ready for his day, and at the same time, he wanted to show me how he made the conch," Boulud recalls. "He had no idea who I was or anything."
The trip is something Boulud says he does whenever he's about to open a new restaurant. He heads to the local market, looking for inspiration from what the locals eat. Not long after, Boulud opened an outpost of his Cafe Boulud in Nassau. There, he often adds conch ceviche as an amuse bouche to start meals.
* * *
Not long ago, it was easy enough in the Bahamas to score a great conch salad and coconut water gully wash from a roadside shack. But dining out meant touristy spots on Bay Street more likely to sell two-for-one rum punches than offer anything resembling fine dining.
That's changed recently, as Nassau has reinvented itself as a culinary destination. Boulud is one of several big-name chefs who have opened restaurants in Nassau. Chef Marcus Samuelsson spent much of this year preparing to open a $20 million beachfront restaurant that looks like a Bahamian home. He's joined by Tuscan butcher Dario Cecchini, who runs the upscale steakhouse Carna, and Los Angeles sushi Chef Katsuya Uechi, whose Katsuya was among the first Nassau restaurants opened by a big-name chef.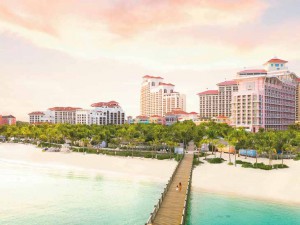 Baha Mar
The change in Nassau happened in part thanks to the $4.2 billion, 3,000-room Baha Mar hotel complex that opened four years ago. Graeme Davis, the property's president, had a goal right from the start of turning the island into a dining destination. Having worked in the Caribbean for two decades, he realized there are few "truly memorable culinary experiences." What's more, he knew Baha Mar needed to keep up with the standards of Nassau's two biggest markets, New York and South Florida. "You're talking about two very culinary-centric capitals of the food world," Davis says. "New York and Miami are two meccas for culinary, and so these are very sophisticated guests."
There's a similar transformation happening over at the 154-acre Atlantis Paradise Island, where chefs Nobu Matsuhisa and Todd English have restaurants. In 2018, José Andrés opened Fish at Atlantis. There you'll find a whole lot of local catch, turned into a spicy crudo, crisped and filled with tangy slaw and carpaccio style with citrus and radishes.
Boulud took over a spot in the Baha Mar that used to be an Indian restaurant. Even though he's in the islands, he wanted to keep the menu true to what he knows, and it's similar to what you'll find at his Cafe Boulud in Palm Beach, with grilled octopus served on romesco sauce, a classic roast chicken with polenta and a molten chocolate coulant cake with salted caramel. Boulud describes Cafe Boulud Nassau as "part French, part international eclectic, part vegetarian voyage of the world." Any restaurant he opens, Boulud says, will have an underlying French sensibility. "Cafe Boulud has always had French roots. It's in my DNA. I left my country 40 years ago, and so my restaurant is that past plus what I found around me since."
***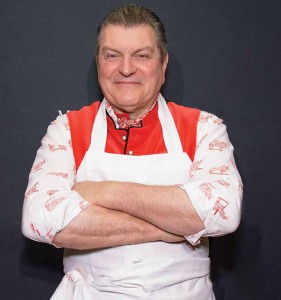 For Dario Cecchini, his restaurant in the Bahamas is his first outside the ones he runs in his tiny village of Panzano. Cecchini might have gone his entire life as merely a regionally famous butcher until Anthony Bourdain filmed an episode there and made him an instant star. Speaking by phone recently from Tuscany, Cecchini says he was invited to a celebrity chef dinner in Las Vegas when Boulud and a couple of other chefs mentioned they were opening restaurants in the Bahamas. When Cecchini got back home, he got a call from a restaurant company, wanting him to come too. He got off the phone and turned to his wife, Kim, who's from California. "I said, 'What do you think? It's a beautiful spot on the planet Earth, and so maybe we can call it another Honeymoon every time we go to check on things."
While his restaurants in Panzano are simple odes to the large T-bone steaks famous in Tuscany, his place in the Bahamas is modern and sleek, with a menu featuring a dry-aged black angus porterhouse from Tuscany, a wagyu-angus cross-breed from California and an A5-grade wagyu from Australia. It's not something Cecchini says he ever pictured for himself. He was in veterinary school when his father died, and Cecchini came back home to take over the butcher shop to keep it from closing. He's now the eighth generation to run the shop, and until recently, never imagined himself opening a restaurant anywhere else. "I'm happy to take life on as a voyage," Cecchini says. "Make it the longest voyage you can manage and see what life holds. So far life has given us a new life in the Bahamas. Not so bad, right? Could be worse."
Even though his menu is full of three-figure cuts of beef, Cecchini's recommendation is for the ravioli, with a filling of brasato al midollo, or beef shank braised in marrow. It's a cut of meat not often served in restaurants, but it's something Cecchini grew up eating, since his father sold all the expensive cuts and brought home only the bits customers didn't want.
"You have to know I didn't eat my first juicy T-bone until I was 18 years old," Cecchini says. "In our own home, those beautiful steaks were only for our clients, they were never for our family. I grew up eating wonderful dishes my grandmother would make for us using the head, the trotters, the belly, all the cuts the clients were not interested in purchasing."
It wasn't long ago that you'd have to go to Tuscany to eat a dish like that. Now, although it might come as a surprise to anyone who hasn't been there for a while, Cecchini's childhood dish can be found in Nassau.
Recipe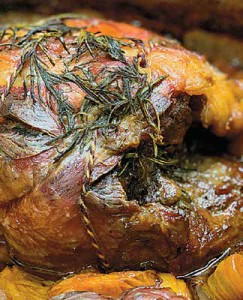 Dario Cecchini's Brasato al Midollo
The legendary Tuscan butcher grew up eating beef shank braised in marrow, and this recipe stays true to the recipe from his childhood. To begin, ask your butcher to debone the beef shank and cut the shaft in half lengthwise.
5 lbs. beef shank
Sea salt and freshly ground black pepper
Three sprigs fresh rosemary, chopped
1/2 cup olive oil
2 pounds whole peeled shallots
1/2 cup vin santo or similar dessert wine
On a cutting board, lay meat with cut-side up and season with 2 teaspoons of salt and 1 teaspoon black pepper.
From the split bone, scoop out marrow with a metal spatula. Place marrow in center of opened meat, along grain, and sprinkle with chopped rosemary.
Roll meat tightly and truss roast with butcher's twine.
Place beef roast and olive oil in large ovenproof casserole. Add shallots to pan. Cover and cook for 2 hours at 350 degrees.
Add vin santo and cook for another hour.
Remove beef and let rest 10 minutes. Cut string and slice across grain. Serve with the shallots and pan juices.
Photos all courtesy
Related Articles
Share
About Author
(0) Readers Comments