By Greg Carannante
City & Shore Magazine
The late-summer sun scorches the cloudless, cerulean sky like an acetylene torch — hey, but you're cool. Lounging on the deck of your 62-footer, you're chilled by the refreshing sea spray mist. The sway of the waves gently rocks you on the water. The salty breeze animates your hair and caresses your sun-kissed skin with the blissful, ocean-borne balm of ain't-life-grand.
Your thoughts turn to the Fort Lauderdale International Boat Show coming up Oct. 27-31. You think: Maybe it's time you got that new boat. Lustful fantasies of super yachts with swimming pools and IMAX theaters are suddenly interrupted by pangs of hunger accompanied by a dire desire for the inspiration of a libation.
Immediately your mind flips through a litany of dock-and-dine restaurants nearby. But where to go, where to go? In the boat-happy world of South Florida, you have so many to choose from. Here's your top 10: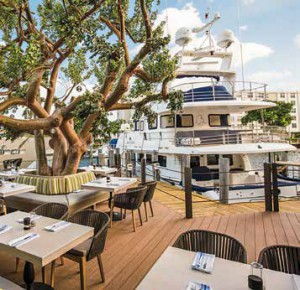 Photo courtesy Boatyard
Boatyard
1555 SE 17th St., Fort Lauderdale, 954-525-7400, boatyard.restaurant
Smack in the center of "The Yachting Capital of the World," Boatyard has the relaxed yet sophisticated vibe that you lean to — nautical-chic, they call it. You've been frequenting this place since it was the former Fort Lauderdale mainstay, the Bimini Boatyard. The six-year-old reincarnation is a dazzling upgrade. Its 80-seat dockside patio lounge offers sweet marina views and its "Eat Local, Be Coastal" philosophy informs a seafood-centric menu featuring fresh daily catches from local anglers, whose names are actually listed on the menu.
  Your go-to dish: The cool seasonal splurge of the Captain's Tower — a pound of large stone crabs, three Blue Point and West Coast oysters each, six cocktail shrimp and a ½-pound of chilled Maine lobster, $119.
  Dock space: 120 feet.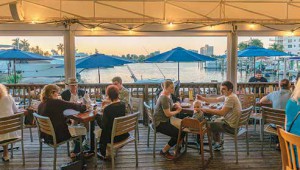 Photo courtesy Coconuts
Coconuts
429 Seabreeze Blvd., Fort Lauderdale, 954-525-2421, coconutsfortlauderdale.com
You've been rafting your boat at this local favorite for nearly 40 years, especially when you're feeling insouciant on a Sunday morning and a big brunch craving beckons.
This vantage offers yacht-dappled views of the Intracoastal's New River Sound, the scene is laid-back Lauderdale at its finest, and the menu is sure of itself. And you like that you don't have to leave your dog on deck.
  Your go-to dish: The comfort-food indulgence of the brunch menu's Shrimp & Grits, with sautéed shrimp, low-country cheese grits and savory bacon gravy, $15 — cooled-off with one or more My Kind of Lemonade concoctions of Titos vodka, grapefruit liqueur, lemonade, simple syrup and a squeeze of lemon.
Dock space: About 150 feet.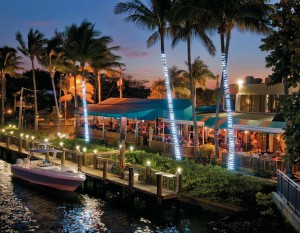 Courtesy photo by Jerry Jabinowitz
Deck 84
840 E. Atlantic Ave., Delray Beach, 561-665-8484, deck84.com
You were lured here after you'd heard it made it into OpenTable's Top 100 Al Fresco Dining Restaurants in America, and you soon understood why: the unobstructed Intracoastal view, the kick-back atmosphere and the appetizing, unpretentious menus, including one for Taco Tuesday and another for your pooch. They'll also cook your catch.
  Your go-to dish: Baja Fish Tacos, cilantro-lime coleslaw, house-pickled jalapeño, crema, charred tomato salsa, $18.
  Dock space: 150 feet, easy access.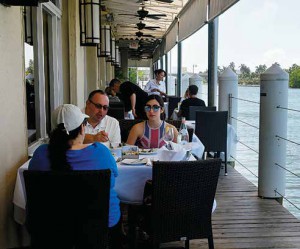 Photo by Taimy Alvarez
GG's Waterfront
606 N. Ocean Drive, Hollywood, 954-929-7030, ggswaterfront.com
You like to slide into a dockside seat here, covet the yachts drifting by close enough to touch and watch the big orange orb sink into North Lake. And then, after dusk has slipped into darkness, you swirl a tumbler of J&B Rare and pretend like you're in the Rat Pack, hanging out here back in the day after shows at the old Diplomat down the road. (You envision yourself as Deano, though — Sinatra is just too … Sinatra.)
The legend beguiles but, of course, the place is a completely different incarnation now, with an open kitchen, raw bar and cushy seating in the refined yet casual dining room and on the patio, where a Sunset Party breaks out with live music daily. Fresh seafood stars on an imaginative menu, complemented by a Wine Spectator award-winning list of more than 125 different wines and champagnes.
  Your go-to dish: The Seafood Risotto, blending arborio rice, shrimp, clams, mussels, calamari, white wine, tomato and fresh herbs, $33.
  Dock space: 160 feet, on a first-come-first-served basis. Dockside pickup available.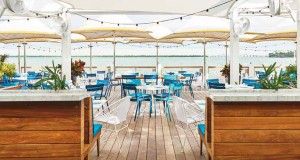 Courtesy photo by Adrian Gaut
Lido Bayside Grill
40 Island Ave., Miami Beach, 786-245-0880, lidobayside.com
When you find yourself especially sun-parched, you'll often hear the F'rosé summoning you like a good Siren in Biscayne Bay. Lido's concoction of frozen rosé with a floater of liqueur or other alcohol, $20, is like A.C. for your soul. The effect is only enhanced by the refreshing, alfresco water views from its perch on the Venetian Island of Belle Isle.
  Your go-to dish: The Lido Burger, with cheddar, kewpie mayo, LTO, sesame bun and Truffle Fries, $28. You finish it off with an absolving Ginger Shot of ginger, lemon and agave, $5.
  Dock space: A few hundred feet for boats up to 40 feet, on a first-come, first-served basis.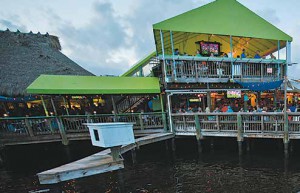 Photo by Jim Rassol
Old Key Lime House
300 E. Ocean Ave., Lantana, 561-582-1889, oldkeylimehouse.com
In those Margaritaville moments when you feel like Key West but can't swing the jaunt, you set a course in the opposite direction for the funky vintage of this venerable, Chickee-hutted haunt. Billed as Florida's oldest waterfront restaurant, the pastel-hued building dates to 1889. And just as "Old" in the name really does mean OLD, the "Key Lime" is indicative of its award-winning, homemade Key Lime Pie.
Both tourist draw and locals' hangout, the largest Tiki bar in South Florida rocks with local bands on the weekend. The island theme extends from the wide-open sunset vistas to the Caribbean flair of the menu.
  Your go-to dish: A toss-up between the Shrimp and Lobster Roll, lightly toasted and drizzled with tarragon butter, and the Jambalaya, with Cajun rice, Gulf shrimp, chicken and andouille sausage. Each $18. Either way, you top it off with a slice of the place's eponymous pie, $7.50.
  Dock space: 300 feet, with a 40-foot-boat limit.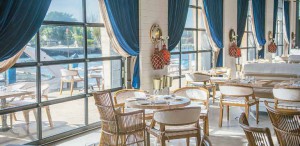 Courtesy photo
Seaspice Brasserie & Lounge
412 NW North River Drive., Miami, 305-440-4200, seaspice.com
Not that the Miami River could ever be mistaken for the French Riviera, but a riverside soirée at Seaspice always seems to bring back memories of that summer in Antibes — usually after a Seaspice Mojito ($15) or three. In a former boathouse once owned by Howard Hughes (or so the rumor goes), an airy, ritzy ambience with a Miami skyline backdrop pairs beautifully with a Mediterranean-tinted menu that elevates gastro-classic cuisine to fine dining.
 Your go-to dish: Depending on your surf-or-turf mood, either Florida Yellowtail Snapper Casserole with citrus salsa verde and fire-roasted vegetables, $55, or an 1855 Prime U.S. Filet Mignon served on a volcanic hot stone with red wine au poivre sauce, $54.
  Dock space: Two docks with a total of 500 feet-plus. Dockside pickup available.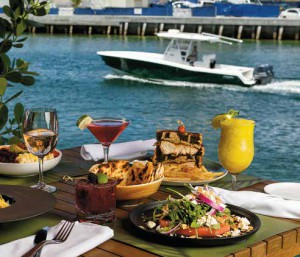 Courtesy photo
SeaSpray Inlet Grill
999 E. Camino Real, Boca Raton, 561-368-9500, seasprayboca.com
This is the new kid on the dock. Opened in June at the Waterstone Resort on Lake Boca Raton, SeaSpray is Boca's only dine-and-dock eatery open to the general public.
Views that extend to the ocean and a massive lush mural create a tropical atmosphere for an inside-outside dining space designed to be a day-to-night waterfront hotspot with entertainment — and watercraft rentals right from your table. The all-day menu serves up the "elevated coastal cuisine" of Executive Chef Kelley Randall, who'll even personally cook your catch.
  Your go-to dish: The Mahi Reuben, the SeaSpray's take on the deli classic with a house-made tangy slaw and Thousand Island dressing, $19. And for dessert, you just have to try the Campfire S'Mores, $26.
  Dock space: With a dock master present, the 280-foot dock can handle eight to 10 boats, or more with boaters' permission to stack the vessels side-to-side.
Two Georges at the Cove
1754 SE Third Court, Deerfield Beach, 954-421-9272, twogeorgesrestaurant.com/thecove
This is your hotspot when you're feeling more like hanging out than haute cuisine. It's a family-run, Intracoastal institution with appealing food and drink menus, 19 flat-screen TVs and a happening Friday Night Happy Hour with half-price beverages, complimentary buffet, a DJ and more. When you're Palm Beach County-bound, Two Georges Waterfront Grille in Boynton Beach works just as well.
  Your go-to dish: The Seafood Pot, shrimp, clams, mussels, calamari, half lobster tail, red bliss potatoes in a roasted garlic tomato broth with a crostini.
  Dock space: 270-foot dock, with overnight dockage available … just in case.
Courtesy photo
Zuma Miami
270 Biscayne Blvd. Way, Miami, 305-577-0277, zumarestaurant.com/locations/miami
There are those times when only sushi will do, and this stylish exponent of contemporary Japanese cuisine is sushi and so much more. Zuma is a singular dining experience in three variations: izakaya (think Japanese version of a pub), a robata grill and, yes, the sushi counter. Located downtown in the Epic Hotel near the Port of Miami, Zuma Miami offers river views from its terrace and a menu that's described as authentic but certainly not traditional. And with more than 80 varieties of sake available to sip, you've been known to say, "Sake to me."
  Your go-to dishes: You can never settle on just one, so … Sashimi Moriawase, a chef selection of six slices of sashimi, $29, plus Tori No Tebasaki, robata skewers of sake-marinated chicken wings, sea salt and lime, $11 — and sometimes, Wagyu Gunkan, wagyu beef sushi, daikon and black truffle, $24.
Dock space: 900 feet at the adjacent marina.
MAIN PHOTO: Deck 84 Delray Beach, courtesy Jerry Jabinowitz
Related Articles
Share
About Author
(0) Readers Comments