"Cooking is the beginning of everything I understand as happiness."
— Chef José Andrés
By Greg Carannante
City & Shore Magazine
It's become a signature insignia of calamity: bedraggled survivors standing in a line. There is always the line.
Children, parents, grandparents in the clothes on their backs and in varying degrees of desperation — but all with the same hunger — slowly make their way to their momentary stroke of luck. Which happens to be, of all things, one of the world's biggest celebrity chefs — a burly dynamo of a man, an encouraging human gyroscope who ladles onto their plates from a steaming vat of poor-man's paella.
The chef has an internationally celebrated persona, a hundred-million-dollar restaurant group, a pantry full of awards and four Michelin stars. But, if you're stranded in the muck of a disaster, this is the one man you want to see at the end of the line.
****
It's really José Andrés's time now, isn't it?
We know the coronavirus has been decimating the restaurant industry, so please don't take that the wrong way. But a global pandemic is big-time go-time for the chef who changes into a feeding first-responder when catastrophe strikes.
"He's an absolute force of nature, a one-of-a-kind," says Nate Mook, CEO of Andrés's World Central Kitchen. "I've never met anyone else in the world like José. He has this endless supply of empathy … I think that's what really sets him apart."
A blunter appraisal comes from Hamilton creator Lin-Manuel Miranda, who boils it down like a pot of Spanish rice:
"He just hurries his ass over and gets down there."
Miranda's Puerto Rican descent and enduring ties to the island give him good reason to speak. After all, it was there, in Puerto Rico following 2017's Hurricane Maria, where Andrés served 3.6 million meals and first blew up news feeds as the larger-than-life chef with an ingenuity to match.
"In Puerto Rico, there was no bread. On paper," Andrés told The New York Times recently. "But there you had four bakeries. But people are thinking about bringing bread from Florida. We were thinking about how to get generators to the bakeries so they could start producing bread. People that were trying to bring bread from Florida, a month later they were unsuccessful. People like us, talking to the owners of the bakeries and just trying to be part of the solution, we were getting bread in less than 24 hours locally.
"Do you understand what I mean? Sometimes very big problems, they have very simple solutions."
It was seven years earlier in another Caribbean country, however, where Andrés's food-borne philanthropy first took on international overtones. A 7.0-magnitude earthquake in Haiti drew him to assist relief efforts installing clean cookstoves throughout the region. The experience inspired Andrés, then chairman of the nonprofit DC Central Kitchen, to expand his vision beyond borders and found World Central Kitchen, setting itself apart from other hunger-relief NGOs by mobilizing a network of chefs.
Branded the chef who "wants to feed the world" by Time magazine, Andrés and his Washington, D.C.-based nonprofit have emerged as worldwide standard-bearers for empowering people ravaged by crisis — by and large rendering references to Andrés as a celebrity chef increasingly inadequate.
****
Accolades have reached as high as last year's Nobel Peace Prize nomination for the chef, who is scheduled to appear in a virtual presentation at 7:30 p.m. May 17 at the Broward College Speaker Series, www.BrowardCollegeSpeakerSeries.com.
As auspicious as it has been for the 51-year-old Andrés, his success may have its roots in a pretty basic credo: "You make the best out of every situation," as he told the Times, "no matter how bad it is."
His WCK continues to make the best out of really bad situations, on up to last year's explosions in Beirut and Baltimore. Its #ChefsForAmerica outreach has provided over 25 million meals in 400 cities during the pandemic, paying local restaurants over $90 million for more than 7 million meals and delivering them to Americans in need.
We could go on for paragraphs about WCK's effects, but let's let America's most hands-on philanthropist do it himself. During a playful appearance last July on The Tonight Show Starring Jimmy Fallon, backdropped by his big family at a long table awaiting the meal Andrés had prepared for the show — fried gamba blanca and sunny-side-up eggs with pisto, a Spanish ratatouille — the chef delivered a serious soliloquy that said pretty much all you need to know about his WCK:
"I'm so proud because we had thousands and thousands of volunteers, and we were able to do one very smart thing: We put 2,500 restaurants across America working — feeding homeless, feeding shelters, feeding elderly, feeding first-responders — more important, feeding our amazing doctors and nurses in many hospitals across America. We've been in more than 35 states … plus Indonesia, Venezuela, Colombia, Puerto Rico, Virgin Islands, plus Spain, where we opened 16 kitchens and we did 3 million meals.
"What WCK does is simple. We try to come up with the smartest solution. We put restaurants to work with the money that people were donating to us. In the process, restaurants could reopen again, could hire again, could buy from the farmers, from the fishermen. In the process, we fed the people in need…. We cannot leave Americans hungry through this pandemic. We cannot leave anybody behind."
Being a Spanish-born, naturalized American citizen, it's no surprise that Andrés'  compassion would also extend to immigrants. So much became blatantly obvious at a 2017 charity dinner in Miami that was "black tie, very formal, full of celebrities," as former Think Food Group CEO Kimberly Grant told Fast Company magazine.
Being a Spanish-born, naturalized American citizen, it's no surprise that Andrés' compassion would also extend to immigrants. So much became blatantly obvious at a 2017 charity dinner in Miami that was "black tie, very formal, full of celebrities," recalls Kimberly Grant, former CEO of Andrés's Think Food Group.
"José gets up there to give a speech, and at the end, he rips open his shirt, and he's got a T-shirt underneath." On it are the words: I AM AN IMMIGRANT. "None of us had any clue he was going to do that," she told Fast Company magazine. "But that's José."
Andrés put his money where his T-shirt was. Following candidate Donald Trump's infamous anti-immigration comments, the chef pulled out of plans for a restaurant in a Trump hotel. Lawsuits ensued and were resolved, but the chef's insistent tweets attacking Trump's policies have been characteristically bold, such as this in response to Trump's controversial Charlottesville comments: "You are full of —- , Sir! Nothing wrong with the country. Only thing wrong is you and your lies!"
Perhaps not surprisingly, Andrés has changed the title of his Twitter page to "Please wear a mask! Do it for USA, please…"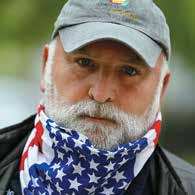 Photo by Terrence Anto/Associated Press
****
With its chokehold on the restaurant industry, the pandemic has brought Andrés's Good Samaritan alter ego to the forefront. But his ascendancy as an innovative ambassador of cultural cuisine is not to be overlooked.
For example, the prestigious James Beard Foundation that named him Humanitarian of the Year in 2018 also named him Best Chef in 2003. And along with his 2016 National Humanities Medal, Andrés holds two Michelin stars apiece for his avant-garde tasting counters, minibar by José Andrés in Washington, D.C. and Somni in Los Angeles. Four of his other restaurants have been awarded Bib Gourmands, which Michelin awards to restaurants of superior quality and value.
They are among the 30-plus dining establishments in 10 cities across the globe held by Andrés's Think Food Group, whose avowed mission since its inception in 2006 is "To Change the World Through the Power of Food." Ranging from the award-winners to two food trucks, a food hall and stadium concessions, the concepts are distinguished by the culinary creativity and storytelling that has become the chef's hallmark.
The South Florida exponent of the group's avant-garde approach is The Bazaar by José Andrés. The restaurant describes itself as "a carefully curated theater of shared plates … a wild sensory adventure born of José's Spanish roots, both traditional and avant-garde."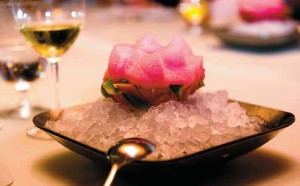 One such sensory adventure comes in a cone, a signature two-bite treat like The Bagel & Lox Cone, filled with dill crème fraiche and topped with salmon roe. Another is Dragon Fruit Ceviche, with tuna, pecans, lemon and pink hibiscus air, which was called the restaurant's most Instagrammed dish in our editor's introduction to last year's Food Issue. He likened his transportive experience of the restaurant's Ultimate Tasting Menu to Marcel Proust's madeleine moment.
****
"In Spain, there is a classic book called El Lazarillo de Tormes, from the 16th century," Andrés told The New York Times. "It tells the story of these young people — they are called picaresca, people that have to be very witty to overcome any obstacle. I think this is in my DNA, to adapt to any circumstance."
That's likely one explanation for the chef's elan in the face of tragedy. Others are offered by Mook, the filmmaker who works hand-in-hand with Andrés as CEO of his nonprofit:
"I don't think there's any one thing that drives José. It's his upbringing, being raised by two nurses in Spain who taught him the value of helping people around you. It's his family, four amazing ladies who keep him honest. His early mentor [DC Central Kitchen founder] Robert Egger taught him so much about charity and respect. World Central Kitchen's Chef Relief Team constantly shows him the urgency of our disaster-response work. Whenever he's on the ground, cooking for people and distributing meals, he hears their stories and it keeps him going."
Interestingly, what got him going was getting fired 30 years ago. He was 21, coming off a stint as an admiral's chef in the Spanish navy, and working at the world-renowned Catalonian restaurant El Bulli outside Barcelona. A perceived sign of disrespect led chef Ferran Adrià to let Andrés go, though they've since become close friends.
"So there I am in the middle of Spain, it's raining, and I'm out of a job at a place I thought I would spend my entire career," Andrés wrote in Newsweek. "The soundtrack of my life started playing.
"Within a week, I moved to New York to try something different. I had never thought about trying to be a chef in America, but I thought now was the right time, and I didn't have any other choices. That was [in 1990], and moving to the United States really was destined for me."
By 1993, he was pioneering the tapas trend in America at the new Jaleo, the now-iconic Washington, D.C., restaurant where, incidentally, a number of popular recipes are actually those of Andrés's wife, Patricia Fernandez de la Cruz, known as Tichi.
"Someone could make a living picking up everything José loses," Tichi said last year in Bethesda magazine, describing her husband of 25 years as someone who, for all his big-picture accomplishments, is not very detail-oriented. In fact, she even leaves his footwear by the front door to keep him from leaving the house sans shoes.
It's a contemporary house in Bethesda, Md., that's home to the couple and their three daughters, where lots of natural light brightens a kitchen with dark wood cabinets and bowls of freshly marinated olives on the counter. They grow vegetables in the front yard and keep two beehives.
Hanging on a wall is a framed drawing of pears by artist, chef and family friend Jacques Pepin that he gave to Tichi as a gift. On the bottom of it is a note that could be the definitive quote on Chef José Andrés.
It reads, "Dear Patricia: Congratulations on raising such a great husband."
For more about the work of World Central Kitchen, visit wck.org.
SEE THE CHEF
The Broward College Speaker Series, sponsored by City & Shore, will feature a virtual presentation by Chef José Andrés, an internationally recognized culinary innovator, author, educator, television personality, humanitarian and chef/owner of ThinkFoodGroup, at 7:30 p.m. on May 17. Tickets are $25 and can be purchased at www.BrowardCollegeSpeakerSeries.com. On the day of the event, a unique Zoom link will be sent to the registered email addresses.
Main photo: Our Local Commons/courtesy
Related Articles
Share
About Author
(0) Readers Comments