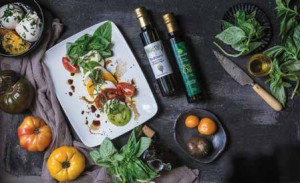 Here and main photo (courtesy)
Olive Oil of the World, from a mother-and-son business in Palm Beach Gardens, features extra virgin palate-pleasers imported from France, Palestine, Spain, South America and other regions of the world. Especially popular is the Trampolini Extra Virgin Olive Oil from Perugia, Italy, "[a] delicate, almost silky buttery, taste with fresh green notes of ripe olive," says co-owner Chef Rasheed. Flavored vinegars also are available. Fresh From Florida flavors produced in the Sunshine State include Lemon Balsamic Vinegar, Orange Balsamic Vinegar and Honey Vinegar, sold at farmers markets, independent grocery stores and online, https://www.oliveoiloftheworld.com
Palm Beach Pickle in Lake Worth offers a variety of flavors, including Dill & Garlic Pickles and Habanero
Dill & Garlic Pickles. For extra extravagance, a "24K" version features fresh dill, garlic and – for Palm Beachworthy fanciness – edible gold. A golden-hued serving fork is included. (The package provides a recipe for
a "Pickletini," too. We'll try anything once.) Pick up your pickles at a local farmers market or order online,
palmbeachpickle.com.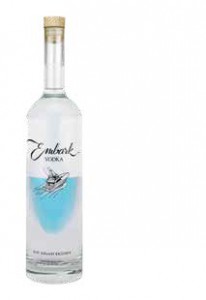 For vodka enthusiasts who enjoy display-worthy bottles, Fort Lauderdale-based Embark Vodka offers nautical vibes ideal for South Florida. Enhance your gift with vodka cocktail recipes featured on Embark's website, including the "Saltwater" flavored with lime juice, chunks of cucumber and basil leaves. Embark Vodka is sold
in select stores in South Florida or embarkvodka.com.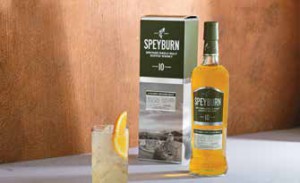 If you're one to sit and contemplate the heavy events of the past year with a heavy tumbler (or two) of whisky, preferably a single malt with hints of toffee and butterscotch, Speyburn 10-year-old is a worthy contemplation companion. Even better, this scotch also mixes with club soda, ginger ale or even cream soda for a festive South Florida-friendly cocktail for toasting all the ways the new year's going to get better. Here's to long smooth, and sweet, finishes. reservebar.com/products/speyburn-10-year-old; www.speyburn.com.
EVENT GIFTS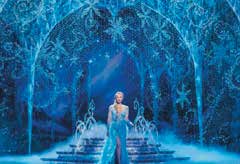 Tickets to a hot show will delight theater enthusiasts (and gift wrappers too since they're a snap to wrap). Broadway hits upcoming at the Broward Center for the Performing Arts include Tootsie (Jan. 11-23), Frozen (March 9-20) and Pretty Woman: The Musical (May 4-15). Ideas worthy of a standing O. 201 SW Fifth Ave., Fort Lauderdale, 954-462-0222, browardcenter.org.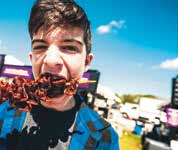 The South Florida Garlic Fest (Feb. 12-13) is an annual draw for all garlic enthusiasts. (You can possibly smell it from space). The event features a wide variety of enticing garlic-infused fare, including garlic fries and garlic ice cream. Live entertainment & fun for youngsters round out the festivities. Village Park Athletics Complex, 11700
Pierson Road, Wellington, GarlicFestFL.com.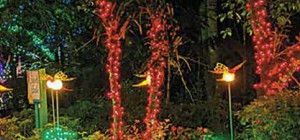 Flamingo Gardens bedazzles its woodsy walkways for Garden of Lights evening events, Dec. 17-23 and 26-30, 3750 S. Flamingo Road, Davie, 954-473-2955, flamingogardens.org.
HOME GIFTS
Bang & Olufsen features a fresh musical palette with its Nordic Ice Collection of headphones, earphones and speakers. B&O's description: "some of its most timeless designs in a serene, Scandinavian colour palette consisting of contrasting cool and warm tones." Bang & Olufsen at Gulfstream Park Village, 500 Seabiscuit Trail, Hallandale Beach, other Bang & Olufsen retailers and bang-olufsen.com.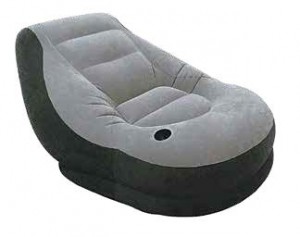 For picnics and other outdoor events, treat your tush. Relax in a portable lounger with its own
ottoman. Intex'In#atable Ultra Lounge Chair with Cup Holder and Ottoman Set. https://www.lowes.com/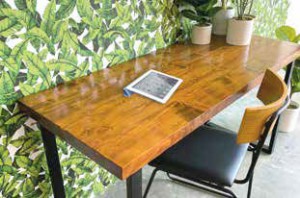 Enhance a home office with a visually striking element that's also eco-friendly. Many desks and other furniture from UMBUZÖ in West Palm Beach are handcrafted from reclaimed and repurposed wood. umbuzo.com
FUN GIFTS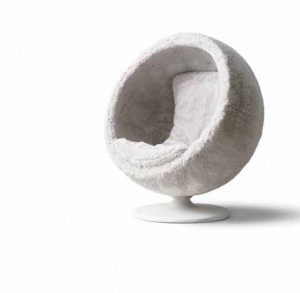 For youngsters, Orbit Luxe Faux Fur chair features a swiveling seat and a plushy place to relax and play, RH.com.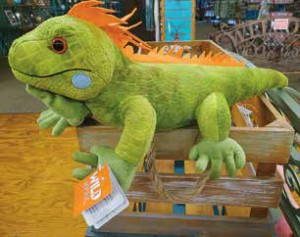 If you can't beat the iguanas pushing into the bougainvilleas, join them. This iguana plush toy features a 15-inch soft body embellished with an orange spine, from the Flamingo Gardens Gift Shop, 3750 S. Flamingo Road, Davie, 954-473-2955, flamingogardens.org
Historic Bonnet House in Fort Lauderdale offers a delightful venue for fun educational ventures. The selection of workshops includes watercolor art, acrylic painting, and Ikebana Japanese floral arranging. 900 N. Birch Road, Fort Lauderdale, 954-703-2606, bonnethouse.org.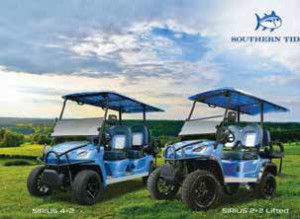 Get some good, fresh air while wheeling around South Florida in the street-legal Star EV Southern Tide edition, offering a number of enticing features. Among them: a digital dash, backup camera, built-in insulated beverage cooler, JBL audio and a vibrant "Ocean Mist" hue. Golf Car Depot, 6500 N. Powerline Road, Fort Lauderdale, 954-900-9900, golfcardepot.com.
For grown-ups, Brazilian Court Hotel in Palm Beach offers a Bridgerton-esque three-night getaway. The package includes such perks as a Dutchess Royal Tea experience, terrace dinner with wine pairings and – inspired by Daphne's jewels on the Netflix show – a diamond pendant necklace and Tiffany olive drop leaf earrings. 301
Australian Ave., Palm Beach, 561-655-7740, thebraziliancourt.com.
WEARABLE GIFTS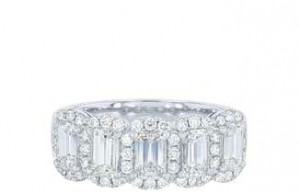 When in doubt, dazzle with diamonds. The selection at Diamonds Direct includes an Emerald Diamond Halo Ring, adorned with seven emerald-cut diamonds surrounded with round brilliant-cut diamonds. Diamonds Direct, 21078 St. Andrews Blvd., Boca Raton, 561-414-2091, diamondsdirect.com.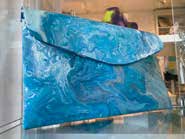 Jewelry, handbags and other delightful items produced by local artists are featured at Roe Green Uniquely Palm Beach Store. Examples include necklace by Alene Ego and blue handbag by Elaine Weber. Uniquely Palm Beach is at Cultural Council for Palm Beach County, 601 Lake Ave., Lake Worth Beach, 561-471-2901, palmbeachculture.com/store.
The Trash Pirates is a South Florida ocean-protection organization. Endorse its efforts with a T-shirt that proudly declares "I Am Saving Our Ocean." An appreciative turtle is pictured in the design saying, "thank you." thetrashpirates.org.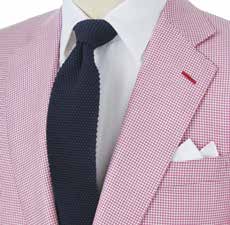 For a fresh addition to a fashionable wardrobe, Solemare Houndstooth
sport coats makes any scene in zesty hues, such as pictured here, and light blue and green. Maus &
Hoffman, 312 Worth Ave., Palm Beach, 561- 655-1141; 700 E. Las Olas Blvd., Fort Lauderdale, 954-463-1472, mausandhoffman.com.
Helpful hint: Family photos, unwrapping presents and holiday breakfasts are extra festive when
everyone is wearing fresh PJs. Your posts have never been more Likeable. Nordstrom.com.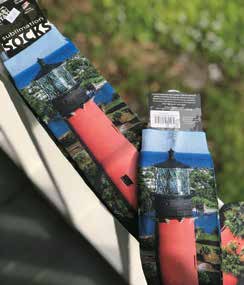 For a whimsical and unique fashion item that supports an iconic local attraction, socks from Jupiter Inlet Lighthouse ordered in store or online, feature a photo of the red structure. 500 Captain Armour's Way, Jupiter, 561-747-8380, jupiterlighthouse.org, jupiterlighthousestore.square.site
- By Patti Roth and Mark Gauert
PHOTOS: All courtesy.
Related Articles
Share
About Author
(0) Readers Comments