By Mark Gauert
City & Shore Magazine
I never thought I'd forget my first trip to the Everglades. Even with professional counseling.
But when I decided to road test a 2021 Jaguar F-TYPE in Everglades National Park, I forgot it was mosquito season.
I forgot the hapless family of visitors I'd seen locked out of their rental car along the main park road on my first trip to the Everglades in 1988. Forgot how a blood-sucking swarm buzzed out of the sawgrass and caught them unawares.
"They sprayed until the repellent can ran dry," I wrote in a story then. "They slapped until their hands were smudged dark and gritty. And finally, maddened, they'd run wild into the Everglades – where the mosquitoes took them. Lifted them straight out of their shoes, sucked them dry and dropped the bloodless shells out in the sawgrass, never to be seen again." https://bit.ly/3evXjC8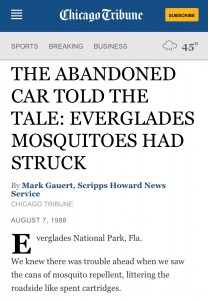 Or so I thought, until I saw the visitors – bumpy with bug bites, but otherwise safe – back at the park gate, where they'd been rescued by a passing park ranger.
Somehow, I'd forgotten what else I'd seen on that trip. How the mosquitoes had almost pounced on me, too. How they drank the blood of the steaks I'd put on the grille at the old Flamingo Lodge instead.
Such things, once seen, cannot be unseen, my friends. Even with professional counseling.
"Winter, early spring and late fall may belong to the visitors in the Everglades," I wrote. "But summer belongs to the bugs."
Somehow, I forgot all this when I thought about places to road test my 2021 Eiger Grey Jaguar F-TYPE convertible. After a few days of city driving, I was looking for a wilder place to release my 380-horsepower road animal. And I-95 was booked solid.
I'd already taken note how the two-seater's new looks got the full, undivided attention of the valets under the porte-cochère at the Boca Raton Resort & Club. How, when I apologized for forgetting a mask when I picked up dinner curbside at a restaurant near home, the teenager who ran the food out said not to worry. She was willing to take a risk for a closer look at the storied car Jaguar calls "more beautiful than ever."
So where better to compare beauty with beasts than State Highway 9336, the two-lane blacktop between the gates of Everglades National Park and Flamingo on Florida Bay? The posted speed limit may range only from 45 to 55 mph, but thar be wilderness, I thought, and curves and places to stop, put the top down and take it all in. (If you really must go faster than 45-55 mph – and, spoiler alert, you will in a Jaguar F-TYPE – there's plenty of Turnpike available between Fort Lauderdale and Homestead before you even get to the park).
It seemed perfect.
Until I stopped to drop the top near Pa-hay-okee Overlook – a Seminole phrase meaning "grassy waters'' which, true story, Marjory Stoneman Douglas herself told me in 1988 was her favorite place to visit the Everglades – and somehow forgot it was mosquito season.
They remembered me, though. They hadn't forgotten my first trip to the Everglades.
"Remember the guy who brought us raw steaks a few years ago?" I imagine the swarm buzzing.
"Yez."
"Well he's back, but apparently forgot the steaks."
"He forgets a lot," they buzz in agreement.
"Let's drink his blood!" I imagine the swarm buzzing.
"Yez."
They were all over me in seconds. I'd forgotten (by now you may have detected a theme) to take any cans of repellent, so there I was in the yellow mash of the Everglades, slapping until my hands were smudged, gritty and without a rescuing park ranger in sight.
Maddened, I was about to run wild into the Everglades – when I remembered the Eiger Grey Jaguar F-TYPE convertible purring by the side of the road.
I got in, waved to clear the cloud of biters around my head, punched the gas and fully exceeded the 45-55 mph speed limit in about 3.5 seconds. I could see the cloud – and Pa-hay-okee – receding fast in the rearview. Like I'd just gone to warp bug repellent speed.
A few mosquitoes managed to hang on with me in the cockpit – it was hard to see them against the Ebony and Mars Red Windsor leather – but, by the time I got to the main park road, they were all blown out of there.
Gone.
So it you are visiting the Everglades in mosquito season, which, by now you may have detected a theme, I don't necessarily recommend, the Jaguar F-TYPE may be the ultimate way to see it. That is, with the top down on the road, with the top up as a mosquito refuge when you stop to look for alligators or wading birds or families of visitors locked out of their rental cars. And, when you want to leave the swarm behind, toggle the top down, push start and buzz begone.
The park belonged to me again, I thought as I drove on to Flamingo. Not the bugs.
"Maybe next time," I imagined the swarm buzzing.
I'll never forget my trip to the Everglades in my 2021 Jaguar F-TYPE. And neither will the mosquitoes – if I ever forget to bring it again.

DETAILS
2021 Jaguar F-TYPE R-Dynamic AWD convertible
Engine 3.0-liter supercharged 6-cylinders.
Transmission 8-speed automatic, and gear-shift paddles; JaguarDrive Control selectable driving modes.
List price $81,900; price as tested, $85,925 (including $1,025 delivery charge).
Fuel efficiency: 18 miles city, 26 highway.
Amenities: Black fully electric convertible roof, rain-sensing windshield wipers, 380-watt Meridian sound system, among many features.
Options at tested: Cooled and heated Mars Windsor leather performance seats, blind-spot assist, keyless entry, among many features.
REVIEW
Peaks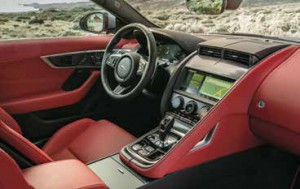 Interior style: "The new driver-focused interior of the F-TYPE, like the exterior, has evolved into a purer expression of the car's elegance and performance." Yes – once you get in, you may not want to get out (unless the cockpit becomes filled with mosquitoes – in which case, see earlier advice on the judicious use of the accelerator pedal.)
Exterior style: The new Jaguar F-TYPE "evolves into a purer, more sculpted and assertive expression," the company says, "with new hood with flowing surfaces, subtly enlarged grille and unique front bumper designers." Yes – it's a standout head-turner in traffic, even curbside waiting for food pickup.
Ease of use: I tend to rate cars on how long I can go without consulting the owner's manual. Four out of four stars here: I managed to go seven days without consulting the OM – tying a personal record!
Valleys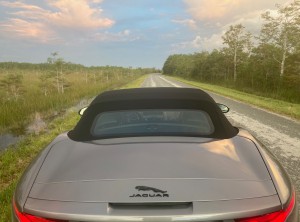 Trunk space: This is not a car to pick up a family member at the airport just returning from a month overseas. (Unless the airline lost the luggage). You may have to make two trips just to bring groceries home from the store, too. On the plus side, you get to make two trips to the grocery store in a way-cool car.
Fuel economy: The F-TYPE R-Dynamic rates an underwhelming 4 out of 10 on the Fuel Economy & Greenhouse Gas scale. That said, the overall Jaguar fleet's fuel efficiency has been inching up these past few years – led by the all-electric (and arguably fun) Jaguar I-PACE EV400 HSE, https://bit.ly/2TdlpYB
Performance: There's no valley here, nothing wrong with the 380 hp Jaguar F-TYPE's performance. No, no – it's crisp, capable and wonderful. But, before you settle on the 380 hp, test drive the 575 hp Jaguar F-TYPE R (for Racing) version (from $103,200). You may not think it's worth the extra $17,000 or so to outrun the odd mosquito swarm in the Everglades, or just about anything else on the road with you down to the park. But you may have trouble wiping the smile off your face. https://bit.ly/3knrptK
PHOTOS: On the road in Everglades National Park, by Mark Gauert
Related Articles
Share
About Author
(0) Readers Comments