By Ben Crandell
Fall in South Florida is the season of renewal and fresh starts, a theme perhaps felt more acutely in 2021, when the annual hopefulness of the new cultural season is energized by thousands of transplants to the region during pandemic population shifts.
It is difficult to predict the direction of the pandemic, COVID variants, vaccinations and how indoor public gatherings may be affected during the 2021-22 arts season. But, with tempered optimism, large cultural venues and organizations in South Florida are moving forward with full calendars, several with new renovations to show off.
If COVID had continued its midsummer disappearing act, this would be a season that would warrant special enthusiasm, as population increases have brought new potential consumers to many South Florida cities.
In downtown Fort Lauderdale, the freshly remodeled Parker is a microcosm of the trend, flanked by hundreds of recently opened apartments and condo units that house a new segment of city dweller.
It is a good place to be, says Kelley Shanley, president and CEO of the Broward Center for the Performing Arts, which operates The Parker. Shanley is open to reaching out to new clientele with tweaks to the calendar at The Parker, but admits it's a crapshoot.
"I think we'll definitely try some things as we get more familiar with who's moved into the neighborhood," Shanley says. "Their propensity to be here might be higher because of their proximity, but who knows what their tastes are or where they're going? There's a lot of people out there doing a lot of things."
He points out that The Parker programs for residents from a broad swath of South Florida, from Delray Beach to Aventura. Curating a calendar for such a diverse audience already is a challenge, he says.
"Sometimes, when we get all full of our ourselves about how many tickets we're selling, we just think, 'How many people have bought a ticket as a percentage of the total population?' One time, it was about as many people that had gone bowling that year," Shanley says, with a laugh.
Here is a look at five remodeled cultural spaces in South Florida with a new look and feel that will distinguish them during the 2021-22 arts season.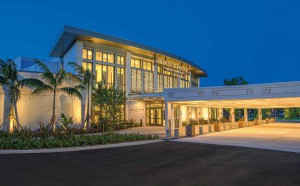 The Parker (Gonzalo Villota, courtesy)
The Parker
707 NE Eighth St., Fort Lauderdale, ParkerPlayhouse.com.
It is hard to overstate the dramatic transformation of The Parker, from lovingly tolerated Parker Playhouse, the unfashionable grand dame of Broward County arts venues, to the thoroughly modern scene that will greet guests during the 2021-22 season. Its just-completed $30 million renovation is highlighted by a spectacular new lobby, with soaring ceilings and a nearly wall-to-wall bar, that manages to pay tribute to the old space (the former façade is within the new lobby) while instantly eradicating all memories of the cramped annoyances of seasons past. The new bathrooms are models of contemporary design, and the lower level was gutted to make way for two new VIP hangouts. Inside the hall, the seats are new, but the uniquely expansive legroom remains, and the room's signature acoustics are expected to be even better after upgrades. Shows that will benefit from those acoustic tweaks, in particular, include Keb Mo' (Nov. 2), Bruce Hornsby (Nov. 14), Judy Collins (Jan. 14) and Rosanne Cash (Jan. 26).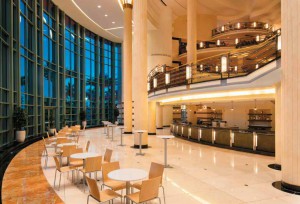 The lobby in Dreyfoos Hall at the Kravis Center (CJ Walker Photography, courtesy)
Kravis Center for the Performing Arts
701 Okeechobee Blvd., West Palm Beach, Kravis.org.
The debut season of the splendid new Dreyfoos Hall lobby, the crown jewel of a $40 million renovation at the Kravis Center for the Performing Arts, was cut short by the pandemic in early 2020. By the start of last season, the finishing touches were complete on the project, which includes a spacious pedestrian plaza with a waterfall facing Okeechobee Boulevard, a new valet parking garage, a fourth-floor ramp to the existing parking garage, new signage and a host of technology upgrades. But few visitors got the full "wow" factor in a 2020-21 season beset by cancellations, social distancing and general COVID stress. The upcoming 2021-22 calendar is filled with dynamic performances — the full Kravis on Broadway series, Cleveland Orchestra, Renée Fleming, Kristen Chenowith, Audra McDonald, Steve Martin and Martin Short — and the opportunity to take in the new Kravis Center in all of its intended glory. It is "a season of celebration," Kravis Center board chairman Jeffrey Stoops told subscribers. "Live is back!"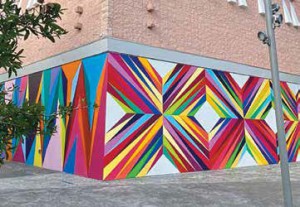 Boca Raton Museum of Art (Odili Donald Odita and Jackson Shainman Gallery, New York)
Boca Raton Museum of Art
501 Plaza Real, Boca Raton, BocaMuseum.org.
The Boca Raton Museum of Art this summer unveiled the newly renovated Ohnell Sculpture Garden, the third phase in a dramatic, three-year makeover of its outdoor environments — designed by Margi Glavovic Nothard of Fort Lauderdale-based Glavovic Studio — that has given the venue a striking new face. The Sculpture Garden includes part of a 144-foot mural titled "Odita's Yesterday, Today, and Tomorrow," by artist Vickie Pierre, that wraps around three exterior sides of the museum's North Gallery. The renovation was finished just in time, as the museum is about to experience a unique cultural moment. Oct. 16 is opening day for the blockbuster exhibition "Machu Picchu and the Golden Empires of Peru," a collection of nearly 200 historic Andean artifacts, many unseen by the public outside of Peru, which is expected to bring an international media spotlight to the Palm Beach County venue.
Pompano Beach Amphitheater
1806 NE Sixth St., Pompano Beach, PompanoBeachArts.org/amp
The 3,000-seat live-music venue affectionately known as The Amp is nearing completion of a lengthy renovation project that will include a new tensile-fabric roof, enhanced concession areas and an expanded VIP area. The centerpiece of the improvements is the roof that will cover the entire seating area, a long-awaited feature that venue representatives believe will be "a game-changer." The Amp expects to start booking acts in January and organizers are planning for an early 2022 grand-reopening concert. For more than 30 years The Amp has been a dependable host for acts that play songs you know all the words to, from Willie Nelson and Peter Gabriel to Weezer and Panic at the Disco.
Crest Theatre
51 N Swinton Ave., Delray Beach, OldSchoolSquare.org.
The historic Crest Theatre is the beautifully burnished gem in the lovely setting that is Old School Square, where the outdoor Pavilion stage set the standard for COVID-era live-music environments with sold-out shows by the likes of Jimmy Buffett and King Crimson. The Crest is in the final stages of a $1.5 million renovation that includes a new lobby bar, other pop-up bars, and a new seating configuration that adds capacity (now 347 seats) and a new VIP area. When we say "final stages," we mean the project is perhaps weeks away from completion. Alas, the Delray Beach city commission in August abruptly terminated its lease agreement with Old School Square Center for The Arts, the venue's nonprofit management organization for the past 30 years. This surprising turn of events means that, for now, the Crest Theatre renovation has halted and the performance calendar is blank. Tickets sold for performances currently scheduled for the Pavilion stage on Old School Square will be honored, an OSS spokesperson says. Other shows on the Pavilion calendar may be moved to another venue. Stay tuned.
MAIN PHOTO: New seating at The Parker in Fort Lauderdale. (Scott Luxor, courtesy)
Related Articles
Share
About Author
(0) Readers Comments