By Greg Carannante
City & Shore Magazine
As an extraordinary school-day narrative unfolds with the new semester, one wonders if teachers realize just how lucky they are.
Imagine the educational cataclysm they would have to navigate had the pandemic hit just 25 years ago, before the internet was pervasive — or even 30 years ago, before personal computers had become popular. School may have been out for spring and fall as well as summer.
Still, the sudden and unprecedented tumult of last spring transported almost every educator to uncharted teaching territory — and one where the challenges were not just technical. The abrupt transformation of education into an out-of-the-blue online model may have benefitted from a summer's worth of updating, but with the uncertainty still surrounding the coronavirus, one thing remains certain: Going to school has never had the same meaning as it does today.
The response of South Florida public schools has received considerable news coverage. But media attention has been sparse for the region's private schools, which have had to confront similar, yet distinct, obstacles — minus the system-wide support of the county school system.
How did those private educators survive the instantly new normal of distance teaching? How did they feel about relocating from their familiar classroom roles to a strictly online presence? And, most importantly, how did their students do?
Here are four of their stories.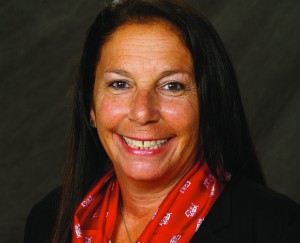 Chari Distler
Cardinal Gibbons High School, Fort Lauderdale
Academic technology teacher of Coding, Computer Programming, AP Computer Science Principles and Summer School Visual Art
Though she has been teaching Computer Graphics and Computer Science for 25 years, last year was Distler's first time doing so exclusively by computer. Perhaps not surprisingly, she says it went very well.
"I consistently surveyed how the students were feeling about distance learning, our curriculum and how they were feeling personally. The Technology Department team worked day and night helping teachers have the tools they needed to make the process successful. The tools that Cardinal Gibbons had already been using were great for distance learning, and the only tool we added was Zoom."
At Gibbons, all students and teachers are issued iPads that contain all their books and that they can take home. In addition, she says, over 80 percent of teachers are certified as "Apple Teachers."
"The iPads were a big plus in my opinion," Distler says. "The school manages the iPads, which enables us to push apps to students and make sure that they can only download educational apps."
She adds that 100 percent of her students successfully met the goals and objectives of her class. "Students shared phone numbers with each other and created new friendships, which was heartwarming to see. If students had questions or concerns, they were able to upload screenshots of their work in real time and get instant feedback from me. Communication to parents and students throughout the journey was key to my success."
This year, she says, she would like to add more fun, interactive learning games and challenges as well as more collaborative projects. And despite the lack of in-person interaction between and with her students, she says, "the greatest positive experience for me was the kindness and respect that the students showed me throughout."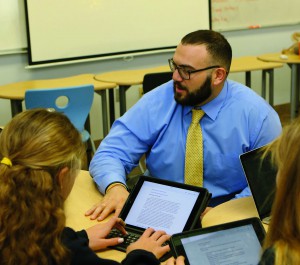 Vinny Greco
North Broward Preparatory School, Coconut Creek
Department Chair of Upper School Social Sciences; teacher of eighth-grade Civics and Government
"It was a fascinating and sometimes frustrating experience," Greco says of becoming an online educator for the first time in 10 years of teaching last year. "But I learned much.
"There were many opportunities to 'meet students where they are.' I created more content to give my kids resources they could use, like mini lessons on YouTube and homework help via TikTok. Being flexible for students and learning how to pull in things they really respond to like social media was a rewarding experience."
Though using different apps to create resources for students was necessary for distance teaching, Greco says those techniques will play a role even when things get back to normal. Until then, he will be more focused on including conversations and routines to help promote self-care for the students.
"Distance learning threw our kids off of their schedules so they began to stay up really late, get outside less and in general got out of the routines that make them successful," Greco says. "I want to use some class time at the start of each week to make sure we are checking in with each other to establish and celebrate good habits that keep us on a positive track academically and personally."
He adds that he was proud of how his fellow educators came up with ways to engage with students remotely and still tried to cultivate a sense of community.
"Having said that, I realized that teaching online can in no way replace brick-and-mortar schools," the teacher says. "The No. 1 negative by far is losing the social component. Not getting to high-five your kids and share the same space — it took away the human element of why we love teaching in the first place."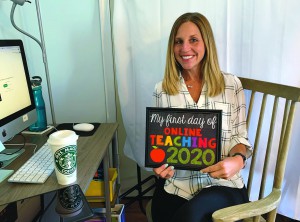 Christina Macey
American Heritage School's American Academy, Plantation Third-grade teacher
"When our school switched to distance learning and I had to teach online for the last quarter of the school year, I felt very overwhelmed and nervous," says Macey, a 10-year teacher. "I had to learn not only how to teach my students through a computer screen, but also maintain good classroom management."
Because she is an ESE teacher, she says she had to work even harder to provide accommodations for her students, as well as continue individual and small-group learning sessions. She also had to battle spontaneous technical difficulties, such as having a dropped call mid-lesson.
"Nevertheless," Macey says, "I tried my hardest every day and learned from each day's self-reflection. I read a lot of blogs from other teachers who had the same challenges and was able to use some of the tricks they found. I spent a lot of time finding fun ways to enhance my lessons digitally. Each week I felt more effective and my frustration decreased."
Now Macey is much more confident. "I truly enjoy the experience! I feel fulfilled because I am seeing much success in my students after all of my time and effort to become an online teacher in an emergency situation.
"Teaching online taught me that it is important to step out of my comfort zone and be prepared to try new things. I thought I had implemented a great deal of technology in the classroom previously, but now I see that there are so many more digital resources I can use to enhance my teaching."
She says she is also amazed at how quickly her 5- to 9-year-old students learn to use a new app or website. "Funny enough," she says, "even when I thought I was teaching them, the children discovered tricks and other ways to use various programs. It was a learning experience for all of us."
One thing she would have done differently is to make the digital experience a bit more … well, digital. "I would like to have them continue to use traditional paper and pencil to complete some of their work because I believe it is still very necessary for them to hold a pencil, strengthen their grip and practice handwriting."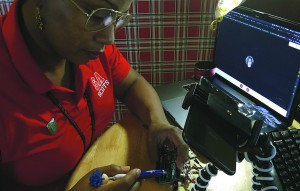 Michelle Murray
Saint Andrew's School, Boca Raton
Department chair of the Design Technology and Media Arts Department; teacher of middle and high school Engineering and Design, Robotics and Multimedia Communications.
With her experience in the technological realm, it would seem the switch to online teaching might have been a smooth one for Murray. However, she was as much a novice as any teacher.
"I have never taught online before," says Murray, a teacher for 16 years both in the States and internationally. "However, I have taken several classes online and have been thoroughly trained by my school to manage classes online.
"Teaching online forces you to be more creative with your lesson planning. I have found that the need to increase making personal connections while incorporating extrinsic motivation are imperative."
Murray says being empathic with her learners helped to make teaching her project-based classes positive and successful.
"The only negative aspect of online learning is the obvious fact that I am not able to see my awesome students in person," she says. However, the experience did teach her a few things:
"The millennial art of good camera angle, increased patience with technology, and that I am much funnier online than in person!"
Murray says there is nothing she would do differently this year. "I enjoy the ability to be creative and flexible in this space and the support I have received as a teacher to build my own online presence."
*  *  *
Private School Reopening Plans
Cardinal Gibbons High School: As directed by the Archdiocese of Miami, school started with virtual classes on Aug. 19, projected at least through Sept. 18.
North Broward Preparatory School: A phased approach began on Aug. 24, in which students select a Hybrid Model (virtual and on-campus classes) or a complete Virtual Learning Model.
American Heritage School: Began on Aug. 31 with both in-person instruction five days a week and a concurrent distance-learning option with students attending classes via a web platform.
Saint Andrew's School: SA@Home (distance learning) began Aug. 24. Three phases of SAOnCampus learning were to commence Aug. 31 through Sept. 14.
— Greg Carannante
Related Articles
Share
About Author
(0) Readers Comments