By Greg Carannante (GC), Ben Crandell (BC), Rod Stafford Hagwood (RH) and Phillip Valys (PV)
Live Stage
"The Twentieth Century Way"
Through Oct. 31 at Island City Stage, 2304 N. Dixie Highway, Wilton Manors. Tickets $35 at 954-928-9800 or IslandCityStage.org.
For its 10th season, Island City Stage is re-staging "The Twentieth Century Way," the first play the LGBTQ+ themed company burst onto the SoFlo theater scene back in August 2012. That production was an ardent debut, holding the audience at Fort Lauderdale's Empire Stage in rapt attention. Now at their own digs in gay-licious Wilton Manors, Island City Stage will return to the story based on 1914 real-life incidents in which two unemployed actors, B.C. Brown and W.H. Warren, used their skills to entrap men having sex in Long Beach parks under the nebulous "social vagrancy" law. - RSH
Whitney Cummings
Nov. 12 at Coral Springs Center for the Arts, 2855 Coral Springs Drive. Tickets $42.27 at 954-344-5990 or TheCenterCS.com.
Whitney Cummings' resume includes a popular podcast, a best-selling book, four highly rated comedy specials (who can forget the look-alike robot in her last one?) as well as being executive producer of her own sitcom for two seasons. She also created the sitcom "2 Broke Girls" and executive produced the revival of "Roseanne" — at least until, well, you know. Now Cummings is coming to SoFlo with her "Touch Me" tour where she promises to mine some humor out of the pandemic's changes to society. - RSH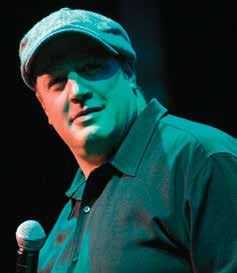 Kevin James
Dec. 3 at Hard Rock Live, 1 Seminole Way, Hollywood. Tickets $66, $86 and $106 at SeminoleHardRockHollywood.com or Ticketmaster.com.
Comedian and actor Kevin James — can we just call him the other King James — is back doing stand-up, something that shot him from the Long Island comedy club scene into national stardom after a blazing set at the 1996 Montreal Comedy Festival. Two years later he was the star of his own sitcom, "The King of Queens," which ran for nine seasons. On the big screen, James scored with comedies such as "Paul Blart: Mall Cop," "Zookeeper," "Hitch" with Will Smith and four funny Adam Sandler flicks, including "Pixels" and "Grown Ups." Now he's the star and showrunner of NASCAR sitcom "The Crew," streaming on Netflix. - RSH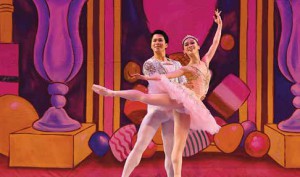 "The Nutcracker"
Dec. 10-12 at the Aventura Arts and Cultural Center, 3385 NE 188th St., Aventura. Tickets $40 at 877-311-7469 or AventuraCenter.org. Dec. 17-19 at The Parker, 707 NE Eighth St., Fort Lauderdale. Tickets $25-$40 at 954-462-0222 (press 1), ParkerPlayhouse.com or BrowardCenter.org.
There is much in the Arts Ballet Theatre of Florida's season that will make your heart dance, but no matter what you do, don't miss the North Miami-based company's resplendent production of "The Nutcracker." This year the holiday favorite will be staged by artistic director Master Vladimir Issaev at the renovated Parker Playhouse, known now simply as The Parker. - RSH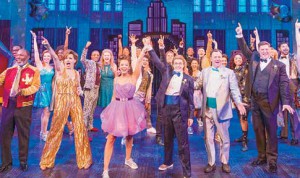 "The Prom"
Dec. 14-19 at the Broward Center for the Performing Arts, 201 SW Fifth Ave., Fort Lauderdale. Tickets $25-$85 at BrowardCenter.org.
If Broadway is going to come back in a big way, it just might need to rely on musicals like "The Prom." With just enough social commentary heft to keep it from flittering away and wowza dance numbers set to a peppy score by Chad Beguelin and Matthew Sklar (the dynamic duo behind "The Wedding Singer" and "Elf the Musical"), the show is joyous and really, really funny — with enough laughs to camouflage some teensy weensy flaws. How do we know? Because no less than camp king Ryan Murphy directed a star-studded version last December that had a limited run in movie theaters before streaming on Netflix. The musical is about Broadway actors, stardom descending, who decide to boost their image by traveling to a conservative town to help a lesbian high schooler overcome the local leadership's opposition to her bringing a same-sex date to her prom. - RSH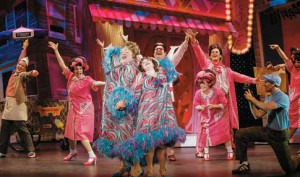 "Hairspray"
Dec. 28-Jan. 2 at the Adrienne Arsht Center for the Performing Arts, 1300 Biscayne Blvd., Miami. Single tickets go on sale Oct. 22, ranging from $35-$130. Season subscriptions are $191-$764 at 305-949-6722 or ArshtCenter.org.
It's the mashup we never knew we wanted: "RuPaul's Drag Race" and "Hairspray." Yes, you've probably seen one of the many tours or even a local production of this Tony Award-winning musical. And who hasn't seen John Waters' 1988 movie about outsiders crashing insiders' parties (and desegregation in the early 1960s) that birthed the Broadway show in 2002? And if somehow you managed to miss all of that, the movie version of the Great White Way production splashed the whole story back onto the big screen in 2007 with John Travolta, Michelle Pfeiffer, Queen Latifah and Christopher Walken. But what we haven't seen, up until this national tour, is drag-ariffic Nina West as Edna Turnblad, the mother-figure character that from the very beginning has been played by dudes in dresses. Does that name Nina West sound familiar? Well the faux femme was one of the breakout stars of season 11 of "RuPaul's Drag Race," with fans including Rihanna and Rep. Alexandria Ocasio-Cortez. - RSH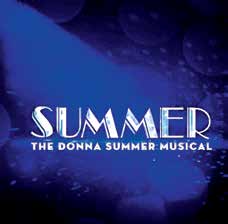 "Summer: The Donna Summer Musical"
Jan. 5-9 at the Kravis Center, 701 Okeechobee Blvd., West Palm Beach. Tickets at 561-832-7469 or Kravis.org/events/donnasummer. Season subscriptions are $268-$658 at Kravis.org/broadway.
Let's just be wholly and truly honest: Who cares if the drama is on point or not? In this Broadway national tour, the late, great disco diva Donna Summer gets her life turned into a jukebox musical complete with her chart toppers such as "Love to Love You Baby," "I Feel Love," "MacArthur Park," "No More Tears (Enough is Enough)," "On the Radio," "Bad Girls," "She Works Hard for the Money," "Dim All the Lights," "Hot Stuff" and "Last Dance." So bring on the shiny costumes, rev up Sergio Trujillo's disco dazzle choreography and let's hear those dance anthems bounce off the walls in lush Broadway-tized arrangements. Toot toot, hey, beep beep. - RSH
Bill Maher
Jan. 15 at the Kravis Center for the Performing Arts, 701 Okeechobee Blvd., West Palm Beach. Tickets start at $39 at Kravis.org/events/maher.
Bill Maher, the lightning rod comedian and political commentator, once told the Sun Sentinel that he does not tailor his stand-up act for a particular region, but that SoFlo just might well be the exception. That was almost 10 years ago, so what must the host of "Politically Incorrect" and "Real Time With Bill Maher" think about the sociopolitical landscape now, with all the low-hanging tropical fruit just ripe for his particular brand of satire? - RSH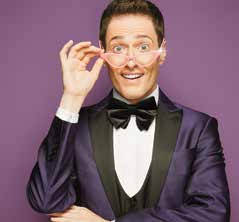 Randy Rainbow's "The Pink Glasses Tour"
Jan. 27 at the Broward Center for the Performing Arts, 201 SW Fifth Ave., Fort Lauderdale. Tickets $37-$127 at BrowardCenter.org.
First of all, Randy Rainbow swears that's his real name. You also need to know that Rainbow is one of us. The political parodist who rose to YouTube super-duper-stardom grew up in Broward County and graduated from Plantation High School, where he appeared in productions of "Grease," "Guys and Dolls" and "You're a Good Man, Charlie Brown." He also did children's, community and regional theater in Miami Shores and Hollywood. At the Hollywood Playhouse, he often shared the stage with Josh Gad. All that musical theater served him well with his patented blend of Broadway and politics (or any hot topic) satirized in smirky viral videos that have delighted devotees numbering in the millions. For the tour, Rainbow brings some of his song parodies from the virtual world to the live stage world, accompanied by a live band of Broadway musicians. He also tells dishy stories, does a Q&A with the audience and performs some new songs he composed with none other than Alan Menken ("The Little Mermaid," "Beauty and the Beast," "Aladdin") and Marc Shaiman ("Hairspray," "Charlie and the Chocolate Factory," "Mary Poppins Returns"). - RSH
"Water by the Spoonful"
Jan. 28-Feb. 6 at the Stonzek Studio, 713 Lake Ave., Lake Worth. Tickets $25 at 561-586-6410 or LakeWorthPlayhouse.org/bbscurrent.
Sometimes you have a need to see theater that leaves you shook. This 2012 Pulitzer Prize-winning drama by Quiara Alegria Hudes is a non-linear poem of a play set in two places, the internet and the real world. Online Odessa Ortiz moderates a chat room for recovering addicts, who though from vastly different walks of life, bond like a family. But offline, Ortiz is facing some all-too-real challenges in her blood family, from the emotional and physical wounds a nephew has from fighting in Iraq to a niece trying to keep it real from the hood when mixing with the posh set of Philadelphia. And her sister, who raised Ortiz, is dying of cancer. We all feel that our modern lives are chaotic. Hudes jumps around, but "Water by the Spoonful" does have grace, showing how us how to cope. - RSH
Pop Music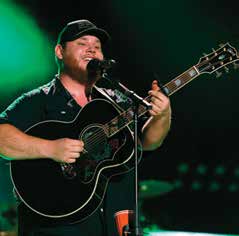 Luke Combs
Oct. 30, BB&T Center, 1 Panther Parkway, Sunrise. Tickets $40.75+ at Ticketmaster.
The king of the country charts with a dozen Top 10 hits in the past four years (soon to be joined by "Cold As You" and "Cold Beer Calling My Name"), Combs remains a down-to-earth storyteller well versed in backroad bars, bad choices and beer. But he also can write a romantic lyric that will hit you deep — see "Beautiful Crazy," "Forever After All" and "Better Together." For that he can thank wife Nicole Hocking Combs, who grew up in West Palm Beach. - BC
Metallica
Nov. 4, Hard Rock Live, 1 Seminole Way, Hollywood. Tickets $130+ (sold out), MyHRL.com
Not sure anything more need be said: Metallica at Hard Rock Live, the still-feels-new, state-of-the-art venue with a mere 7,000 seats. Consider that Metallica will follow this concert two nights later with one at Mercedes-Benz Stadium in Atlanta. Also worth noting is the possibility that the Hard Rock show may include new music — singer James Hetfield's told "The Fierce Life" outdoors show podcast that the band has used pandemic downtime to work on songs likely destined for the first Metallica album in five years. - BC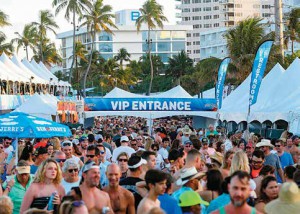 Tortuga Music Festival
Nov. 12-14, Fort Lauderdale Beach Park. Tickets start at $138 for one day, $239 for a three-day pass at TortugaMusicFestival.com.
The 2021 festival is actually the third attempt to put on the 2020 festival, if you're scoring at home, with headliners Miranda Lambert (Nov. 12), Luke Bryan (Nov. 13) and Tim McGraw (Nov. 14). Particularly noteworthy is Lambert, who will be Tortuga's first female headliner. In the interim, the undercard has lost a few popular acts (Morgan Wallen, Kelsea Ballerini, Toots and the Maytals, Jordan Davis) but gained some luster thanks to new music from Jimmie Allen (the excellent "Bettie James" album), Gabby Barrett (2021 ACM New Female Artist of the Year) and pop-leaning boot-scooter Niko Moon ("Good Time," "No Sad Songs"), not to mention Rita Wilson, the singer-songwriter married to actor Tom Hanks. - BC
Café Tacvba
Nov. 13, Fillmore Miami Beach, 1700 Washington Ave., Miami Beach. Tickets $45+ at LiveNation.com.
For three decades this influential alt-rock quartet from Mexico has weaved colorful elements of rock, punk, electronica and indigenous folk music into a dreamcoat of ambitious musicality and humanity. This is aspirational music, and you (even I) can dance to a lot of it. The timing of this tour could not be more perfect. - BC
Kane Brown
Dec. 2, FTX Arena (formerly AmericanAirlines Arena), 601 Biscayne Blvd., Miami. Tickets $36.50+ at Ticketmaster.
Three years after Billboard magazine anointed him "the future of country music," Brown sure seems like the now of music music. In April, the 27-year-old singer became the first Black artist to win the Academy of Country Music's Video of the Year award for "Worldwide Beautiful," a work that also made him the rare country artist to be nominated for an MTV Video Music Award. This summer he's had a No. 1 country single with crooner Chris Young ("Famous Friends"), but his most recent release is the percussive single "Memory," a collaboration with Florida-bred rapper blackbear ("Hot Girl Bummer"). Brown's Blessed & Free Tour includes openers Jordan Davis and Restless Road. - BC
James Taylor with Special Guest Jackson Browne
Nov. 10, BB&T Center, 1 Panther Parkway, Sunrise. Tickets $59+ at Ticketmaster.com.
Back in the day, it was no big deal to see two big names on the same bill. Not so much these days — especially two giants of the singer-songwriter genre. It's also not entirely common to see two classic rockers touring with new(er) material, but both setlists draw from recent releases: Browne's excellent Downhill from Everywhere and Taylor's American Standard. So don't expect an entire night of blasts from the past — nor a quiet night of the acoustically colored reveries they're each known for. James and Jackson are both fronting bands — in JT's case, one of the all-star varieties featuring four backup singers — and pumping it up for arena-sized audiences.
— GC
Visual Arts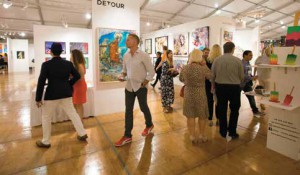 Art Basel Miami Beach (Dec. 2-4)
Miami Beach Convention Center, 1901 Convention Center Drive, 786-276-2600, ArtBasel.com/Miami-Beach
Remember when duct-taping bananas to walls cemented, for us South Floridians, the moment that Art Basel jumped the shark? We don't either, because we know better. (Art Basel really drove off the bridge of credibility two years earlier, when an adult bounce house debuted in the shape of Kanye West's head. Or was it the year Lenny Kravitz thought he was a singer AND a photographer?) Nonetheless, there's something intoxicating, even bewildering, about a granddaddy art fair so massive it congests an entire city with white tents, tourists and big-ticket buyers and dares you to finish it all. It's the contemporary-art OG, after all, and remains a must for any serious art lover. Art Basel Miami Beach marks its 19th edition at the Miami Beach Convention Center with more than 260 galleries, and roughly a dozen satellite art fairs will return to its orbit, fanning out to Wynwood, downtown Miami and Miami Beach. Bring sunscreen, and don't get too distracted by the feeding frenzy of art collectors. - PV
Art as an experience
"Every Wall is a Door" (through December 2021), Superblue Miami, 1101 NW 23rd St., Miami, 786-697-3414, SuperBlue.com/Miami
"Beyond the O.K. Corral: David Levinthal, Wilson J. Tang and YumeGo" (Nov. 20-Feb. 20, 2022), NSU Art Museum Fort Lauderdale, 1 E. Las Olas Blvd., 954-525-5500, nsuartmuseum.org
So-called "experiential installations" are nothing new, of course, as anyone who van Goghed around Miami this spring can attest (or who's ever jumped into a swimming pool of ice-cream sprinkles). But at Superblue, a 50,000-square-foot immersive digital museum that debuted in May across the street from the Rubell Museum in Allapattah, fair warning: This Instagrammers' paradise isn't cheap ($36), and your battery will drain super-fast. The opening show, "Every Wall is a Door," consists of seven installations about birth, death and renewal, spanning a two-story mirror maze to a moving cloud sculpture of soap bubbles that visitors can walk through. Flowers bloom, wither and decay across the wall, engulfed in riots of color, in "Between Life and Non-Life" by Japan-based collective teamLab. More disorienting things happen in James Turrell's "Ganzfeld," in which a dim light is projected onto a blank wall, tinting the room gradually with color, an experience designed to make visitors feel off-balance.
Bonus art adventure: Across the street from Superblue is the breathtaking Rubell Museum, home to enthralling paintings by the late iconic Overtown painter Purvis Young. His paintings of urban decay – what he witnessed on the streets – show visions of oblong-faced angels, arms outstretched and wearing pained expressions and squinting eyes, who represent goodness in a degenerate world.
Still craving more immersive art after a year of pandemic-fueled sensory deprivation? The NSU Art Museum Fort Lauderdale dips a toe into augmented reality with "Beyond the O.K. Corral: David Levinthal, Wilson J. Tang and YumeGo." The show lets visitors step inside the 2014 photograph "Gunfight at the O.K. Corral" by veteran photographer David Levinthal, who shoots toy figurines in staged dioramas of famous historical moments to blur the lines between memory and reality. Created with video-game designer Tang, visitors download an AR app, YumeGo, which turns the chaos of a Wild West shootout into a walkable landscape. - PV
"The Secret Garden of Lily LaPalma" (through Dec. 5)
MAD Arts, 481 S. Federal Highway, Dania Beach, 754-206-2243
For Miami documentary photographer Maggie Steber, self-isolation is a secret garden where dreams and memories can bloom in psychologically dark ways. In Steber's new photo series, on display inside MAD (formerly the Gallery of Amazing Things), the two-time Pulitzer Prize finalist and Guggenheim fellow (New York Times, National Geographic) reveals her fears and private memories through her alter-ego, Lily LaPalma. The result is surreal photos blending film noir, magical realism and pulp fiction, showing Steber's lifelong fear of knives, men surrounded by flowers and women floating dreamlike in a pond. The personal project is a big departure from her 40-year photojournalism career capturing Haiti's history, natural disasters, science and the African slave trade. - PV
"Machu Picchu and the Golden Empires of Peru" (Oct. 16-March 6, 2022)
Boca Raton Museum of Art, 501 Plaza Real, 561-392-2500, BocaMuseum.org
Last year, as the Incan city of Machu Picchu stood eerily silent, emptied of tourists in the pandemic, virtual-reality drones captured majestic views of the sprawling citadel from above. This VR video is one of 193 reasons to visit "Machu Picchu," a new blockbuster show having its world premiere on both floors of the Boca Raton Museum of Art before it embarks on an international tour. Arguably the most gilded collection of artifacts in a local museum since King Tut's tomb treasures toured Fort Lauderdale, the show features 192 rare pieces from royal tombs and objects that belonged to noble Andean lords. Highlights include the gold attire of a Chimú emperor from 1300 AD, and 14-kt. gold alloy Andean headdress. Most artifacts have never left Peru: the exhibit is on loan from Museo Larco in Lima, Peru, and Museo de Sitio Manuel Chávez Ballón in Aguas Calientes, Peru. - PV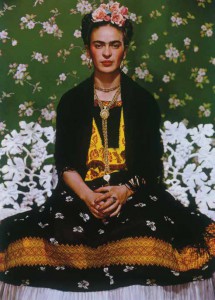 "Frida Kahlo, Diego Rivera and Mexican Modernism from the Jacques and Natasha Gelman Collection" (Oct. 23-Feb. 6, 2022)
Norton Museum of Art, 1450 S. Dixie Highway, West Palm Beach, 561-832-5196, Norton.org
Frida Kahlo, as the story goes, kept spider monkeys as pets in the garden of her Casa Azul in Coyoacán to symbolize the children she could never bear. But the pop-culture icon's "Self Portrait with Monkeys" barely scratches the scope of this well-traveled display visiting the Norton. The bulk of these 70-plus works were owned by Jacques and Natasha Gellman, two European ex-pats who married in 1941 and befriended Kahlo and her husband, muralist Diego Rivera, while soaking up the post-Mexican Revolution renaissance of art. Here are Kahlo's portraits, her somber face etched with isolation and physical suffering, but also those of Rivera, popular for his folk-art paintings of working-class Mexicans. The rest of the collection spotlights Rivera and Kahlo's contemporaries (Carlos Mérida, José Clemente Orozco, María Izquierdo), who, emboldened by the revolution, each experimented with new themes. - PV
Bob Dylan: Retrospectrum (Nov. 30-April 17)
Patricia & Phillip Frost Art Museum, Florida International University, 10975 SW 17 St., Miami, 305-348-2890, frost.fiu.edu
You'd think that writing over 500 songs, recording nearly 70 albums and sustaining his Never Ending Tour for 33 years would be a sufficient creative outlet for the 80-year-old artist known as Dylan. But no. He's also a visual artist, and it's South Florida that will give the country its first comprehensive look at his oeuvre — just in time for Miami Art Week and Art Basel. Conceived in 2019 for the Modern Art Museum in Shanghai, China, "Retrospectrum" spans over six decades' worth of 250 works in oil, acrylic, watercolor, ink, pastel and charcoal, as well as industrial ironwork sculptures that are among the artist's most rarely seen pieces. Immersive and interactive displays position Dylan's development as a visual artist within the context of his musical and literary canon. In recognition of that broader work, DYLAN@FIU, a symposium concurrent with the exhibit's opening, will explore the myriad facets of the icon's career and cultural influence. "When I Paint My Masterpiece" — indeed.
— GC
Classical Music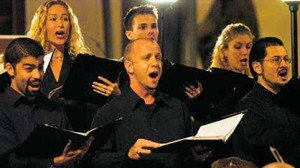 Seraphic Fire, Pergolesi: "Stabat Mater"
Nov. 4-7, multiple venues. Tickets and subscriptions: SeraphicFire.org.
South Florida's adventurous and Grammy-nominated vocal ensemble opens its season with Giovanni Battista Pergolesi's haunting "Stabat Mater" — depicting Mary's anguish at the crucifixion of Jesus — an intimate, deathbed piece written up until the chronically ill Pergolesi's passing in 1736 at age 26. The work will feature crowd-pleasing countertenor Reginald Mobley and opera vocalist Lauren Snouffer. Performances: Nov. 4 at St. Sophia Greek Orthodox Cathedral in Miami; Nov. 5 at St. Philip's Episcopal Church in Coral Gables, Nov. 6 at All Saints Episcopal Church in Fort Lauderdale and Nov. 7 at St. Gregory's Episcopal Church in Boca Raton.  - BC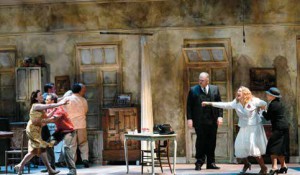 Florida Grand Opera, "A Streetcar Named Desire"
Jan. 22, Jan. 23, Jan. 25, Arsht Center in Miami; Feb. 3, 5, Broward Center in Fort Lauderdale. Tickets and subscriptions: FGO.org.
One of the oldest performing arts organizations in the state, with a history that traces back nearly 80 years, Florida Grand Opera opens the 2021-22 season with a classic nearly the same age, "A Streetcar Named Desire." This production of the André Previn opera, based on Tennessee Williams' Pulitzer Prize-winning 1947 play, will feature FGO favorite and Miami native Elizabeth Caballero as the tortured Blanche Dubois and charismatic baritone Steven LaBrie (Riolobo in FGO's critically lauded 2018 production of "Florencia en el Amazonas") as the brutish Stanley Kowalski. – BC
Cleveland Orchestra
Jan. 21-22, 28-29, Arsht Center in Miami; Jan. 23, Kravis Center in West Palm Beach. Tickets and subscriptions: ClevelandOrchestra.com/Miami.
After a year off, the revered orchestra will return for winter performances in Miami and West Palm Beach under the direction of Franz Welser-Möst. First up will be Shchedrin's "Carmen-Suite" and Tchaikovsky's Symphony No. 4 on Jan. 21-23, followed on Jan. 28-29 by Mozart's "Linz" Symphony No. 36, Dvorak's Symphony No. 8 and George Walker's "Lilacs," with Grammy Award-winning soprano Latonia Moore. Walker became the first Black composer to win the Pulitzer Prize for music, in 1996, for "Lilacs," a setting for Walt Whitman's poignant elegy to President Abraham Lincoln, "When Lilacs Last in the Dooryard Bloom'd." - BC
Palm Beach Opera, "Carmen"
Jan. 28-29, Jan. 30, Kravis Center in West Palm Beach. Tickets and subscriptions: PBOpera.org.
This season-opening performance of Georges Bizet's timeless love story is a bit of a welcome-home party for Palm Beach Opera and artistic director David Walker. The 2020 season, Walker's first in the role, ended abruptly in March when the pandemic claimed its final production, "Eugene Onegin." Earlier this year, the company was forced to pivot again, compressing the season into a well-received outdoor festival of three operas in nine days during February at iTHINK Amphitheatre at the South Florida Fairgrounds. The coming season — "Carmen" will be followed by Donizetti's rom-com "The Elixir of Love" and "The Merry Widow" — will play out back in the friendly confines of the Kravis Center, where a $40 million expansion and renovation was completed during COVID closures and is ready to be seen.  - BC
Film Festivals
American Black Film Festival
Nov. 3-14, various locations in Miami and Miami Beach. Tickets and schedule: ABFF.com.
What began as a showcase for the work of Black filmmakers in 1997, when its inaugural ABFF Rising Star Award went to future Oscar-winner Halle Berry, is now a sprawling celebration of the creativity and influence of Black culture, drawing thousands of visitors to screenings, master classes, panel discussions and celebrity-strewn parties. Over the years ABFF has included talents such as Ryan Coogler ("Black Panther"), Common, Jamie Foxx, Keenan Ivory Wayans, Robert Townshend, Tyson Beckford and Gabrielle Union. Last year's festival was a virtual affair, with viewers from 90 different countries, and included the first presentation of the John Singleton Award for Best First Feature Film and ABFF Pride, an LGBTQIA film section. Events at this year's 25th annual ABFF are scheduled to be live Nov. 3-7, followed by a virtual version Nov. 8-14. - BC
GEMS Film Festival
Nov. 4-7, Tower Theater in Miami. Tickets and schedule: MiamiFilmFestival.com.
This annual fall spin-off of Miami Dade College's Miami Film Festival is scheduled to return to in-person screenings, with a spotlight on global features. Films confirmed for GEMS 2021 so far include "The Worst Person in the World," a new chapter in Norwegian filmmaker Joachim Trier's Oslo Trilogy, and Iran's "A Hero," directed by Asghar Farhadi. The full GEMS lineup is expected to be announced in October. The 39th annual Miami Film Festival will take place March 4-13. - BC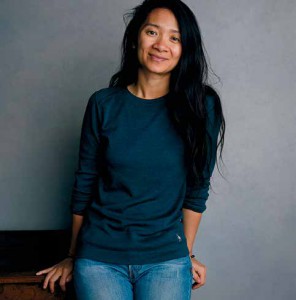 Fort Lauderdale International Film Festival
Nov. 5-21, various locations in Broward County. Tickets and schedule: fliff.com.
Now in its 36th year, FLiFF will return to live red carpets, screenings and celebrity appearances in 2021, still guided by the unerring (sometimes inscrutable) taste of President and CEO Gregory Von Hausch. Features already on the schedule range from the quirky British coming-of-age comedy "Soundtrack to Sixteen" and the bittersweet Greek yarn "Vasy's Odyssey" to the indie documentary "Without Getting Killed or Caught," about revered singer-songwriter Guy Clark. Opening-night festivities are planned for FLiFF's three year-round theaters: The Gateway Cinema and Savor Cinema in Fort Lauderdale and Hollywood's Cinema Paradiso. Another special event will be a screening of the Marvel Studios superhero thriller "Eternals," directed by Chloé Zhao of "Nomadland" fame (the cast includes Salma Hayek, Angelina Jolie and "Game of Thrones" heartthrob Richard Madden), at the AutoNation IMAX theater at the Museum of Discovery & Science in Fort Lauderdale. New this year will be two days of free screenings on Nov. 6 and Nov. 20 at the Pompano Beach Cultural Center. The full schedule and tickets will be available in October at fliff.com. - BC
Miami Jewish Film Festival
Jan. 13-27, various locations in Miami and Miami Beach. Tickets and schedule:  MiamiJewishFilmFestival.org.
This will be the 25th edition of what has become the world's leading Jewish film festival, which set an attendance record during hybrid events in 2021 while, for a second consecutive year, being named one of the 50 best film festivals anywhere by MovieMaker Magazine. MJFF's 2022 lineup is a work in progress, but this year's two-week event in April showed 148 films from 27 countries in virtual, drive-in and outdoor screenings, several of which were quickly acquired for U.S. distribution, including "Shtetlers," "City of Desire," "If You See My Mother" and "Tiger Within" (starring the late Ed Asner). Igor Shteyrenberg, the festival's executive director, told the Sun Sentinel before last year's pandemic-altered event that movies can help society heal: "We believe film is an extraordinary medium, an empathy machine that has the transformative power to reshape lives and give hope." - BC
Palm Beach Jewish Film Festival
Jan. 30-March 6, various locations in Palm Beach County. Tickets and schedule:  PBG.jcconline.com/pbjff.
The 32nd edition of the Donald M. Ephraim Palm Beach Jewish Film Festival, hosted by the Mandel Jewish Community Center of the Palm Beaches, can be expected to bring dozens of films about the Jewish experience and their creators to theaters across the county (it's still taking film submissions, through Nov. 12). The 30 films screened at the virtual festival this year ranged from "Breaking Bread," about Dr. Nof Atamna-Ismaeel, the first Muslim Arab to win Israel's MasterChef TV competition and her quest to affect social change through food, to "The Spy Behind Home Plate," a documentary about Moe Berg, a Major League baseball player turned World War II spy. - BC
PHOTOS: For photo credits, see pgs. 52-66 of the digital edition of PRIME, linked on http://www.cityandshore.com/
Related Articles
Share
About Author
(0) Readers Comments