Editor's note: Clyde Butcher waded into the wilderness one summer's day 26 years ago with nothing more than a camera. He returned with the wild soul of South Florida, in black and white.
By Jonathon King
City & Shore Magazine
The natural heart of South Florida is his heart. The soul – the living, moving, watery soul of the peninsula – is his soul. Through his eye and his lens, the vision and natural grandeur of the very place we live, is his vision.
Be it the infinite sweep of a sawgrass plain stretched to the horizon, the seemingly impossible sight of cypress knees rising from a mirror-like surface of river water or the ethereal beauty of a single ghost orchid captured by his camera, Clyde Butcher brings us proof of Florida's natural life through his art.
"I try to take pictures that make people feel like they want to walk into them," he has said. "I want people to be drawn in and feel their way through the environment."
Butcher's use of black-and-white, single-frame box photography produces pictures that can capture both a vista and a detail in a single shot in a way few artists can carry off.
"I make pictures large enough so that you can't see them. You have to scan, and the mind puts together what you see," says the 68-year-old photographer who is the recipient of the State of Florida's Artist Hall of Fame Award. "I want you to see the sky, and veins in the leaves."
As one visitor to a recent collection of Butcher's black-and-white images at the Miramar Cultural Center said when viewing a stunning five-by-seven-foot print of Big Cypress Dome:
"Holy crap! That's incredible."
It's the kind of review Butcher chuckles at. A stout man of middle height, prone to loose tropical shirts and khaki shorts and sporting a bushy gray beard that gives him a Santa Clausian look, his simplicity belies the complex artist within. Kind of like his photographs.
"How do I do it?" he says. "Well, if I could tell you that, it wouldn't be art would it?"
Though you may never enter Clyde Butcher's Everglades world of swampland, cypress forests, river bends and swirls he can take you there in a photograph. If you've had the pleasure of seeing his work at his Big Cypress Gallery or his Venice Gallery and Studio or at one of the multitude of venues around the state where he has shown or simply gifted his work, you have already witnessed what the master photographer is talking about. Butcher creates single-frame photographs that he prints himself in sizes from 9 x 12 inches to a wall-sized 5 x 9 feet and to fully appreciate his creations, you need to take a few steps back and try to swallow the full view, the entire scene, and revel in them.
"I choose to photograph from my heart, which is very different than working with your head," says Butcher, who admits he might take only one truly great photograph in a year. "When I see a scene that stirs my soul, I photograph it."
Such a sense of art and vision does not come overnight. It does not come from technical superiority. And in Butcher's case it does not come from a formal photographic education.
A native of California, he will admit to being influenced by the likes of Ansel Adams and Edward Weston who took their pioneering pictures of the American West in the 1920s and 1930s in what was termed "straight photography." Yet when Butcher first saw Adams' sharp and unsentimental photographs of now iconic landscapes he thought:
"Why would anyone take a picture of a tree unless he was trying to sell the tree?"
Butcher didn't start off as a photographer at all. When he entered college his major was in architecture.
"I wasn't an artist," he says. "I didn't even know how to draw."
But for a final exam at the California Polytechnic, he built a three-foot-wide model of his architecture project, assembled it up in the mountains amongst real dwarf trees and real nature and photographed it. He recalls thinking the project was either going to be graded an A or an F. He got an A+.
"My whole project was that single photograph. I don't know if I was motivated to do landscape photography from that. My motivation at the time was to fool the teacher."
But it was the landscape backdrops – not the buildings – that fired his interest and Butcher and his then young family began trekking to sites in California to put before his lenses.
By the time he got to Florida – arriving on a sailboat he'd built himself – he'd already run a west coast wholesale photography business that produced and sold 2.5 million copies of his images that "were basically nice little photographs that were commercial," he says now. "I was trying to support a family. And it's awfully hard to support a family with art."
In Florida, Butcher and his wife, Niki, would build a house in 1985 on a canal just off the Caloosahatchee River in Fort Myers. And then a happenstance trip to Tom Gaskins' Cypress Knee Museum along U.S. 27 in Glades County exposed the photographer to the vision that he'd perhaps been seeking all his life.
"I'd never been in the Everglades. I'd heard about it, but had never experienced it. And in those early years I realized you can't really experience it unless you get into it."
To an artist who'd seen the majesty of mountains and snow-capped spires in the West, the subtle, close and intimate scenes of a Florida swamp was an intriguing subject. The next day he returned with his cameras and a career was born.
His first introduction at Gaskins' may have been an initial inspiration for Butcher's work, but his is an artistic heart. And like all hearts, it was not invulnerable.
In the summer of 1986 the Butchers' only son was on his way to a movie near their Fort Myers home when a drunk driver ran a stoplight at 100 miles an hour. Ted Butcher died at age 17. It was Father's Day and his parents' 24th wedding anniversary. From the depths of the photographer's pain, came a turning point.
"I took my cameras and went off into the swamp," Butcher recalls. "That's when I decided to do just black and white."
For months he disappeared into the quiet wild of Florida's dark heart, coming home only on weekends to develop his new images and take them to art fairs.
If there is a muse in an artist's life, an occurrence that comes along and fuses personal experience, personal aesthetic and personal preference into something bigger than its individual parts, you will have to find a more eloquent expositor to explain it.
Butcher's black-and-white masterpieces come out of a dozen technically simple box-view cameras that he owns, including one built in 1903. It can sometimes take months for him to scout out the right location for a shot and he's been known to leave his camera set up in the swamp for weeks at a time, open to the elements. "I just put a plastic bag over it," he says. "It's a view camera. Nothing is going to hurt it."
Technical innovation is not his thing. He has never shot a frame of 35-millimeter film and hasn't taken a color photograph in a quarter century. He doesn't like digital ("It's getting there, but it's not there yet") and the biggest technical shift he's adopted over the past 20 years is a change to a more sophisticated film that has allowed him to shorten his aperture openings that once ran from six full minutes to half that time in some cases. He does his own developing in his Venice studio and still prints on a fiber-based silver gelatin paper that he has to special order.
"But that's all just stuff," says Butcher, who has been known to stand in waist-deep swamp water for hours waiting for the right light or the right cloud formation, fish bumping into his legs, alligators stalking those same fish.
"There's no magic," he says. "It's just me."
Being just him has not gone unnoticed. Butcher has been honored by the State of Florida with the highest award that can be given to a private citizen: the Artist Hall of Fame Award. He has also received the Lifetime Achievement Award from the North American Nature Photography Association and was named Humanitarian of the Year for 2005 from the International University. He received the 2011 Distinguished Artist Award from the Florida House in Washington, D.C.
And yes, in a computer age when accomplishment is often crudely measured by its Google ranking, try looking up "black and white landscape photography." Clyde Butcher will be first on your screen.
It's an impressive curriculum vitae. Yet, now, in his later years, Butcher admits a personal reverence for the Ansel Adams Conservation Award, which was given to him by the Sierra Club to honor the excellence of his craft and its contribution to the public awareness of the environment.
By displaying his work in public spaces at museums, airports, libraries and municipal buildings, Butcher has put a face on endangered areas rarely seen by those in or outside of Florida. Having worked with a long list of environmental groups and government agencies on countless projects, he has made using his art to preserve the Everglades a lifelong undertaking.
"The role of the artist is to take us somewhere we may not otherwise go," said Roberta Kjelgaard, Director of Development for the Museum of Art | Fort Lauderdale, Nova Southeastern University.
"I'm sure we have all enjoyed the Everglades from the car driving along the Tamiami Trail, from the safety of the bike path, from the deck of the observation tower.
"But Clyde Butcher's work– these gorgeous photographs that invite us in, startle us with detail and delight us with the sheer awesomeness of his process, it is his passion that teaches us the true essence of this place, the Everglades, this magical and mysterious wilderness that is uniquely our own and shows us that it is more than just a landscape. It is a spiritual place of sacred inspiration that we must treasure."
In his art, Butcher's omission of people in his photography is intentional, not wanting the viewer to disengage from the beauty of the natural world. His dedication to black and white embodies the same philosophy.
"Everything in nature is oneness. If it's all in shades of gray and black, nothing stands out. That tree is no more important than the sky or the water."
There are of course pristine places in Florida that Butcher has captured with his camera which are now paved over or despoiled or simply overwhelmed by urban sprawl. He refuses to revisit.
"It would just break my heart to see what's been done to that nature," he says. "I can't do it."
And there is that heart again: That big, open, vulnerable heart, searching for a way to bring us all into the frame.
Perhaps the best explanation of Clyde Butcher's work is in his own artist's statement, a personal message to all Floridians:
"Wilderness, to me, is a spiritual necessity. When my son was killed by a drunk driver it was to the wilderness that I fled in hopes of regaining my serenity and equilibrium. The mysterious spiritual experience of being close to nature helped restore my soul. It was during that time, I discovered the intimate beauty of the environment.
My experience reinforced my sense of dedication to use my art form of photography as an inspiration for others to work together to save nature's places of spiritual sanctuary for future generations." 
Clyde and Niki Butcher's Swamp Cottage (behind Big Cypress Gallery), is at 52388 Tamiami Trail Ochopee, (Everglades), 239-695-2428; and the Venice Gallery & Studio is at 237 Warfield Ave., Venice, 34285, 941-486-0811; www.clydebutcher.com.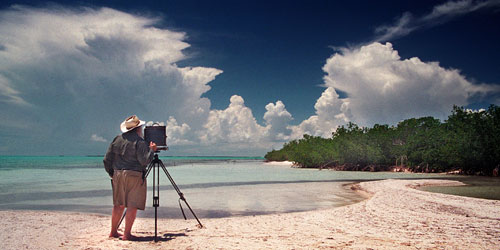 Niki Butcher shot this photo of her husband, Clyde, photographing the image he would later entitle Little Butternut Key 2. It can sometimes take him months to scout out the right location, which he photographs with a simple box-view camera. "How do I do it?" he says of his black-and-white masterpieces. "Well, if I could tell you that, it wouldn't be art would it?" "I love Little Butternut Key,'' Niki says. "That is what I think of when I think of summer.'' For the image her husband thinks of when he thinks of summer, we've posted it on our Facebook page, linked here, http://tinyurl.com/nzm95jw.
Related Articles
Share
About Author
(0) Readers Comments