By Deborah Wilker
MIAMI – On the sexy summer drama Magic City, Friday nights on STARZ, Jeffrey Dean Morgan is the seemingly-in-control Ike Evans, owner of Miami Beach's famed Miramar Playa Hotel  – home to mobsters, Rat-Packers, gamblers and showgirls. Much like the glamorous '60s-era hotel itself, Ike's charisma mixes easily with blue skies and danger.
Morgan, whose career has included TV roles on Supernatural and Weeds, and movies with Jane Fonda and Jessica Chastain, has recently been working on two films for next year: An old fashioned western, The Salvation, shooting in South Africa; and Solace, shooting in Atlanta, opposite Colin Farrell and Anthony Hopkins.
But let's face it – no matter how big the movies or suave the TV roles, can we ever really look Jeffrey Dean Morgan in the eye and not picture him as Dying Denny Duquette on Grey's Anatomy? Will we ever be able to un-see Hologram Denny, haunting the hallways of Seattle Grace?
Unlike many actors forever linked with a beloved character – Morgan holds no ill will toward Denny or the long-running Grey's – which he departed in 2009.
"I think of Denny in only the best possible way," Morgan says. "I'd still be on that show if I'd been allowed not to die!"
But wasn't he annoyed – just a little – at the critical drubbing he and the show took when Denny returned to the series as an apparition, prone to imaginary sex with Katherine Heigl?
Nope – not a bit.
"I wake up every morning and I thank Shonda Rhimes for giving me the opportunity to have the career I have," Morgan says of the Grey's creator. "She could have asked me to do anything and I would have done it!
"I loved that job – I owe everything to that job," he adds, as we caught up with him to discuss Magic City's new season. "I wouldn't be here right now without it."
In fact Morgan was just turning 40 and had been kicking around for a while when he landed the career-changing role of Denny in 2006. There's no doubt his gratitude is genuine.
And now here's the bonus: While he's been gone from Grey's for four years, his longtime girlfriend, Hilarie Burton (White Collar, One Tree Hill), just landed her own role on Grey's as a surgeon whose lust for Dr. Arizona Robbins (Jessica Capshaw), threatens one of the series' long-running couples.
"When I got back from Africa I watched all the episodes that Hilarie was in – and not only am I very proud of her – but, man – watching that show, there's just a certain amount of comfort I find in it.
"Seeing Ellen [Pompeo] and Patrick [Dempsey] and all the people who were there when I was there. I just love those people so much. And I loved working with Katie [Heigl]. I loved working with Shonda. If I can't do the show, then Hilarie doing it is the next best thing."
As for his Magic City family, Morgan has one chief request: He's determined that Ike remain faithful to TV wife Vera (Olga Kurylenko). But with his former sister-in-law Meg Bannock (Kelly Lynch) hanging around, that may be tough.
"We have a palpable chemistry and it makes Mitch crazy!" Morgan said of Lynch's real-life husband, Mitch Glazer, creator of Magic City. "There's an ease you have with certain actors – I certainly had that with Katie – and I truly have that now with Kelly."
So how will it all play out? Will Magic City make it to Season 3?
"I sure hope we get the chance to come back. I know a lot of people found the show on DVD and streaming this year. You'd think with everything STARZ has sunk into it, they'd say yeah – we need you back!"
Shooting entirely on location in Miami and Miami Beach makes Magic City one of television's more expensive productions. The sets and costumes are also quite elaborate with a laser-focus on late-'50s/early '60s period detail.
"We're unlike anything else that Starz has on its schedule," Morgan says, (or for that matter, in all of television). "I know Mitch knows where he wants to go in Season 3. And I know we all want to be there."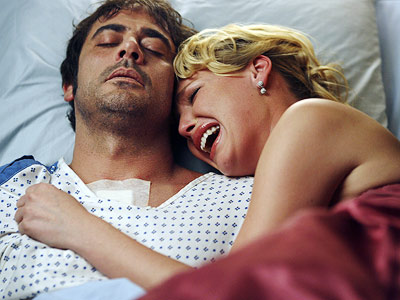 **
Coming June 30 in City & Shore Magazine: Don't miss "Making Magic: On the set of Magic City – a backstage look at television's most stylish show," available in print and as a free download from iTunes, http://tinyurl.com/cf6n93p
ONTV: Magic City – Fridays at 9 p.m. on STARZ
Related Articles
Share
About Author
(0) Readers Comments