By Robyn A. Friedman
City & Shore Magazine
The 12 men who walked a fashion runway for 12 charities last night (Dec. 1) had little or no experience in fashion. But they all had style.
"We've got another group of 12 amazing guys," said Melissa Milroy, senior marketing manager of Galleria Fort Lauderdale, which hosts the annual Galleria Fort Lauderdale's BBX Capital Men of Style presented by Signature Grand. "This event is a good opportunity for people to support a lot of different charities within the community and also to become more familiar with those charities."
This year marked the 16th time the Galleria has hosted the popular, high-energy party, which last year raised a record-breaking $203,000. This year's event, attended by over 900 guests, eclipsed last year's record by raising $310,000.
The men, and the charities they represent, were:
Chris Caputo, city commissioner for the City of Wilton Manors (representing The Pride Center at Equality Park); David Cooley, owner/agent, State Farm Insurance and Financial Services Pompano Beach (Henderson Behavioral Health); Gregg Goldstein, chief strategy officer, EM Consulting Group (Leadership Broward Foundation); Andre Gonzalez, Senior Vice President, Private Client Advisor for Bank of America (Florida Children's Theatre); David Greenberg, president, Greenberg Capital, and strategic advisor, Florida Panthers Hockey Team (Junior Achievement of South Florida); Chris Hawk, M.D., interventional cardiologist, MSPB Cardiology Group (Jack & Jill Center); Jorge Hernandez, vice president of supply chain services and chief procurement officer, Broward Health (Children's Diagnostic & Treatment Center); Mike Linder, owner, Silver Lining Inflight Catering, JET Runway Café, YOT, Canyon and Event Effects Group (Kids In Distress); Justin Nepola, attorney, Nepola Yonta Attorneys at Law (FLITE Center); David Smith, executive vice president and CFO, Memorial Healthcare System (Art and Culture Center/Hollywood); Marc Spoto, AVP of marketing, JM&A Group (HANDY) and Andrew Wurtele, private investor (Heart Gallery of Broward County).
Guests were treated to gourmet selections from area restaurants, and there was an open bar with Stoli vodka and wines from Cooper's Hawk Winery & Restaurants. There was also live entertainment, but the highlight of the evening was the fashion runway show featuring the Men of Style decked out in the season's top-trending fashions from Macy's, Dillard's and Banana Republic. WPLG Local 10 Anchor Nicole Perez served as guest host.
Event sponsors and contributors include BBX Capital as title sponsor, Signature Grand as presenting sponsor, Memorial Healthcare System as launch party sponsor and supporting sponsors Dillard's, Macy's, GPR | Goodman Public Relations, City & Shore magazine, OutClique, WPLG Local 10, Stoli, Cooper's Hawk Winery & Restaurants, HARRY BLU'S® and The Capital Grille.
The Men of Style Q&A
(See the full story in the digital edition, http://digitaledition.qwinc.com/publication/?m=24202&i=768159&p=18&ver=html5 )
Photography by Andrew Meade and Tyler Molinari
City & Shore asked each of the men the following question: How are you preparing for your runway debut? Their responses: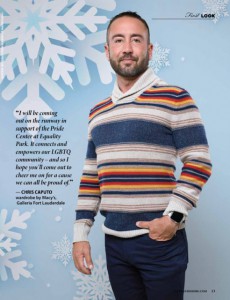 Chris Caputo wardrobe by Macy's, Galleria Fort Lauderdale
"I will be coming out on the runway in support of the Pride Center at Equality Park. It connects and empowers our LGBTQ community – and so I hope you'll come out to cheer me on for a cause we can all be proud of."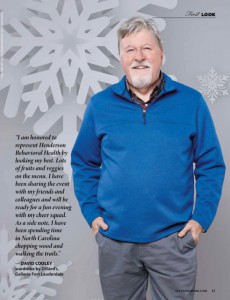 David Cooley wardrobe by Dillard's, Galleria Fort Lauderdale
"I am honored to represent Henderson Behavioral Health by looking my best. Lots of fruits and veggies on the menu. I have been sharing the event with my friends and colleagues and will be ready for a fun evening with my cheer squad. As a side note, I have been spending time in North Carolina chopping wood and walking the trails."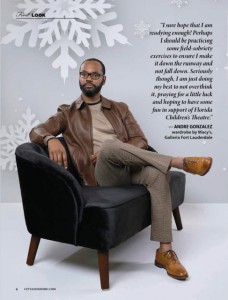 Andre Gonzalez wardrobe by Macy's, Galleria Fort Lauderdale
"I sure hope that I am readying enough! Perhaps I should be practicing some field-sobriety exercises to ensure I make it down the runway and not fall down. Seriously though, I am just doing my best to not overthink it, praying for a little luck and hoping to have some fun in support of Florida Children's Theatre."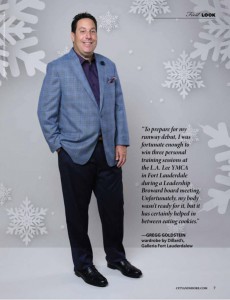 Gregg Goldstein wardrobe by Dillard's, Galleria Fort Lauderdale
"To prepare for my runway debut, I was fortunate enough to win three personal training sessions at the L.A. Lee YMCA in Fort Lauderdale during a Leadership Broward board meeting. Unfortunately, my body wasn't ready for it, but it has certainly helped in between eating cookies."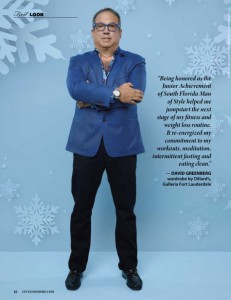 David Greenberg wardrobe by Dillard's, Galleria Fort Lauderdale
"Being honored as the Junior Achievement of South Florida Man of Style helped me jumpstart the next stage of my fitness and weight loss routine. It re-energized my commitment to my workouts, meditation, intermittent fasting and eating clean."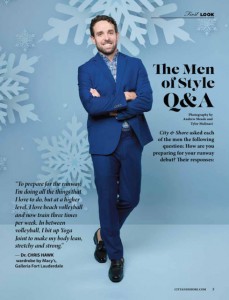 Dr. Chris Hawk wardrobe by Macy's, Galleria Fort Lauderdale
"To prepare for the runway, I'm doing all the things that I love to do, but at a higher level. I love beach volleyball and now train three times per week. In between volleyball, I hit up Yoga Joint to make my body lean, stretchy and strong."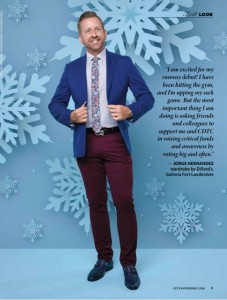 Jorge Hernandez wardrobe by Dillard's, Galleria Fort Lauderdale
"I am excited for my runway debut! I have been hitting the gym, and I'm upping my sock game. But the most important thing I am doing is asking friends and colleagues to support me and CDTC in raising critical funds and awareness by voting big and often."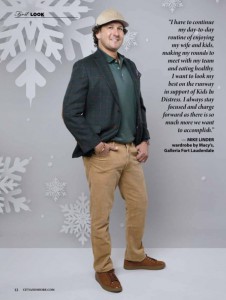 Mike Linder wardrobe by Macy's, Galleria Fort Lauderdale
"I have to continue my day-to-day routine of enjoying my wife and kids, making my rounds to meet with my team and eating healthy. I want to look my best on the runway in support of Kids In Distress. I always stay focused and charge forward as there is so much more we want to accomplish."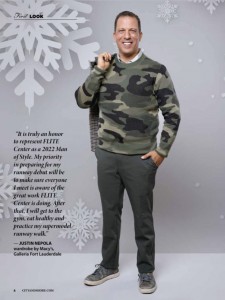 Justin Nepola wardrobe by Macy's, Galleria Fort Lauderdale
"It is truly an honor to represent FLITE Center as a 2022 Man of Style. My priority in preparing for my runway debut will be to make sure everyone I meet is aware of the great work FLITE Center is doing. After that, I will get to the gym, eat healthy and practice my supermodel runway walk."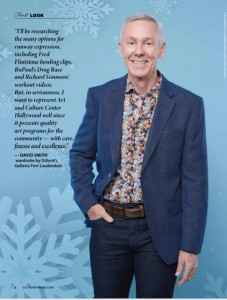 David Smith wardrobe by Dillard's, Galleria Fort Lauderdale
"I'll be researching the many options for runway expression, including Fred Flintstone bowling clips, RuPaul's Drag Race and Richard Simmons' workout videos. But, in seriousness, I want to represent Art and Culture Center Hollywood well since it presents quality art programs for the community — with care, finesse and excellence."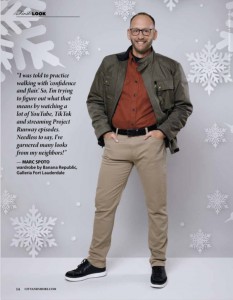 Marc Spoto wardrobe by Banana Republic, Galleria Fort Lauderdale
"I was told to practice walking with 'confidence and flair.' So, I'm trying to figure out what that means by watching a lot of YouTube, TikTok and streaming Project Runway episodes. Needless to say, I've garnered many looks from my neighbors!"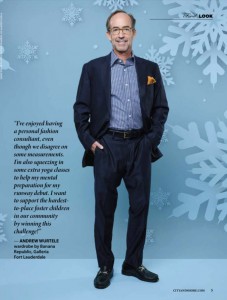 Andrew Wurtele wardrobe by Banana Republic, Galleria Fort Lauderdale
"I've enjoyed having a personal fashion consultant, even though we disagree on some measurements. I'm also squeezing in some extra yoga classes to help my mental preparation for my runway debut. I want to support the hardest-to-place foster children in our community by winning this challenge!"
Related Articles
Share
About Author
(0) Readers Comments