By Greg Carannante
City & Shore Magazine
Right about now we should be at the BB&T Center, being exposed to the pop perfection of perhaps today's biggest artist. Being swept away by his easy-going charm, exquisite songcraft and soulful voice that effortlessly slides from sweet Smokey falsetto to sandpaper baritone of the finest grit. We should be showing him our bigger love, and receiving from him in return our sexy serving of Ooh La.
Yes, we should be at a John Legend concert.
But, no. Like every other live show, coronavirus claimed his Bigger Love tour and its Aug. 18 South Florida stop, which in another year would likely have been the summer's hottest ticket and this year promised a jubilant liberation from a live-entertainment lockdown. The show held out longer than most, remaining on the schedule until early July's spike in virus cases postponed until next year.
And like almost every other pandemic-stranded artist, Legend has compensated by taking his talents online with a live-stream performance blitz including a World Health Organization initiative, his #TogetherAtHome series, an Instagram faceoff with Alicia Keys and his first virtual live concert — busting it as an avatar.
Throw in a TV special and a Top 5 new album, and it's not like fans have exactly been Legend-deprived.
Still…
****
For John Legend, it all starts with the name, doesn't it?
Sure, there's the voice, strong and smooth as a piano key. There's the graceful musicianship, the slick songwriting, the self-assured persona, the all-around versatility, the do-gooder ubiquity, the super-social-media-model wife, and the adorable son and daughter — who, if she so chooses one day, could adopt the superhero handle of Luna Legend.
But when a performer takes on the name of Legend, as John Stephens did in 2003, that's really what it all comes down to. Because that's the kind of name you need to be — a name you need to validate not just with success but with superstardom. And Legend's done it with not just any old superstardom, but the kind that comes with the quartet of credits that merit the most prestigious acronym in show business: EGOT.
Interestingly, it was our country's newest presidential Kanye-date who gave Legend his first big break in 2004, when West co-produced his 2004 debut album, Get Lifted. ("Obviously we've had our public dispute about politics, but I still love him like a brother," Legend said recently.) Since then there've been six more albums totaling $10 million in sales, 40 singles, acting roles (La-La-Land and Jesus Christ Superstar, among them), TV appearances galore, a new film production company and admirable philanthropic enterprises. Oh, and did I mention the awards?
So, over the nearly past two decades, if the former John Stephens's life and career has shown us anything, it is most certainly this:
He is Legend.
*****
It'd be a stretch to think that hip-hop trailblazer Lauryn Hill could have known how absolutely on the money she was when she pinned the nickname on the Penn college-boy pianist who played on the 1999 hit single, Everything Is Everything, from her Grammy-winning debut, The Miseducation of Lauryn Hill. Twenty years later he'd become the first African-American performer to ascend to the rare ether of the EGOT, the holy grail of entertainment honors that's been won by only 14 others.
So, it may not be genetics alone that puts that perpetually beatific smile on John Legend's mug. I mean, after all, he did play the Son of God.
As it is, after his weekly coaching stint on NBC's The Voice ended in May, he pretty much took ownership of the month of June. Let's see, on Juneteenth we had the release of his seventh studio album, Bigger Love, as well as his Verzuz Instagram faceoff with Alicia Keys, which turned the song-vs.-song "battle" into more of a duet for unity. They were followed two days later by the prime-time ABC special, John Legend and Family: A Bigger Love Father's Day, in which the celebrity dad called on other famous fathers, including his own, to celebrate dads everywhere. Legend performed from home, accompanied by wife Chrissy Teigen and children Luna, 4, and Miles, 2, dancing in the yard.
Then, on June 25, at a time when musical entertainment has been almost exclusively relegated to a virtual stage, Legend took it to a whole other dimension with his first "One Wave" concert streaming live on YouTube and Twitter. Legend, singing and playing on an inset screen, was captured live, transformed into a digital avatar and transported to a fantastical virtual club on the main screen with fans shaking their virtual booties on the dance floor. The 17-minute show made for a fascinating juxtaposition of adult-oriented music and youth-oriented technology.
Moonbeams, flowers and dreamscape imagery swirled around the singing avatar and his fans, as well as floating animated posts tallying viewers' contributions to Legend's FREEAMERICA campaign for criminal justice reform, which has been working of late to elect more progressive district attorneys — Broward's Joe Kimok among them.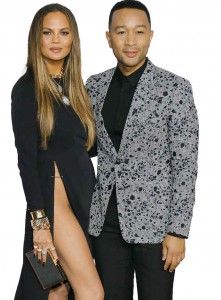 True to form for pop's Mr. Positivity, Legend's upbeat summertime blitz arrived as a welcome balm during the doldrums of a pandemic. And Bigger Love's good-energy vibe has only upped the ante. The album expands on Legend's diverse stylistic and highly collaborative pedigree in Black music that harkens to his formative love of gospel, soul and even doowop. And as his generation's most popular male romantic balladeer, he's infused it with enough lush love songs to fill out your "Legend-ary Aphrodisiac" Pandora playlist.
It's "probably my sexiest album to date," 2019's Sexiest Man Alive told Jimmy Fallon before its release. "If you're stuck at home and want to make some 'coronababies' … if you spend a lot of time with your partner and you need a soundtrack to that."
Legend, 41, and his quarantine partner — he calls her "the mayor of Twitter" — met courtesy of one of those serendipitous life-imitates-art scenarios, when model Teigen played his love interest in his 2006 video for Stereo. Fast-forward to 2013 and their wedding in Como, Italy — the day after shooting the video for All of Me, the heart-strung love song dedicated to her that remains his sole No. 1 hit. And which was shot seven years to the day after they first met.
Because the couple shares one of show biz's most high-profile marriages — The Los Angeles Times brands them "entertainment's most aspirational power couple" — there's the temptation to read the album as a libretto of their personal life.
But it's not "an autobiographical album about John and Chrissy and all the fights they've had," Legend told the Times. "What I want to convey is a sense of honesty about how relationships play out and how they feel."
Released during the twin national crises of virus and revolt, the tone of the album, recorded pre-pandemic, is blatantly not in tune with the troubled times. But Mr. Positivity has a take on the disconnect.
"I feel like this album is kind of an antidote to that," he said on Today in June. "And though this album wasn't written in response to what happened just now, I think we could all use a lift right now…."
If that's the diagnosis, Bigger Love sounds just like what the doctor ordered. In fact, its timeless themes so lacking from today's news feeds may make it even more timely.
The album is about "love that can get you through tough times," Legend told Apple Music. "The energy of the album is big. It's big because it has a diverse range of styles of music, it feels expansive and global, but it's also big in its color and soulfulness and joy."
More of the moment, however, is the video for the title cut — a phone screen-shaped social-media mashup of followers stepping to the song, cut with images of frontline workers.
"We wanted the video to be a big musical hug for people around the world who are finding ways to stay connected to family, help their neighbors and make time for a needed dance break despite the crazy circumstances we find ourselves in," Legend told People.
"I think I've always been naturally optimistic. I always try to find hope in every situation," Legend said in the LA Times interview. "Hope, I think, is not just kind of naivety and rose-colored glasses. I think hope is a strategy, too."
*****
A hopeful strategy wouldn't necessarily be a given considering Legend's childhood in Springfield, Ohio. One of four children, Legend was part of what he calls the "first family" of a Pentecostal church where his grandfather was pastor, his grandmother was choir director, his father was the drummer and his musical inclinations took root. But his mother got strung-out on drugs and abandoned them, spiraling the family into a shameful divorce that made his dad a single father. His mother has since gotten clean — "had her come-to-Jesus moment," as he put it — and reunited with family. But through it all, it was music that kept Legend upright.
"I fell in love with music early," he said on a recent Marc Maron WTF podcast. "I always wanted to be onstage. I always wanted to be leading the choir. I always wanted to be winning the talent show. My dream when I was 7 was to be on Star Search.
"And these are the dreams I had when I was young and I never gave up on it and I kept working on it … and here I am."
Related Articles
Share
About Author
(0) Readers Comments