By Charlyne Varkonyi Schaub
Classic cocktails are trendy again – along with craft cocktails that provide new takes on old drinks. Some observers say it began with Carrie Bradshaw's Cosmopolitans in Sex and the City and received a boost from Don Draper's consumption of Old Fashioneds on Mad Men. Whatever the impetus, South Florida interior designers say they are creating a proliferation of home bars as well as climate-controlled wine rooms in high-end residences.
DESIGNER/ARCHITECT: KRSTO STAMATOVSKI
PHOTOGRAPHER: ROBERT BRANTLEY
A  family of snowbirds, who enjoy wine, asked Krsto Stamatovski to design a wine room for 600 bottles that would fit with the contemporary clean lines of their 11,000-square-foot penthouse in Boca Raton's One Thousand Ocean.
"The wine room is centrally located so it is accessible and at the same time the design blends and adds to the overall design," Stamatovski says.
He designed the room with walnut wood on the wine racks and on the support beans that create the look of waves. A separate air-conditioning unit was hidden above the wood grill so the temperature for the red wines stored here can be at 60 degrees. White wines are stored separately at a cooler temperature. He created the glass enclosure on an elevation to hide the plumbing and far away from direct sunlight. It is seamless, but the wine is protected and controlled.
"During the past 10 years we are seeing a trend toward wine rooms," Stamatovski says. "If they are collectors and have nice expensive wines, they don't want to store them out, and many wine coolers are not big enough to house a large collection."
DESIGNER: CLEMENCIA DUMAS
PHOTOGRAPHER: JOHN STILLMAN
Clemencia Dumas says most of her clients are requesting a bar and a wine room because they entertain a lot at home. Others think it will increase resale value.
"Lately my clients are enjoying cooking and having people over to their homes to entertain them," she says.
An Irish couple, who like to entertain business clients in their East Boca Raton residence, wanted a home version of an Irish pub. Dumas installed the silver-leaf-and-turquoise glass mosaic as a focal point and inserted a 55-inch flat-screen TV. The glass shelves were backlit with LED lighting. She enlarged a front page of the Irish Times that was published on the husband's birth date in Ireland. She selected Cosmos granite for the countertop and waterfall side of the bar with coordinating bronze leather on the bar stools. Underneath the bar she added a wine cooler, beverage bar, sink and ice maker. A wine room was created under the staircase.
A client in Hawks Landing in Plantation had a special request: "I want you to put all the bells and whistles in the design. I am going to sell it someday to a sports figure."
He requested a serious bar that looked like it could be in a nightclub. Dumas obliged with cracked and lighted glass on the front of the bar, ebony wood on the sides and a granite countertop. Silver wallpaper and a 42-inch TV were added on the back wall. Frosted-glass staggered shelves with wood trim are lit from tops, sides and bottoms. The back cabinet was designed to show off a vodka collection. The dining area was fitted with a small wine room.
DESIGNER: BETH PAPARONE
PHOTOGRAPHER: JOHN STILLMAN
Sometimes the solution is a bar with a classic feel. It has been a few years since Beth Paparone designed this Singer Island home in an island style, but it endures.
"I can walk in years later and it looks like it did the day I walked out," she says.
The inside bar is close enough to outside entertaining so it can be used for both. She designed the bar base in stained wood with decorative corbels on the sides and space for liquor bottles out of sight. For nighttime drama, she lit the onyx countertop underneath. Glass shelves were created to display their glassware.
"These clients wanted a bar so they could entertain their friends and just have fun," Paparone says. "They turned it all over to me because they realized I heard them. Bars and wine rooms have to fit the clients' needs and desires. It is my job to listen to what they want."
DESIGNER: JAIME BLOMQUIST
ARCHITECT: BRUCE CELENSKI
PHOTOGRAPHER: ROBERT BRANTLEY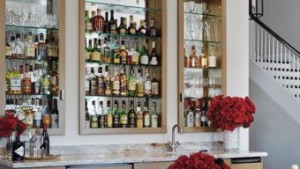 Some South Floridians want their bars to be a showcase for their liquor collections. Jaime Blomquist worked with architect Bruce Celenski to create an elegant way to show off the client's scotch collection in his Coral Ridge residence.
The job required an inventory and measurement of the collection before cabinets could be designed and inserted into the wall to save space in the great room. Lights were installed inside to illuminate the display at night. Glass doors were added to reduce dust. The doors on the base cabinet were scored to provide design interest, and granite was selected for the countertop.
"We do a bar in every house, and wine rooms are really hot right now," Blomquist says. "Some wine rooms are walk-in like a glass box. Everyone wants to show off beautiful bottles and talk about where they got them."
DESIGNER: SUSAN LACHANCE
PHOTOGRAPHER: ROBERT BRANTLEY
Susan Lachance proves a wine room doesn't have to be large to do its job.
This 8-by-16 wine room at Stone Creek Ranch in Delray Beach is a few steps below the main floor level, giving the illusion that it is a wine cellar.
"They wanted to make it a showcase," Lachance says. "I used mirror on the back wall and placed the bottles horizontally so you could read the labels. They have parties and like to show off their wine cellar. They also have a huge bar."
Having a bar and a wine room is typical for Lachance's clients. LED lighting has made it easier to light the wine room without the heat produced by traditional lighting. The new racking system, like the one she used in this home, allows accommodation of bottles of various sizes, including magnums.
Even though this is a small space, Lachance found room to add a walnut tasting station with drawers to store napkins and corkscrews. It also became a home for the clients' humidor.
SOURCES
Jaime Blomquist Expressive Designs, 445 NE 11th Ave., Fort Lauderdale, 954-999-5601, expressivedesignsinc.com.
Bruce Celenski
 3045 N. Federal Highway, Suite 47, Fort Lauderdale, 954-917-5781, brucecelenski.com.
Clemencia Dumas Elements by Design, 10097 Cleary Blvd., Plantation, 954-320-7584, elementsbydesign1@gmail.com. 
Susan Lachance
Susan Lachance Interior Design, 1001 Clint Moore Road #100, Boca Raton,
561-241-3800, susanlachance.com.
Beth Paparone Design International of Palm Beach, 800 Village Square Crossing, Suite 105, Palm Beach Gardens, 561-656-2036, dipalmbeach.com.
Krsto Stamatovski Studio K Architects, 4800 N. Federal Highway, Boca Raton,
561-393-2440, studiokarchitects.com.
Related Articles
Share
About Author
(0) Readers Comments