By Greg Carannante
 City & Shore Magazine
It was just over 25 years ago that the funky finger of fate poked Black Violin's Wil B in the chest.
He was known as Wilner Baptiste back then, a student at Sunrise Middle School. He really wanted to play saxophone, so he signed up for band. Soon afterward, the band teacher and the orchestra teacher were playing golf, and they made a fateful bet. Whoever won the game would take Wil into their program.
The orchestra teacher won.
Baptiste went with it. He took up the neglected viola, eventually embraced it and continued studying the instrument at Dillard High School of the Performing Arts in Fort Lauderdale. There, he joined forces with fellow student and violinist Kevin Sylvester (stage name: Kev Marcus), and they went on to form the indefinable duo that had been playing over 200 shows a year pre-pandemic — including President Obama's inauguration — and has recorded five albums.
On March 14, one of those album's, 2019's Take the Stairs, just might take home the Grammy Award for Best Contemporary Instrumental Album.
There's not a saxophone on it.
* * * *
Unlike their regal stature in classical music, strings have traditionally stood in as a sweet accessory to post-Elvis pop music. Today, though, the violin and its cousins have been elevated to the status of a lead instrument in pop iterations of a string quartet, bowing versions of almost any pop song you can think of. Hip-hopping out of this milieu comes Black Violin, perhaps the brightest musical stars to ever pop out of Fort Lauderdale.
Nurtured by a singular South Florida vibe, Black Violin's sound is its own kind of eclectic — a genre within itself, a mashup of billowing classical motifs, bouncy hip-hop beats and orchestral echoes of pop, soul, jazz fusion and world music — sometimes topped with vocals that can incorporate rap and spoken word.
"We're chameleons," Baptiste says. "The idea of being in a box is terrifying to me."
"We grew up listening to Soca music, calypso, reggae in our homes," Marcus says. "In school we were listening to Biggie, Wu-Tang, whatever's out. Then in class, we're studying classical music. All that together is how we came up with our sound. I think it's just in us.
"We can play on anything, but a lot of it is because we grew up in this melting pot of South Florida, and we were exposed to it all. So that gave us so much experience to be able to jump from genre to genre and do whatever we feel."
The musicians, both 39, grew up in big families, Baptiste in Fort Lauderdale and Marcus in Coral Springs. They both still live in Broward — Baptiste in Plantation, Marcus in Davie — and both are married with three children each.
Not long after their graduations, Baptiste and Marcus broke out on the club scene in Fort Lauderdale. Their career took off after accompanying Alicia Keys at the 2004 Billboard Music Awards, and then a year later, after winning three shows in a row on Showtime at the Apollo and clinching its Legend title.
They thread their success back to their days as Dillard students.
"My Dillard experience was incredible," says Baptiste, who graduated in 2000, a year after Marcus. "I think I was one of the lucky ones to be able to be a part of a very flourishing string program. It was just such a great, amazing vibe. Being able to walk the halls and everyone looked like you, everyone can relate to you. You know, that experience kept us going, kept us playing."
Apparently, the experience has infused their dedication to giving back to the local community through their relationship with the Broward Center for the Performing Arts and its Student Enrichment Through the Arts (SEAS) program, as well as paying their success forward through their Black Violin Foundation and free performances for young, low-income students in urban communities.
In 2019, the group played for over 100,000 students, challenging stereotypes and preconceived notions of what a "classical musician" looks and sounds like. Last February, Black Violin performed two sold-out performances at Broward Center's Au-Rene Theater — including one exclusively for Broward students. The duo returned to the Center to kick off the new SEAS season with a recorded virtual performance that recently went out to Broward schools and school districts across the country. The Center is also working on making Baptiste and Marcus its first "Impact Curators."
Investing in promising young musicians, the Black Violin Foundation's inaugural program provides scholarships of up to $2,500 to 13-20-year-olds who seek to continue their musical education through programs fostering creativity and innovation. The non-profit is co-directed by Marcus's and Baptiste's wives, Anne Sylvester and Corryn Freeman, respectively.
Of course, the pandemic has put a halt to the duo's hefty touring schedule, but late last year, Black Violin released Give Thanks, a fanciful holiday album likely unlike any other. Skipping eclectically between the innovative and the traditional, its highlights include Toy Soldiers, an offbeat flip-flop of The Night Before Christmas, and Baptiste's sweet vocal on Have Yourself a Merry Little Christmas.
 "I think the earliest we're going to be able to get on stages is probably the summer," Baptiste says. The down time presented the opportunity for a career-spanning conversation with the Black Violin violist and vocalist.
* * * *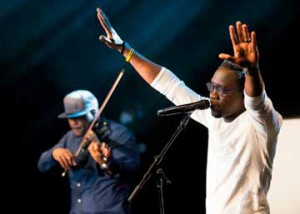 Kev Marcus, left, and Wil Baptiste at the Broward Center (Photographed by Gregory Reed)
Congratulations on your Grammy nomination, first of all.
Thank you. I appreciate it.
What endeared you to classical music?
Well, I didn't wake up one day and say I wanted to play this instrument at all. I wanted to play the saxophone, because a security guard used to get upset at me as I was beating on the table and the other kids were rapping. So he told me a quick story about how he used to play the sax and make money on the weekend. So that's what I wanted to do — play the sax and make money on the weekend. I was excited about that.
I signed up for band and I went up to the band teacher and I was like, Hey, I'm excited to sign up for band. I guess the string teacher was in the same room. They played golf. So they basically had a bet that whoever wins this golf game gets this kid in their class. The band teacher lost, and I was switched from band to orchestra.
What a great destiny story.
I didn't find that out till 2012. It definitely was meant to be. I thank God every day for that.
So I'm sitting here looking at these wood instruments, and I wanted to play the sax. I wanted to be around the cool instrument. But I just embraced it, you know? I had no choice. But I didn't think I would be playing it for this long at all. I just picked up the viola because literally everybody was ignoring it. Everybody focused on the violin or maybe the cello. So that's me. Everyone's running this way and I say to myself, let me just walk the other way.
What was it like starting out on the local music scene?
When Kev and I decided to do this hip-hop classical thing, social media did not exist. It was 2001. Our main thing was, we understand classical music. Let's try to incorporate it and popular music like no one's ever done. We were producing and making music and it was great. We would perform with artists and at the local jazz clubs. And we would just hop in these little spots, plug up and just vibe with the band or just vibe. It was relatively unheard of to see Black guys playing a string instrument, but especially not doing classical. It was just very like: I'm dancing and I'm drinking, having a good time. Why are these two Black dudes on the bar playing violins? People would really be put off by it — not in a bad way. Just kind of like, What is this?
How did Showtime at the Apollo happen for you?
We sent the tape out to the Apollo and the Apollo hit us back two years later. We went on and never lost and became 2005 Legends. And from there, we started just touring with acts like Alicia Keys and really got to see artists in their element and really learned a lot. Then we wanted to be our own thing. We didn't want to necessarily be backup for any artists. So that's when we started focusing on ourselves, on original music, on our albums. And we just kept growing and touring and putting ourselves out there. We're still doing it. You know, we still feel like we have to convince people.
Understood. Everything is so genre-specific now. Is there a genre for Black Violin?
No. We moved around in terms of genres, but for us, our music is everything and it's everybody — Black music, you know? And we have quite a bit of vocals on it. That just makes us more versatile and powerful. Our message can come across even that much stronger. We're so much more than just this idea of an instrumental group — we try to stay as far away from a label as possible.
Speaking of message, it seems you view your music as a mission. Is that accurate?
Our music, our artistry is a mission, 'cause it's bigger than us, the way we inspire and uplift. We don't take it for granted. We have kids that really look up to us. And in our careers and our lives, we've had certain things that were just very pivotal, whether it was lessons or getting an instrument. We want to be able to provide that for kids that are talented but just don't necessarily have the resources.
You may become Broward Center's first 'Impact Curators.' What does that mean?
I just want to be able to help [the Center] recognize how they can really impact the community. I'm from the community, so I definitely want to be able to help them be as authentic and understand the people inside the community as much as possible, because I think that's one of the most crucial things.
Has the racial unrest of the past couple of years affected your music?
We've always been in the forefront in terms of that conversation, you know, because we're very much impacted by it. Being two Black dudes that play this instrument and being a part of that genre, which is classical music, there's a certain level of uncomfortable things that we have to deal with as we maneuver and try to assimilate.
What is the meaning of the title of your Grammy-nominated album, Take the Stairs?
In our careers we had opportunities to take the elevator, so to speak, to elevate our careers and do something that would bring notoriety. But that would mean compromising our integrity and our artistic expression. That's something that we didn't do. So this album really embodies all the hard work — 18 years of just taking the stairs, stair by stair.
MAIN PHOTO: Black Violin at the Broward Center early last year (photographed by Doug Castanedo)
Related Articles
Share
About Author
(0) Readers Comments