By Ben Crandell
No one watched the killing of George Floyd like Delray Beach businessman Rahein Jones. The complex emotions roiling the country have churned in Jones' heart every day since Oct. 18, 2015.
That was the day his cousin, Corey Jones, was fatally shot by a Palm Beach Gardens police officer while waiting in his car for a tow truck along I-95.
If you are a resident of South Florida looking for someone to interpret Black Lives Matter protests, provide guidance on how to navigate this historic moment and offer ideas on how to help, Rahein Jones would be a good place to start.
Jones took part in a couple of protest marches in Palm Beach County, but he is also a stakeholder in his city: He and wife Patricia have operated a popular downtown Delray Beach restaurant, the New Vegan, since 2013.
"It's a touchy subject, but it's not hard. Black people, we want the same thing as anyone else," says Jones, a 44-year-old father of five, with a new grandchild on the way. "We want to raise our children. I want my grandchildren to have the same opportunities everyone else has. … Just trying to make sure your kids come home every night. That's all anybody wants."
Here, in their own words, Black South Floridians of all walks of life — from a mayor to a muralist, a high school soccer coach to Dwyane Wade's stylist — speak with urgency and optimism about what they see as a tipping point for race relations in America.
Asked what white people should do first, they are unanimous: Listen.
* * *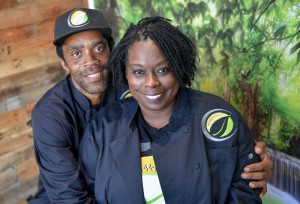 THE BUSINESS OWNERS
Rahein and Patricia Jones own the New Vegan restaurant in Delray Beach. In 2015 Rahein's cousin, Corey Jones, a musician and caseworker with the Delray Beach Housing Authority, was on his way home from a gig when his car broke down on I-95. He was confronted and fatally shot by Palm Beach Gardens police officer Nouman Raja. In 2019, Raja was sentenced to 25 years in prison.
Rahein: It's not what white people can do for Black people. … It's just when I walk into someplace, I don't want the room to change temperature. [Laughs] You can walk into a room without saying anything, as a Black person, and change the temperature of the room.
Patricia: All we're looking for is mutual respect, not to be judged by our skin tone. Not to be intimidated. We're just like everybody else. … [We want them to] try to step out of what was taught to them. Just believe in equality.
Rahein: I don't think the struggle should be as tough, for just an equal playing field. … I can't speak for every Black person's experience, but, yeah, we go into a bank, as business owners, we have perfect credit, we have the same credit score as everyone else, but we don't get treated the same. That is not fair. We work just as hard as anyone else.
The pain
Rahein: Police violence is real. They take people that you care about from you. … Not everyone deals with pain the way our family dealt with pain. Not everybody is going to express their hurt in the way that our family expressed our hurt. Some people are going to lash out. I get it. Do you know how hard it was to keep our composure through this whole time? This man [Raja] was walking the streets for four years.
To sit in court and watch those handcuffs go on, for me, that was one murderer that can't kill my kid, your kid, or someone else's kid. That dude that put his knee on that dude's neck? That could be anybody. It doesn't have to be a Black person. If you're going to be that type of a person, you're gonna be that type of a person. Good people are not gonna do s— like that.
As far as all of the craziness that's going on. If you go around breaking stuff up, where the hell are we going to put Nouman Raja? Where would I put Nouman Raja if we burnt the precinct up? Where would we put all the rapists and all the people that I want off the streets? You go breaking up society, we're never gonna do it.
The future
Patricia: I am definitely optimistic, it's just it took 400 years to get where we are. The process shouldn't be taking this long.
Rahein: It's our turn. It's our turn to come together. You know, they wanted to put a man on the moon, and they came together and figured it out, right? [Laughs] It's our turn, our generation.
Photo: Rahein Jones and his wife, Patricia Jones, at the New Vegan restaurant in Delray Beach. (Michael Laughlin/Sun Sentinel)
* * *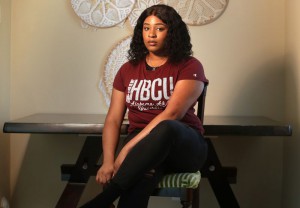 THE ACTIVIST
Mei-Ling Ho-Shing, 19, studies political science and international relations at Alabama A&M University. The Coconut Creek resident was a student at Marjory Stoneman Douglas High School in Parkland on Feb. 14, 2018, when a gunman killed 17 students and staff. She is involved in gun-violence and social-justice movements — and is deeply troubled by contrasting outcomes of police confrontations with George Floyd and Rayshard Brooks with the arrest of the MSD shooting suspect.
I remember the Black students at Douglas used to call it the luxury hotel treatment of being arrested. It was just so smooth. It was just so graceful. Laid him down, arrested him and put him in the back of a car. He even got medical treatment afterward. It's just a huge difference in how Black men and Black women are treated by police officers, versus a white male. To be honest, a terrorist.
'Look at the parents'
I'm realizing that a lot of white people are hearing us out and also standing with us. I also see a lot of white people are arguing with us, but not really stating the facts. I just want them to listen, research. Look at the parents. Look at the families. … The family that has just lost somebody is the most painful thing you could watch.
Put yourself in their shoes. Because that's the point of white privilege that people don't understand. You don't feel like it can happen to you so it really doesn't matter. So whatever you say [to police] is whatever you say and it is what it is. But in the Black community, that's just not how it is. And we just need you to see that. We need you to understand that. We need you to feel that. Because that's what Black parents have to do all the time. My mother, my family have to sit down and have these conversations with me on how I talk to police officers … how I dress, how I look.
Photo: Former Marjory Stoneman Douglas student Mei-Ling Ho-Shing of Coconut Creek. (Carline Jean / South Florida Sun Sentinel)
* * *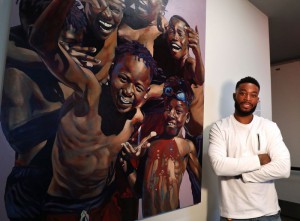 THE ARTIST
Anthony Reed II, of Miami, is a painter and muralist who signs his work Mojo. Reed, 31, was in a chair at a Ferguson, Mo., barbershop in 2014 when he saw police cars whizzing toward the scene where an 18-year-old from the neighborhood, Michael Brown, lay dead in the street after a confrontation with an officer. On his way home, Reed saw a man holding a cardboard sign that read, "They just shot my son." Then a young community-college art instructor, the shooting changed Reed's approach to teaching and mentoring (via his nonprofit, Healing With Hues) and led him to start making art himself. His 2019 painting called Overtown charmed Art Basel audiences and has drawn increasing internet attention in recent weeks for its depiction of the uncomplicated joy of six young, Black boys.
[The Michael Brown shooting] definitely sparked something in me. … It made me think, 'Why am I here? If art is going to be that vehicle, then where am I driving it toward, and what can I use that for?' With the Michael Browns, the Eric Garners, the George Floyds … it's like Groundhog Day. You do something different, but the outcome's the same. … It's not as easy as, like, turning the TV off and it's not my reality anymore. This is your reality just because you walk outside.
Seeing [his students], with that young anger — 'I wanna do something. I don't know what to do, but I want to do something.' — the only way I felt that I could act was my art, sharing ideas and listening to their ideas, too. The mentorship and the talks had after that was, basically, to not waste your energy and not to waste your talent on things that are not going to impact someone else. To focus that energy on what you would love to see. That is the baton to pass on to someone else. To share Black stories, to share brown stories, share white stories, so we can understand, what is the disconnect? Those were the talks we were having. Anytime I saw the frustration and anger going one way, I would redirect it and say, 'All right, put all of that into a piece of art.'
Joy in Overtown
Overtown reminds me of innocence. … We went to the Overtown sports complex, just to be in the community, to talk and learn. At the swimming pool, there were these six kids who were just having so much fun. It made me forget where I was at for a second … and we took a picture. They don't know about the world around them, just yet, how everything is, the good and the bad. We didn't orchestrate them to smile or hug each other, they just did that. I don't know, it made me take a seat. It made me really think, happiness is a mindset you can't control.
Around the time the George Floyd thing happened, Overtown was circulating on Instagram. It was people reposting it. [One of his collectors, a white woman] emailed me and was like, 'I really want a print of Overtown.' She said it reminded her of her kids. These boys are the boys that she sees, too. That brought a tear to my eye. With a piece like that you would expect, or at least I expected, narrow-mindedly, that only Black people or Afro-Latino people would buy that piece. But it's, like, all walks of life are interested in that, because it's so drastically different from what we're seeing every single day. And it's genuinely something that is meant to be special and shared with everyone.
Photo: Miami painter Anthony Reed II, aka, Mojo. with his painting titled Overtown. (Carline Jean / South Florida Sun Sentinel)
* * *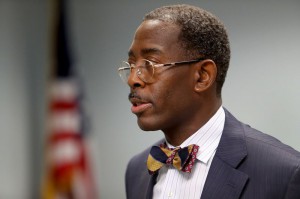 THE LAW ENFORCER
Dr. Gregory Salters is a major in the Fort Lauderdale Police Department. He has nearly three decades in law enforcement as an officer, supervisor and police-academy trainer. He has a doctorate in adult education and resource development; his dissertation was on the impact of racial profiling on Black males seeking jobs in law enforcement. His work with Men of Tomorrow earned him a Mentor of the Year award from the Broward County School Board. None of this prevents Salters himself from being racially profiled.
Regardless of what I put on, some people will always look at me like a Black man. Period. Dot. End of sentence. I've been in the Galleria Mall here, in Dillard's, walking around, dressed. … You will never see me out of my house in the undershirt and cut-off shorts, even when I go to Home Depot and Lowe's, because I'm aware of how people will look at me as a Black man.
So, I'm over at the Galleria Mall — I was dressed, I had on slacks, a polo shirt — I'm walking in, looking at things. … Two individuals walk up after a while, 'Can we help you? Can we help you?' I've done retail training. I know that you approach individuals and ask if you can help, particularly if you think they are shoplifting. I understand that. And you can kind of watch people as they're watching you walk around the store. As they're watching me, I'm watching this other white gentleman that was putting things into his bag and walking out. At that point I took out my police ID, I showed it to them, and I said, 'If there was anything in here that was going wrong, you all would call me. Anything in here I want, I could purchase. But you might want to watch the white gentleman over there that is about to exit your store.'
Training and defunding
You hear the term now, they're talking about defunding law enforcement. I believe a better term would be a 'reallocation' of funds. When you are reallocating those funds, are you putting them toward training and, if so, which training? If you look at the various models in policing, when you come up with your community-oriented models — which are more geared to engaging the community, being a little bit more culturally competent — how much training actually goes into that? How do we move forward and get that [cultural competency]? I submit that the best way to do that is to better engage our community.
Photo: Fort Lauderdale Police Major Dr. Gregory Salters has been in law enforcement for nearly three decades. (Mike Stocker / South Florida Sun Sentinel)
* * *
THE MAYOR
Dale V.C. Holness, Broward County Mayor. Born in Hanover, Jamaica, Holness has been mayor since November and has represented a major portion of central Broward County as District 9 county commissioner since 2010.
We don't like to talk about race. We don't want to face those things. So here comes an event that you couldn't look away from. Murder. With a police officer who is supposed to serve and protect, showing such callousness, such cold-heartedness, such total disregard for another human being. But you've gotta understand the instinct and the psychology — that started with slavery. In order for me to brutalize you, to keep you in chains, and do everything I can to hold you down, I must make you not human, less than. And that's what was on that police officer's face: 'He's nothing.' But that's what society has done.
The political class has a role to play in this. You stoke white fear and you get a backlash. And then it leads to repression and suppression and folks being pushed into being subservient. … The sad part of it is that white America doesn't realize that they're hurting themselves in the process. Because if you keep a group of your fellow citizens down, you're robbing them of living to their fullest potential. But, in so doing, the whole society doesn't grow as much.
'This is wrong'
Every time we have these kinds of turbulence — unfortunately we have them, because stuff boils over, people can't take anymore — good, conscious people of all races come together and realize it's wrong, it's bad. This time around, to me, it seems as if there are a lot more conscious white people, especially young people, who are saying, 'Hey, this is wrong. You can't treat the person I grew up with, my best friend, the person I served in the Army with, who saved my life, that way. He's human, too, just like I am, and should have equal access and opportunity. You ought not police him more than you police me.'
Photo: Broward County Mayor Dale Holness in his office at the Broward County Government Center in Fort Lauderdale. Of racism, he says, "The sad part of it is that white America doesn't realize that they're hurting themselves in the process." (Mike Stocker / South Florida Sun Sentinel)
* * *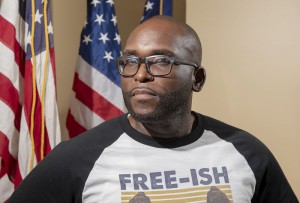 THE LAW MAKER
State Rep. Shevrin Jones, House District 101. Jones, 36, has represented portions of Hollywood, Pembroke Pines, Miramar and West Park since 2012. Currently a candidate for the State Senate, Jones recently was diagnosed with Covid-19.
I'm happy that the [protesting] is not just the gathering of Black folks — it's the gathering of people! [Laughs] Which excites me in a real way, because people get it. It's people in power who don't get it. But the people on the ground — Democrat, Republican, Black, white, Hispanic, gay, straight — they get it. They understand that we are in a very interesting time within our history. The protests are showing that — I don't care who you are, I don't care what you look like — people are showing up because they are tired. They're tired of the conversation.
When I was marching in Fort Lauderdale, I marched with a [white] lady, with her young son, who just so happened to be a Republican, and she said she's out here because she wants her son to know that this is not OK. And she said it was important for her to be here because she heard the stories of racism in her family growing up and she does not want to be the one, in history, that didn't do anything. That was my 'a-ha' moment.
'Call it out'
Someone asked me last week, she said, 'How can I be of help without seeming insensitive and being called out for not being genuine?' I shared with her … If you are a white ally and you're in a position of power, there's your opportunity to make change. If you're a white ally and you're an advocate, your position of change is not only to listen but also to make sure you are pushing individuals who have a seat at the table and holding them accountable. … If you hear it — and when I say 'it,' in your circle, of someone saying something or doing something that goes totally against the movement that is happening now — that you call it out. That's a big help. Because sitting at home and you hearing someone use [racist] words over and over, that just doesn't align with the protest that you just came from, it does not match up with what you're trying to do.
Photo: State Rep. Shevrin Jones: "We are in a very interesting time within our history." (Michael Laughlin/Sun Sentinel)
* * *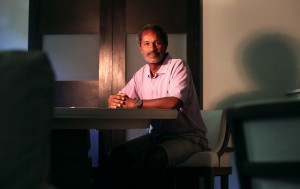 THE TEACHER
Martin Woodstock, 61, teaches health and physical education at Nova High School in Davie, where he also coaches boy's soccer. He came to the United States from Jamaica on a soccer scholarship in 1978. A runner, Woodstock does not run at night in his Victoria Park neighborhood in Fort Lauderdale.
We deal with this on a day-to-day basis. It might not be right in front of you, but in little instances we are reminded that we are Black. … After one of the hurricanes, I was walking my dog, and an officer drove up and he asked me if I lived in the area. And I said, 'Yes.' And he said, 'Where?' And I said, 'Just around the corner.' And then he said, 'What is the address?' And after I told him the address, he drove off. Now, I don't think that would happen to a white person walking his dog in the neighborhood. It's just the little things that we encounter that you don't have to deal with.
The dialogue
I tell [my Black students] they have to be the change. And for the other kids, they have to understand what the Black kids are going through and be part of that change. Bring your parents into some kind of conversation: 'Dad, Mom, did you know this happens in Black neighborhoods?' That is going to take some time, I know that, but we have a perfect opportunity for this now.
I think the dialogue has started because of the multicultural thing of the marches. Some of them will get it. Some of them might not get it. But, as I tell my kids, time is longer than rope. So, in time, if it's the right thing, people will get it and they will understand what we are asking for. Just to be treated equally.
Photo: Nova High School teacher Martin Woodstock tries to encourage dialogue among his students. (Carline Jean / South Florida Sun Sentinel)
* * *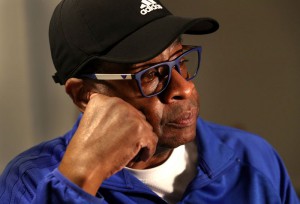 THE MAESTRO
Christopher Dorsey is musical director at Dillard Center for the Arts in Fort Lauderdale. The personable Dorsey, 60, is the commanding presence as a teacher and mentor with the DCA Jazz Band, which has been named best high school jazz ensemble three times at the annual Essentially Ellington competition put on by Wynton Marsalis and Jazz at Lincoln Center in New York.
I talk about race relationships in my band. I don't have a choice. … I don't have the pleasure of trying to be like America: 'OK, white guys, you're on this side. Black guys, you're over here.'
Look we have situations in the band, where you have all these different races, there's issues in there. They call each other 'racist.' I'm like, 'Maybe you all just don't understand each other. You ever try to get to know each other?' … Sometimes you have to deal with it, like, really, straight up. You have to be honest with them. You have to let them know, 'Hey, unfortunately, this is the world we live in.'
But, I tell them, 'You guys are in an inner-city school.' I say this to my white students, my Hispanic students: 'You are going to be the better person, for being able to come here and be able to maneuver in this situation and in this environment. Because some of your friends have only seen one side of the tracks. And it's going to be difficult for them. … There's an empathy that you're going to have, because you were down here.'
The future
We just opened up a wound, but what's happening now is more and more white people are seeing it themselves. I said this years ago — until they see it, nothing will ever change. … What's ironic is you have white people who are having a hard time just like everybody else, especially now. The pandemic has really surfaced a lot of stuff.
Photo: Christopher Dorsey, musical director of the Dillard Center for the Arts Jazz Band, says the ensemble's diversity is a strength and an opportunity. (Carline Jean / South Florida Sun Sentinel)
* * *
THE STYLIST
Calyann Barnett, of Miami, is creative director and founder of the Shop in Pop Up Shop in Wynwood and longtime stylist for former Miami Heat star Dwyane Wade. Raised in Miami by Trinidadian parents and the mother of two sons (ages 6 and 6 months), Barnett is responsible for every Dwyane Wade look you've ever admired. Her line of modestly priced jersey-style T-shirts, American Victims, benefits local social-justice organization Dream Defenders. Each shirt names the victim of a police shooting. Two numbers signify how many police bullets were used and the age of the victim.
We all can potentially become an American victim. I started these shirts two years ago as a way to start a conversation. We're lucky right now — it's unfortunate, but we're lucky — that we were in a place of a pandemic where everybody was still and listening. So what happened to George Floyd could be heard. Far too often these cases happen in cities all over America and no one hears about it, unless you are directly affected by it. So this was a way to start a conversation with different people. Whoever purchases [a shirt], they can then inform someone else. I really feel like that is how information gets spread, is us sharing it.
Different colors
I went through a lot of life hearing, 'Oh, you're not one of those Black people.' What are those Black people? That is a form of racism, because you've already decided in your brain what a Black person should look like, or what a Black person is, or how they should behave. … We are all different colors, we belong to different socio-economic classes, we enjoy different things. Look at Christian Cooper. He enjoyed birdwatching. That is probably the whitest thing I've ever heard. [Laughs] So you have a Black man who enjoys birdwatching. That's just who we are.
Everybody should do some reading. Follow 10 Black people that are talking about what is happening in America right now. Go on your social media and get out of the circles of you discussing within yourselves what's happening — because, of course, if you're speaking to someone who thinks exactly like you … you're only seeing it from the white perspective. I really think education is the biggest step. And then it's also looking at the rooms. Not only your friend circles, but when you go to work, can you truly, honestly believe that there are no Black people who are qualified to do your job? If you do believe that, that's white supremacy. Once given those opportunities, Black people generally meet the bar and raise it.
Photo: Designer and stylist Calyann Barnett at the Shop In Pop Up Shop in Miami's Wynwood Arts District. Her American Victims T-shirts raise money for the social-justice organization Dream Defenders. (Michael Laughlin/Sun Sentinel)
Staff writer Ben Crandell can be reached at bcrandell@sunsentinel.com, where this story first appeared, https://bit.ly/2VTOES5
Related Articles
Share
About Author
(0) Readers Comments