By Greg Carannante
City & Shore Magazine
So you say you love movies? Consider yourself something of a film buff, do you?
Well then, how would you stack up against Gregory von Hausch?
In orchestrating the Fort Lauderdale International Film Festival each year, he watches 60 to 75 films a week.
Uh-huh.
And imagine — he still loves movies! And loves to talk about them, as we discovered in a recent conversation in which the founder and president of the 35-year-old festival told us how his bobbing and weaving against Covid is making the Nov. 6-22 event more special than you might think. He also let us in on the five festival films you shouldn't miss and the two movies that are (somewhat surprisingly) his all-time favorites.
*****
Congratulations on 35 years. That's quite a milestone.
Yeah, I think so. Every year is a battle but we keep plugging away.
Do you remember your first festival?
I sure do. It was an eight-day event. We had about 20 movies, and if I had the opportunity to watch them on video now, I'd pass. We've come a long way for sure.
Has it been much harder to put the festival together this year?
It's been totally different in that the distributors that we deal with, mainly in Europe, are not quite all on board about how we're doing it. We're doing a hybrid with screenings in theaters and virtually as well, plus other things. I probably had 18 films that were promised to me since May. They're waiting and we've already blown our window. But we have a really good lineup of around 50 features, 35 docs and 85 short films and some retrospectives. It's just been sometimes like pulling teeth to make it all come together. But I can't complain. I look at the other businesses that are totally hit by this like we are, and, you know … it's a struggle.
Still, you've been really working it with virtual and drive-in screenings, and now with the boat-in event. How's business been?
It's been pretty good. We're doing a Parkland movie [Us Kids] at the drive-in and we'll probably continue that throughout the festival and beyond. So that's been going well. Our boat-in is set for Nov. 14. And I've lined up around 10 restaurants for our dinner-and-a-movie idea, where we take a screen to a restaurant that has al fresco dining and we show movies while people are eating. I think that'll be fun for people. And so even though people might think it's scaled down, it's probably scaled up.
The boat-in is such a quintessentially South Florida idea. How did that come about?
We were doing the drive-ins and thought, well, what's another way we can interject a little fun here because it's been so bleak. And because Fort Lauderdale is a yachting capital, we thought it would just be perfect. We're going to do a 'Bondathon' and have Goldfinger on one screen and Casino Royale on the other and possibly a third, so that you could pick the one you wanted. We're creating a montage of all the Bond water scenes that will be a curtain-raiser prior to each film. And we're inviting the boats to have a Bond theme and we're going to give out awards to the various boats.
What are some other special events?
Our closing night will be at the IMAX, where we're showing Ancient Caves, and the director, writer and cinematographer will be with us. It's just a magnificent 3-D IMAX film. Because of social distancing, we're going to do three screenings and have a separate party for each one after it. So that's a new way of doing things. And our centerpiece film on Nov. 13 is Francesco. An Oscar-nominated filmmaker traveled throughout the world with Pope Francis, and the cinematography is stunning.
Our opening has to be a two-night affair because of social distancing. It's The Comeback Trail. Robert DeNiro plays this shyster movie producer — B-movies is kind of pushing it — and he comes up with an idea to scam an insurance company and shoot a movie that never gets produced. It's hysterically funny. And Kate Katzman, who plays the director in the movie, will be with us. I'm investigating getting a water taxi to take people from the cinema to The River House afterwards, and we'll have a socially distant party there. That'll be a fun night.
Let's say you could only make it to three films, which ones would they be?
I couldn't limit it to three for sure. There's a Polish film, it's in English, called Adventures of a Mathematician. This brilliant Polish mathematician comes over in the '40s and is teaching at Harvard. And this Hungarian physicist says: Why don't you join me? I'm doing a project in New Mexico and they could use your help. And it turns out it's the Manhattan Project. It's a true story and just a phenomenal movie. I love all those true movies, you know. Then there's a French musical called How to Be a Good Wife with Juliette Binoche, and she runs a finishing school for French girls, teaching them how to be the perfect wife. That is very funny.
There's another French movie called How to Make Out. These loser boys in high school pay this babe to teach them how to make out so they could finally get a date. That was really cute. Then there's a Colombian film called Night of the Beast, where these high school kids get tickets to Iron Maiden. It's sort of like Martin Scorsese's After Hours — all the things that go on with them trying to get to this concert — and that one is fantastic. I Hate Summer is an Italian film about three separate households who end up renting the same vacation house that's not made for three families. They finally decide that all of them are going to share the house for the month of August. I liked that one a lot. I could go on and on.
You say you see 60 to 75 films a week? How long does that go on for?
It starts around February and it concludes in August. I probably see well over 1,200, 1,500 movies to get down to our 175 or 180. A lot of people say: 'Oh, I would love your job. I love movies.' Yeah, if they're all great. The reason I'm seeing so many is because they're not. Out of that 75, maybe 10 percent, probably less, will make it into the festival. And you don't know. You're watching and watching — is this one going to get better? You're just about to turn it off, and all of a sudden something happens and you're intrigued.
I guess it's amazing that you still love movies so much.
I do. I see movies as the ultimate art form because they can embody everything — acting, directing, artwork, photography. It takes you from Miramar to Pluto in a second. So I really do love it. And our audiences share that love and passion.
You've probably been asked a million times, but do you have a favorite film?
I have two. One is Frank Capra's It's a Wonderful Life. I don't know how many times I've watched that — hundreds, probably — and it still makes me tear up and get so excited with joy. And I also love Get Shorty. I think it encapsulates the film industry so well. If I'm channel-surfing and one of them comes on, I can watch it at any time. And James Bond films — I'm particularly fond of them.
What's your go-to?
I was a huge Diana Rigg fan. So I love On Her Majesty's Secret Service. I think that's probably the most underrated of the Bond films. Everybody's favorite seems to be Goldfinger. That's definitely among my top ones. I was popping popcorn in a theater when Goldfinger came out in the theaters [in 1964]. And after the movie started, even though the popcorn stand was open, I could run and look through the little square window in the door at the movie and still see my popcorn stand. So I probably saw that one 75, 85 times through a little rectangular window.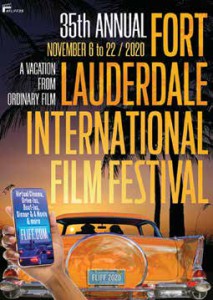 A FLIFF trailer
The Fort Lauderdale International Film Festival plays in the cinemas Nov. 5-22. The Virtual Fest began Oct. 23, with all Short Programs and most documentaries offered through Nov. 22. Some key dates in the November lineup.
5-6: Opening Night Film (The Comeback Trail) at Savor Cinema in Fort Lauderdale and Cinema Paradiso Hollywood, followed by a party at The River House restaurant.
7: Bohemian Rhapsody Sing-Along, Drive-In at Pier Sixty-Six Hotel.
12: Grease Sing-Along, Drive-In at Coral Ridge Yacht Club.
14: Bond-a-Thon, Boat-In at Coral Ridge Club.
22: Closing Film, Ancient Caves, and Party at AutoNation® IMAX 3D Theater
There are also several Dinner and a Movie screenings at local restaurants. For more information and ticket prices, please visit fliff.com.
Related Articles
Share
About Author
(0) Readers Comments