By Robyn A. Friedman
City & Shore Magazine
The holidays have past, and so has Jan. 1 – and those ubiquitous New Year's Resolutions. Did you resolve to get in shape and improve your health (again) this year?
Imagine having a gym right in your own home. Indeed, a home gym is a desired feature now, due to the pandemic and the fact many Americans are spending more time at home (and avoiding public spaces).
According to a survey released in March 2021 by the National Association of Home Builders, 47 percent of home buyers rated a home gym, or exercise room, as essential or desirable. Conversely, in 2003, just 27 percent of buyers sought a home gym, a full 20 percentage points lower than the current rate.
"With gym facilities closed during the pandemic, we saw a huge demand for home gym spaces and equipment," says Evie Fortney, a real estate agent for Compass Florida in Fort Lauderdale. "Seeing the shift to remote work and hybrid schedules, many of my clients have purchased multi-functional equipment or workout applications. They enjoy the ability to work out over lunch or end the day with a sweat session without even leaving the property. Health and wellness are vital, and we'll continue to see an emphasis on in-home cycling rooms, yoga studios and weightlifting spaces into 2022."
The following home gyms make it easier and more pleasant to get healthy – and prevent excuses that you don't have time to drive to the gym.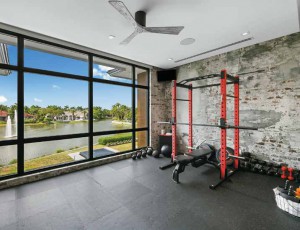 Marcus Guevara Photography
Industrial Chic
  This 17,400-square-foot gated lakefront home, at 10691 Golden Eagle Court in Plantation, in Hawks Landing. Its modern design features seven bedrooms, 11 baths, floating aluminum walls, two floating steel staircases, recessed Glottman lighting and a New York loft-style primary suite overlooking a lake. The property also has a spacious gym with rubberized flooring, free weights, machines, a Peloton bike, large mirrors and a refrigerator. The custom wall covering brings in the industrial look of raw aged concrete block. The gym overlooks the pool, lake and fountain, presenting an enticing view while you work out. Originally listed for $9.5 million, the property has sold.
Contact: Evie Fortney at Compass Florida, 954-805-8100, Compass.com.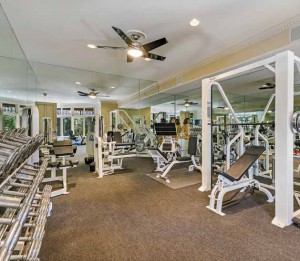 Douglas Elliman Real Estate
Work Out Like a Pro
Listed for $25 million, this 12,786-square-foot oceanfront mansion at 4217 S. Ocean Blvd. in Highland Beach is being sold fully furnished, including artwork and antiques. The Italian Renaissance-style home features six bedrooms, nine baths, a gourmet kitchen, elevator, an antique double-sided fireplace, a pool, a private beach and a rooftop "crow's nest" lounge. For the car aficionado, there's also an air-conditioned, drive-through garage and a collector car showroom. The home gym is enormous and offers even the most discerning exercise enthusiast an array of professional equipment. "It's a world-class gym with the kind of equipment you'd find in a very high-end gymnasium," says John List, senior director of luxury sales for Douglas Elliman Real Estate in Boca Raton, who holds the listing. "There are probably 30 different stations in that gym."
Contact:  John List at Douglas Elliman in Boca Raton, 561-212-2112, Elliman.com.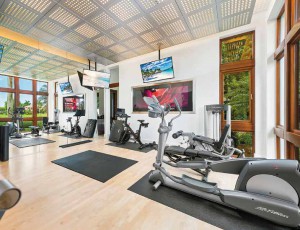 Mika Bobrowsky from LuxHunters for Sothebys
Work Out While You Watch 
  This fully furnished, 12,414-square-foot home at 8808 Twin Lake Drive in Boca Raton, has six bedrooms and 10 baths. It sits on a one-acre lot in Long Lake Estates and has over 300 feet of lake frontage. Priced at $13.85 million, the property boasts a state-of-the-art gym with top-of-the-line equipment in a mirrored room with three televisions, a sauna, a wet bar and a cabana bath.
Contact: Mark Nestler and John Poletto at ONE Sotheby's International Realty, 561-239-0700, Onesothebysrealty.com.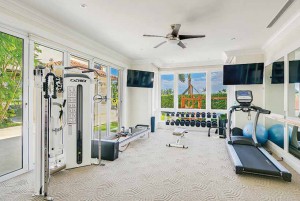 The Carroll Group
Inspired by Natural Light
Listed for $45 million, this 13,265-square-foot mansion in Boca Raton's Royal Palm Yacht & Country Club sits on nearly an acre of land and has 357 feet of deep-water frontage. The home, at 130 W. Coconut Palm Road, also has seven bedrooms, a custom home office, a wine cellar, massage room, sauna, six-car garage and a separate guest house. The gym has two televisions, a treadmill and other gym equipment, as well as windows facing the backyard for natural lighting while you work out.
Contact: Chad Carroll at Compass Florida, 305-400-9507, TheChadCarrollGroup.com.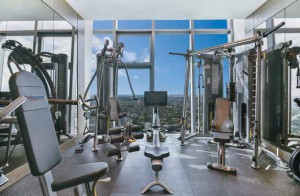 Lifestyle Production Group
A (Workout) Room with a View
Penthouse 1 at Echo Brickell, 1451 Brickell Ave. in Miami, is 11,000 square feet of sophistication. With five bedrooms and eight baths, the $39.5 million condominium also has an indoor pool, a Poliform kitchen, custom marble baths, an office and a green wall (vertical garden). There are two gyms – one for cardio and another for strength training. Whether you're getting in your daily steps on the Stairmaster or building up your muscles, the stunning views of Miami will give you that extra motivation to keep on going.
Contact:  Dina Goldentayer at Douglas Elliman, 305-695-6043, Elliman.com. 
MAIN PHOTO: Penthouse 1 at Echo Brickell, 1451 Brickell Ave. in Miami. (Lifestyle Production Group). Contact: Dina Goldentayer at Douglas Elliman, 305-695-6043, Elliman.com.
Related Articles
Share
About Author
(0) Readers Comments