By Greg Carannante
City & Shore Magazine 
Social media is foodie central. Instagram, for one, is littered with shots of dishes clicked and posted by boastful diners about to dig in. Similarly, TikTok and YouTube are chock-full of cooking demos by amateur chefs (and some questionably edible recipes, as well).
Elevating the social media menu, of course, are professional chefs — the original foodies — who are increasingly turning their kitchens into video studios. It's a legacy that goes back beyond the debut of the Food Network and even the likes of Julia Child — way, way back to 1947, when James Beard became the first American chef to cook on television.
A culinary capital like South Florida is naturally part of this social media smörgåsbord. Esteemed chefs and restaurateurs here have added their social (and other) media profiles to their restaurants' bill of fare, so to speak — and, in some cases, more as a special than a side.
Here, we introduce you to four of those chefs, ranging from a rising star who took her show on the road to a veteran whose from-the-kitchen videos helped his venerable restaurants weather the pandemic, from a newcomer creating cook-your-catch videos to a celebrity TV chef who's been making viewers' mouths water for years.
And who knows. One or two of tomorrow's NFTs may be among them.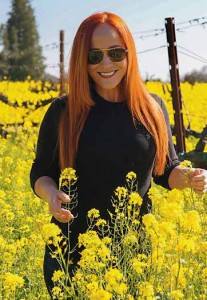 Photo courtesy Adrianne Calvo
Adrianne Calvo
The young star chef from Miami is sitting in Antoine's in New Orleans, the oldest family-run restaurant in the country, sampling Oysters Rockefeller in the place where the specialty originated.
"It's the ugliest dish in the world," the restaurant's manager is telling Adrianne Calvo, as the video camera cuts to a closeup of the baked mollusk that proves the point. On the half-shell, the oyster is covered in a muddy sauce that, she explains, is rich enough to have earned its name.
"The recipe starts with 40 pounds of butter," the manager says, and Calvo's expletive is bleeped by a TV sign-off screen.
Such is the kind of engaging infotainment that runs through the YouTube video series cooked up by Calvo, a culinary hyphenate who now adds social-media personality to her chef-restaurateur-author-TV host brand. Launched this spring, Searching for Maximum Flavor adds the dimension of travel and adventure (not to mention its star's piquant personality) to the typical food-show format.
"It's culinary wanderlust. I want to take viewers on an epic culinary adventure with each show," says Calvo, who commands Chef Adrianne's Vineyard Restaurant and Wine Bar and three other eponymous restaurants in Miami-Dade. She also hosts a weekly cooking segment on NBC 6 South Florida's "6 in the Mix" program and has authored six cookbooks.
Filming the video series during the pandemic — "There was a lot of testing. A LOT!" — Calvo and crew also visited Puerto Rico, Austin, Phoenix, Napa Valley and Jackson Hole, Wyo. The episodes conclude with Calvo back in her kitchen whipping up a dish from the locale she'd just visited.
"Each episode really has its own magic, just like each place has its own identity and charm," says the chef, a graduate of Miami's Johnson & Wales University who began her career at the Mandarin Oriental before opening her first restaurant in 2007.
The episode she enjoyed making the most?
"Jackson Hole was on an entirely new level and a completely different world," she says.
The series has earned a heaping helping of views — for one, the Big Easy episode is approaching 100,000 — and other positive feedback.
"People write to me via Instagram and Facebook saying how much they love the show," says Calvo, whose YouTube channel boasts almost 10,000 subscribers. "People stop me and ask where we are going next! Or when a new episode is released, they take screenshots and post it! It's amazing."
Accomplished as she is, having early on developed her "maximum flavor" style of activating all parts of the palate — sweet, sour, salty, bitter and spicy — Calvo says the series has made her an even better chef.
"Something happens when you understand and experience regional cuisine. There's an intangible value in having a connection to a place. When you recreate the food, there's something extra there."
Searching for Maximum Flavor: youtube.com/channel/UCHu1grDpvTGmXcITfaJbsKg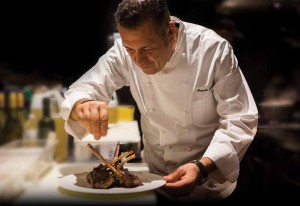 Photo courtesy Angelo Elia
Angelo Elia
The Angelo name has been one of the local dining scene's most acclaimed appellations for just shy of 30 years, growing from Cafe D'Angelo to Casa D'Angelo Ristorante in 1998 and expanding more recently to sister locations and casual satellites from Delray to Aventura.
Surely the renown of that name helped Elia and his 500 employees to endure the pandemic, which was a particular challenge for a fine-dining establishment. But still, the venerable restaurateur had to improvise like never before.
"It was very tough," Elia says. "We did curbside, we did delivery. We kept everybody on board. We did whatever we needed to do to survive."
And that included amping up an Instagram profile where, with the help of his social media-savvy daughter, Elia posted two-to-three videos a week that showed the faithful how to prepare popular Casa D'Angelo dishes at home. Elia also used the platform to show off his signature specials.
One such video shows the chef delivering a "tour" of his fresh catches of the day, proudly picking up one gleaming piece after another from a row of gorgeous seafood displayed down a long kitchen counter.
"We have beautiful sushi-grade tuna," he says in his charmingly efficacious Italian accent. "We have halibut. This is the best of the season. Look how beautiful."
It's mouth-watering enough to make you want to stop whatever you're doing and eat fish.
"The response was unbelievable," says Elia, who has almost 6,000 followers on Instagram. "We have emails, we have people calling us. A lot of my guests call me: 'Oh, my God, I did this at home. When are you going to do the next video? We love that.' And I was like, oh, wow, this really works."
He believes the videos have also played a major part in an astonishing rebound for his restaurant.
"In a way, the pandemic made us a better restaurant owner," he says. "Because we kept everybody on board and we learned to live with that, actually it repaid us. We are having the best year ever. Since January, it's been the best five months since we opened the restaurant."
How does the 59-year-old celebrity chef like being a minor video celebrity?
"Actually, I think I'm not a video person, but everybody says you're doing great! So we keep doing them."
And he keeps expanding. This month, the newest Casa D'Angelo opens in Aspen.
Casa D'Angelo: instagram.com/casa_dangelo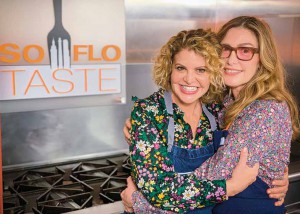 Michelle Bernstein, left, and her sister, Nicolette Bernstein, courtesy.
Michelle Bernstein
If media exposure makes a chef a celebrity, then Bernstein is THE celebrity chef of South Florida.
Her telegenic charm and megawatt smile have beamed across the local TV airwaves for the past 13 years, beginning with PBS's Check, Please! South Florida and then, since 2015, also with SoFlo Taste on WPLG Local 10.
Both shows are, of course, amplified by vibrant social media components. The pandemic-induced virtual season of Check, Please! was broadcast on Facebook and YouTube earlier this year. And SoFlo Taste has almost 3,000 followers on Instagram, where the chef's profile also has over 17,000 followers.
Which show does she enjoy more?
"OMG, I don't have a favorite! You can't compare 'fun,'" she says. "On Check Please I get to meet new people and chit-chat about my favorite things — restaurants and food. On SoFlo Taste, I create and make food I've sometimes never made before. However, I will say that being behind a stove does make me feel more at ease."
  Check, Please! is a weekly, half-hour series broadcast at 7:30 p.m. Mondays and Thursdays on WPBT and at 5:30 p.m. on WXEL. With Bernstein as host, three South Florida foodies dish about their individual experiences at their favorite restaurants, offering a taste of the hot spots as well as hidden gems on the regional dining landscape.
  SoFlo Taste is a monthly theme-oriented cooking show that airs Saturdays at 10:30 a.m.,  presenting episodes with such intriguing titles as The Udder Joy of Dairy and Michy's Best Fishes to You. Bernstein's favorite, though, is Sister Act from February of last year, in which she shared the kitchen with sister Nicolette.
The chef says she gets "amazing" responses from SoFlo Taste viewers who've tried her recipes.
"Once in a while I'll meet someone that says the recipe didn't work for them, but that has only happened twice," she says. "And yes, my mom's braised chicken with pizza spices is everyone's favorite."
Boasting an imposing pedigree on the Miami dining scene, Bernstein also serves up a contemporary take on Cuban cuisine at Little Havana's Cafe La Trova.
Which does the James Beard Award-winning chef enjoy more — cooking or eating what she cooks?
"Definitely cooking," she answers. "I find fault in everything I do."
  Michelle Bernstein: instagram.com/chefmichy, checkpleasefl.com, instagram.com/soflotaste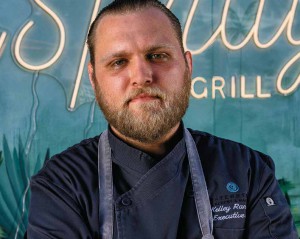 Courtesy photo by Gyorgy Papp
Kelley Randall
With its breezy vibe and primo setting at the confluence of Lake Boca and the Intracoastal, SeaSpray Inlet Grill resonates swimmingly with the tropical, water-water-everywhere zeitgeist of South Florida.
That's clear to see in its panoramic views of the water that stretch to the Atlantic, or in its floor-to-ceiling, lushly hand-painted tropical murals, or in the boats and yachts mooring at Boca Raton's only dock-and-dine restaurant.
"Our entire goal was to celebrate South Florida lifestyle and life on the water," says Executive Chef Kelley Randall. "The entire viewpoint from our dining room — which is all outdoors — really sets the perfect backdrop for a scene in the South Florida tropics.
"Television reporters love coming to shoot at SeaSpray because our view is so naturally beautiful, so we thought why not shoot a series for social media."
That series is "Cook Your Catch," filmed alfresco against the waterfront backdrop. The videos are posted to Instagram, Facebook and the restaurant's website.
"Our goal with these videos is culinary education," says Randall, a purveyor of what he terms "elevated Florida coastal cuisine." "We like to teach the viewer how to properly clean a fish in order to prepare it for cooking, and we'll dedicate different videos to different local species as well as our creative recipes for them."
"Cook Your Catch" is not merely a virtual undertaking for Randall. Since SeaSpray's recent launch at Waterstone Resort & Marina, he's already filled lots of orders from boaters to clean and/or prepare their fresh catch. The service costs $35 per person and includes two sides.
Randall didn't follow a traditional path to executive chef. Foregoing culinary school, he learned at the side of his executive chef father, earning his way up from dishwasher.
"I was taught through real-life, priceless experience," he says. "In my case, it's in the lineage as opposed to just a degree."
  SeaSpray: facebook.com/seasprayboca, instagram.com/seasprayboca and seasprayboca.com
MAIN PHOTO: Adrienne Calvo on location in Napa Valley, courtesy.
Related Articles
Share
About Author
(0) Readers Comments