By Peg San Felippo
City & Shore Magazine
The holidays are near and hosting an upcoming gathering – even for a small crowd – can be overwhelming. With all the planning and work that needs to be done, I'm going to suggest you skip mixing up any one-off drinks this year in favor of punch.
The history of punch dates to the early 17th century, and while there's speculation whether its physical origin was India or Europe, the word "punch" is thought to have derived from the Hindi word paanch, meaning five. The drink was indeed made initially with five ingredients: alcohol, sweetener, citrus, water and spices or tea.
Punches are delicious and beautiful when served in an attractive glass bowl with garnishes. While punches add a festive flair, they also take away the stress of portion guesswork and are a manageable, hand-crafted cocktail solution if you're hosting a big group. The bonus is it allows your guests to serve themselves, freeing you up to enjoy your own party.
"Punches are the ultimate party libation," says Ervin Machado, Beverage Director at Louie Bossi's Ristorante Bars, in Boca Raton and Fort Lauderdale. "They are uncomplicated and refreshing. Everyone secretly wants one, and if it's made right, one is not enough."
Here are some tasty and simple punch recipes you can easily double (or triple) to fit your event.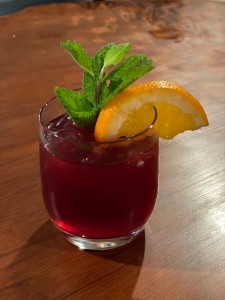 Louie's Holiday Pomegranate Punch photo by Peg San Felippo
Created by Ervin Machado, Beverage Director, Louie Bossi's. "Bubbles in punch makes it the perfect holiday drink," he says.
Serves 10
20 oz. pomegranate juice
10 oz. simple syrup
10 oz. white rum
2 750 ml. bottles of brut prosecco
Orange slices and mint sprigs for garnish
Mix the first three ingredients in a pitcher or bowl. Put the mixture and the bottles of prosecco in the refrigerator for a couple of hours to chill. When serving, fill a glass with ice, pour punch over ice, leaving room for generous topping of prosecco. Garnish with mint and an orange slice.
Granny's Punch
Created by Eileen-Ann Fisher, Brand Development Manager, Hotaling & Co. Importers. This punch is inspired by the traditional Rosh Hashanah treat of apples dipped in honey, representing the wish of a sweet New Year ahead. 
Serves 12-14
25 ozs. *Caorunn Scottish Gin
37.5 oz. fresh granny smith apple juice or available fresh apple juice
3.25 oz. lemon
9.5 oz. cinnamon & allspice honey syrup (recipe below)
Sparkling water to top
Mix all ingredients, except sparkling water, in a large bowl or pitcher. To serve, pour into a glass with ice and fill about 3/4 full and top with sparkling water. Garnish with additional apple slices.
Cinnamon & Allspice Honey Syrup
2 cinnamon sticks
3 cardamom pods, lightly crushed
3 whole allspice
¼ cup honey
½ cup water
Bring cinnamon, cardamon pods, allspice, honey and 1/2 cup water to a boil in a small saucepan. Reduce heat and simmer five minutes. Let cool, then strain into an airtight container, discard solids.
*Certified Kosher
TIP from Eileen-Ann Fisher: "Fresh apple juice won't stay a pretty green for more than a day, so juice what you need and make a batch of these cocktails for your winter get-togethers with friends. I find it easier to enjoy my company when the cocktails are already made."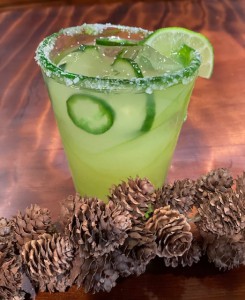 Merry Margarita Punch photo by Peg San Felippo
Friends and I created this recipe over the holidays a couple of years ago. It's very versatile, so don't let its name keep you from enjoying it all year long.
Makes 10 servings
1 English cucumber, thinly sliced, plus additional for garnish
1 small jalapeño, thinly sliced, plus additional for garnish
¼ cup lightly packed cilantro
1 750-ml. bottle silver tequila
2 cups fresh lime juice
1 cup light agave nectar
½ cup fresh orange juice
Ice, lime wedges and kosher salt, for serving
Muddle the cucumber, jalapeño and cilantro in a large punch bowl. Add the tequila, lime juice, agave and orange juice and stir until well blended. Refrigerate until well chilled, about an hour and a half.
Once chilled, remove the muddled solids from the punch with a mesh strainer and discard. Garnish the punch with remaining sliced cucumber and jalapeño. Set out the ice and lime wedges alongside, as well as the salt for rimming glasses.
Peg San Felippo is a certified sommelier who served as a judge at the recent Los Angeles Invitational Wine & Spirit Challenge, the annual American Fine Wine Competition, South Florida's homegrown wine event; and THE Rosé Competition.
PHOTO: About her Granny's Punch, Eileen-Ann Fisher says, "I find it easier to enjoy my company when the cocktails are already made." Photo by Alison Webber
Related Articles
Share
About Author
(0) Readers Comments