By Eric Barton
City & Shore Magazine
There's a truth about South Florida that's baffling to anyone from somewhere else. Even in a place with stunning weather most of the year, we eat outside only when it's a fairly precise 72 degrees and sunny.
Meanwhile, vacation up north and you'll see people filling sidewalk tables in temperatures that would make South Florida meteorologists issue cold-weather warnings. In the islands, waterfront seating remains full even when it's sweltering. In southern Europe, eating al fresco is pretty much the only way to eat.
So, in these days when dining under the sky is decidedly safer, can we Floridians learn how to enjoy the outside during a meal?
Yes, yes we can. Or at least, that's the consensus we've reached after talking to experts, local chefs who have stellar advice on how we can all learn to eat outside more. Even when the temperature rises above 73.
Our New al Fresco Lifestyle
A few years back Michael Schenk, now the culinary director at Farmer's Table in Boca Raton, moved with his New York-born wife to Munich. A German native, he wasn't sure how his bride would take to the lifestyle there, especially when it came to the biergartens.
For Germans, the biergartens aren't just a place to drink and eat. They're a gathering spot for the entire neighborhood: parents socializing over a slow-sipped liter of beer, kids playing nearby, everyone outside, through cold and snow. People will just bring extra clothes in the winter, or shed them under the summer sun.
"It surprised me, but my wife really took to the lifestyle there," Schenk says. When they moved to Florida, they didn't want to leave that German way of eating behind. Now, they'll eat outside pretty much any time of year, bundling up when it's chilly and, in the summer, just looking for a nice, breezy spot in the shade.
For Schenk and others who have lived in places where al fresco dining is the norm, they say it's simply a lifestyle that Floridians could adopt. Perhaps one of the positive changes that'll come out of 2020 will be a renewed interest in outside eating.
The benefits to eating outside are not just about transmission rates. Studies have shown simply spending time outside lowers stress, heart rates and blood pressure. A University of Michigan study found that people are downright happier having spent time outdoors.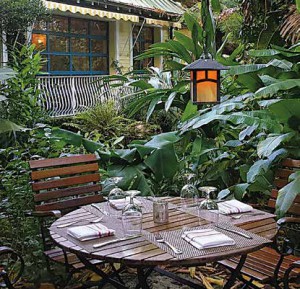 Sundy House's fine dining restaurant, Taru / Photo courtesy
South Florida chefs say there's undoubtedly been an uptick in the number of people eating outside these past few months. For restaurants well suited to handle that demand, it has been a bit of a blessing. One of them is the Sundy House, the Delray Beach mainstay with a patio where a whole lot of us enjoyed leisurely brunches even before the world changed.
Jimmy Strine, the chef at the Sundy House's fine dining restaurant Taru, says he's hopeful the trend will continue, that people here will just adopt a new way of eating outside more.
"It's just nice to be in the fresh air, and given these times, it's more important than ever," Strine says. "It's a mindset that I think more and more people are adopting."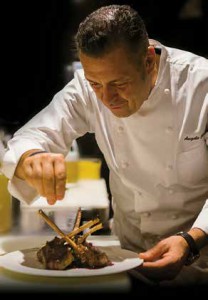 Angelo Elia / Photo courtesy
Eating for the Seasons
   It may not be surprising that Angelo Elia grew up in Salerno. The evidence is in the simple but well-executed dishes he serves at his Fort Lauderdale mainstay Casa D'Angelo, which he has turned into a mini restaurant empire over the years. He says he essentially serves the food he grew up eating in his neighborhood piazza.
"Where I come from in Italy, we eat outside all the time," Elia says. "We love to sit outside, no matter what. It can be winter and 55 degrees, or summer and 85-90, and we will still be outside."
The reason southern Europeans spend so much time eating outside is that they counteract high temperatures with the dishes and drinks they order. It's a simple rule of eating for the seasons, and not something we're used to in Florida.
In hot weather, that means eating and drinking like you would at an Italian trattoria, Elia says, starting perhaps with an extra-chilled glass of white wine. Follow it with a simply grilled fish with a salad. Or maybe go for a Neapolitan-style pizza, with a light, thin crust that doesn't carry so much heat. Perhaps on the table there's also cold dishes like carpaccio or gazpacho, or maybe a Sicilian-style salad of tuna and potatoes.
"In Italy, we eat very plain, and always for the seasons," Elia says. "These foods that are meant for summer, they keep you cool, even when it's very hot."
It's why Paula DaSilva, chef at Burlock Coast at The Ritz-Carlton in Fort Lauderdale, changes up her menu when the temperature rises, adding a tomato salad with vibrant greens, a grilled octopus with olives that's served chilled, and fish with lighter sides rather than the pastas more suited to winter weather.
It's the kind of eating she learned back in her native Brazil, where she says everyone eats outside, always. Her family moved to the Boston area when DaSilva was 6 years old, and there too everyone sat outside, whenever they could.
Learning to eat outside more in Florida is largely a matter of being sure to order the right thing. "It's retraining the way we think," DaSilva says. "I go out to eat with friends, and they always want to sit inside. I'm like, 'Nah, come on, it's 75 degrees.' If they just order dishes for the weather, they'll be fine."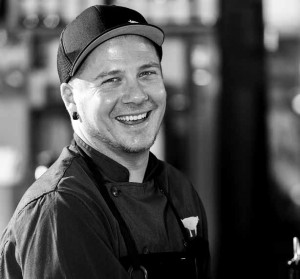 Tim Lipman / Photo Jason Myers
Avoid the Wait
Growing up in Brevard County, Tim Lipman remembers sitting outside at restaurants on the ocean. Even in the summer, that breeze would keep the temperature feeling like spring
"We don't really have that in South Florida," Lipman says. "There aren't a lot of restaurants directly on the ocean, so that means we have to re-learn how to deal with the heat."
Lipman, chef/owner of Jupiter's Coolinary Café and The Parched Pig, came up with one simple solution to how we can all deal with the heat more effectively. After the pandemic meant more people wanted to eat outside, Lipman made Coolinary Café a reservation-only establishment. The change did away with the hour waits people would often have previously for an outdoor table.
"What we figured out was that people would get hot standing outside waiting for a table, and by the time they got seated, they'd already be too hot," Lipman says.
Since the lockdowns began, more and more restaurants have gone to reservations only. Companies like Resy and Tock Inc. report a large uptick in the number of restaurants that now take reservations. Even restaurant designers and owners have begun planning for a long-term change, reconfiguring tables and outdoor areas to allow for a post-COVID world where more of us want to sit at outside tables reserved in advance. The change also means it may be harder than ever to score your favorite table; with lessened capacity and more people wanting to sit outside, planning in advance now is key.
Tables at restaurants that have planned well for outdoor dining may also be in higher demand. Thinking back to those Brevard restaurants from his childhood, Lipman also wanted to recreate the ocean breeze by keeping the air moving.
"We've got fans up high, fans down low," he says. "It's going to feel like you're sitting at the beach."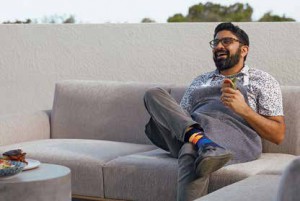 Niven Patel / Photo Ruben Pictures
When It's Hot, Up the Spice
Back when Niven Patel was growing up in Surat, India, it wasn't like there was a choice about whether to eat outside. "Even if there was inside seating, the place probably didn't have AC," Patel says.
So, Patel, the celebrated Miami chef, says the answer to eating outside in the heat is one you wouldn't think could be true: Spice. Preferably, lots of it.
It's true, what you've probably heard, that spicy foods make you sweat, which can cool you down. Researchers have also found that spicy foods stimulate circulation, actually raising our body temperatures, which can make you feel cooler thanks to a diminished difference in the surrounding air. Which explains why so many cultures around the equator fill their dishes with spices.
It's not just spicy-hot foods, but Patel says spices like cloves will work to cool you down. Eating spicy foods is something Patel has learned firsthand in Florida. In addition to his restaurants Ghee Indian Kitchen and the new Mamey, Patel also runs a farm that provides a lot of the produce to his kitchens. Not long after the pandemic began, Patel went out there for a day of weeding, and he found himself still in the garden at 7:30 that night. "I came in, and I have never been that hot and exhausted," he says. "I think I drank four gallons of water."
It's also those over-heated moments when Patel looks for something spicy, preferably made with yogurt, which he says works to cool down your system. He has an example of it at Mamey, a ripe seared plantain dish served with spiced yogurt and a salad of shaved onions, heirloom tomatoes and cilantro. The whole thing is meant to eliminate the outdoor heat.
"I mean, I know it sounds crazy," Patel says, "but hot, spicy foods definitely cool your body temperature down, for sure."
 LEAD PHOTO: The Farmer's Table Boca Raton/Courtesy
Related Articles
Share
About Author
(0) Readers Comments