By Greg Carannante
City & Shore Magazine 
After two long years of pandemic complications, it's shaping up to be a Comeback Summer for South Florida shows. Though last summer was a veritable renaissance compared to the doldrums of 2020, artists appear to really be making up for lost time this year. The rosy concert lineup is loaded with heavyweights in hip-hop, rock, country and EDM who'll soon be smoking up a stage near you.
But, you know, it wasn't really that long ago when summer show-going here bore more than a passing resemblance to that of the past two stunted years. Back then, when the Fort Lauderdale skyline looked like it was flicking everyone a one-skyscraper salute and cow pastures lined almost every major intersection in Davie. When South Beach was still the domain of the blue-hair set and a happenin' downtown scene in almost every city up and down the coast was decades from becoming a thing. When the big-three performing arts centers had yet to break ground and the go-to concert venues included the likes of the Hollywood Sportatorium, Sunrise Musical Theater and the Button South. Back then, the summer entertainment scene was a relative dead zone compared to the pizzazz of The Season.
The arts season, gearing up in fall and lasting into spring, corresponds to tourist season as well as to the migratory patterns of the snowbirds. Capitalizing on the influx of prospective ticket-buyers, venues and organizations traditionally staged the lion's share of their shows — particularly the biggest, best and snootiest of them — during those cooler, more crowded months.
They still do, of course, but population swells over the intervening years have brought significant upticks in potential audience members as well as the number of seats that need to be filled by them year-round (thanks in part to those performing arts centers and a certain guitar-shaped enterprise, among others). As a result, the demarcation between The Season and the off-season has grown a lot blurrier.
Which is, naturally, a good thing for music fans and arts-lovers who possess the temerity to call South Florida their summer home or destination — and the disposable income to eat skyrocketing ticket prices. While orchestras, opera companies and the like still tend to lay low in summer, some cultural events remain. However, the pop concert scene sizzles all year long (the pandemic excluded).
As always, summer in South Florida is all about the heat. These days, it's bringing it onstage, too. Here's a look at some of the summer's hottest shows.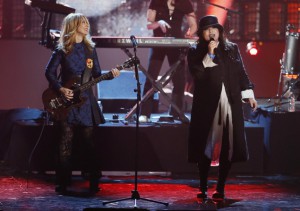 Ann Wilson of Heart (Nancy and Ann Wilson photographed by Danny Moloshok of the AP)
June 17, The Parker, Fort Lauderdale
Sure, guys like Jagger and McCartney grab all the noise about old rockers still rockin.' But same as it ever was, Ann Wilson of Heart is right up there with them, still going crazy on you after all these years. So much is evident on her new album, Fierce Bliss, recorded at the legendary Muscle Shoals Fame Studios. The raven-haired, high-powered lead singer of the first female-fronted hard rock group is touring this summer without her guitar-slinger sister, Nancy. Though the Rock & Roll Hall-of-Famers last toured together three years ago, the sisters couldn't see eye-to-eye on a backing band this time around. Nancy has opted to tour with a different group and vocalist later in the year. Still, for fans of hits like Barracuda and Magic Man, this half of a broken Heart will do just fine. parkerplayhouse.com
Beautiful, The Carole King Musical
June 17-19, Broward Center, Fort Lauderdale
Carole King sold her first song at 16 and a year later wrote her first No. 1 hit, Will You Still Love Me Tomorrow. Some 60 years later, apparently the answer is yes. King went on to write 400 more songs recorded by over 1,000 artists (!) — and a good many of them have become the earworms of a generation. It's no shocker, then, that the Broadway bio-jukebox musical based on King's life and catalog would win the 2015 Grammy Award for Best Musical Theater Album. The production is ideal summer fare, with a classic tapestry of tunes delivered via artful stagecraft: The songs are played in part as the writers work on them around a piano and then, with flashing lights and quick changes, impersonators of the artists that made them famous — from the Shirelles to the Righteous Brothers, Little Eva to Neil Sedaka — bring them home in dynamic downstage performances. It's not too late, baby, it's not too late. browardcenter.org
Keith Urban
June 18, iTHINK Financial Amphitheatre, West Palm Beach
To paraphrase the immortal Waylon Jennings, Hank sure ain't done it this way. Despite his unassailable country cred and chops — evinced by his telegenic presence on darn near every country awards show — the Aussie-American shredder is as responsible as anyone for pushing the genre into stomping grounds where boots don't normally stomp. Exhibit A: The Speed of Now, Pt. 1, Mr. Kidman's latest album (and tour title). Its electrifying, electronic opening cut, Out the Cage, features dance guitar guru Nile Rodgers, rural-rap hybrid BRELAND, and a '90s house breakbeat that's as country as South Beach at 3 a.m. It's followed by One Too Many, a pure pop duet with Pink and not a "y'all" to be heard. But, hey, this is the age of the genre-bender, and is any genre bending more than country these days? For one of its most successful and likable purveyors, the bottom line appears to be: A good jam is a good jam. And he can jam with the best of them. ithinkfi.org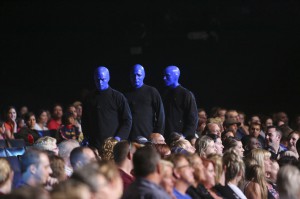 Blue Man Group (photographed by Gary W. Green)
June 29-July 3, Arsht Center, Miami
Three guys paint themselves blue and do crazy stuff. Everybody loves it. arshtcenter.org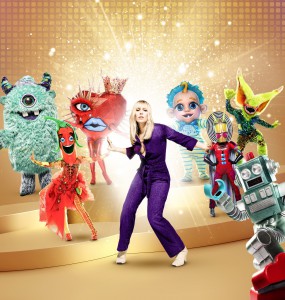 The Masked Singer (with Natasha Bedingfield, photo courtesy)
June 30, Broward Center, Fort Lauderdale
Following in the footsteps of American Idol and other reality series, The Masked Singer has repackaged its TV mania into a stage show and is trotting it around the country. The Masked Singer National Tour features performances by many of the series' fan-favorite costumes with "surprise celebrity guests and amazing new performances." Celebrity is, of course, the end-all of the TV show, and not to be outdone, the stage version has celebrity guest hosts from the series as well as one local celebrity on every date who will perform in disguise. The audience tries to decipher the clues and guess the identity until the local celebrity is unmasked at the end of the proceedings. Fun … right? browardcenter.org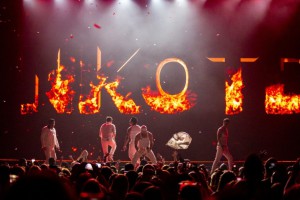 New Kids on the Block (photographed by Patrick Connolly)
July 9, FLA Live Arena, Sunrise
Michael Keaton was Batman, Seinfeld was a newbie and MTV was still the thing. It was 1989, and New Kids on the Block were riding high. Flash forward a generation and a half and the boy band is a man band — but still riding the glory days of its youth. The Kids — who haven't released a new album since 2013's 10 — are taking their not-sorry nostalgia-fest to the max with their Mixtape Tour and recent single, Bring Back the Time. Both feature Rick Astley, Salt-N-Pepa and En Vogue, who pop-up both during the flow of the concert (as opposed to opening for it) and in the video for the single — in which the whole gang re-creates tongue-in-cheek snippets of classic '80s videos. The song says it all: "The heart never changes and inside we're still the same kids we were back in '89, so bring back the time." flalivearena.com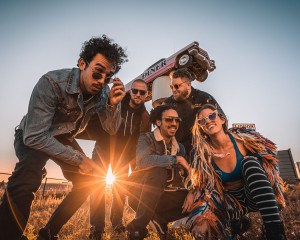 Artikal Sound System (photo courtesy)
July 15, Sunset Cove Amphitheater, Boca Raton
The homegrown reggae groove-meisters swing back down for a one-night detour from their cross-country tour. The Delray Beach-based band's latest album, Welcome to Florida, evokes a place where palm trees dance in the subtropical breeze, where salt is in the air as well as on the rim of your glass. It also flaunts female vocalist Logan Rex, whose kick-back tone comes with a bite, such as on the great, expletive-laden putdown song, You're an ***hole ("I mean it in the nicest way possible"). The local band has been around for a decade but is currently making national headlines for the copyright infringement lawsuit it filed in March against Dua Lipa. ASS, as they are known, alleges that her monster smash Levitating was ripped off from their 2017 track Live Your Life. A comparative listen seems to support the band's case. However, three days after the suit was filed, the British pop star was hit with another one — by the songwriters of a disco song, Wiggle and Giggle All Night, which precedes the Artikal Sound System track by 38 years. The plot thickens, the groove goes on. discover.pbcgov.org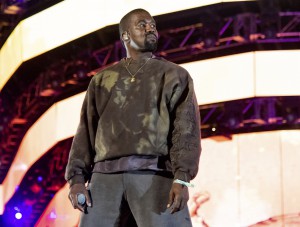 Rolling Loud (Ye, photographed by Amy Harris of the AP)
July 22-24, Hard Rock Stadium, Miami
Along with the EDM rage of Ultra, the Rolling Loud flagship fest gives Miami-Dade the distinction of hosting two of the year's premier popular music gatherings. One of the biggest rap and hip-hop festivals in the country, Rolling Loud features a weekend lineup of more than 100 acts. Ye, the artist formerly known as Kanye, headlines on Friday. Future tops the bill on Saturday and closing out the weekend is Kendrick Lamar, one of the stars of the Super Bowl's stunning halftime show. Then there are the extracurriculars. Last year's installment got some static for a partially collapsed stage (no injuries) and for DaBaby's homophobic and misogynistic comments. The rapper was quickly canceled but is back this year. The fest's Loud Club offers perks on an elevated deck, such as dedicated couches, tables, wait staff and guest appearances by models and celebs. Not included in the price of admission: the Rolling Loud after-parties at Miami's hottest clubs. hardrockstadium.com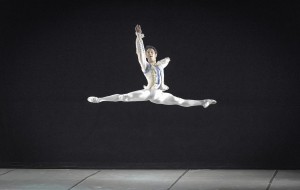 International Ballet Festival of Miami (photo courtesy)
July 23-Aug. 14, various venues
Like a perfectly placed pirouette, this venerable festival fills the space left by the springtime season finales of Miami City Ballet and Arts Ballet Theater of Florida. Presented by Miami Hispanic Ballet Company, it's a stunning convergence of national and international companies, traditionally representing Europe, Asia and Latin America — and many performing on a U.S. stage for the first time. At venues from Homestead to Fort Lauderdale, the festival encompasses an art exhibit, workshops, book presentations, a film series and a dance master class. Three International Young Medalist performances and four contemporary dance performances lead up to the Etoiles Classical Grand Gala Performance on Aug. 13 at The Fillmore Miami Beach, showcasing prestigious ballet companies and their stars. The following night brings the Closing Gala of the Stars Performance to Miami-Dade County Auditorium, featuring all guest principal dancers in different programs. internationalballetfestival.org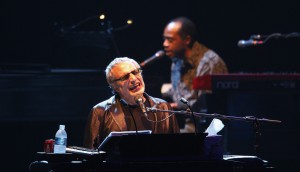 Steely Dan (Donald Fagen, left, of Steely Dan, photographed by Gary He of the Associated Press)
July 28, Hard Rock Live, Hollywood
Interesting how the band famous for forsaking touring for the studio — not the Beatles, the other one — has been tearing it up on the road in its later years. So much is evident in its two recent releases, both recorded live — the excellent Northeast Corridor and Donald Fagen's The Nightfly Live. Sole survivor of the founding duo, vocalist-keyboardist Fagen appears to be getting on very well despite the absence of the late Walter Becker's crisp, meticulous guitar work. The band he's built around him is as solid as they come. Propelled by the powerhouse drumming of Keith Carlock, it adds a jazzy lushness and punch to the sophisticated sheen of the Steely Dan sound. seminolehardrockhollywood.com
Swedish House Mafia
July 29, FTX Arena, Miami
Don't expect to actually sit in your seat when the legendary DJ trinity of Axwell, Steve Angello and Sebastian Ingrosso kicks off its first tour in 10 years here. (Then again, why would you — it's house.) Getting the party started for its Paradise Again Tour, the reformed trio released a new album of the same name as well as single collaborations with the Weeknd and Sting. "It was important for us to not just tour the legacy," Ingrosso has said. "We wanted to challenge ourselves, challenge the fans and challenge the sound." Keyword: "challenge." In Redlight, the music video featuring Sting doing his Roxanne thing, a flying saucer appears to incite zombies to emerge from a pit and feast on party-hearty dancers in a club. Maybe not the best way to promote an upcoming tour. (But then again, it is house.) ftxarena.com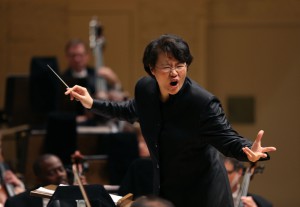 Carnegie Hall's NYO2 (Mei-Ann Chen and NY02, courtesy)
July 30, New World Center, Miami Beach
A rare summer opportunity for classical music concertgoers, this one-night-only performance by Carnegie Hall's NYO2 orchestra showcases talented young musicians in an eclectic evening that fuses popular African-American idioms, Gershwin and Rachmaninoff. Mei-Ann Chen conducts the orchestra's only public performance before its finale at Carnegie Hall two nights later. A partnership of New World Symphony and Carnegie Hall, NYO2 is a training program for players ages 14-17 that spotlights those from communities underrepresented in classical music. At a five-day Miami residency leading up to the concert, current and former NWS Fellows mentor and perform with NYO2 students from across the country, including many from South Florida. nws.edu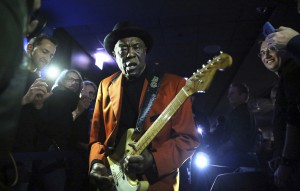 (Buddy Guy, photographed by Chris Sweda)
Buddy Guy and John Hiatt
Aug. 4, Broward Center, Fort Lauderdale
The blues is the rare genre where the axiom, "the older the better," often applies. Case in point: Buddy Guy. At 85, he personifies the title of his latest album, The Blues Is Alive and Well. Succeeding B.B. King as the music's elder statesman, his voice retains the authority of a master and his licks remain simultaneously pure and scorching. He's teamed up with another venerable artist, John Hiatt, who is not technically a bluesman but sings like he could be. Turning 70 in August, the revered, rootsy singer-songwriter is on a late-career roll. Special guests are the Goners, featuring another guitar hotshot, Sonny Landreth. browardcenter.org
 The Weeknd
Aug. 6, Hard Rock Stadium, Miami
The Weeknd kicks off two killer weekends at The Rock, stepping it up this summer with three shows by two of the world's hottest pop acts in eight days (see Bad Bunny, below). As its name implies, the After Hours Til Dawn tour showcases the recently released album DAWN FM album as well as its monster predecessor, After Hours — whose single Blinding Lights had Chubby Checker twisting in his grave by upending his 1960s hit The Twist as the Billboard Hot 100's No. 1 song of all time. With similarly sizzling Doja Cat along for the ride, the global tour promises given-named Abel Tesfaye's most ambitious fireworks to date. If you remember his blazing 2021 Super Bowl Halftime Show in Tampa, that's saying something. hardrockstadium.com
 Randy Rainbow
Aug. 28, Broward Center, Fort Lauderdale
One of the funniest things to come out of the Trump presidency (which is saying something) was the internet sensation of Randy Rainbow, a political satirist who insists that's his real name. The three-time Emmy-nominated singer, comedian and Broadway musicals nerd has generated international acclaim and several gazillion views with his hot-button viral videos and song parodies. The Pink Glasses Tour turns his snarky virtual world into a live show, with new songs accompanied by Broadway musicians, an audience Q&A and some personal stories doubtless also dished in his recently published memoir, Playing With Myself. The appearance is something of a homecoming for the Plantation High School graduate, who got his feet wet on South Florida stages. browardcenter.org
 Bad Bunny
Aug. 12-13, Hard Rock Stadium, Miami
Just six days after The Weeknd's appearance, the stadium welcomes an even hotter scorcher, the Puerto Rican rapper and WWE rumbler whose World's Hottest Tour is so hot that just one night at the Rock wouldn't do. Which would be impressive enough, except that the crossover phenom is dialing up the 305 again only four months after a three-night mini-residence at FTX Arena. With his brand of Latin trap, reggaeton and rock, Bad Bunny has skyrocketed to global superstardom as Spotify's most-streamed artist of the past two years — the first non-English language act to hold the title — and Billboard's top Latin artist for the third year in a row. hardrockstadium.com
 Jack Johnson 
Aug. 18, iTHINK Financial Amphitheatre, West Palm Beach
If they could bottle the vibe embedded in almost every song that eases out of this Hawaiian troubadour, the world just might be a lot more chill. As it is, that vibe is enough to make the environmentally friendly, former pro-surfer one of the best-loved singer-songwriters of this century. And it's enough to float a 30-date summer tour — despite his not having released a new album in five years before Meet the Moonlight drops June 24 just after the tour launch. Of the various artists joining up on different legs, such as Ben Harper and Lake Street Dive, the West Palm Beach date couldn't ask for a more perfect tour mate than Ziggy Marley. The simpatico goes deeper than South Florida's affinity for reggae. It's also because that laid-back, rock-steady groove infuses the beat and spirit of so much of Johnson's seemingly effortless workmanship. Basically … Better Together. ithinkfi.org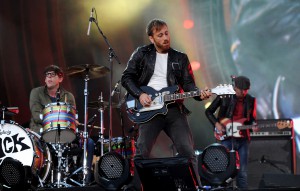 The Black Keys (Dan Auerbach, center, and drummer Patrick Carney of the Black Keys, photographed by Evan Agostini of the AP)
Aug. 24, iTHINK Financial Amphitheatre, West Palm Beach
Twenty years after they got their considerable mojo working, the dynamic duo of rock 'n' blues is spending the summer doing the Dropout Boogie with a tour and album of the same name. The just-dropped album follows up last year's Grammy-nominated Delta Kream, a tribute to the Mississippi hill country tunes guitarist-vocalist Dan Auerbach and drummer Patrick Carney cut their teeth on. Also on the bill is Band of Horses, the indie darlings with the musical-chairs lineup. Led by its founder and sole mainstay, vocalist-guitarist Ben Bridwell, the band is touring in support of its new collection, Things Are Great. Uh-huh. ithinkfi.org
 Santana / Earth, Wind & Fire
Aug. 26, iTHINK Financial Amphitheatre, West Palm Beach
When it comes to guitar heroes, there's not one who can move you more than Mexican-born rhythm-master Carlos Santana. Nor one who's done it so joyously with more people. Throughout his career, the Great Collaborator has communed with a star-studded retinue of accomplices, ranging from rocker Rob Thomas on the Smooth smash to jazz sax great Wayne Shorter to reigning king of country Chris Stapleton (on this year's Blessings and Miracles album). He'll have just turned 75 by the time his Miraculous Supernatural Tour culminates in South Florida, having kept the soul-survivor synergy going all summer with the still dynamic Earth, Wind & Fire. Shaking booties for over five decades — and six years since the passing of driving force Maurice White — EW&F's Boogie Wonderland boogies on. ithinkfi.org
 Red Hot Chili Peppers
Aug. 30, Hard Rock Stadium, Miami
The Chili Peppers are turning up the heat. Their just-launched tour of Europe and North America is their first live gig in two and a half years. And it comes on the heels of their first album in six years, a 17-track tour de force of eccentric melody, rap-rock rhythm and rollicking rhyme, like the opening couplet to Poster Child: "Melly Mell and Richard Hell were dancing at the Taco Bell / When someone heard a rebel yell, I think it was an infidel." And both tour and album are making up for lost time with guitarist-composer John Frusciante, who rejoined the band in 2019 after a 10-year absence and whose cohesive licks add a special spice to the chili. The Strokes and Thundercat join in for the Miami date. hardrockstadium.com
Friday Night Sound Waves
Las Olas Oceanside Park, Fort Lauderdale Beach
Among the various venues to see live music locally without first having to check your bank account, this free concert series at The LOOP continues to be one of the most enjoyable. Now in its seventh season, the family-friendly event stages regional acts in a range of genres, throwing in such add-ons as a makers' market, food vendors, lawn games and fitness classes. Three upcoming shows feature acts hailing from the Sunshine State: GDR, an acronym for Greatest Decades of Rock, delivering classic hits of the '70s and '80s (June 17); BEATLEMANIAX-USA, a detail-oriented tribute group playing Beatles songs the Fab Four never got to do in concert themselves (June 24 — that's the evening before Global Beatles Day, which is a thing); and the Shane Duncan Band, a high-energy outfit of SoFlo country-rockers sure to induce some … um … sand-kickin' (July 1). theloopflb.com
Ringo Starr
Sept. 17 (Postponed from June 25), Hard Rock Live, Hollywood
Has there been another rock star of his generation who's engendered so much goodwill for so many years? It goes all the way back to the height of Beatlemania, when Ringo was the loveable one and "I love Ringo" lapel pins were the hottest Beatles trinkets. It's also an obvious takeaway from last year's exhaustive Get Back doc, when amid the friction and flare-ups roiling among his three mates, Ringo remained an affable presence as steady as his backbeat. The good vibes continue today as Mr. Starkey, on the cusp of 82, serves once more as the rallying point for a new incarnation of his All Starr Band, featuring Steve Lukather, Colin Hay, Gregg Rolie, Warren Ham, Gregg Bissonette and Hamish Stuart. Coming not long after Paul McCarney's HRL appearance, Ringo's show gives South Florida a rare double shot of the Fab Two. seminolehardrockhollywood.com
 Main photo: Dan Auerbach, center, and drummer Patrick Carney of the Black Keys, photographed by Evan Agostini of the AP.
Related Articles
Share
About Author
(0) Readers Comments