By Greg Carannante
City & Shore Magazine
1. The Season
So here we are, South Floridians, smack in the middle of it — our lovely six-month, here-and-now raison d'etre. Covid may be compromising many of the goings-on that typically enhance its splendiferousness, but even a pandemic hasn't found a way to cancel The Season. The sublime weather still makes it the best time of the year. And we are so, so happy to be here now.
2. Hurricane Holiday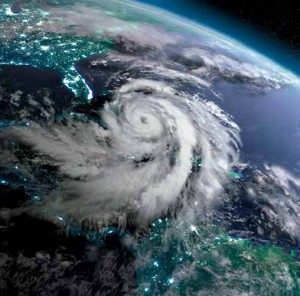 Of course, one reason we love The Season is that not even a passing thought need be given to hurricane season. And not having had to put up those damn shutters this past summer doesn't make us miss it any less. In fact, having lucked out and ducked the most prolific hurricane season on record not only makes us love this Season even more — come closer now, I'm going to whisper — it even makes you feel just a little bit special, doesn't it?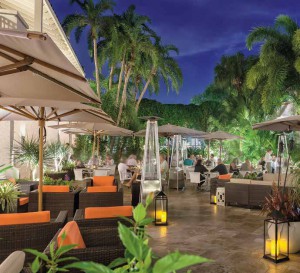 3. Al Fresco? Fabuloso!
Dining outdoors in winter has always been the special privilege of our locals and tourists, but as delightful as it is, it's never possessed the kind of lifeline potential that it does now. With indoor dining a precarious proposition during the pandemic, a season conducive to sharing a meal in the open air pretty much whenever the appetite moves you is a godsend for restaurant-goers and restaurants alike.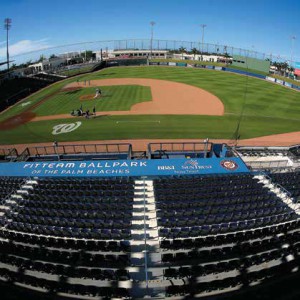 4. Let's Play Two
It's just about time to throw out the first pitch on baseball's new season (though for all we know, a maskless Justin Turner may still be jumping up and down over the LA Dodgers' first World Series win in 32 years). Nevertheless, the venerable annual ritual of Spring Training takes the field Feb. 26 throughout Florida's Grapefruit League, where 239 games are scheduled to be played in 33 glorious days — despite Covid's crowd-capacity curveball. At our closest stadium, the new-ish FITTEAM Ballpark of the Palm Beaches in West Palm, the Houston Astros and the Washington Nationals share the diamond. A little farther up the road, our hometown Miami Marlins will be stretching to the strains of last season's Manager of the Year, Don Mattingly. "Play Ball" never sounded so good.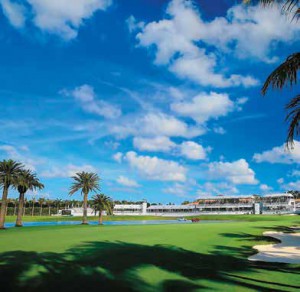 5. Linked In
With well over a grand of golf courses, the Sunshine State is a shanker's Shangri-La. And when it comes to world-class golf, you know South Florida comes in under par. Among its elite links, according to the PGA: The bucket-list Blue Monster at Doral, with an 18th hole that's traditionally one of the Tour's most challenging; the demanding PGA National Champion Course in Palm Beach Gardens, famous for its "Bear Trap" closing stretch; Inverrary Country Club in Lauderhill, with its signature East Course; and Fairmont Turnberry Isle in Miami, where if you're not playing well, at least it's only a short drive to South Beach.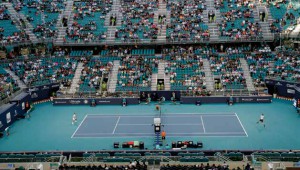 6. Open-minded
After canceling last spring, the Miami Open is ready to win back its serve this year, from March 22-April 4 — with appropriate precautions, of course. Among the 29 permanent tournament and practice courts of its second-year home at Hard Rock Stadium are a 14,000-seat center court; a state-of-the-art, in-stadium shade canopy; and a luxury seating experience billed as unlike anything in tennis. A "spectator oasis" will showcase the region's culture, food, art and entertainment, highlighted by the largest video board in the sport. What's not to love-love?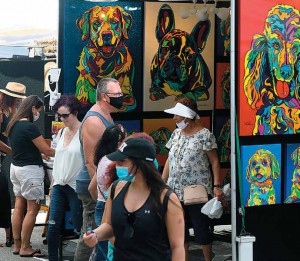 7. Artsy-craftsy
It's peak season for art-lovers, as art festivals turn weekend strolls into kaleidoscopes of images and objects, sounds and tastes, people and more people — Covid-permitting this year, of course. As we write, though, many remain scheduled, including: Coral Gables Festival of the Arts, Jan 30-31; Boca Raton Museum of Art Outdoor Juried Art Festival, Feb. 1-2; Coconut Grove Arts Festival "In the Grove," Feb. 15-17 (see separate item); Coral Springs Festival of the Arts & Crafts, March 21-22; Dania Beach Arts & Seafood Celebration, March 28-29; Delray Affair, April 9-11; and Sunfest, April 30-May 3. Of course, Broward's big daddy is the Las Olas Art Fair, scheduled for March 6-7.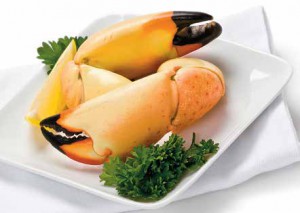 8. Get Crackin'
There are less than five months left to enjoy South Florida's singular seafood delicacy. Stone crab season got off to an especially strong start in both supply and demand, and prices have held steady from last year. Plus, usually harder-to-find large claws have been particularly plentiful. Joe's Stone Crab in South Beach is still THE place to get stoned, so to speak, but chilled claws aplenty await the mallets and mustard sauce at perennial favorites like Billy's Stone Crab in Hollywood, Truluck's in Miami (the Fort Lauderdale location closed last year) and the Riverwalk Stone Crab & Seafood Festival set for Jan. 9 in Esplanade Park.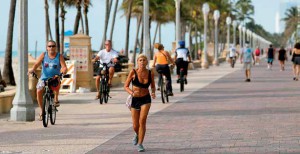 9. Beach Bingo
Pick a beach. Any beach. Will it be the Deco glow of South Beach? The funky charm of Hollywood Beach? The gentrified charisma of Fort Lauderdale Beach? The exclusive shoreline of Palm Beach? Or maybe one in the dozens of other coastal communities and parks? South Florida's got a beach for everyone — and at this time of year, sun-worshippers come from around the world to warm their toes and play in our sandboxes. This season, though, the pandemic has managed to reserve more seaside space for locals. So, now that the sun is gentler, the water brisker and the breeze balmier … pick a beach. Any beach.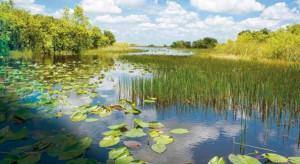 10. 'Glades of Grass
The largest subtropical wilderness in the United States, Everglades National Park, draws about a million visitors a year. And though the humans who visit at this time of the year don't quite outnumber the mosquitoes, it's definitely the closest they're gonna get. That's not the only reason why the dry season of December to April is the best time to visit the River of Grass. It's also the peak period for viewing the Glades' non-human residents, which tend to be out and about and a bit slower-moving during the cooler months — such as the biological slow down experienced by the marquee-attraction, the alligator. Also, through March, the largest variety of wading birds and their predators are among the 360 species of birds that call the 1.5-million-acre national park home. If hiking's not your thing, you can hop a tram tour at Shark Valley in Miami-Dade or an airboat at Everglades Holiday Park in Broward.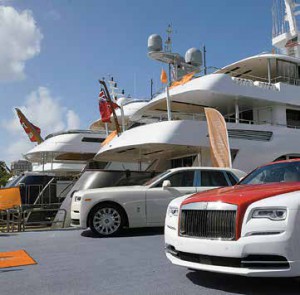 11. Water World
The Water. Living on it, boating over it, swimming in it, dining near it, you name it — water is the most alluring of South Florida's charms. From the Atlantic to the Intracoastal to the Everglades — and all the lakes (32 in Broward alone), rivers, canals and swimming pools in between — water is our lifeblood. With well over 40,000 yachts that call it home port and 300 miles of inland waterways, Greater Fort Lauderdale is the "Yachting Capital of the World" — and "The Venice of America." And let's not forget its annual International Boat Show — the largest of its kind in the world. It plunged ahead last fall, though the Miami International Boat Show scheduled for next month has been canceled. The Palm Beach International Boat Show is still scheduled to go on March 25-28. And if that's not enough water power for you, the spectacular Seminole Hard Rock Winterfest Boat Parade, which lights up the holidays as only South Florida can, is gearing up for its golden anniversary this year.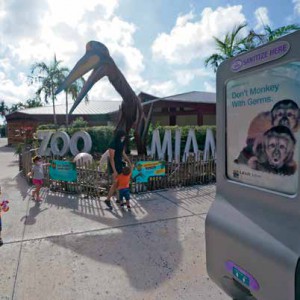 12. Park Place
"You can get the true essence of New Yorkers by just hanging out in Central Park." So said Andy Roddick, former tennis heartthrob and City & Shore cover boy. The one-time Boca Raton resident could have said the same for parks in South Florida. And there are soooo many of them to hang out in. There are 52 county parks in Broward — and in distinctive SoFla-style, four of them have their own water parks — in addition to parks in most of the county's 31 municipalities and two state parks. And the third-largest park system in the country and one of the most unique in the world is in Miami-Dade, encompassing 270 parks, six golf courses, 10-plus miles of beaches, and attractions like Zoo Miami — not including Miami-Dade's three state parks and two national parks. And if there was ever a time to take advantage of a park's value, fresh air and open spaces, you know it's now.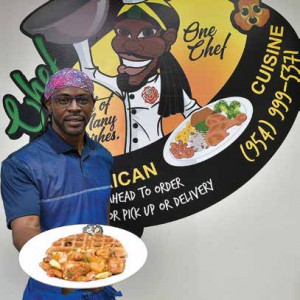 13. Ethnic-tricity
Here's a little multicultural metaphor for one of South Florida's most colorful attributes: One unassuming Sunrise strip mall has seven restaurants specializing in menus from at least that many countries. At Oakland Village Square, which bills itself as "A World of Food," you can order dishes as diverse as Indian roti, Haitian griot and black rice, and German schnitzel.
In ethnically rich Broward, one in three residents is neither Black nor white. Since 2000, the West Indian population has grown by at least 60 percent and people of South American ancestry increased by over 170 percent. In Miami-Dade, 71 percent of residents are of Latino/Hispanic origin. Close your eyes, spin a globe and stop it with your finger. Wherever that finger lands, people from there are probably living here. The upsides to living in such a cultural smörgåsbord? They range from fostering tolerance of those who are different from us to, well, to just making life a lot more interesting. And did we mention the great choice of restaurants?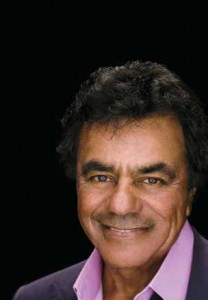 14. Show-going
The phrase "unlike any other" is getting a lot of work lately, and it certainly applies to this Arts Season. Normally one of the most rewarding pleasures of being here this time of year, it's historically the season for arts organizations and venues to shine. And though they aren't shining as brightly now, the marquee lights are still aglow for many performances. At the Broward Center for the Performing Arts, for instance, the bill features 85-year-old crooner Johnny Mathis (Jan. 24); Chinese spectacular Shen Yun (Jan. 26-27); the country-rock trifecta of Poco, Pure Prairie League and Firefall (Feb. 18); and a Tina Turner tribute show (March 3). The Center's sister venues are also serving up next-best-thing tributes, to Simon & Garfunkel (Parker Playhouse, Feb. 9) and Michael Bublé (Aventura Arts & Cultural Center, Feb 20). Earlier in the season, the Fort Lauderdale International Film Festival pivoted with drive-in and boat-in showings, while Miami City Ballet tiptoed outdoors to perform "The Nutcracker in the Park."
Other shows have glimmered from an online stage, such as MCB's world premiere of its new digital Places, and the Symphony of the Americas' recent virtual 250th birthday bash for Beethoven. And virtual tours are offered at NSU Art Museum, which, like other museums, is also open for in-person appreciation.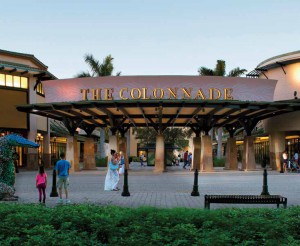 15. Shopping a la Sunshine
Outdoor shopping is that rare winter pastime here, and the possibilities run from the something-for-everyone Swap Shop to outdoorsy malls with merch that's a bit more high-end, such as Bal Harbour Shops, the Colonnade Outlets at Sawgrass Mills and The Village at Gulfstream Park. Or you can get down and dirty during peak season for strawberries and other pluckables at U-pick spots like Strawberry Fields of Kendall, Family Farm in Davie and Bedner's Farm Fresh Market in Delray Beach. Not to mention a shopaholic's cornucopia of flea and farmer's markets, like the two-in-one Yellow Green Market in Hollywood, whose long-awaited reopening was set for last month.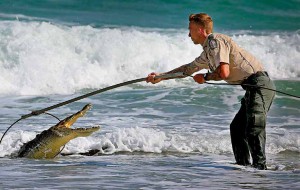 16. Weird & Wacky
Frozen iguanas dropping from trees during a cold snap is just, um, the tip of the iceberg. That's just one of the only-in-South-Florida things that make South Florida, um, never boring. Things like this: A Wilton Manors drag queen passed out poolside during a late-night Facebook livestream performance that went viral. Many of the 16,000 who commented on the video filled her virtual tip jar and gave her the title of "Miss Quarantine 2020." And things like this: Police were called on to capture a kangaroo jumping around the streets of a Fort Lauderdale neighborhood one recent morning. The owner, who said the 'roo was named Jack (get it?), was charged with two misdemeanors: allowing the marsupial to escape and (get this) having no records of purchasing it. And things like this: Having caught some lead in the head when bullets started flying outside her Miami home, a woman was released from the hospital after doctors told her it was only a graze wound, applied Band-Aids and gave her antibiotics. Three painful days later, she ended up in a different hospital where an X-ray revealed a bullet in her skull. And things like this: A Miami man fraudulently received $4 million in federal pandemic loans meant for small businesses and spent it on a Lamborghini, a dating website, luxury stores and Miami resorts. Things like that.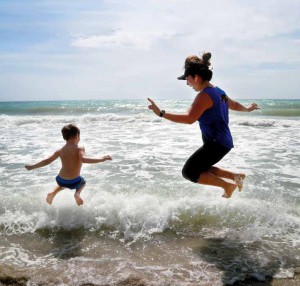 17. Living Large
A few years ago, the most expensive home in America was located on "Millionaire's Mile" in Hillsboro Beach. Playa Vista Isle is a 30,000-square-foot château bordered by the Atlantic and the Intracoastal with 11 bedrooms, twice as many bathrooms and $3 million worth of 22-kt. gold leafing. Modeled after the Palace of Versailles, it is probably as close to living like a king as one can get in South Florida. After an 11-buyer bidding war in 2018, the mega-mansion sold for a song at $42.5 million — over $100 million less than its $159 million asking price. Still, it was a record-breaker for a U.S. home sold at auction. Now you know a place like this doesn't exist in a vacuum. However extreme, it's a landmark for luxury living in South Florida, where the luxury real estate market is one of the strongest in the country. Even the pandemic can't put a dent in it. For example, single-family luxury home sales surged 55 percent in Miami-Dade near the end of last year, with the median house going for nearly $2 million, up more than 30 percent in a year. I mean, after all, we do need someplace to park the new Ferrari.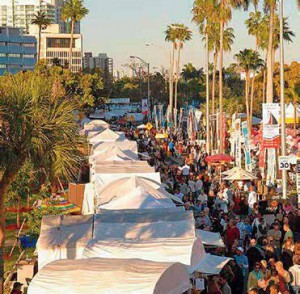 18. Grove Groove
To create some buzz for the Coconut Grove Playhouse's 1963 production of Irma la Douce, beloved South Florida publicist Charlie Cinnamon got some local folks to recreate an outdoor Parisian exhibition. Fifty-eight years later, that petite arts fair has grown into one of the largest in the country — the Coconut Grove Arts Festival. Every President's Day weekend (Feb. 13-15 this year), approximately 100,000 people visit "In the Grove," as it came to be known, to browse works in 13 media created by over 350 artists. Festivalgoers also delight in art that works with palates instead of palettes at the Culinary Arts Pavillion. And at the main stage in Peacock Park, they enjoy three days of concerts with a Biscayne Bay backdrop.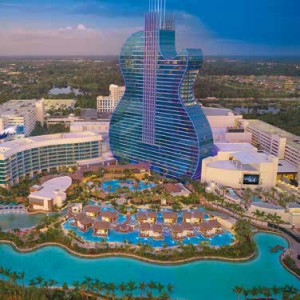 19. It's All About the View
In South Florida, views are like currency. Primarily of water, the more beautiful they are the more they cost to hold on to — like an ocean vista from a beachfront mansion or a river view from a luxury high-rise. Even a view of passing yachts from the deck of an Intracoastal restaurant costs a little more. Still we have a wealth of beautiful views all around us all the time that are absolutely free (or close to it): The Fort Lauderdale skyline from the riverfront at Esplanade Park. The gathering sunset from Davie's Vista View Park. The 360-degree ocean panorama from SoBe's South Pointe Park. Row after row of Palm Beach mansions from Ocean Boulevard. The magical Magic City skyline from the Mandarin Oriental or across Biscayne Bay from South Beach. The stunning seascapes from Anglin's Pier or the Hillsboro Lighthouse. The Everglades grasslands from the Shark Valley Observation Tower. The nightly light show from the Hard Rock's Giant Guitar Hotel. The delightful overview of the Intracoastal from any bridge you cross. The greenery of a golf course from just about everywhere. The rare aerial perspective from that sky-high I-95 overpass — South Florida's version of a mountain view. And, speaking of mountains, the unobstructed, ever-present vision of the clouds that we have without them.
20. Game On
In our recent interview, Chris Evert reflected on the advantage she had being able to play year-round growing up in Fort Lauderdale. "There were no indoor courts, so all the other kids in the country would play for, what, six months and then not play for six months," the tennis legend said. It's that kind of sunny edge that no doubt contributes to the preponderance of athletic prospects who traditionally come out of South Florida. For enthusiasts of any proficiency or pastime, it's simply a player's paradise. Because when diamonds and greens are covered in snow elsewhere, kids are hitting off tees here and their mothers and fathers are teeing off. And no doubt, feeling a little smug about it.
For complete cutline and credit information, please see the print or digital edition of the January issue.
Related Articles
Share
About Author
(0) Readers Comments