Related Articles
Share
About Author
CityandShore
(0) Readers Comments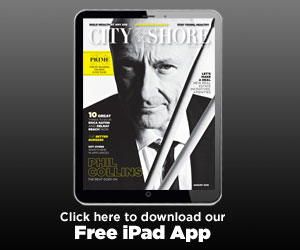 A first: No food for you!

One-time ordering rule at Lung Yai Thai Tapas restaurant is off-putting.

National Dog Day on Fort Lauderdale beach

On Aug. 26, dogs and their owners celebrated National Dog Day on Fort Lauderdale beach. On the last Friday of every month, dogs can play on a section of the beach near Sunrise Boulevard and A1A. A permit is required. More information can be found here. Get social with SouthFlorida.com on Facebook...
Free Tipsy Tow service from AAA for Labor Day weekend

If you party too hardy on Labor Day weekend, don't get behind the wheel and drive drunk. Instead, arrive alive with a designated driver or a free tow home starting at 6 a.m. Friday, Sept. 2 through 6 a.m. Tuesday, Sept. 6, with the AAA'a Tow to Go program. The offer is open to to […]

$2.50 grande cold drinks at Starbucks with treat receipt

Starbucks' treat receipt program is back!  Cool off in the afternoon with $2.50 cold drinks when you make a purchase  before 1:59 p.m. at participating stores to get a treat receipt. Use it after   2 p.m. to save a few bucks on 16-ounce cold beverages. Click here for the deal. The offer ends on...
Fashion porn: Miami Heat Dancers post new poster

Wearing a variety of racy red bikinis (where else could that happen but in SoFlo in the winter?), the Miami Heat Dancers have launched their poster. Heat-ster fans will get to see the haute-hot poster at tonight's game against the Toronto Raptors.

Fashion porn: Behind the scenes at Parke & Ronen's Miami photo shoot

Here are some behind-the-scenes photos from swimwear brand Parke & Ronen's latest photo shoot in Miami (Wynwood, Midtown, the Design District and several beaches) for their 2016 Resort Collection. Founded in 1997 by Parke Lutter and Ronen Jehezkel, the label has estavlished itself as a fashion...
AT&T hiring for wire technician, retail sales jobs in South Florida

AT&T is hiring for more than 100 jobs in South Florida. Most of the openings are for wire technicians, and the rest are for retail positions, said AT&T spokeswoman Kelly Layne Starling. In Palm Beach County, AT&T has more than 35 jobs available, including for wire technicians in Boca Raton, Delray...

As Labor Day approaches, 'volatile' gas prices keep climbing

An approaching holiday, the threat of tropical weather, and "refinery issues"? You know what that means for gas prices. Up and up and up they go and where they'll stop, no one knows. Florida motorists going to the pump will find the highest prices in more than 50 days, travel club AAA said. On...

Intruder, 19, smashes through window, attacks residents, sheriff says

The Martin County Sheriff's Office reports another case of a young man displaying unusual strength while intruding at a residence and attacking people.This time, a 19-year-old man is accused of smashing through the front window of a home south of Stuart, in the Hibiscus Park neighborhood, on Sunday...