By Peg San Felippo
City & Shore 20th Anniversary issue
Milestones and life events – such as a 20th anniversary – call for a celebration, and there's no better reason to open a really special bottle of wine in honor of the occasion.
Master Sommelier Juan Gomez knows something about celebrating with just the right wine. Not only is he the Beverage Director of The Breakers HMF restaurant in Palm Beach, he and fellow MS, Virginia Philip, manage The Breakers' 50,000-bottle Wine Spectator Grand Award wine collection. The collection includes 60 percent domestic selections, 25 percent from France and Spain, and the remaining 15 percent from the Southern Hemisphere. The duo also creates the beverage programs at the other 10 restaurants owned by The Breakers corporation.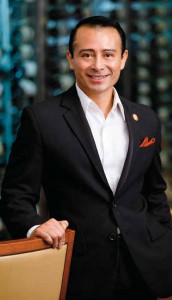 He and Philip are often consulted by guests hoping to celebrate a big event with a memorable wine. Gomez, who has worked at The Breakers for 21 years, became a Master Sommelier in 2007. Although the day he passed the MS exam did include a little Champagne and 1992 Château Latour for himself, he also fondly reminisces about consuming another one of his favorite beverages: Anejo tequila.
Gomez suggests choosing wines from solid vintages and is currently recommending Tenuta dell'Ornellaia "Ornellaia" Bianco Sauvignon Blanc 2016, Tuscany ($249) and the Biondi Santi "Riserva" Brunello di Montalcino 2010, Tuscany ($480).
The majority of the bottle prices on the wine list range from $50-$2,500, with some choices over $20,000. Highlights of the collection are a Château Pichon Longueville Comtesse de Lalande 1929 Bordeaux ($3,100), Screaming Eagle 2016 Napa ($7,000), and a Domaine de la Romanée-Conti Priorat 2005 Grand Cru Burgundy ($22,000, if you really must ask).
Do you have to spring $22,000 for a bottle of wine to mark a significant event in your life? Or $7,000? Or even $3,100?
Well, that depends. At those prices, you are paying a premium for the privilege of opening an exceptionally rare wine – and perhaps sharing an experience you'll never forget. (Or ever finish paying for it, even on an installment plan).
I have had Domaine de la Romanée-Conti wines – although not the coveted 2005 – twice in my life, and both times they were excellent. They were poured at significant celebrations for friends in the wine industry, and it was as much about the experience as the expectation. Having the opportunity to drink what many consider the best Burgundy in the world is extremely notable.
To some the experience is more important than the money. While I'm grateful to have had the opportunity to taste this epic wine you won't see me opening a bottle of it anytime soon. Unless, of course, I get a bottle as a gift.
If that happens, you'll hear about it right away!
Here are good and outstanding* vintages to look for in various wine regions
AUSTRALIA 
Barossa and McLaren Vale Shiraz: 2010, 2012, 2015-2018
Victoria Shiraz: 2013, 2015, 2017, 2018
FRANCE
Bordeaux
Left and Right Bank Reds: 2005*, 2009*, 2010*, 2015*, 2016, 2018
Burgundy
Côte de Beaune Reds: 2005*, 2015*, 2016, 2017
Côte de Nuits Reds: 2005, 2009, 2012, 2015*, 2016*, 2017
White Burgundy: 2005, 2010, 2014*, 2015*, 2017
Champagne: 1990*, 1996, 2002, 2004, 2006, 2008, 2009
Northern and Southern Rhone Reds: 2005, 2009, 2010*, 2015*, 2016*, 2017
ITALY
Piedmont: 2006, 2007, 2010*, 2012, 2013*, 2015
Tuscany
Bolgheri and Chianti: 2007, 2011, 2013, 2015*, 2016
Brunello di Montalcino: 2006, 2007, 2010*, 2012, 2013, 2015
Spain
Priorat, Ribera del Duero and Rioja Reds: 2001, 2004, 2005, 2010, 2015, 2016
USA
California
Cabernet Sauvignon
Napa: 2006, 2007*, 2008, 2009, 2010, 2012, 2013*, 2014, 2016*
Chardonnay
Carneros: 2013, 2017
Napa: 2012, 2013, 2014
Santa Barbara and Sonoma: 2017, 2018
Oregon
Pinot Noir: 2008, 2010, 2012*, 2014, 2015, 2016*, 2017
Other things to consider:
Trust, but confirm. Just because a Left Bank Bordeaux comes from a great vintage doesn't guarantee every wine from that region is going to be terrific. There are a lot of variables to consider: vineyard location, type of grape clones, conditions and sugar levels at harvest; and, most importantly, the winemaker's philosophy and style. Take time to check out winery reviews and, if possible, the winemaker's background philosophy.
Beyond bubbles. While celebrating with Champagne and sparkling wine can add a festive flair to an event, don't feel it's mandatory. Especially if your focus is on the stunning bottle or two you're excited to drink that evening. Starting with the best wine of the evening can also set a great tone for the celebration.
Check out surrounding areas. If you're not wanting to pay the price tag that can be attached to some popular wine regions check out some of the wineries in lesser-known appellations in the vicinity. For instance, while 2015 was a stellar year for Right Bank Bordeaux, such as St. Emillion and Pomerol, it was also a terrific year for Fronsac and Castillon.
Here are some special wines to drink now or save for your next celebration.
Dom Pérignon Millesime 2008 Brut Champagne ($189), Wine Wave, Delray Beach.
Domaine Larue La Garenne 2017 Puligny-Montrachet Premier Cru Burgundy ($92), Wine Watch, Fort Lauderdale.
Peter Michael "Belle Côte" 2017 Chardonnay, Knights Valley, Sonoma ($130), Wine Wave, Delray Beach.
Vieux Télégraphe 2017 Chateauneuf-du-Pape Rouge ($98), Total Wine.
Château Lascombes 2005 Margaux, Bordeaux ($150), Wine Watch, Fort Lauderdale.
Diamond Creek "Red Rock Terrace" 2016 Cabernet Sauvignon Napa ($260), Total Wine.
Antinori "Solaia" 2016 Tuscany ($395), Virginia Philip Wine Spirits & Academy, Palm Beach.
Penfolds "RWT" 2017 Shiraz Bin 798 Barossa Valley ($149), Total Wine.
Domaine des Lambrays "Clos de Lambrays" 2009 Grand Cru Côte de Nuits, Burgundy 2009 ($399), Virginia Philip Wine Spirits & Academy.
Vega Sicilia "Unico" 2005 Ribera del Duero ($499), Virginia Philip Wine Spirits & Academy, Palm Beach.
Peg San Felippo is a certified sommelier who has served as a judge in the annual American Fine Wine Competition, South Florida's homegrown wine event; and THE Rosé Competition.
Related Articles
Share
About Author
(0) Readers Comments