By Peg San Felippo
City & Shore Magazine
You never forget the first wine you fall in love with. You know, the one that catches your attention, makes you want to know everything about it, the one you can't wait to spend more time with.
Mine was a chardonnay from Napa Valley, described as "rustic with a kiss of oak," (I think it was the kiss that got me). We had a serious relationship for a long time until a much older (and more complex) Napa Cabernet Sauvignon with muscular tannins came along.
Here are what some other South Florida wine professionals remember about their "firsts."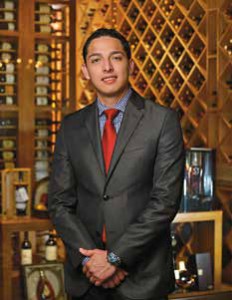 Juan Horta, courtesy Seminole Hardrock Marketing Team.

Juan Horta, Advanced Sommelier and General Manager, Council Oak Steaks & Seafood, Seminole Hard Rock Hotel & Casino, Hollywood.
First favorite wine: Years ago, I was at a champagne training and we tasted Ruinart Rosé and it sparked my interest. I was very impressed by the quality of this wine, with its balance, red fruit flavors and crisp, refined bubbles. This champagne has been very consistent throughout the years and has become one of my all-time favorites.
Current choices: Right now, I'm enjoying wines from Washington, Oregon and Southern California, specifically Paso Robles. Climate change has favorably helped these regions, creating wines that have great intensity and depth.
If you were stranded on an island with one wine for the rest of your life: I can only picture myself drinking Krug Grande Cuvée Champagne while rocking on a hammock. [Laughs].
Champagne happens: I once was helping a server open a second bottle of champagne at one of his tables. The bottle was already in the ice bucket when I arrived, [but] I didn't know the bottle was still warm. I proceeded to open it and the cork flew across the dining room, the bottle slipped through my hand and not only splashed me but all the guests at the table. Very embarrassing moment, and one I still remember vividly.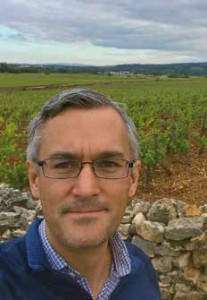 Andy McNamara, courtesy
Andy McNamara, Master Sommelier and president, ACE Wine and Spirits Distributing, LLC.
Wine Influences: My father collected great wines and taught me to appreciate them; and Robert Balsley, the owner of Arthur's Wine Shop in Charlotte, North Carolina, who gave me my first job in the wine business. He challenged me to learn as much as possible and, most importantly, always asked me if I was having fun. I make sure this is still fun every day.
First favorite wine: Chardonnay, because it was cheap and came in 3L boxes! [Laughs]. When I first really started drinking wine, I loved California Pinot Noir. They were fruity, fairly light and just very easy to drink. I cut my teeth on Saintsbury Pinot Noir.
Current choice: No matter the question, the answer is always – 'CHAMPAGNE!' I love Champagne – it creates a celebration every time you open a bottle. For a true celebration [my] favorite is Krug. For a real second wine, I am in love with Roberto Voerzio Barbera d'Alba.
Best wine trip: Burgundy was so special because it was a chance to share my favorite wine region with my wife, Emily Pickral, [also a Master Sommelier]. It's a magical place, and I discover something new and learn so much every time I visit. I made sure to hit some bucket-list producers, and we had amazing meals. It was the trip I've always dreamt of taking with her.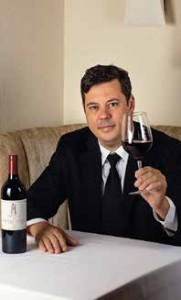 Imre Papp, courtesy Libbyvision.com.
Imre Papp, Advanced Sommelier and Head Sommelier at Café Boulud, Palm Beach.
Why wine: It started when tasting Brunello di Montalcino wines from different producers and vintages at a wine dinner I worked. Noticing the vintage and stylistic variations got me more interested in it. The chef at the restaurant had a book on Brunello by Guelfo Magrini he loaned me that night and after my shift I stayed up until 5 a.m., reading it twice. The unwavering dedication of producers, the history behind not just the wines but also the people who make it, the terroir and how it translates into the bottle was fascinating.
First favorite wine: Biondi-Santi Brunellos from older vintages. I was fortunate to taste their Brunello Riserva from the 1975 vintage. I really like the savory elements, finesse and age worthiness of the wine.
Current choice: There is no single favorite, as I'm always open to new regions and producers. Two wines I enjoyed recently, though, were Domaine des Comtes Lafon Meursault, and Agricola COS, Cerasuolo di Vittoria Classico, Sicily.
Straight-up wine advice: Use proper glassware. Drink what you like, regardless of status, hype about a producer or appellation. Never open great bottles for people who have no appreciation for wine.
Recommended wines you may fall in love with, too
Ruinart Rosé NV Brut Champagne, $85, Virginia Philip Wine Spirits & Academy, Palm Beach.
Krug NV Grande Cuvée NV Brut Champagne, 169th Edition, $232, Wine Watch, Fort Lauderdale.
Château Guiraud 2019 Bordeaux Blanc, $27, Crown Wine & Spirits.
Domaine Leflaive 2019 Puligny-Montrachet, "Clavoillon," Burgundy, $325, Virginia Philip Wine Spirits & Academy, Palm Beach.
Roberto Voerzio 2019 Barbera d'Alba, Italy, $40, Wine Wave, Delray Beach.
Cristom 2017 Eileen Vineyard Pinot Noir, Eola-Amity Hills, Oregon, $60, Wine Watch, Fort Lauderdale.
Goldeneye Pinot Noir 2017 "Gowan Creek" Pinot Noir, Anderson Valley, Calif., $79, Total Wine.
Bodegas Ardèvol 2017 "Anjoli" Priorat, Spain, $30, Wine Wave, Delray Beach.
Daou Reserve 2019 Cabernet Sauvignon, Paso Robles, $55, ABC Fine Wine & Spirits.
Penfolds 2018 Bin 600 Cabernet/Shiraz California Collection, $59, Crown Wine & Spirits.
Peg San Felippo is a certified sommelier who has served as a judge in the annual American Fine Wine Competition, South Florida's homegrown wine event, and THE Rosé Competition.
Main photo: Some favorite wines, photographed by Peg San Felippo.
Related Articles
Share
About Author
(0) Readers Comments