By Peg San Felippo
City & Shore Magazine
Mention the word Burgundy and you will have my full, immediate attention. Don't get me wrong, there are terrific wines from regions all over the world – there's just something truly alluring about the Chardonnays and Pinot Noirs from this special wine-making region of France.
First, let's clear up some misconceptions about Burgundy:
In Burgundy it's all about the terroir. In a word, non. "Burgundy is a wine geek's fantasy," says Amy Christine MW, of Kermit Lynch Wine Merchants, an importer and distributor of some of the finest Burgundies produced today. "Whether I'm conducting a wine tasting or teaching a seminar on Burgundy, I don't pore over the minutiae of terroir [soil, climate and sunlight] anymore. I have learned over the years that while terroir is important, the producer and winemaking methods are equally as important. The terroir can speak in the glass, but the house style of the producer often speaks louder."
Making good Burgundy is best left to the French. Again, non. Domaine Alex Gambal built a reputation for making great white and red Burgundies. A Boston native, Gambal and his wife decided in the early 1990s to take a year off and live in Europe. Originally thinking they would spend their time in Italy, they wound up instead in Beaune. "One cannot choose to 'make' Burgundy, Burgundy choses you," Gambal says. "I was in the right place at the right time 30 years ago. When we arrived in Burgundy, my kids were 8 and 10 and going to school with many kids whose parents were winemakers. Our life was centered in and around the community of wine. It was a natural or as you might say 'organic' process." Gambal says he had advantages going for him from the beginning. "I had never made wine so my only reference was Burgundy, I didn't care at all for the-bigger-is-better wines [mantra] that was coming out of California, and as an outsider I could pick and choose from the various processes I was observing: keep the good, jettison or avoid the bad." After taking a one-year wine course, Maison Alex Gambal was born.
Burgundies are very scarce and extremely expensive. Oui and non. "Burgundy is always a big seller for us and that hasn't changed," says Andrew Lampasone, owner of Wine Watch in Fort Lauderdale. "While we have a lot of hard-to-find wines, like Domaine de La Romanée-Conti at $25,000 per bottle, we also offer nice Bourgogne Chardonnays like the 2018 J Moreau Chablis for $31.50. There is something for everyone in Burgundy. Lesser-known villages like Mercurey, Saint-Romain and even the famous ones, like Beaune, offer excellent wines at reasonable prices."
Most Burgundies are meant to age. Peut-être – maybe. "A lot of people have this wrong," Gambal says. "In fact if you get a bunch of Burgundy winemakers together they prefer their wines young. Yes, the greatest vineyards do need time but remember they are less than 2 percent of the vineyards (and roughly 18 percent of those are 1er Cru). Half of the 1er Crus are truly age worthy, being more interesting in 7, 10, 15 years vs. 3 to 5. This is a critical point of how one defines old. Throw in the variability of vintage and you have a moving target. I love old Burgundy, but it is a tiny percentage of what one will ever find much less drink.
"Also, one of the funny things we winemakers talk and smile about is how the English love old white Burgundies. Often they will bring us old bottles of our wine and we will politely drink the stuff and later joke amongst ourselves [that] the stuff was dead or dying!"
By the way, if you're thinking what your next wine buy should be, both Gambal and Lampasone agree 2018 was a fantastic vintage for Burgundies: "What makes them unique," Gambal says, "is the large quantity and high quality. In a year where the grapes get really ripe there's a tendency for white Burgundy to be a little less 'classic,' having less acidity and longevity than they would in a cooler vintage. The middle-to-lesser appellations are drop-dead gorgeous, with wonderful exotic flavors, smells and a delicious mouth feel. At the upper level, the wines are spectacular. They have great acidity that's rounded by the richness of the vintage. The reds are lush with very ripe fruit and good extractable tannins.
"This is the type of vintage where one should buy down [in price]," Gambal adds. "The tide rose and was high for the vintage but the basic Bourgognes and village wines on a pure quality basis rose more. In a difficult vintage the 1er Crus and Grand Cru vineyards will be better than the Bourgognes and village wine by a much larger percentage: they should be because, over a thousand years, they have proven their merit."
Choosing to go out on a high note, Gambal's last vintage was 2018; he sold his vineyards and winery in 2019 to the Boisset family.
Burgundies to try for every budget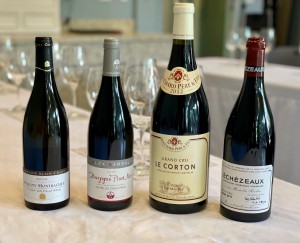 Whites
Domaine Séguinot-Bordet 2019 Fourchaume, Premier Cru Chablis 2019, $36. The Wine Wave, Delray Beach.
Domaine Drouhin Vaudon Chablis Premier Cru 2018, $54.99. 305 Wines, Palmetto Bay.
Louis Jadot Meursault 2017, $72.99. 305 Wines, Palmetto Bay.
Domaine Alain Chavy Puligny-Montrachet "Les Folatières," Premier Cru 2018, $115. Virginia Philip Wine Spirits & Academy, Palm Beach.
Alex Gambal Batard-Montrachet Grand Cru 2018, $450. Wine Watch, Fort Lauderdale.
Domaine des Comtes Lafon Montrachet Grand Cru 2015, $2,400. The Wine Wave, Delray Beach.
Reds
Alex Gambal Bourgogne Pinot Noir Cuvée les Deux Papis 2018, $32.50. Wine Watch, Fort Lauderdale.
Domaine Meo-Camuzet Bourgogne Rouge 2017, $51.99. 305 Wines, Palmetto Bay.
Joseph Drouhin Clos Des Mouches Beaune Premier Cru 2018, $140. The Wine Wave, Delray Beach.
Alex Gambal Clos Vougeot Grand Cru 2018, $230. Wine Watch, Fort Lauderdale.
Bouchard Père & Fils Le Corton, Grand Cru 2012, $325 (Magnum). Virginia Philip Wine Spirits & Academy, Palm Beach.
Domaine de la Romanée-Conti Echezeaux Grand Cru 2016, $1,695. Virginia Philip Wine Spirits & Academy, Palm Beach.
Peg San Felippo is a certified sommelier who has served as a judge in the annual American Fine Wine Competition, South Florida's homegrown wine event; and THE Rosé Competition.
Related Articles
Share
About Author
(0) Readers Comments