By Mark Gauert
City & Shore Magazine
It's been a year for a lot of armchair traveling. And, to be honest, a lot of armchair drinking.
A recent Consumer Reports survey of 2,500 adults in the United States confirms 23 percent were drinking more now than before the pandemic. Nielsen Media, meanwhile, predicts an almost 60 percent increase in the amount of video content we're watching globally.
For armchair travelers, many of those video screens have been filled with images of places we'd visit – often as we sip beverages from those places – if it weren't for travel bans or lockdowns or vaccination issues here or there. (Here's looking at you – with socially distanced affection – France.)
While we wait for restrictions to lift, or vaccines to kick in, we're opening wine from Bordeaux or Burgundy or Beaune because we can't go anywhere near those places yet. We're pouring sake into warm ceramic cups and dreaming of old Kobe. We sip scotch neat or on the rocks, waiting patiently for a (Covid-) Free Scotland.
If it's Tuesday, this must be a Belgian beer. (Or, possibly, Australian?)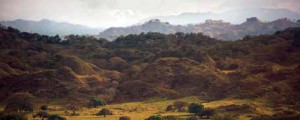 Photo courtesy Ron Abuelo XV Rum
But lately, I've been dreaming of pink sunsets over rolling green hills on the Pacific coast, sipping rums from Panama.
Wait, these lockdowns must have got me hearing things. Rum, you say, from … Panama?
I do.
Because even in lockdown, we armchair travelers with a serviceable delivery system can still discover – and taste – many new places around the world. Like the little town of Pesé (pronounced Peh-say), on the Pacific bulge of Panama, which I've discovered is the home of Ron Abuelo XV rum.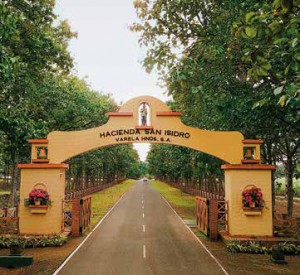 Photo courtesy Ron Abuelo XV Rum
Full disclosure: Before the pandemic, I didn't know rum even came from Panama. But it has – since 1908 – "when Don José Varela established the first sugar mill in the town of Pesé in the recently formed Republic of Panama," according to the distillery.
I'm happy to know this now – even under the grim circumstances of a pandemic – and my screen's been filled with places in Panama I'd like to visit as soon as I get out of quarantine and the vaccine kicks in. (I have VC day marked with a big red X on my calendar.)
I know I've been cooped up for a year, and any place would probably look good to me right now (OK, still maybe not State Road 7), but what I've seen on my screen of Panama looks especially beautiful. And, as we know, beautiful wine and spirits tend to come from beautiful places.
"While rum is now aged in several regions of the world, the rums produced at Ron Abuelo's San Isidro in Pesé are uniquely delicious due to the region's singular terroir, which features a rich mixture of volcanic soil and clay and unique climate conditions," the distillery says. "Moderate rainfall, cool nights and humid days all play important roles in the development of each spirit."
Terroir? Unique climate conditions? If these sound like words from a fancy château on the slopes of Burgundy, you should know that Ron Abuelo XV is not a pour-in-the-blender-add-ice-flick-the-switch-and-run kind of rum. No, no – that would be a crime against the beautiful place that produces it.
This is a sipping rum, amigos. A rum that pairs well with food, even – and I'm not talking about the basket of O-rings at 3 a.m. in South Beach after a long night breaking curfew. (Wait, did I just say that? I meant, of course, to say in my armchair in front of a screen, officer, definitely not in SoBe.)
All three rums in the Ron Abuelo XV Finish collection – the Oloroso, Napoleon and Tawny, aged 15 years each – go well with real food. And by "real" I mean not the stuff you seek out after a long night "sampling" rums you'd normally pour into a blender and run.
Oloroso – "Our Spanish adventure," the distillery says, aged in sherry casks – pairs with raw fish (an armchair trip to Kobe!), such as tuna, shrimp and salmon. The Napoleon – "Our French adventure," aged in cognac casks – goes well with tartare, carpaccio and (armchair detour to France!) foie gras and truffles. Finish this tour-de-Panama with Tawny – "our Portuguese adventure," aged in port casks – with a chunk of dark chocolate, some wild berries or (wait for it) a plate of blue or aged cheese. (Ask for a basket of aged cheese at 3 a.m. with your rum on South Beach and you're inviting more than a curfew violation.)
These are all wonderful, uniquely delicious, rums I wouldn't have known without spending a lot of time in an armchair in front of a video screen with a shot glass – and the closest we're going to get to a taste of Japan, France, Portugal, Panama or anywhere till we can get out of our armchairs and start traveling again.
I can't wait. Did I mention I have the date X'd on my calendar? Oh, yes, I did – I'm not sure why I'm repeating myself. (And why is the rum gone?).
Side trip: Not long after discovering Ron Abuelo XV from my armchair on a video screen, and ordering a lot of food on Instacart to try it with, I got an email by mistake from a friend who lives on a finca – a small ranch – actually in Panama. I knew it was a mistake because it was her shopping list at the PriceSmart in Costa Verde – down the road from Pesé – and she knows that I don't deliver there.
Besides instantly making me want to travel even more than before, I marveled at the big list – and just how much provisioning it takes to provision a finca out there in the pink sunsets over rolling green hills on the Pacific coast of Panama.
I didn't see any Ron Abuelo XV rum among the items on her shopping list. But it will be on mine.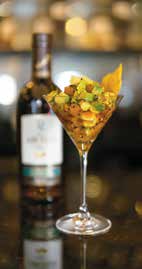 Oloroso with salmon tartare. (Courtesy Ron Abuelo XV Rum)
Recipes
There's nothing wrong with a great frozen rum drink, but it wouldn't be right to put the fine sipping rums of the Ron Abuelo XV Finish Collection into a blender and let 'em rip. (Literally).
"When it comes to finely crafted aged rums like the Ron Abuelo premium range, you don't want to hide the spirit's character by putting it in a blender with ice and mixers," says Cristóbal Srokowski, Ron Abuelo Global Brand Ambassador. "Allow the spirit to speak for itself by savoring it neat, with an ice cube or in a 'perfect serve' preparation."
He recommends the following examples of preparations, "which allows spirit lovers to enjoy all the flavors and helps bring out any subtle or hidden aromas." It's also a lot quieter for lovers of silence than a blender drink.
Oloroso: Spray a tumbler with Green Chartreuse, add ice and 2 oz. of Oloroso. Serve with a twist of fresh lemon peel.
Napoleon: Add 2 oz. of Napoleon to a glass with ice, add a dash of chocolate bitters and stir gently. Serve with a twist of orange peel.
Tawny: Add 2 oz. of Tawny to a glass with ice and add two roasted Arabica coffee beans. Serve with a slice of dehydrated fig.
Shopping info
Total Wine in Broward, Miami-Dade and Palm Beach counties carries the Ron Abuelo Finish Collection (although different stores may carry different finishes), totalwine.com.
- mgauert@sun-sentinel.com.
Main photo: In the sugar-cane fields near Pesé, Panama, where Don José Varela established the first sugar mill in 1908. (Courtesy Ron Abuelo XV Rum)
Related Articles
Share
About Author
(0) Readers Comments