By Peg San Felippo
City & Shore Magazine
Summer days are best with rosés – even in unusual ways
The warmest days of summer are upon us, and rosé season has begun. We could all use a little good news – aside from a drink – and I'm happy to report the 2019s are not only drinking well, their prices this year make sipping them even easier.
A couple of things to keep in mind when shopping for rosé:
Age matters
Rosés were made to be consumed young. What makes them such a good choice, especially in the heat, is their fresh and fruity character. While there are rosés worth cellaring, most should be consumed within 18 months. Period.
The winner is…
"Rosé wines are getting better and better," says Shari Gherman, president of THE Rosé Competition in Fort Lauderdale in June. "This seventh year was unique because of the challenges with shutdowns globally. However, we were quite pleased to have 150 entries which is the same number of wines as last year. Forty different wine regions from eight countries participated. This competition confirmed that great rosés are being made in places you would least expect. The Best of Show in the Dry Rosé Category was 100 percent Pinot Noir and produced by Brengman Brothers Winery … in Traverse City, Mich.!" (See full results from the competition here, https://bit.ly/2PvAovf)
Dry or sweet
A good way to determine the style of a rosé is to check the alcohol by volume (ABV) on the label. If it's 12.5 percent or higher the wine will usually be dry. Rosés lower than 12.5 percent will probably be off dry (slightly sweet). A wine that's 10.5 percent ABV will invariably be sweet.
Old World/New World
"Traditional"-style rosés typically come from Provence, France, which is responsible for most of the world's production. In addition to France, though, Italy and Spain are prominent rosé-making countries in Europe. They are all considered Old World wines, dry with a soft-fruit profile. New World rosé refers to wines made in Australia, Argentina, California or anyplace outside of Europe. These wines are more fruit forward and can have a slightly sweet character on the finish.
More money doesn't mean better
With few exceptions (like maybe two), you shouldn't spend more than $25 for a decent bottle of rosé. There's a very nice assortment to choose from in the $15-$23 range (see suggestions this page).
Food pairings
Because rosé is served cold, it's the perfect complement for cookouts, picnics and al fresco dining – coincidentally, great social-distancing activities. Here's a general rule:
Dry rosé goes well with: Asparagus, artichokes, hummus, grilled Portobello mushrooms, Caesar salad, wood-fired pizza, grilled chicken and fish.
Medium-bodied and off-dry/sweet rosés pair well with: Brie and camembert cheese, lamb chops, pork tacos, seared duck breasts, barbecue meats, Thai food, and blueberry cobbler.
Remember though, rules are meant to be broken – don't be afraid to try pink with any of your favorite foods. One rosé food pairing I will never turn down is salted french fries with garlic aioli dipping sauce. But maybe we should just keep that between us.
Great 2019 Rosés for about $25 or less
San Simone Syltbar NV Brut Sparkling Rosé, Friuli, Italy. $20. Wine Wave, Delray Beach.
Domaine Ott "By Ott", Côtes de Provence, France. $22.50. Virginia Philip Wine, Spirits & Academy, Palm Beach.

Hampton Water, Languedoc, France. $23. Basser's Fine Wine & Craft Beer, Coral Springs.
St. Supery, Napa Valley, Calif. $18. Crowne Wine & Spirits.
Ktima Driopi, Nemea, Greece. $18. Wine Wave, Delray Beach.
Planeta, Sicily D.O.C. $15.75. Wine Watch, Fort Lauderdale.
Long Meadow Ranch Rosé of Pinot Noir, St. Helena, Calif. $25. Primo Liquors, Fort Lauderdale.
Château Minuty "M", Côtes de Provence. $19. Total Wine.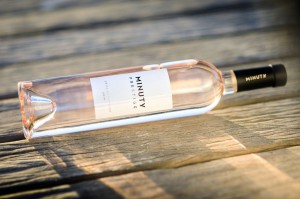 Château Minuty "Prestige", Côtes de Provence. $26.99. wine.com.
Daou, Paso Robles, Calif. $24. Milam's Markets.
Château Puech-Haut Argali Prestige, Languedoc, France. $21. Wine Watch, Fort Lauderdale.
MIX IT UP AT HOME
ROSÉ GARDEN
Here's a delicious rosé cocktail, compliments of Beaker & Gray in North Miami.
"The Rosé Garden is the perfect summer cocktail," says Ben Potts, bar director. "It's a refreshing, light-bodied drink with fresh and delicious ingredients."
½  oz.  Grey Goose Vodka
¼  oz.  St-Germain Elderflower Liqueur
3 ¾  oz. rosé
½  oz. fresh rosemary
¾  oz. lemon juice
1 oz.  watermelon juice*
1 oz.  sparkling water
Combine all ingredients except for the soda in a cocktail shaker. Shake with ice,  then strain everything over fresh ice in a tall glass. Top with sparkling water, stir to incorporate ice.
*The best way to juice watermelon is with a citrus squeezer and a fine mesh strainer. Using a fine strainer when straining the cocktail will also get rid of any pulp or ice.
Peg San Felippo is a certified sommelier who has served as a judge in the annual American Fine Wine Competition, South Florida's homegrown wine event; and THE Rosé Competition.
PHOTO: Main by Peg San Felippo; insets courtesy Hampton Water and Château Minuty.
Related Articles
Share
About Author
(0) Readers Comments