By Peg San Felippo
City & Shore Magazine
Looking for a special place to stop for a drink before or after the show? Our resident sommelier suggests some great spots close to entertainment venues that offer both.
Delray Beach
City Oyster & Sushi Bar (pictured above)
213 E. Atlantic Ave., Delray Beach, 561-272-0220, cityoysterdelray.com.
Situated in Delray Beach's popular dining district, and a 10-minute drive from The Delray Beach Playhouse, City Oyster's sidewalk seating outside and tin ceilings, oak floors and antique brick inside create a casual and relaxing atmosphere.
Drink offerings: Recognized for their wine selection by Wine Spectator, City Oyster not only has a large by-the-bottle list, it also offers 40 wines by the glass. Primarily from California, these wines also include choices from France, Italy, New Zealand and Spain. Two cocktails especially worth trying are the Strawberry Basil Martini, with Absolut Vodka, basil, freshly squeezed lime juice and strawberries; and the Aviation, with Fords Gin, maraschino liqueur, crème de violette and freshly squeezed lemon juice. Several local craft beers also are available.
Food: Available until close.
Boca Raton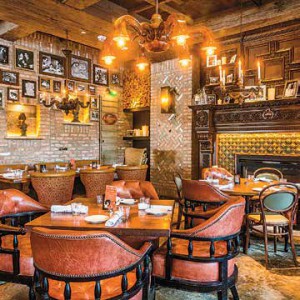 Louie Bossi's Ristorante Bar & Pizzeria
100 E. Palmetto Park Road, Boca Raton, 561-336-6699, louiebossi.com/bocaraton.
Located two blocks from the Mizner Park Amphitheater, Louie Bossi's is known for a lively bar scene. The bistro-style restaurant also offers a spacious seating area outside.
Drink offerings: The wine list includes over 300 wines, representing all 20 wine regions in Italy and several full-bodied California reds. Favorite cocktails include the Pimm-Cicletta, with Hendrick's Gin, Pimm's Aperitivo, fresh muddled strawberries and fresh cucumbers. Louie Bossi's also has its own beer, "Birra di Bossi, made by the Khoffner Brewery in Fort Lauderdale.
Food: Full dinner menu until close during the week and until 11 p.m. on Saturday and Sunday. (Pizza and dessert until midnight on weekends.)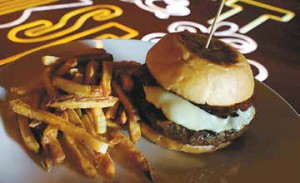 Rebel House
297 E. Palmetto Park Road, Boca Raton, 561-353-5888, rebelhouseboca.com.
This American brasserie – just a five-block walk from Mizner Park Amphitheater – is eclectic and laidback inside and out on the covered patio.
Drink offerings: Rebel house's wine list offers a mix of mostly California and Italy offerings, with a few selections from Spain and Argentina. Their creative craft cocktail menu offers such popular mixtures as The Nessie, a fusion of Monkey Shoulder Scotch, lemon, pineapple and guava; and Bitter Betty, a combination of Gray Whale Gin, strawberry-infused sweet vermouth and Cynar bitters.
Food: Served 4 p.m.-midnight Sunday-Thursday, 4 p.m.-1 a.m. Friday and Saturday.
Fort Lauderdale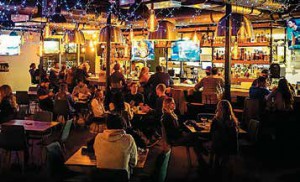 Here & Now
433 NW First Ave., Fort Lauderdale, 954-766-4651, hereandnowfl.com
Situated in Flagler Village – just under a mile from the Broward Center for the Performing Arts – Here & Now has a welcoming and relaxed feel, with exposed ductwork and extensive foliage throughout.
Drink offerings: Most of Here & Now's wines are available by the glass and the bottle. The list is made up mostly of wines from California picks, with a few French and Washington State options. Their fresh approach to cocktails include the Smokey Old Bandit, a concoction of Redemption rye whiskey, orange bitters, torched orange and Filthy black cherries; and The Tequila Cooler, made with Herradura Silver Tequila, cucumber, pineapple, jalapeños and Fever-Tree club soda. All the draft beers are either local or from Florida. The drink and food menus change every four months.
Food: Served until 11:30 p.m. Tuesday-Thursday, 1:30 a.m. Friday-Saturday and 11 p.m. Sunday.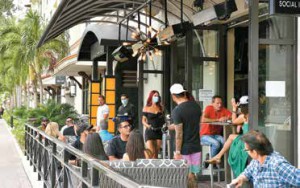 Salt7
500 E. Las Olas Blvd., Fort Lauderdale, 954-751-7258, salt7.com
Less than a mile from the Broward Center, Salt7 derives its name from the seven exotic salts used in their signature spice blend. Located on the water, with significant indoor and outdoor seating, it has a contemporary design and a late-night vibe.
Drink offerings: Salt7's list offers California wines primarily, with some choices from Italy, Argentina and Australia. For a refreshing cocktail, try the Icon Watermelon Martini, made with watermelon and cucumber-infused Haku vodka; or the Black Salt Margarita, prepared with Avion Silver Tequila, pressed Filthy black cherries and black lava salt.
Food: Served until 11 p.m. weekdays and midnight on weekends.
Peg San Felippo is a certified sommelier who has served as a judge in the annual American Fine Wine Competition, South Florida's homegrown wine event, and THE Rosé Competition.
PHOTOS: For complete photo credit information, see story pgs. 116-117 of the digital edition of the October issue of PRIME, linked at http://www.cityandshore.com/
Related Articles
Share
About Author
(0) Readers Comments