By Peg San Felippo
City & Shore Magazine
As the days grow longer (and hotter), our thoughts turn to lighter, fresher cocktails. Some of South Florida's best mixologists are here to share their thoughts on libations for keeping cool – fast.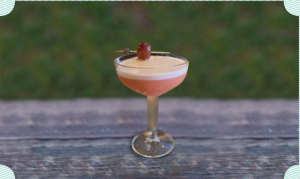 The Enzoni  (photo courtesy)
"This is a perfect South Florida Negroni and an alternative to the bitter Italian Negroni. The foam on top gives this drink a whole other layer of complexity. It is, in my opinion, a terrific sipper." – Tara Pezek, Bar Manager, Elisabetta's, 32 E. Atlantic Ave., Delray Beach, elisabettas.com.
1 oz. gin
1 oz. Campari
3 grapes
1 oz. lemon juice
1 oz. lime juice
1 oz. simple syrup
Muddle the grapes in a shaker. Add all the ingredients. Shake with ice for 15 seconds.
Pour through a strainer into a coupe glass. Garnish with a grape.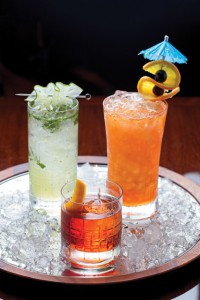 Henry's Hurricane (photo of drink, on right, courtesy)
"This classic, tiki-inspired cocktail from the 1940s comes to life with light and dark rum and a splash of passion fruit. When temperatures start to rise, this refreshing crowd favorite quenches summer thirst. It is fun, fruity and delicious." – Chris Haretos, General Manager at Henry's Palm Beach, 229 Royal Poinciana Way, Palm Beach, thebreakers.com.
Glassware: Pilsner Glass
1 ½ oz. Bacardi Light Rum
1 ½ oz. Myers's Dark Rum
1 oz. lime juice
½ oz. orange juice
¾ oz. Chinola (passion fruit liqueur)
¾  oz. Orgeat syrup
Grenadine floater
Cherries
Orange peel
Add all ingredients into a shaker with ice. Shake and strain over crushed ice into a pilsner glass. Top with a grenadine floater (to taste) and garnish with two cherries and an orange peel.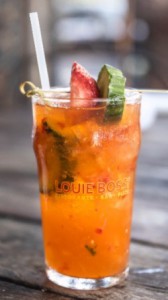 Italian Mojito (photo courtesy)
"Everyone loves Mojitos. It's the ideal summer party cocktail. We decided to add extra flavor by marrying two classics, the popular Italian Aperol Spritz and this Caribbean classic." – Ervin Machado, Beverage Director of Louie Bossi's, 1032 E. Las Olas Blvd., Fort Lauderdale, louiebossi.com.
1 oz. of Aperol
1 oz. of white rum
1 oz. of simple syrup
1 oz. of lemon/lime juice
2 ozs. Prosecco
1 lime cut in quarters
1 bunch of mint
Muddle the lime wedges in a shaker. Add the mint and shake with ice and all ingredients except for the Prosecco. Pour in a pint glass and top with Prosecco. Garnish with the mint bunch.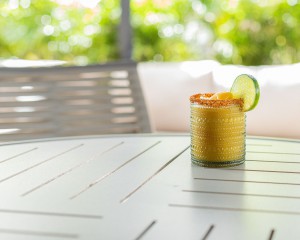 Mango Margarita (photo here and on the opening page, courtesy)
"This refreshing mango margarita recipe is a great summer drink, whether you serve it frozen or on the rocks. Not only does it a carry a punch, it has a secret ingredient that makes it stand out in a good way." – Oscar Garcia, Bartender, Corvina Seafood Grill, 110 Plaza Real S., Boca Raton, corvinabocaraton.com.
1 cup of Corazon Blanco tequila
1 cup of triple sec
1 cup of 21 Seeds Valencia Orange Tequila (the secret ingredient)
1 cup of frozen mango purée, thawed
1 cup of fresh squeezed lime juice
Tajin Chile seasoning for the rim of the glass
Lime slices
If serving on the rocks, fill a large shaker with ice. Pour in the liquid ingredients, shake to blend. Strain over a glass with ice. If serving frozen, fill blender full of ice, add liquid ingredients and blend until it's slushy. To adhere the Tajin Chile to the rim of the glass, place the rim in a small amount of lime juice then dip it in the seasoning. Add a lime slice to the side of the rim.
*This recipe, meant to share with friends, makes four to six drinks.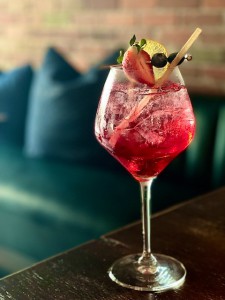 Regional Spritz (photo courtesy)
"Our take on a timeless cocktail, just in time for summer. Using Aperol as a base, our Regional Spritz is bolstered with black currant-infused vodka and finished with Pomegranate juice and club soda. What makes it so refreshing is using quality ingredients." – Hunter Toms, Mockingbird Bar Manager at The Regional, 651 Okeechobee Blvd., West Palm Beach, eatregional.com.
2 oz. Aperol
1 oz. Absolut Kurant Vodka
1 oz. Pomegranate juice
Splash of Club Soda
Add Aperol, vodka and pomegranate juice to a metal shaker. Fill generously with ice and shake well. Strain into a wine glass over fresh ice and top with club soda. Garnish and enjoy.
Peg San Felippo is a certified sommelier who served as a judge at the recent Los Angeles Invitational Wine & Spirit Challenge, the annual American Fine Wine Competition, South Florida's homegrown wine event; and THE Rosé Competition.
Related Articles
Share
About Author
(0) Readers Comments