By Peg San Felippo
City & Shore Magazine – The Luxury Issue
With demand for cult labels soaring, quality distilleries across the country are filling glasses with bourbon made far from its old Kentucky home. Here's a primer:
Location matters
You may already know that all bourbons are whiskey – but not all whiskeys are bourbon. While Kentucky supplies 95 percent of the world's bourbon, if it meets all the requirements (see rules, below), bourbon can be made legally anywhere in the United States (but nowhere else).
What's in a name
There are a few theories on where the name comes from. The main thought is it refers to the House of Bourbon, erstwhile claimants of the French throne. Another is that in 1791, when Kentucky was still part of Virginia, Thomas Jefferson designated land there to plant "native corn" to support American whisky production. Jefferson is said to have named the area Bourbon County and, after the spirit became more established, "Bourbon County" was stamped on the barrels to indicate its origin. Other sources will tell you it's linked to Bourbon Street in New Orleans, where the spirit became popular outside of Kentucky.
Bourbon rules
By law, bourbon must be made from at least 51 percent corn and aged in new charred-oak barrels. After a barrel is used once it must be discarded or repurposed. (Most go on to age Scotch; however, some wineries and craft breweries have begun to include them to age their libations as well). At the beginning of the barrel-aging process it can't be more than 125 proof and bottled at between 80 and 160 proof. While there are no specific aging requirements for bourbon, in order to be called "straight bourbon" it must be allowed to mature in barrel for at least two years with no color or flavors added. If it's been aged less than four years, it must state its age on the label.
 'Small batch' may not be
"Small batch" is a vague term when it comes to bourbon production. Because there is no prerequisite or law to define it, small batches may not really be that small. While the industry standard is said to be around 150 barrels or less, the range can be anywhere from 10 to 500 depending on the distillery. While each barrel produces approximately 250 750ml bottles, a large "small batch" could be as much as 125,000 bottles. So if you're truly looking for a limited, small-run bourbon do some checking.
Single barrel vs. small batch
Single barrel – meaning just what it says on the label, that it came from one single barrel – is another frequent term pertaining to bourbon. While each bottle from the same barrel will taste similar, each individual barrel's flavor profiles will vary. So, "single bottle" bourbon will have a unique taste from bottle to bottle, while "small batch" blends will consistently taste the same.
Medicinal purposes
There were few exceptions to the Volstead Act during Prohibition, however, if you had a doctor's prescription you could purchase bourbon in small amounts. Rumor has it most of those medical scripts were open-ended and read "fill as needed," with no expiration date.
What to look for
Because the base of bourbon is corn, it's a sweeter whiskey by design (the general flavor characteristics include vanilla, oak, caramel and sometimes cinnamon). Older bourbons will show more aspects of ripe plums and dates. If it's a high rye bourbon – meaning 20 percent of the grain base is rye – you can expect spice and peppery notes. Examples: Old Grand Dad, Basil Hayden and Redemption High Rye 10 Year Barrel. High wheat bourbons tend to be softer, with a subtle earthiness. They include: Maker's Mark, 1792 Sweet Wheat and Buffalo Trace.
Bourbon and fine dining
Many South Florida restaurants take bourbon very seriously. Among them, Bourbon Steak Miami by Michael Mina, located at the JW Turnberry Resort & Spa in Aventura, www.bourbonsteakmia.com.)
Bourbon Steak offers over 500 selections, from to $48- $3,000. "We've got bourbon for all tastes and levels," says Anibal Macias, General Manager. "From Blanton's to E.H. Taylor small batch, and if someone comes in looking for something really special, we have Yamazaki 18 year, Mizunara Cask and Michter's 20 year."
Macias shares one of the restaurant's popular cocktail recipes: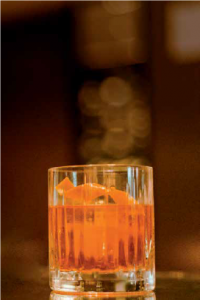 Bourbon Steak Old Fashioned
Prepared traditionally and served on a large ice cube
Ingredients:
2 oz Old Forrester Bourbon
.125 oz Rich Simple Syrup
4 Dashes of Angostura Bitters
4 Dashes Orange Bitters
Instructions:
Build in a glass, starting with the syrup, bitters, then bourbon.
Add ice cube and stir for 5 seconds.
   Garnish with an orange peel.
The sommelier suggests
While we all wait to own a bottle of the (extremely) coveted Pappy Van Winkle, the pride of Frankfort, Kentucky, here are some other bourbons I can recommend.
Bulleit Frontier Straight Bourbon, Kentucky, $30. Wine Wave, Delray Beach.
Four Roses Small Batch Bourbon, Kentucky, $33. Total Wine.
DUKE Small Batch Straight Bourbon, Kentucky, $45. Wine Wave, Delray Beach.
Angel's Envy, Kentucky, $50. ABC Fine Wine & Spirits.
Widow Jane, New York State, $69. Crown Wine & Spirits.
Hillrock Estate Solera Aged, New York State, $80. Virginia Philip Wine Spirits & Academy, Palm Beach.
Jefferson's Ocean "Aged at Sea" Cask Strength, Kentucky, $110. Crown Wine & Spirits.
Wild Turkey Master's Keep Cornerstone, Kentucky, $180. Total Wine.
"The Saint'' from St. Augustine Distillery, Florida, $200. Total Wine.
Colonel E.H. Taylor Barrel Proof, Kentucky, $664. caskers.com.
Peg San Felippo is a certified sommelier who has served as a judge in the annual American Fine Wine Competition, South Florida's homegrown wine event; and THE Rosé Competition.
Related Articles
Share
About Author
(0) Readers Comments