By Robyn A. Friedman
City & Shore Magazine
Wayne Simpson loves the two-bedroom, two-bath custom home he built as a surprise for his wife, Diane. The contemporary home has a den, a large great room, a pool and a covered patio. He even purchased a furniture package through the developer, making the home turnkey. And he bought it sight-unseen.
That home is in Ojochal, Costa Rica, in a development called Ventana Costa Rica. The Simpsons, whose primary residence is in Valparaiso in Florida's Panhandle, split their time between their two homes, but they might be spending a lot more time in the tropics in the future if their application for permanent residency in Costa Rica is approved.
"We are applying for residency so we can stay longer than the 90 days available now without having to leave and come back," says Wayne, 76, a retired law enforcement officer and travel agency owner. "It gives us more options."
The Simpsons are among the many Floridians who are opting to seek residency or citizenship in countries throughout the Caribbean. Some, like the Simpsons, are looking for a slower pace and a better quality of life. Others are hoping to lower their cost of living or receive tax benefits.
But tourist visas have their limitations – they cap the amount of time a visitor can stay in another country, even if they own a home there. Residency, on the other hand, allows Americans to live, work, travel or study in another country and may even allow them to use that country's healthcare system. One of the simplest ways to acquire residency or citizenship is by purchasing a home and applying through one of the residency-by-investment or citizenship-by-investment programs offered by many foreign nations, including some in the Caribbean.
According to Mehdi Kadiri, managing partner of Henley & Partners, a citizenship and residence advisory firm, Portugal's Golden Residence Permit Program is the top program inquired about by residents of the Americas, followed by the St. Kitts and Nevis Citizenship by Investment Program and the Antigua and Barbuda Citizenship by Investment Program. He said that inquiries into a citizen-by-investment program offered by St. Lucia have also increased dramatically since 2019.
Ventana Costa Rica, where the Simpsons purchased, currently offers new Tropical Modern-style homes sized from 2,500 to 4,000 square feet, each with panoramic views of the mountains, the Pacific Ocean – or both – a pool and architectural accents like hardwood cathedral ceilings, covered terraces and lofts. Homes start at $550,000, which more than qualifies American buyers to apply for residency, available to those spending at least $150,000 on a home, according to Craig Studnicky, chief executive officer of ISG World in Miami, the sales and marketing firm for Ventana Costa Rica.
Due to its proximity to Florida and the easy access by plane or boat, the Bahamas is another popular country for those seeking residency. One option: Montage Cay, a mixed-use development in the Bahamas' Abacos islands that will consist of 47 residences priced from $6.6 million to $15 million, according to Bill Green, president of Sterling Global Developments, the developer. The amenities, which will open in late 2024, will include a hotel, restaurants and a spa. The residences will be completed between 2023 and 2027, he said. There will also be a 48-slip marina.
Under Bahamian government policy, the minimum real-estate investment required to apply for permanent residency is $750,000, according to Khaalis Rolle, president of Sterling Global Advisory Services, which provides advisory services and operations support to the developer of Montage Cay. Applicants for residency need to pay a $200 processing fee and provide passport information, birth certificates, medical and police certificates, character references, a copy of their deed and other documents.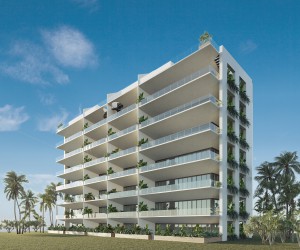 Residences at Paradise Landing, Sterling Global Financial (photo courtesy)
Another project in the Bahamas is The Residences at Paradise Landing on Paradise Island, which will include 28 two- and three-bedroom residences in a seven-story building. The project is located at Hurricane Hole Superyacht Marina, and owners will have membership opportunities at the Ocean Club Golf Course and Tennis Club and Paradise Island's Beach Club. The starting price is just under $2 million.
Rather than offering residency programs, the government of Grenada has a citizenship-by-investment program open to those who spend at least $220,000 on a home in an approved project there, plus government fees, according to the Government of Grenada website. Citizens of Grenada can live and work in Grenada as well as travel, visa-free, to more than 140 countries, including China.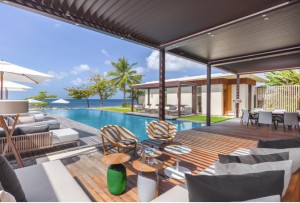 Silversands Grenada (photo courtesy)
Silversands Villas, in Saint George's, Grenada, consists of eight private homes that come with access to services and amenities provided by the five-star Silversands Hotel. Each home consists of three or four bedrooms, with prices starting at $7 million.
If you're interested in acquiring residency or citizenship in a Caribbean country, remember that there may be unique challenges that come with living overseas. Wayne Simpson, for example, said there are many gravel roads in Costa Rica and that mudslides and falling trees can affect travel. You might want to consider renting in another country before deciding to purchase there.
Doing your due diligence is key. Research the country, the type of property rights you acquire – Americans cannot own real estate outright in some countries, Studnicky says – and the import taxes for vehicles and personal belongings. And, most importantly, don't close out your American bank account. Social Security payments and other deposits may not properly find their way into foreign bank accounts.
Main photo: Montage Cay, courtesy
Related Articles
Share
About Author
(0) Readers Comments