By Greg Carannante
City & Shore Magazine
Another arts season, another wave of musical acts that look, sound and act like the real thing — but are not — flood the South Florida performance landscape. Tribute shows pop up on the programs of virtually every theatrical venue, and some, like The Parker in Fort Lauderdale, are virtually awash with them.
The trend of only a few years ago is now a concert-going mainstay, as tributes plug some of the gaps left by big-name tours postponed by the pandemic and as fans chase halcyon flashbacks to the glory days — usually in cheaper seats and more intimate venues than the name-acts might play (if they're still playing, that is). Some fans even have multiple opportunities.
For example, if the glam-rock of Queen is your crazy little thing, you've got four shows to choose from: The Ultimate Queen Celebration Starring Marc Martel, Dec. 19 at Coral Springs Center for the Arts and April 9 at Adrienne Arsht Center; and One Night of Queen Performed by Gary Mullen and The Works, May 11 at Kravis Center and the following night at The Parker.
Those who prefer their queens dancing have three ABBA shows: ABBA Mania, Feb. 17 at Aventura Arts & Cultural Center; and ABBA The Concert, March 29 at Kravis and March 31 at The Parker. And speaking of dancing — as in, you should be — local legends the Bee Gees also get four tributes: a Christmas show on Dec. 22 and another on Feb. 26, both at The Parker; March 9 at Delray's Crest Theatre; and March 19 at Aventura.
Simon & Garfunkel are back together again, kind of, Jan. 14 at Aventura and Feb. 11 at The Parker. And what's Tina Turner got to do with it? Two shows of Proud Tina, Jan. 11 at Kravis and Jan. 16 at The Parker.
For Beatles fans, those lesser-known Liverpudlians, the Mersey Beatles, yeah-yeah-yeah their way through an entire live album Oct. 30 at Mizner Park Cultural Center, while the Rain tribute, pictured above, runs through Abbey Road March 3 at the Kravis Center. And let's not forget the King — embodied by the granddaddy of tribute artists, Chris MacDonald — in Elvis' Birthday Bash, Jan. 8 at The Parker.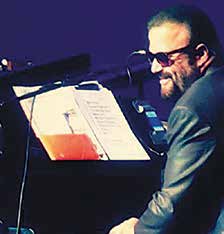 Bill Joel Tribute
Among other stars getting the tribute treatment: Journey, Oct. 22 at The Parker; Garth Brooks, Jan. 7 at Mizner; Tom Petty, Jan. 27 at The Parker; Fleetwood Mac, Jan. 31 at Kravis; Aretha Franklin, Feb. 3 at The Parker and March 12 at Aventura; George Michael, Feb. 6 at The Parker; Billy Joel, Feb. 11 at Aventura; and No Doubt and Gwen Stefani, March 26 at the Rose & Alfred Miniaci Performing Arts Center in Davie.
PHOTOS: Courtesy the artists.
Related Articles
Share
About Author
(0) Readers Comments