By Mark Gauert
City & Shore Magazine
Wines from California, Oregon, New York and Washington State uncorked top honors this year in South Florida's home-grown American Fine Wine Invitational, selected by the competition's 24 judges from 850 wines produced at 230 wineries nationwide.
"This 10th year of the competition has proven to be spectacular," AFWI president Shari Gherman said of the judging, Jan. 15-16 at FIU's Chaplin School of Hospitality & Tourism Management in North Miami. "The wines were the best they have ever been – this was indeed a stellar judging."
It was also a record year, she adds, with the number of wines up from 730 wines entered last year. In all, judges awarded 272 gold and 188 double gold medals in the competition – also up significantly from last year's 178 gold and 133 double gold medalists in AFWI competition.
Best of Show Red Wine honors went to the 2013 Baldacci Family Cabernet Sauvignon "Ruppert", from Napa, Calif. ($125); the Best of Show White Wine went to a 2015 Gruner Veltliner from Chehalem Vineyards, Ribbon Ridge, Oregon ($24). Best of Show in the Sparkling Wine category went to a NV Mumm Napa, "Santana" Brut, from Napa, Calif. ($50); and Best of Show Dessert Wine went to the 2011 John Anthony Vineyards Late Harvest Sauvignon Blanc, from Napa, Calif. ($65).
The top winners in the Best of Class varietal categories are:
Sauvignon Blanc: 2014 Marston Family Vineyard, "Albion", Yountville, Calif. ($50).
Chardonnay: 2013 Mi Sueno, Sonoma Mountain, Calif. ($54).
Riesling: 2015 Glenora Wine Cellars, Finger Lakes, N.Y. ($15).
Dry Rosé: 2015 Fulcrum, "Cloisonne"  Lake County, Calif. ($24).
Pinot Noir: 2014 Benovia Winery, Tilton Hill, Sonoma Coast, Calif. ($60).
Malbec: 2013 Kestrel Vintners, Yakima, Wash. ($45).
Merlot: 2013 Tenor Columbia Valley, Wash. ($58).
Other Red Blend: 2013 Maldonado Family Vineyards, Proprietary Red, Napa ($38).
Zinfandel: 2013 Jeff Cohn Cellars, Cassata Vineyard, Sonoma, Calif. ($42).
Sangiovese: 2014 Luna Vineyards, "Classico,'' Napa, Calif. ($42).
Grenache: 2015 Oak Farm Vineyards, Lodi, Calif. ($27).
Red Bordeaux Style Blend: 2013 Alpha Omega Propriety Red Blend, Napa, Calif. ($98).
Cabernet Franc: 2013 Vinoce Vineyards, Mt. Veeder, Calif. ($75).
Petite Sirah: 2013 Robert Biale "E.B.A.", Napa, Calif. ($75).
Syrah: 2013 VIE Las Madres Vineyard, Los Carneros, Calif. ($49).
The 24 judges, "chosen based on their wine knowledge, their palates, their dedication, and the fact that they have no fiduciary interest in any commercial winery, distributorship or supplier," included wine educators, wine writers, restaurateurs and sommeliers. Among them were South Florida's Chip Cassidy, Wine Professor at FIU; Delius Shirley, proprietor of Ortanique in Miami; Dr. Barry H. Gump, the first holder of the Harvey R. Chaplin Eminent Scholar's Chair in Beverage Management at FIU's School of Hospitality and Tourism Management; Peg San Felippo, former wine columnist at The Palm Beach Post; Master Sommelier Virginia Philip, owner of Virginia Philip Wine Academy; Michael Braun, Manager and Lead Educator in South Florida for Total Wine and More; and others from around the United States, including Minwoo Kwon, Sommelier at Jean-Georges restaurant, in New York City (complete list, http://americanfinewinecompetition.org/judges/).
All 850 wines, including the gold medal winners, will be available to sample with a "wine-centric'' dinner at the AFWI Charity Wine Gala on Saturday night (April 29) at the Design Center of the Americas in Dania Beach. The event, benefiting the Dolphins Cancer Challenge, will begin with a sparkling reception followed by dinner, winery-tasting rooms hosted by the winemakers, auctions, music and more. Tickets are $300, available at www.eventbrite.com (search for "10th annual American Fine Wine Charity Gala"); or call 561-504-0206, or visit americanfinewinecompetition.org.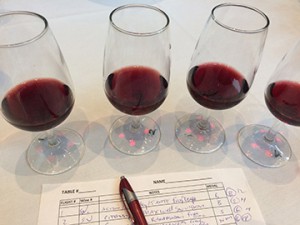 COMPLETE RESULTS
LEGEND:
GG- Double Gold- Medal S- Silver Medal
G- Gold Medal
BAR- Barbera               ME- Merlot         PT- Port
CF- Cabernet Franc                  ORB- Other Red Blend     RBSB- Red Bordeaux-Style Blend
CH- Chardonnay                              ORS- Other Red Single Varietal     SB- Sauvignon Blanc
CS- Cabernet Sauvignon                 OWB- Other White Blend              SP-Sparkling Wine
DR- Dry Rose                     OWS- Other White Single Varietal              SY- Syrah
GRE- Grenache                  PN- Pinot Noir    VIO- Viognier
LH- Late Harvest                        PS- Petite Sirah   ZIN- Zinfandel
Medal    Flt. Varietal     Winery / Producer    Proprietary Name   Vintage SRP
BGG          CF           Ballentine Vineyards        Estate Grown     2014      $40
GG          CF           Barrister Winery                              2013      $31
GG          CF           Chappellet Vineyard                        2013      $70
GG          CF           Clos Du Val          Hirondelle Estate Vyd, SLD            2014      $70
GG          CF           Colagrossi Wines              Gil Amici              2014      $65
GG          CF           Crocker & Starr Winery                  2014      $80
GG          CF           Detert Family Vineyard                   2014      $95
GG          CF           Howell Mountain Vineyards                         2013      $85
GG          CF           Keenan Winery   Spring Mtn District           2013      $68
GG          CF           Kestrel Vintners                 2013      $50
GG          CF           Peju Province Winery       Rutherford Reserve          2013      $145
GG          CF           Wm. Harrison     Estate    2013      $65
GG          CH          The Donum Estste            Year of the Horse             2014      $60
GG          CH          Alpha Omega      Napa Valley        2013      $72
GG          CH          Alquimista Cellars             Cellars Haiku Vineyard     2014      $50
GG          CH          Aver Family Vineyards     Inspiration           2014      $45
GG          CH          B Cellars Vineyards and Winery    Dutton Ranch, Mill Station Vyd, RRV          2014      $75
GG          CH          Baldacci Family Vineyards             Sorelle   2014      $38
GG          CH          Bouchaine           Bouche de Beurre             2014      $50
GG          CH          Castello di Amorosa         Bien Nacido Vyd               2015      $39
GG          CH          Clos Pegase Winery         Hommage           2013      $45
GG          CH          Clouds Rest Vineyards     Allure, Reserve   2012      $45
GG          CH          Davis Estates      Hungry Blonde   2014      $30
GG          CH          DeLoach Vineyards          Ritchie Vineyard 2014      $50
GG          CH          JCB by Jean-Charles Boisset          No. 33/ RRV        2014      $75
GG          CH          Luna Vineyards   Napa     2014      $45
GG          CH          Maple Creek Winery        Estate    2015      $40
GG          CH          Sbragia Family Vineyards               Gamble Ranch    2014      $48
GG          CS           Ahnfeldt Wines  Reserve 2013      $65
GG          CS           Alexander Valley Vineyards           Alexander School Reserve             2013      $50
GG          CS           B Cellars Vineyards and Winery    Erhlich Vyd, Oakville        2014      $120
GG          CS           Barrister Winery                              2013      $35
GG          CS           Clos Du Val          Reserve                2012      $120
GG          CS           Clos Pegase        Coombsville        2012      $75
GG          CS           Crocker & Starr Winery   Stone Place         2014      $120
GG          CS           Davis Estates      Napa Valley/ Howell Mntn            2013      $105
GG          CS           Detert Family Vineyard    Oakville 2014      $95
GG          CS           Eleven Eleven Wines                       2013      $125
GG          CS           Frank Family vineyard      Patriarch              2013      $225
GG          CS           Hoopes Family Vineyard Oakville 2013      $75
GG          CS           John Anthony Vineyards  Napa Valley        2014      $75
GG          CS           Jones Family Vineyards   The Sisters           2013      $70
GG          CS           Keenan Winery   Reserve, Spring Mtn District          2013      $106
GG          CS           Kestrel Vintners                 2012      $45
GG          CS           Knights Bridge    To Kalon Vineyard            2013      $150
GG          CS           Ledson  Alexander Valley               2013      $110
GG          CS           Maldonado Family Vineyards        Old Toll Rd. Vyd, Calistoga            2013      $125
GG          CS           Medlock Ames   Kate's & B's         2014      $75
GG          CS           Michael David Winery     Rapture 2013      $59
GG          CS           Miner Family Winery        Emily's Cuvee, Napa Valley           2013      $50
GG          CS           Mithra   Mithra   2012      $190
GG          CS           Pestoni Family Wines                      2012      $85
GG          CS           Pina Napa Valley               Napa Valley/ Diadamo Vyd           2013      $85
GG          CS           Pope Valley Winery          Estate Reserve   2012      $70
GG          CS           Pride Mountain Vineyards                            2013      $140
GG          CS           Prim Family Vineyard       Howell Mountain              2012      $80
GG          CS           Raymond Vineyards         District Collection/Oakville           2014      $105
GG          CS           Raymond Vineyards         District Collection/St. Helena       2014      $85
GG          CS           Raymond Vineyards         Generations        2014      $130
GG          CS           Red Mare Wines                              2013      $64
GG          CS           Roberts & Rogers             Hallow Family     2014      $100
GG          CS           Rocca Family Vineyards  Grigsby Vineyard               2013      $85
GG          CS           Rutherford Hill                  2013      $51
GG          CS           Sbragia Family Vineyards               Monte Rosso      2013      $65
GG          CS           Shadowbox Cellars                          2012      $94
GG          CS           Spoto family wines           Private Reserve/Oakville Station  2013      $129
GG          CS           Stag's Leap Wine Cellars S.L.V.     2013      $135
GG          CS           The Hess Collection         Mt. Veeder          2013      $65
GG          CS           Veedercrest                       2006      $125
GG          CS           Veedercrest                       2007      $125
GG          CS           Veedercrest                       2009      $175
GG          CS           Vinoce Vineyards              Solar Hill              2013      $100
GG          CS           Vinoce Vineyards              Oakville 2014      $125
GG          CS           VinRoc                 2013      $100
GG          CS           von Strasser Winery         DMD/ Estate Vyd              2013      $80
GG          CS           Yao Family Wines             Family Reserve   2013      $225
GG          CS           Young Inglewood             Estate    2013      $110
GG          GRE        Bokisch Vineyards            Terra Alta Vineyards        2013      $20
GG          OWS      Belden Barns      Gruner Veltliner 2014      $28
GG          LH          Castello di Amorosa         Gewurztraminer 2015      $39
GG          LH          Glenora Wine Cellars       Vidal Iced Wine  2015      $20
GG          LH          Grgich Hills Estate            Violetta 2013      $85
GG          LH          Scott Harvey Wines          Angel Eis              2013      $40
GG          ORB       ACORN Winery   Medley, Alegria Vyd         2014      $50
GG          ORB       Castello di Amorosa         La Castellana      2014      $98
GG          ORB       GODSPEED VINEYARDS   Trinity    2010      $50
GG          ORB       Muscardini Cellars            Tesoro  2012      $52
GG          ORB       Post & Vine         Testa Vyd, Old Vine Field Blend    2013      $30
GG          ORB       Shadowbox Cellars           Template             2014      $38
GG          ORB       Sottomorino       Soprafino            2013      $50
GG          ORB       Vineyard 36         UnMask               2013      $36
GG          ORB       Walla Walla Vintners       Bello Rosso         2013      $38
GG          ORB       Westwood Estate Wines               Legend  2014      $64
GG          ORS        Oak Farm Vineyards                        2014      $34
GG          OWB      Acquiesce Winery             Belle Blanc, Rhone Blend, Estate, Lodi                     2015      $26
GG          OWS      Glenora Wine Cellars       Pinot Blanc          2015      $15
GG          PN          Alexana Winery  Revana Estate Vineyard  2014      $49
GG          PN          Alexana Winery  West Blocks – Sedimentary Soils  2014      $65
GG          PN          Alquimista Cellars             Van der Kamp Vineyard   2015      $67
GG          PN          Anam Cara Cellars            Reserve/ Nicholas Vyd, Oregon   2012      $45
GG          PN          Anam Cara Cellars            Wadenswil Block/ Nicholas Vyd   2012      $55
GG          PN          Ancient Oak Cellars          Siebert Ranch     2014      $46
GG          PN          Baldacci Family Vineyards             Mathilde              2014      $55
GG          PN          Belden Barns      Estate Grown     2014      $38
GG          PN          Calstar Cellars    Sangiacomo Vyds             2012      $40
GG          PN          Daniel    Grand Vent Vyd, Sonoma Coast   2014      $60
GG          PN          DeLoach Vineyards          Maboroshi Vineyard        2014      $50
GG          PN          Domaine Carneros           Famous Gate      2014      $80
GG          PN          Donum Estate    Anderson Valley 2013      $72
GG          PN          DRNK                    2014      $50
GG          PN          Dry Creek Vineyard                         2014      $40
GG          PN          Fulcrum Gap's Crown       2014      $62
GG          PN          Lombardi Wines                2014      $42
GG          PN          MacPhail Wines Vagon Rouge      2014      $65
GG          PN          Mahoney             Las Brisas            2013      $38
GG          PN          Mi Sueno Winery                             2013      $52
GG          PN          Modus Operandi Cellars  Bacigalupi Vyd    2014      $50
GG          PN          Row Eleven Wine Company                         2015      $38
GG          PN          Square Peg Estate            Block 8, Russian River Valley         2014      $55
GG          PN          Talisman Wines  Weir Vyd              2013      $65
GG          PN          Tedeschi Family Winery  Russian River Valley         2014      $52
GG          PN          Trecini Winery                   2014      $45
GG          PN          Truchard              Old Block             2013      $65
GG          PN          Vaughn Duffy Wines        Suacci Vineyard 2014      $50
GG          PN          Waits-Mast Family Cellars             Mariah Vyd, Mendocino Ridge     2013      $44
GG          PN          Wrath                   2014      $49
GG          PS           Aratas   Napa Valley        2012      $52
GG          PS           Dry Creek Vineyard                         2014      $36
GG          PS           GIRARD                2013      $36
GG          PS           Joseph Cellars Winery     Napa Valley        2012      $55
GG          PT           Prager Winery and Port Works     Aria White Port  2012      $50
GG          PT           Prager Winery and Port Works     Royal Escort       2012      $72
GG          PT           St. Amant Winery                            NV          $35
GG          RBSB      Ancient Oak Cellars          Sappho  2012      $75
GG          RBSB      Arkenstone Estate Winey              Obsidian              2013      $175
GG          RBSB      Benziger Family Winery   Tribute  2013      $85
GG          RBSB      Glen Manor Vineyards     Hodder Hill          2013      $50
GG          RBSB      Lagniappe Peak Vineyards             Per/ Atlas Peak   2013      $75
GG          RBSB      Pride Mountain Vineyards             Claret    2013      $140
GG          SB           Alpha Omega                     2015      $40
GG          SB           Corner 103          Sonoma Valley   2015      $25
GG          SB           Knights Bridge    Pont de Chevalier             2014      $40
GG          SB           St. Supery Estate Vineyards & Winery        Dollarhide Estate Vyd      2015      $35
GG          SB           Swanson              Salon Wine Selection       2015      $35
GG          SB           Toquade              Napa     2015      $16
GG          SB           Vinoce   Napa     2015      $45
GG          SP           Artesa Vineyard & Winery             Grand Reserve Brut Rose               2014      $45
GG          SP           Breathless Wines              Blanc de Blanc    NV          $29
GG          SP           Domaine Carneros           Le Reve 2009      $105
GG          SP           King Family Vineyards      Brut       2014      $36
GG          SP           Mumm Napa      Brut Prestige       NV          $24
GG          SY           ACORN Winery   Axiom, Alegria Vyd           2014      $38
GG          SY           Belden Barns      Estate    2013      $42
GG          SY           Davis Family Vineyards    Soul Patch           2013      $42
GG          SY           Flanagan                             2013      $75
GG          SY           Judd's Hill Winery             Reserve/ Sonoma Valley 2013      $48
GG          SY           Klinker Brick Winery         Farrah   2013      $65
GG          SY           Reustle – Prayer Rock Vineyards   Winemakers Reserve       2013      $39
GG          SY           Tenor Wines                      2013      $58
GG          ZIN         Ancient Oak Cellars                         2014      $37
GG          ZIN         Artezin  Old Vine Zin/ Mendocino County 2014      $18
GG          ZIN         Benovia Winery Sonoma County 2014      $40
GG          ZIN         Chase Cellars      Chase Cellars/ Hayne Vyd              2014      $60
GG          ZIN         Dry Creek Vineyard          DVV7 Estate        2014      $40
GG          ZIN         Ellipsis Wines      RRV/ Sonoma County      2013      $35
GG          ZIN         Michael David Winery     Gluttony              2014      $59
GG          ZIN         Michael David Winery     Rage      2013      $59
GG          ZIN         Robert Biale Vineyards    Aldo's Vineyard/ Oak Knoll            2014      $78
GG          ZIN         Robert Biale Vineyards    Black Chicken     2014      $46
GG          ZIN         Rombauer Vineyards       California            2014      $30
GG          ZIN         Truchard Vineyards          Carneros Napa Valley      2014      $30
G            BAR        Lava Cap Winery                              2014      $25
G            BAR        St. Amant Winery             Tools of the Trade            2015      $18
G            CF           ACORN Winery   Alegria Vyd          2014      $38
G            CF           Ancient Oak Cellars          Alcaeus 2012      $75
G            CF           Barnett Vineyards                            2014      $75
G            CF           Brasswood          Estate, Coombsville         2013      $85
G            CF           Michael David Winery     Inkblot  2014      $35
G            CF           Pride Mountain Vineyards                            2014      $70
G            CF           Prime Solum                      2013      $80
G            CF           RIVINO                 2012      $36
G            CF           Terra Valentine Winery                  2014      $60
G            CH          Alexana Winery  Signature             2013      $75
G            CH          Aratas   Estate, Carneros, Napa   2015      $38
G            CH          Artesa Vineyards & Winery            Single Vyd            2014      $55
G            CH          Ballentine Vineyards        Reserve 2014      $45
G            CH          Barnett Vineyards             Sangiacomo        2015      $35
G            CH          Benovia Winery Russian River Valley         2014      $36
G            CH          Brasswood          Napa Valley        2014      $65
G            CH          Buena Vista Winery          Eleanora's Selection        2014      $42
G            CH          Calstar Cellars    Cuvee' Ann          2014      $40
G            CH          Chappellet Vineyard         Signature             2014      $45
G            CH          Chateau Ste. Michelle     Ethos     2014      $36
G            CH          Corner 103          Sonoma Coast    2014      $40
G            CH          DeLoach Vineyards          Estate    2014      $50
G            CH          Flanagan              Bacigalupo Vyd  2014      $62
G            CH          Frank Family VIneyards   Carneros              2015      $35
G            CH          Harney Lane       Lodi       2015      $25
G            CH          Keenan Winery   Spring Mntn District         2014      $34
G            CH          Lombardi Wines Sonoma Coast    2014      $40
G            CH          MacPhail Wines Vagon Blanc/  Sonoma Coast       2014      $65
G            CH          Maldonado Family Vineyards        Parr Vyd, Sonoma/Knights Vly      2013      $32
G            CH          McIntyre Vineyards          Santa Lucia Highlands      2013      $36
G            CH          Michael David Winery     Lodi       2015      $16
G            CH          Miner Family Winery        Wild Yeast, Napa Valley  2013      $30
G            CH          Miner Family Winery        Napa Valley        2014      $30
G            CH          Prim Family Vineyard       Vigna Monte Nero           2015      $25
G            CH          Raymond Vineyards         Generations/ St. Helena  2014      $75
G            CH          Red Mare Wine  Red Mare            2014      $48
G            CH          Robert Mondavi Winery  Reserve 2014      $55
G            CH          Rocca Family Vineyards                 2014      $55
G            CH          Rodney Strong Vineyards               Reserve 2014      $35
G            CH          Rombauer Vineyards       Carneros              2015      $36
G            CH          Rombauer Vineyards       Buchli Station/ Carneros 2015      $70
G            CH          Silverado Vineyards          Vineburg              2014      $35
G            CH          Truchard Vineyards                         2015      $30
G            CH          VinRoc                 2015      $42
G            CS           Ahnfeldt Wines                 2013      $48
G            CS           Alpha Omega                     2013      $98
G            CS           Anomaly Vineyards                         2013      $110
G            CS           Arkenstone Estate winery              NVD       2013      $75
G            CS           Barlow Vineyards             Family Selection 2012      $120
G            CS           Barnett Vineyards             Rattlesnake Vyds              2014      $175
G            CS           Beaulieu Vineyard            GEORGES DE LATOUR, Private Reserve     2013      $145
G            CS           Brookman           10th Anniversary, Napa Valley      2012      $60
G            CS           Buena Vista Winery          Château Buena Vista       2013      $50
G            CS           Buena Vista Winery          The Founder       2014      $120
G            CS           Castello di Amorosa         Butala Vineyard                2014      $145
G            CS           Chappellet Vineyard         Pritchard Hill       2013      $210
G            CS           Charles Krug       Vintage Selection             2012      $100
G            CS           Conn Creek         Anthology           2013      $55
G            CS           Dos Lagos Vineyards                       2013      $125
G            CS           Dutcher Crossing Winery                              2014      $32
G            CS           Euclid Wines       Napa Valley        2013      $100
G            CS           Euclid Wines       Tandem               2013      $85
G            CS           Frank Family Vineyards                   2013      $95
G            CS           GODSPEED VINEYARDS   Mt. Veeder          2011      $60
G            CS           Grgich Hills Estate            Yountville Old Vine           2012      $185
G            CS           Hoopes Family Vineyard Napa Valley        2013      $50
G            CS           Howell Mountain Vineyards                         2013      $75
G            CS           Italics Winegrowers         Estate Grown     2012      $125
G            CS           Jones Family Vineyards                  2013      $140
G            CS           Jordan Vineyard and Winery         Alexander Valley               2012      $55
G            CS           Judd's Hill Winery             Founder's Art      2010      $85
G            CS           Kelleher Family Vineyard Brix Vineyard      2012      $88
G            CS           Krupp Brothers   Veraison              2010      $90
G            CS           Ledson  Reserve, Howell Mountain            2013      $110
G            CS           Ledson  Napa Valley        2013      $94
G            CS           Maldonado Family Vineyards        Los Olivos Vyd, Napa       2013      $58
G            CS           Markham Vineyards         The Altruist         2012      $65
G            CS           Markham Vineyards         The Philanthropist            2012      $65
G            CS           Medlock Ames                  2014      $48
G            CS           Mi Sueno Winery              Herrera 2013      $138
G            CS           Michael David Winery     Earthquake         2014      $26
G            CS           Miner Family Winery        Stagecoach Vyd, Napa Valley       2013      $75
G            CS           Modus Operandi Cellars                 2013      $100
G            CS           Monticello Vineyards       CORLEY 2013      $80
G            CS           Muscardini Cellars                           2013      $58
G            CS           Oakville East Exposure    Exposure             2012      $100
G            CS           O'Brien Estate    Passion of the Soul           2013      $85
G            CS           Parry Cellars                      2013      $70
G            CS           Patland Estate Vineyards                              2013      $110
G            CS           Pina Napa Valley               Buckeye Vineyard             2013      $85
G            CS           Pina Napa Valley               Firehouse Vyd     2013      $85
G            CS           Reynolds Family Winery  Stag's Leap Reserve         2013      $115
G            CS           Riverain                              2013      $110
G            CS           Robert Craig Winery        Affinity  2013      $70
G            CS           Roberts & Roger's            lauer Family        2014      $75
G            CS           Rocca Family Vineyards  Tesorina              2013      $160
G            CS           Rodney Strong Vineyards               Rockaway           2013      $75
G            CS           Rombauer Vineyards       Napa Valley        2014      $55
G            CS           Sol Rouge            Red Hill/ Lake County      2013      $39
G            CS           St. Supery Estate Vineyards & Winery        Dollarhide Estate Vyd      2013      $100
G            CS           Sutro Wine Co.   SUTRO  2013      $50
G            CS           Switchback Ridge                            2013      $90
G            CS           Tenor Wines                      2013      $68
G            CS           Terra Valentine Winery   Wurtele               2013      $85
G            CS           Tierra Roja Vineyard        Tierra Roja Vyd  2013      $150
G            CS           Trotter 1/16 Winery         Oak Cannon Ranch           2013      $75
G            CS           veedercrest         Napa     2013      $75
G            CS           VGS Chateau Potelle        VGS        2013      $110
G            CS           von Strasser Winery                        2013      $80
G            CS           von Strasser Winery         Diamond Terrace Vyd      2013      $80
G            CS           Whitehall Lane Winery    Leonardini Estate             2012      $85
G            CS           Whitehall Lane Winery    Leonardini Vineyard         2012      $125
G            CS           Wm. Harrison Vineyards & Winery             Estate Grown     2013      $55
G            DR          Covenant Wines               RED C    2015      $35
G            DR          Glen Lyon            Blush O'the Boar               2015      $30
G            DR          Muscardini Cellars                           2015      $24
G            DR          St. Amant Winery                            2015      $15
G            GRE        Idle Cellars          Grenache             2014      $28
G            GRE        Jeff Cohn Cellars               The Fallen Angel               2013      $42
G            GRE        Lightning Wines Grenache             2014      $38
G            LH          Alexana Winery  Late Harvest       2014      $35
G            LH          Castello di Amorosa         Il Passito              2012      $89
G            LH          Ch. Ste. Michelle & Dr. Loosen     Eroica Ice Wine RI            2014      $60
G            LH          Ferrante Winery FROZEN               2015      $30
G            ME         Ahnfeldt Wines                 2013      $44
G            ME         Barnett Vineyards                            2014      $65
G            ME         Barrister Winery                              2013      $31
G            ME         Chappellet Vineyard                        2013      $45
G            ME         Pepper Bridge Winery                     2013      $50
G            ME         Pestoni Family Wines                      2012      $60
G            ME         Rombauer Vineyards                      2013      $35
G            ME         Switchback Ridge                            2013      $58
G            ME         Veedercrest Vineyard and Winery                             2014      $40
G            ORB       Buena Vista Winery          The Sheriff of Buena Vista             2014      $40
G            ORB       Michael David Winery     Freakshow          2014      $20
G            ORB       Modus Operandi Cellars  Noctus  2014      $55
G            ORB       Robert Biale Vineyards    Like Father Like Son         2013      $46
G            ORB       Alta Colina Vineyard & Winery     Sun Worshipper 2013      $55
G            ORB       Brown Estate Vineyards  Brown Recluse   2014      $125
G            ORB       Krupp Brothers   'The Doctor'       2013      $100
G            ORB       Lagniappe Peak Vineyards             DBA/ Atlas Peak 2012      $60
G            ORB       Modus Operandi Cellars  Vicarious             2013      $45
G            ORB       Westwood Estate Wines               Elevation             2014      $38
G            ORS        Eberle Winery     Barbera 2014      $32
G            ORS        Grgich Hills Estate            Miljenko's Selection         2013      $65
G            ORS        Kestrel Vintners  Mourvedre          2013      $45
G            ORS        Michael David Winery     Cinsault 2015      $25
G            ORS        Muscardini Cellars            Sangio   2014      $60
G            ORS        Sottomorino       Dolctto 2013      $36
G            ORS        Tenor Wines       Malbec  2013      $58
G            OWS      Anam Cara Cellars            Riesling/ Nicholas Vyd, Oregon    2012      $22
G            OWS      Bokisch Vineyards            Albarino/Terra Alta Vineyards      2015      $18
G            OWS      CHEHALEM Winery          Thr Vyd Rielsling               2014      $22
G            OWS      Ferrante Winery Vidal Blanc          2015      $10
G            OWS      Glenora Wine Cellars       Dry Riesling         2015      $17
G            OWS      Luna Vineyards   Pinot Grigio/ Reserve      2015      $32
G            OWS      Reustle – Prayer Rock Vineyards   Gruner Veltliner 2014      $32
G            OWS      VIE         Rousanne            2015      $35
G            PN          Alexana Winery  East Blocks – Volcanic Soils           2014      $65
G            PN          Artesa Vineyard & Winery                            2014      $40
G            PN          Benovia Winery Russian River Valley         2014      $38
G            PN          Benziger Family Winery   Signaterra           2014      $49
G            PN          Brittan Vineyards              Brittan Vineyards Cygnus Block    2013      $65
G            PN          Buena Vista Winery          Ida's Selection    2014      $48
G            PN          Castello di Amorosa                        2015      $75
G            PN          Clouds Rest Vineyards     Femme Fatale    2012      $55
G            PN          Davis Family Vineyards    Soul Patch           2014      $55
G            PN          DeLoach Vineyards          Estate Pinot Noir              2014      $70
G            PN          Donum Estate    Russian River/ Single Vyd               2013      $72
G            PN          Donum Estate    Carneros/ Single Vyd       2013      $72
G            PN          Eleven Eleven Wines        Eleven Eleven     2014      $65
G            PN          Ellipsis Wines      Russian River Valley         2013      $30
G            PN          Expression           Expression 38°    2013      $65
G            PN          Fulcrum Brosseau Vineyard           2014      $58
G            PN          Hahn Estates      Hahn SLH Estate Pinot Noir           2015      $28
G            PN          Hahn Estates      Lucienne Smith Vyd          2014      $48
G            PN          J. Cage Cellars    Nunes    2014      $40
G            PN          J. Cage Cellars    Hallberg Vineyard             2015      $45
G            PN          JCB by Jean-Charles Boisset          No. 7     2013      $50
G            PN          Joseph Jewell     Hallberg Vineyard             2013      $50
G            PN          La Pitchoune       van der Kamp     2013      $58
G            PN          Lloyd Cellars       Sta. Rita Hills      2014      $50
G            PN          MacPhail Wines Wightman House Vyd      2014      $55
G            PN          Papapietro Perry               Campbell Ranch 2013      $58
G            PN          Papapietro Perry               777 Clones          2013      $74
G            PN          Robert Foley Vineyards   Hudson Vyd, Carneros, Napa        2012      $52
G            PN          Rodney Strong Vineyards               Reserve 2014      $45
G            PN          Square Peg Estate            Block 1, Russian River Valley         2014      $55
G            PN          The Withers Winery         English Hill           2014      $48
G            PN          Waits-Mast Family Cellars             Wentzel Vyd., Anderson Valley     2013      $47
G            PN          Waits-Mast Family Cellars             Openlander Vyd, Mendocino County         2013      $42
G            PN          Westwood Estate Wines               Estate    2014      $44
G            PS           Ballentine Vineyards        Estate Grown     2014      $35
G            PS           Chase Cellars      Barberis Vyd       2014      $85
G            PS           Frank Family VIneyards                  2014      $35
G            PS           Fulcrum                Landy Vyd            2013      $48
G            PS           Grgich Hills Estate            Miljenko's Selection         2012      $65
G            PS           Michael David Winery     Earthquake         2014      $26
G            PS           Rutherford Grove Winery              Spring Creek       2012      $45
G            PS           Sol Rouge                           2013      $45
G            PS           Stags' Leap Winery           Ne Cede Malis    2013      $115
G            PT           Barnstormer Winery        Nosedive             NV          $20
G            PT           Prager Winery and Port Works     Noble Companion            NV          $80
G            RBSB      Ahnfeldt Wines  Carducci Vino Rosso        2013      $34
G            RBSB      Blackbird Vineyards          Arise Proprietary Red Wine           2014      $54
G            RBSB      BRAND Napa Valley         BRIO      2014      $150
G            RBSB      Flanagan              Serenity Way      2012      $150
G            RBSB      Frank Family vineyard                     2014      $150
G            RBSB      Italics Winegrowers         Sixteen Appellations        2012      $95
G            RBSB      JCB by Jean-Charles Boisset          Passion 2014      $85
G            RBSB      Keenan Winery   Mernet  2013      $96
G            RBSB      Liana Estates      Vintner's Red Blend          2013      $28
G            RBSB      Miner Family Winery        The Oracle, Napa Valley 2012      $90
G            RBSB      Monticello Vineyards       Corley   2013      $65
G            RBSB      Peju       fifty/fifty             2013      $99
G            RBSB      Reynolds Family winery   Persistence         2014      $55
G            RBSB      Vineyard 36         Cross Check        2013      $36
G            RBSB      VinRoc  RTW      2013      $52
G            SB           Arkenstone Estate Winery             Estate    2014      $60
G            SB           Belden Barns      Estate Grown     2015      $26
G            SB           Charles Krug       Napa     2015      $18
G            SB           Charles Krug       Reserve 2015      $35
G            SB           Crocker & Starr Winery                  2015      $34
G            SB           Kelleher Family Vineyard Block 21               2015      $30
G            SB           Rutherford Grove Winery                             2015      $23
G            SB           Trecini Winery    Russian River Valley         2016      $14
G            SP           Artesa Vineyard & Winery             Codorniu Napa Brut         2013      $50
G            SP           Domaine Carneros           Brut Rose            2013      $39
G            SP           Domaine Carneros           Brut      2012      $35
G            SP           Hagafen Cellars Late Discorged Brut Cuvee            2012      $48
G            SP           Liana Estates      Bubbles Club Brut Sparkling Rosé 2015      $32
G            SP           Mumm Napa      Brut Reserve Rose            NV          $39
G            SY           Aver Family Vineyards     Homage               2013      $45
G            SY           Shadowbox Cellars                          2012      $48
G            SY           VIE         White Hawk Vyd               2013      $49
G            SY           VIE         Bien Nacido Clone            2014      $47
G            SY           VIE         Estrella River      2014      $47
G            SY           Westerhold Family Vineyards       37 Month Barrel Aged     2009      $68
G            SY           Westwood Estate Wines                              2014      $40
G            SY           Wrath    St. Lucia Highlands           2014      $39
G            VIO        Alta Colina Vineyard & Winery     12 O'Clock High 2014      $35
G            VIO        Aver Family Vineyards     Benevolent         2015      $35
G            VIO        Davis Estates                     2014      $40
G            VIO        Miner Family Winery        California            2015      $20
G            VIO        Pride Mountain Vineyards                            2015      $42
G            ZIN         Ballentine Vineyards        Reserve Estate Grown     2014      $45
G            ZIN         Barlow Vineyards             Calistoga             2014      $35
G            ZIN         Beltane Ranch    Sonoma Valley   2014      $44
G            ZIN         Brown Estate Vineyards  Napa Vly              2014      $45
G            ZIN         Brown Estate Vineyards  Chiles Vyd/ Napa Valley  2014      $55
G            ZIN         Calstar Cellars    Alta Zin/ Cardinini Vineyard           2014      $25
G            ZIN         Cast Wines          Watson Vyd        2013      $39
G            ZIN         Chase Cellars      Reserve, Hayne Vyd         2014      $95
G            ZIN         Corner 103          Dry Creek Valley               2012      $50
G            ZIN         DeLoach Vineyards          Forgotten Vines/ Sonoma County              2014      $36
G            ZIN         DeLoach Vineyards          Saitone Vyd         2014      $36
G            ZIN         Howell Mountain Vineyards          Old Vine               2014      $45
G            ZIN         Howell Mountain Vineyards          Beatty Ranch      2014      $55
G            ZIN         Joseph Cellars Winery     Dry Creek Valley               2013      $40
G            ZIN         Keenan Winery   Napa Valley        2013      $38
G            ZIN         Klinker Brick Winery         Marisa Vyd/ Lodi              2013      $30
G            ZIN         Ledson  Howell Mountain              2014      $60
G            ZIN         Michael David Winery     Earthqauke         2014      $26
G            ZIN         Michael David Winery     Lust        2013      $59
G            ZIN         Muscardini Cellars            Moon Mountain District 2014      $44
G            ZIN         Parmeson            Alegria  2013      $35
G            ZIN         Ravenswood Winery        Old Hill 2014      $60
G            ZIN         Ravenswood Winery        Belloni   2013      $37
G            ZIN         Ravenswood Winery        Dickerson            2013      $37
G            ZIN         Robert Biale Vineyards    Limerick Lane Vyd            2014      $62
G            ZIN         VGS Chateau Potelle        VGS/ Alto Vista Vyd          2014      $70
S             BAR        Muscardini Cellars                           2012      $38
S             BAR        Oak Farm Vineyards                        2014      $25
S             BAR        Scott Harvey Wines                         2014      $38
S             BAR        Solitary Cellars Wine Company                   2014      $26
S             BAR        Terra d'Oro Winery                         2014      $18
S             CF           Barnstormer Winery                       2014      $21
S             CF           Cosentino Winery                            2014      $60
S             CF           Monticello Vineyards                      2013      $45
S             CF           NEWBERRY                        2014      $55
S             CF           Walla Walla Vintners                      2014      $32
S             CF           Young Inglewood                            2013      $80
S             CH          Ahnfeldt Wines  Sonoma               2014      $39
S             CH          Ancient Oak Cellars          RRV/ Kent Ritchie Vyd     2014      $60
S             CH          Beaulieu Vineyard            Maestro Collection Ranch No. 8  2014      $34
S             CH          Benovia Winery La Pommeraie    2014      $48
S             CH          Bohème               English Hill           2013      $45
S             CH          Brittan Vineyards              Willamette Vyd  2014      $42
S             CH          Cast Wines          Keefer Ranch      2014      $45
S             CH          CHEHALEM Winery          Ian's Reserve      2013      $40
S             CH          Clos Du Val          Block 5A              2014      $50
S             CH          Daniel    Sangiacomo Vella Ranch, Sonoma Coast  2014      $50
S             CH          Davis Bynum Winery        River West Vinyard           2014      $25
S             CH          DeLoach Vineyards          Heintz Vineyard  2014      $50
S             CH          Eleven Eleven Wines                       2014      $48
S             CH          Ferrante Winery Reserve 2013      $24
S             CH          Fulcrum Cloisonne            2014      $29
S             CH          Glen Lyon            Hog Wilde/ Parmelee-Hill Vyd      2015      $40
S             CH          GODSPEED VINEYARDS   Mt. Veeder          2013      $35
S             CH          JCB by Jean-Charles Boisset          No. 81   2014      $35
S             CH          Jordan Vineyard and Winery         Russian River Vly               2014      $32
S             CH          Kelleher Family Vineyard Three Sisters/ RRV            2014      $65
S             CH          Kestrel Vintners  Old Vine               2015      $45
S             CH          Knights Bridge    West Block          2014      $65
S             CH          La Pitchoune       Pratt Vyd             2013      $58
S             CH          Lloyd Cellars       Carneros              2015      $40
S             CH          Michael Shaps Wineworks             Wild Meadow Vyds          2014      $30
S             CH          Monticello Vineyards       Estate Grown     2014      $38
S             CH          Oak Farm Vineyards         Lodi       2015      $25
S             CH          Patland Estate Vineyards               Napa Vly              2013      $60
S             CH          Robert Craig Winery        Gap's Crown       2014      $50
S             CH          Romililly Wines  Russian River Vly               2014      $32
S             CH          Terlato  Russian River Vly               2014      $30
S             CH          Vineyard {511}                  2015      $39
S             CH          Whitehall Lane Winery    Carneros              2015      $36
S             CH          Wm. Harrison Vineyards & Winery             Sangiacomo        2015      $38
S             CH          Wrath    Sansaba               2014      $49
S             CH          Young Inglewood             Linda Vista          2013      $60
S             CS           Ancient Oak Cellars          Tò Érgon              2012      $75
S             CS           Anthem Winery and Vineyards                    2013      $110
S             CS           Ballentine Vineyards        Reserve/ Estate Grown   2014      $95
S             CS           Barlow Vineyards             Calistoga             2013      $60
S             CS           Bespoke Collection Resolute        Resolute              2014      $24
S             CS           Castello di Amorosa         Il Barone              2014      $98
S             CS           Chateau Ste. Michelle                    2012      $48
S             CS           Cloissone             Napa Valley        2013      $35
S             CS           Clouds Rest Vineyards     Egoiste/ Sonoma Vly       2008      $75
S             CS           Dane Cellars                      2012      $40
S             CS           Davis estates      Napa     2013      $105
S             CS           Fields Family Wines                         2012      $59
S             CS           Girard    Oakville 2013      $75
S             CS           Hess Collection  Small Block Reserve         2014      $100
S             CS           Ilaria Wines                        2014      $65
S             CS           Joseph Cellars Winery     Estate, Calistoga              2012      $85
S             CS           Kamen Estate Wines        Moon Mountain District 2013      $90
S             CS           Klinker Brick Winery         Lodi       2014      $19
S             CS           Laurel Glen Vineyard        Counterpoint      2014      $40
S             CS           Lloyd Cellars       Reserve                2013      $75
S             CS           Luna Vineyards   Napa Valley        2014      $60
S             CS           Matthews Winery             Columbia Valley 2013      $55
S             CS           Paravel Winery                  2014      $100
S             CS           Pepper Bridge Winery      Walla Walla        2012      $60
S             CS           Prime Solum       Broken Rock       2012      $79
S             CS           Prix        Reserve, Estate bottled   2010      $70
S             CS           Reynolds Family Winery  201        2014      $58
S             CS           Robert Craig Winery                       2013      $90
S             CS           Robert Mondavi Winery  To Kalon Vyd      2013      $165
S             CS           Rocca Family Vineyards  Collinetta Vineyard          2013      $108
S             CS           Rodney Strong Vineyards               Reserve 2013      $40
S             CS           Shadow Box        Napa     2011      $85
S             CS           Sol Rouge            Napa Valley        2013      $75
S             CS           St. Anne's Crossing Winery                           2012      $52
S             CS           Swanson              Alexis     2013      $75
S             CS           Truchard Vineyards          Carneros              2012      $65
S             CS           Veedercrest        Mt. Veeder          2009      $70
S             CS           Veedercrest                       2008      $125
S             CS           Vineyard {511}   Diamond Mntn   2013      $149
S             CS           Vineyard 36         Thirty Six              2013      $85
S             CS           von Strasser Winery         DMD Post Vyd    2013      $50
S             CS           von Strasser Winery         Agira Vyd             2013      $80
S             CS           von Strasser Winery         Vyd 2131             2013      $80
S             CS           Winery SF            Napa Valley        2013      $60
S             CS           Winery SF            North Coast        2013      $28
S             CS           Young Inglewood             VENN    2014      $50
S             DR          Ellipsis Wines                     2015      $25
S             DR          Pestoni Family Wines                      2015      $23
S             GRE        Dane Cellars                      2014      $42
S             GRE        Lava Cap Winery                              2014      $28
S             GRE        Tedeschi Family Winery  Sonoma Coast    2013      $30
S             GRE        VIE         L'Imaginare         2013      $45
S             GRE        Wattle Creek Winery                      2014      $38
S             LH          Bouchaine           Bouche d'Or        2014      $30
S             LH          Harney Lane Winery        Lizzy James         NV          $35
S             LH          kestrel Vintners  Ice Wine              2014      $40
S             LH          Reynolds Family Winery  Naughty Sticky   2016      $20
S             LH          Tedeschi Family Winery  Napa Valley        2014      $55
S             ME         Ballentine Vineyards        Estate Grown     2014      $35
S             ME         Clos Du Val          Block 6  2013      $60
S             ME         Cosentino Winery                            2014      $45
S             ME         John Anthony Vineyards  Crane Vineyard, Napa     2014      $70
S             ME         Keenan Winery   Reserve, Mailbox Vyd      2013      $70
S             ME         Matthews Winery             Columbia Valley 2013      $55
S             ME         Paloma Vineyard                             2013      $60
S             ME         Silverado Vineyards          Mt George          2013      $38
S             ORB       Barrister Winery               Rough Justice     NV          $23
S             ORB       Corner 103          Corner Cuvée     2014      $45
S             ORB       Sol Rouge            Gypsy Rouge       2013      $32
S             ORB       Stags' Leap Winery           The Investor       2013      $58
S             ORB       VIE         L'Etranger           2013      $45
S             ORS        Bouchaine           Pinot Meunier    2014      $40
S             ORS        King Family Vineyards      Petite Verdot      2013      $36
S             ORS        Klinker Brick        Carignan              2014      $25
S             ORS        Michael David Winery     Inkblot  2014      $35
S             ORS        Veedercrest        Malbec  2009      $90
S             ORS        VIE         L' Intruse             2013      $45
S             OWB      Acquiesce Winery             Grenache Blanc- Estate Wine, Lodi                                               2015      $24
S             OWB      Alexana Winery  Gran Blanc          2014      $40
S             OWB      Italics Winegrowers         White Blend        2014      $48
S             OWS      Ferrante Winery Gewurztraminer 2013      $15
S             OWS      Glen Manor Vineyards     Petit Manseng    2015      $35
S             OWS      Glenora Wine Cellars       Gewurztraminer 2015      $15
S             OWS      Knapp Winery     Dry Riesling         2015      $16
S             OWS      Knapp Winery     Riesling 2015      $16
S             OWS      Maldonado Family Vineyards        Pinot Gris             2015      $25
S             OWS      Reustle – Prayer Rock Vineyards   Gruner Veltliner 2014      $29
S             OWS      RIVINO Estate Winery     Pinot Blanc          2015      $25
S             OWS      The Hess Collection         Albrino  2015      $28
S             PN          Ancient Oak Cellars          Alcman  2014      $58
S             PN          Apriori Cellar                     2014      $28
S             PN          B Cellars Vineyard & Winery         Dutton Ranch, Manzana Vyd        2014      $68
S             PN          Bannister Wines                2013      $52
S             PN          Beaulieu Vineyard            Maestro Collection Ranch No. 5  2015      $38
S             PN          Benovia Winery Martella               2014      $60
S             PN          Benovia Winery La Pommeraie    2014      $60
S             PN          Bohème               Stuller Vyd           2013      $53
S             PN          Bohème               English Hill           2013      $49
S             PN          Brittan Vineyards              Basalt Block        2013      $48
S             PN          Carneros Wine Company               Mahoney Vineyards         2013      $38
S             PN          CHEHALEM Winery          Reserve Pinot Noir           2013      $80
S             PN          Corner 103          Russian River Vly               2013      $50
S             PN          Daniel    Laguna Vyd, Russian River Vly      2014      $60
S             PN          Davis Family Vineyards                   2014      $45
S             PN          Dutcher Crossing Winery               Russian River Valley/ Maboroshi Reserve 2014      $47
S             PN          Ellipsis Wines      Anderson Valley 2014      $40
S             PN          Etude Wines       Fiddlestix Vyd     2014      $50
S             PN          Etude Wines       Deer Camp Vyd  2014      $75
S             PN          Etude Wines       Heirloom Vyd     2014      $95
S             PN          Expression           Expression 39     2013      $50
S             PN          Ferrante Winery                2014      $30
S             PN          Flanagan                             2014      $78
S             PN          Foretell Wines                   2013      $75
S             PN          Fulcrum On Point              2014      $36
S             PN          Fulcrum Anderson Valley 2014      $58
S             PN          Joseph Jewell     Russian River Valley         2013      $34
S             PN          Joseph Jewell     Floodgate Vyd    2013      $46
S             PN          La Pitchoune                      2013      $48
S             PN          MacPhail Wines Mardikian Estate              2014      $85
S             PN          Maple Creek Winery        ARTEVINO           2014      $40
S             PN          Prim Family Vineyard       Apex / Santa Lucia Highlands        2014      $35
S             PN          Prim Family Vineyard                      2014      $60
S             PN          Reustle – Prayer Rock Vineyards                  2013      $39
S             PN          Reynolds Family Winery                 2013      $48
S             PN          Robert Mondavi Winery                 2014      $60
S             PN          Romililly Wines                 2014      $35
S             PN          Row Eleven Wine Company                         2014      $36
S             PN          Shadowbox Cellars                          2013      $56
S             PN          Talisman Wines  Red Dog Vyd/ Sonoma Mtn           2013      $56
S             PN          The Hess Collection         Pratt Vineyard    2014      $50
S             PN          The Withers Winery         Charles Vineyard               2014      $44
S             PN          The Withers Winery         Peters Vineyard  2014      $44
S             PN          VIE         Northcoast         2014      $40
S             PN          Westerhold Family Vineyards                      2013      $52
S             PN          Westwood Estate Wines               Pommard Clone 2014      $54
S             PN          Westwood Estate Wines               Reserve 2014      $64
S             PN          Winery SF            North Coast        2014      $30
S             PS           Brown Estate Vineyards  Petite Sirah         2014      $60
S             PS           Hindsight                            2012      $35
S             PS           Muscardini Cellars                           2013      $37
S             PS           Paravel Wines                   2014      $82
S             PS           Robert Biale Vineyards    Royal Punishers  2014      $45
S             PT           RIVINO Estate Winery     Portia Snow        NV          $35
S             PT           RIVINO Estate Winery     Portia Scarlet      NV          $45
S             PT           St. Amant Winery             Bootleg Port       2014      $18
S             PT           St. Amant Winery             Vintage Port       2012      $35
S             PT           Terra d'Oro Winery                         NV          $25
S             RBSB      Alexander Valley Vineyard             CYRUS   2012      $65
S             RBSB      Ferrante Winery Cask 1016            NV          $30
S             RBSB      Glenora Wine Cellars       Meritage             2015      $30
S             RBSB      Hindsight             20/20    2014      $35
S             RBSB      King Family Vineyards      Meritage             2009      $70
S             RBSB      King Family Vineyards      Meritage             2014      $33
S             RBSB      Medlock Ames   Snakepit Red       2014      $60
S             RBSB      Muscardini Cellars            Rancho Salina     2013      $54
S             RBSB      Pepper Bridge Winery      Trine      2012      $65
S             RBSB      The Hess Collection         19 Block Mountain Cuvee              2013      $38
S             RBSB      von Strasser Winery                        2013      $135
S             RBSB      von Strasser Winery                        2013      $80
S             SB           Beltane Ranch                   2015      $29
S             SB           Benziger Family Winery   Paradiso de maria            2015      $32
S             SB           Castello di Amorosa                        2015      $27
S             SB           Clos Du Val                         2015      $24
S             SB           Clouds Rest Vineyards     Forbidden            2013      $30
S             SB           Glen Manor Vineyards     Sauvignon Blanc               2015      $26
S             SB           Idle Cellars                         2015      $26
S             SB           J. Cage Cellars    Tzabaco Rancho Vyd       2015      $27
S             SB           John Anthony Vineyards  Carneros, Napa Valley     2015      $25
S             SB           Jones Family Vineyards                  2014      $40
S             SB           Oak Farm Vineyards                        2016      $20
S             SB           Peju                      2015      $25
S             SB           Red Mare Wines                              2015      $38
S             SB           Reustle – Prayer Rock Vineyards   Estate Grown     2015      $23
S             SB           Reynolds Family Napa Valley        2014      $33
S             SB           Tedeschi Family Winery  Napa Valley        2015      $26
S             SB           Tenor Wines                      2013      $48
S             SB           Vinoce Vineyards              Lori's Lucky Penny            2014      $45
S             SB           von Strasser        Rudy, Napa         2015      $29
S             SB           Wattle Creek Winery       Sonoma               2015      $24
S             SP           Breathless Wines              Brut Rose            NV          $32
S             SP           Breathless Wines              Blanc de Noir      NV          $30
S             SP           Davis Family Vineyards    Rose de Noir       2014      $55
S             SP           McIntyre Vineyards          L'Homme Qui Ris, Methode Champenoise, SLH     NV          $36
S             SP           Pope Valley Winery                         2011      $45
S             SP           Thibaut-Janisson               Extra Brut            NV          $33
S             SP           Thibaut-Janisson               Blanc de Chardonnay       NV          $33
S             SY           Baldacci Family Vineyards             Allwin/ Carneros               2013      $45
S             SY           Bartholomew Park Winery            Estate Vyd           2013      $45
S             SY           Daniel    Soberanes Vyd, SLH         2012      $50
S             SY           Gramercy Cellars              The Deuce/ Walla Walla Valley    2014      $54
S             SY           Hagafen Cellars Estate bottled, Coombsville, Napa             2014      $36
S             SY           Kestrel Vintners  CoFerment / Winemakers Select Series     2012      $45
S             SY           Lagniappe Peak Vineyards             Pugsley/ Atlas Peak          2013      $60
S             SY           Muscardini Cellars            Sonoma Valley   2012      $48
S             SY           Riverain                              2013      $48
S             SY           Sol Rouge            Red Hills/ Lake County    2013      $36
S             SY           VIE         Thompson Vyd   2013      $49
S             SY           VIE         Les Amours, Santa Barbara           2013      $47
S             SY           VIE         Wynonnas Vyd   2014      $45
S             SY           Walla Walla Vintners       Walla Walla Valley           2013      $40
S             VIO        Acquiesce Winery             Estate Wine, Lodi             2015      $24
S             VIO        Dobbes Family Estate      Sundown Vineyard – Rogue Valley             2015      $26
S             VIO        DRNK                    2014      $28
S             VIO        Glen Lyon            Clown Series/ Suzie's Toast           2015      $30
S             VIO        Idle Cellars                         2014      $26
S             VIO        J. Cage Cellars    Mounts Vyd/Dry Creek Valley       2015      $35
S             VIO        Lava Cap Winery               El Dorado            2014      $34
S             VIO        Liana Estates      Mendocino         2015      $32
S             VIO        Michael Shaps Wineworks                            2015      $28
S             VIO        Sol Rouge                           2015      $32
S             ZIN         ACORN Winery   Alegria Heritage Vines     2014      $45
S             ZIN         Alexander Valley Vineyards           Redemption/ Dry Creek  2013      $22
S             ZIN         Alquimista Cellars             Jessie's Grove Ancient Vine           2015      $49
S             ZIN         Bartholomew Park Winery            Estate Vyd           2014      $47
S             ZIN         Bokisch Vineyards            Tizona   2013      $32
S             ZIN         Dane Cellars       Sonoma Valley   2013      $36
S             ZIN         Dry Creek Vineyard          Beeson Ranch    2014      $40
S             ZIN         Frank Famaily VIneyards Reserve 2014      $55
S             ZIN         Harney Lane Winery        Scottsdale Vyd/ Lodi        2014      $34
S             ZIN         Harney Lane Winery        Lizzy James Vyd  2014      $36
S             ZIN         Judd's Hill Winery             Mokelumme River            2014      $34
S             ZIN         Klinker Brick Winery         Old Ghost            2013      $37
S             ZIN         Lucchesi Vineyards & Winery        Sierra Foothills/ View Forever Vyd              2014      $25
S             ZIN         Papapietro Perry               Dry Creek Valley               2013      $43
S             ZIN         Paul Simeon Wines           St. Sophia/ Lodi  2014      $25
S             ZIN         Rodney Strong Vineyards               Knotty Vines Estate Vyds               2014      $25
S             ZIN         Romililly Wines  Moon Mountain District 2014      $45
S             ZIN         Scott Harvey Wines          Vineyard 1869    2014      $48
S             ZIN         Sol Rouge            Red Hills/ Lake County    2013      $32
S             ZIN         St. Amant Winery             Marian's Vyd/ Old Vine/ Lodi        2015      $24
S             ZIN         St. Anne's Crossing Winery            Old Vine / Dry Creek        2014      $34
S             ZIN         St. Anne's Crossing Winery            Hammertown     2014      $40
S             ZIN         Terra d'Oro Winery          Deaver Vyd         2014      $30
S             ZIN         Trecini Winery    Rockpile/ Sonoma County             2014      $34
Related Articles
Share
About Author
(0) Readers Comments