By Greg Carannante
City & Shore Magazine
Picasso in St. Pete. Shakespeare in Orlando. Megan Thee Stallion in Okeechobee. Three appealing arts experiences that involve a bit of a drive. Call it, if you will, a long-distance culture crawl (or counterculture, perhaps, in Okeechobee's case).
And yes, we're aware that when it comes to the arts, there's more than enough going on right here this time of year. But, you know, sometimes it's just nice to get away.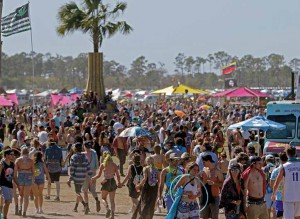 File photo by John McCall
Okeechobee Music & Arts Festival
March 3-6, Sunshine Grove, 12517 NE 91st Ave., okeechobeefest.com.
In January 1967, the Human Be-In spearheaded the Summer of Love in San Francisco and what became known as the counterculture. Flash forward 55 years and that Be-In spirit is alive and well in the Okeechobee festival, which has adopted the original's mantra of "Be Here Now" as its own. About 40,000 strong in 2020 before last year's COVID washout, the tribes will convene to celebrate the fest's fifth anniversary at Sunshine Grove just north of the lake.
While music is naturally the main attraction — and there's more of it on seven stages than is humanly possible to absorb — this is not your basic music festival-cum-camping experience. It's a celebration of community and an alternative culture that transcends the musical performances, which, btw, are accompanied by one-of-a-kind light shows and headlined by Australian indie group Tame Impala, DJ Porter Robinson and the aforementioned Ms. Stallion.
The bucolic grounds are landscaped with natural artworks, street art, interactive installations, yoga classes, speakers, wellness and art workshops, a vendor village, a psychedelic vaudeville venue and the whimsical maze of tiny huts, nooks and lounge areas known as the Lost in Tea Lounge. The campground includes a Healing Sanctuary and the self-explanatory Yogachobee. And let's not forget the lake — not the big one, of course, but still … a lake with a beach!
Admission ranges from a four-day General Admission Eco Pass at $299 to the Glamping RV Package at $10,000.
Setting up for last year's Orlando Shakes. Photo by Joe Burbank
Much Ado About Nothing
March 9-April 2, Orlando Shakes, 812 E. Rollins St., Orlando, orlandoshakes.org.
After Okeechobee, you might find yourself unusually open to persuasion — the perfect time to take the two-hour Turnpike drive to Orlando, decompress for a couple of days and then catch a Shakespeare play. No? Seriously, the change will do you good.
Admittedly, Shakespeare is not the first character that leaps to mind when someone says let's go to Orlando. But alas, there in Disney's domain, an actor is pronouncing that all the world's not a theme park. That actor is figuratively on the stage of Orlando Shakes, one of the region's most acclaimed professional theaters and applauded as "Broadway worthy" by The Wall Street Journal.
Ambitious productions of contemporary works like Les Misérables and In the Heights complement the company's Shakespeare repertoire — such as the production of Much Ado, the Bard's sharp-tongued romcom about lovers and their lies. For those who require a longer bounce-back from Okeechobee, Orlando Shakes also presents Bare Bard: Henry IV, Part 2 from April 13-24. In this stripped-down performance, actors channel those of Shakespeare's era, taking the stage with minimal rehearsal, no designers and no director.
Both productions are in the Ken and Trisha Margeson Theater, a 324-seat space that wraps around the stage on three sides for an intimate theatrical experience. Tickets range from $22 to $56.
Also, before you leave town you may want to swing by the Orlando Museum of Art to catch the stunning photographic exhibition, "Cathedrals of Florida: Masterworks by Clyde Butcher." It's there through June 30, omart.org.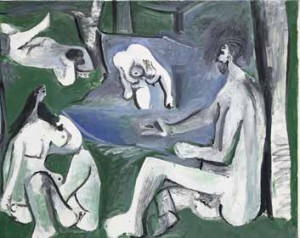 From the St. Pete exhibition: Pablo Picasso, Le Déjeuner sur l'herbe d'après Manet (Luncheon on the Grass, After Manet), 1961, oil on canvas. 60 x 73 cm. Musée national Picasso-Paris. Acceptance in lieu Pablo Picasso 1979. MP 217, @ Estate of Pablo Picasso/Artists Rights Society (ARS), New York.
Picasso and the Allure of the South
Jan. 29-May 22, Salvador Dalí Museum, 1 Dali Blvd., St. Petersburg, thedali.org.
After making peace with the fact that, yes, you've been to Orlando to see Shakespeare, take the next two-hour swing westward on Interstate 4 to St. Petersburg and encounter something perhaps even more bizarre — a Picasso exhibit at The Dalí museum.
The exhibit presents 77 paintings, drawings and collages, approximately half of which have never been seen in this country and which reflect the influence of southern Europe on Picasso's revolutionary work. It was during sojourns in northern Spain and southern France that he enjoyed some of his most prolific periods and created many of his most important contributions to modern art.
Organized with the Musée National Picasso-Paris, holder of the most significant collection of the artist's works, the exhibit comprises portraits, still lifes, figural studies and landscapes, as well as historical photos of the master in his studios.
And then, of course, since you're there — drink it all in with a Dalí chaser.
Adult admission ranges from $23-$29.
MAIN PHOTO: The Dali museum. (Courtesy).
Related Articles
Share
About Author
(0) Readers Comments