Any given weekend in South Florida, at any given 5K run or 100-mile bike ride or paddleboard meet-up, you'll find people pushing an advanced decade who may be in better shape than those half their age. Do they possess a secret for all of to staying young?
It's one of many intriguing questions we pose this weekend in PRIME – a 140-page special issue of City & Shore Magazine. Now in its third year, our award-winning magazine is all about sharing good, local advice for life after 50 in South Florida.
We listen to noted Wellington resident Bruce Springsteen, for example, about his struggles with depression – and how he's inspiring others to seek help. We learn from Rose Bechard-Butman of Plantation how to cook Italian dishes just like her Grandma Josephina used to make. We even learn how to live large and dance "like everyone's watching" from Fort Lauderdale residents Bob and Diane McDonald, 81 and 79, respectively.
Through the years, the couple never passed up a chance to dance. Now everyone can pass around a greeting card with their smiling faces on the cover – still dancing, still having fun.
There is advice, wisdom and good times– here for everyone here, young and older. Seen, like PRIME tries to see things, from the perspective of time.
All that and more in the May issue of PRIME, delivered on Sunday, May 7, exclusively to home subscribers of the Sun Sentinel.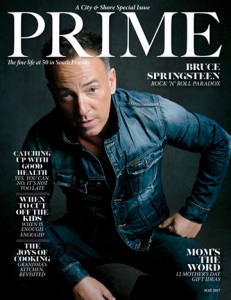 Related Articles
Share
About Author
(0) Readers Comments