By Robyn A. Friedman
City & Shore 20th Anniversary Issue
As a resident of South Florida for the past 26 years, I've seen changes resulting from the real estate development that continues to this day. When I moved into my home west of Boca Raton, I lived in a community that was about as far west as you could go and still have a Boca mailing address. Today, there are thousands of homes even further west, some even abutting the dike that separates suburbia from the sawgrass.
I've watched the population here swell, as residents of other states flock to the sunshine and join the ranks of South Floridians, whether in search of a tax haven or, more recently, for the ability to social distance in paradise.
But there are three real estate trends that I think have had the greatest effect on South Florida development. These trends are based on changing demographics, from the aging and retirement of the baby boom generation to the yen of the millennial generation for a minimalistic lifestyle.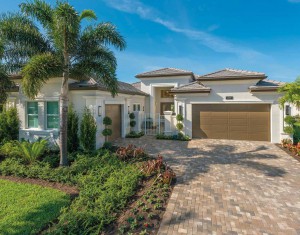 The Rise of the 55+ Community. It's difficult to drive through Boynton Beach or Delray Beach without passing a 55+ development, often referred to as "active adult." These communities can be found throughout South Florida and are popping up in many other states as well. They were designed to meet the needs of an aging population that's healthy, active – and affluent. Many newer developments consist of single-family homes with plenty of room and upscale features and amenities. There are glitzy clubhouses with pools, tennis courts, cafes and numerous clubs to keep residents busy.
Sunrise-based GL Homes is a major player in this space, building 55+ projects under its Valencia brand name. Since its first community, Valencia Lakes, pictured above, was constructed in Boynton Beach in 1996, GL has sold close to 10,000 55+ homes in South Florida. Its latest community in Boynton Beach, Valencia Sound, has models ranging from $550,000 to $1 million.
The Rise of the Luxury Apartment. The "tenant by choice" trend hasn't escaped South Florida. Driven by demand from affluent empty-nesters who no long want the responsibilities of homeownership and by young professionals like Millennials, who can afford to own but choose to rent instead, developers have responded, and the number of high-end rentals has skyrocketed.
According to RENTCafe, an apartment-listing website, 1,900 Class A and A+ apartments were delivered in South Florida in 2000. Last year, through October 2020, there were 5,000 completed. Asking rents are aggressive. In fact, in many cases it's more affordable to own a home rather than rent one in South Florida.
One example of a newly developed luxury apartment community is Novo Las Olas, a 341-unit project in downtown Fort Lauderdale by Stiles Residential Group, pictured above, that was designed to deliver a luxury urban living experience to tenants. The residences here feature premium finishes, such as quartz countertops and wood-plank style flooring, and there is a full slate of amenities, such as a resort-style pool, fire pit, co-working lounge, pet facilities and the city's first GreenWise Market. Rents range from $1,800 to over $4,000 per month for studio to three-bedroom units sized from 600 to 1,400 square feet.
The Rise of Fort Lauderdale, pictured above. Twenty years ago, I used to love to drive down to Fort Lauderdale, poke around the souvenir shops and enjoy a fried fish sandwich across the street from the ocean. It was a great way to feel like a tourist for the day. Today, however, the city and its beach area are very different, and you're more likely to encounter business moguls than spring-break revelers there. According to the Fort Lauderdale Downtown Development Authority and the Greater Fort Lauderdale Alliance, the population of Fort Lauderdale has increased by 19.7 percent between 2000 and 2019, while the population of downtown Fort Lauderdale increased by 27.5 percent. Total housing units grew by 55.1 percent downtown and by 19.3 percent in Fort Lauderdale overall. And, perhaps the biggest change over the past two decades has been the rise in median household income, as affluent individuals flocked to the area from the northeast and high-tax states in search of a tax haven, not to mention the advantages of living in a world-class city with the ability to golf year-round. The median income downtown rose by 108.9 percent between 2000 and 2018, while the median income of Fort Lauderdale overall grew by 45.9 percent. Due to an attractive business climate, many companies have relocated to the greater Fort Lauderdale area as well.
And what's to happen during the next two decades? Trends continue to evolve. For example, in the wake of the COVID-19 pandemic, consumer homebuying preferences are now shifting, as telecommuting provides the flexibility to live further from large metros or to relocate to more affordable suburban areas. So, it's possible South Florida will look totally different 20 years from now. I guess I'll just have to hang around to see.
Related Articles
Share
About Author
(0) Readers Comments