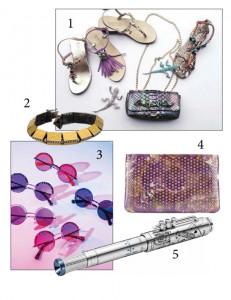 By Elyse Ranart
City & Shore Magazine Fashion and Style Director
Spring to me in South Florida is all about shopping for new sandals! If you wondered what ever happened to Ermare, that sensational little shoe boutique at The Galleria Fort Lauderdale – good news – it's still here, now called Rinaldi Shoes in a new location. From sexy snakeskin to shiny bejeweled styles, I found the selection at Rinaldi to be fantastic. A lot of the shoes are exclusively theirs, too, so you won't see everyone else walking around in the same pair. While you're there, take a look at their collection for fall (some great sale prices); not to mention their cute bags, too. Rinaldi, 954-999-5235 
If you're going to buy one new piece of jewelry this season, I'd suggest a great bracelet, which will show beautifully on bare arms as the weather warms up. With all the good and not-so-good pieces out there, allow me to suggest something truly special: Kurtulan from Turkey. The post-modern designs are chic and the price point is reasonable. Daoud's Fine Jewelry in Fort Lauderdale just introduced this cool and classic collection, definitely worth checking out. Daoud's Fine Jewelry, 954-WATCHES.
Sunglasses – always fun and fashionable in the Sunshine State – is the one accessory you can't be without. Some of my favorites are from Alain Mikli, a French eyewear designer  who developed a name in the '80s. (Check out two archival frames from 1985 just released that are perfect for the '80s influence in fashion this year).  I found these and more fantastic frames at Optical Spectrum on Las Olas Boulevard, Fort Lauderdale, 954- 463-1566.
Handbags are another obsession of mine, and I can't resist a classic clutch. This Loubiposh Spiked Petal-Print Clutch is especially fab – talk about a showstopper!  It comes in several color combinations and is bound to be one of the "it" bags for spring. I found it at Neiman Marcus, Town Center at Boca Raton, 561-417-5151.
While looking for jewelry to feature in my story for the February issue, "Natural Beauties," I came across this magnificent piece. It may not be jewelry, but the Miles Davis Limited Edition pen from the Great Characters series is a real gem. A fantastic gift for a serious Miles Davis devotee, its limited edition status makes it extra special.  Exclusively from Weston Jewelers, 954-389-7990
Related Articles
Share
About Author
(0) Readers Comments