By Greg Carannante
City & Shore Magazine
They were the best of times. They were the worst of times.
No, really, they probably were the worst of times.
The years 2001 and 2021: two decades apart but both connected by tragedy. One scarred by the horror of 9/11, the other haunted by a global pandemic.
Nevertheless, these two years have given us the silver lining of something to toast today — the 20th anniversary of City & Shore.
In his introductory column, editor Mark Gauert summed up the magazine's founding principle in eight words: "South Florida is a great place to live." And its raison d'etre was printed on the cover: "Savoring the good life in South Florida." City & Shore now has continued to do that with award-winning panache over two decades — in good times and bad.
And the times were good — and so different — when our debut issue dropped hand-in-hand with the new millennium. So, for a bit of perspective as we mark this milestone with you, the readers who've accompanied us, let's take a day trip back to 2001. And as our guide, let's borrow from some of the stories that savored the good life in South Florida during our premiere year.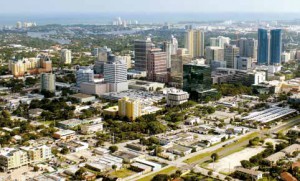 The City & the Shore
In a story in our first issue, writer Matt Schudel made a case for living in East vs. West Broward. He quoted Margaret Murray, an urban planner at FAU.
"I keep trying to sell eastern Broward," Murray said. "There are a lot of reasons, not the least of which is that the roads are not so busy. When you think of how easy it is to get around, it amazes me that people aren't swarming over here."
Uh, hellooo! Be careful what you wish for. Anyone who has tried to drive through downtown Fort Lauderdale recently might long for those halcyon days of 2001 traffic. And driving to the city or anywhere else via I-95 often involves taking your life in your hands, if not a stop-and-go nightmare. However, since its 2010 expansion, I-595 has made traveling east-west in south Broward a relative dream (except for rush hour, of course).
In 2001, years before the high-rise condo boom dramatically altered its skyline and lifestyle, downtown Lauderdale had only three buildings that rose taller than 300 feet. There are five times that many today. Many are luxury condos that tower over a glut of new and coming-soon residential buildings to accommodate a city that has grown by at least 7 percent since 2000, and that — after shrinking by over 5 percent in the first decade — has seen a population spike of over 10 percent in the second decade. The impressive growth goes hand-in-hand with Broward County's — 18.5 percent since 2000.
The rise of the urban center that was revitalizing many cities near the turn of the century was also unfolding in Fort Lauderdale, where the amenities included yachting capital, golfer's paradise and water wonderland in a subtropical clime. In his popular "Mr. Downtown" column in our October/November 2001 issue, Sun Sentinel nightlife writer Ben Crandell spoke to the trend:
"With the great reawakening of New Urbanism that has been sweeping the country, cities large and small have devoted time, energy and millions in consultant's fees with one thing in mind: to make a scene."
Scenes were also starting to be made in cities like Boca Raton, Delray Beach and Hollywood, where the ArtsPark had not yet beautified Young Circle, as well as in western cities like Weston, where Town Center had just opened. In 2000, CityPlace debuted and went on to do for West Palm Beach what the then-new Las Olas Riverfront complex was never able to maintain in Fort Lauderdale.
Nonetheless, back in 2001, Riverfront, now the site of the Covid-controversial Wharf, was a spiffy alternative to the city's traditional Las Olas and waterfront hot spots. Just across the tracks, Himmarshee Village was coming into its own, though Flagler Village was still largely an inner-city warehouse district where the current hip hubs of F.A.T. Village and the MASS District were not yet rendered in blueprint.
While downtown Lauderdale's recent high-profile revival was mostly just a vision in 2001, a transformation had already begun taking shape on the beach. Then, the Elbo Room and the Parrot were not the sole survivors that they essentially are now of the wet T-shirt era that made "Fort Liquor-dale" famous. But the nightlife and shops at the new-ish Beach Place were a hot harbinger of ritzier things to come. The metamorphosis, though, was still just a chrysalis of the fancy beach butterfly that's emerged since the subsequent arrival of luxury hotels like the Ritz-Carlton, the W and the Conrad — the city planners' coup de grâce in remaking the beach's image from Spring Break headquarters to a destination for families and foreign tourists.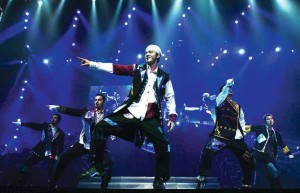 Entertainment & Celebs
"And they said it wouldn't last. Yet here we are five years later and boy-band-mania refuses to go away."
That's how longtime entertainment maven Deborah Wilker led off her first "Just the Ticket" column in our second issue. She was referring to 2001 tours by the Backstreet Boys and 'N Sync, both of which launched in South Florida. Well, 20 years later, boy bands are still rearing their pretty, but much older, heads — such as the Boys' massive DNA World Tour, which already stopped at Sunrise and is set to return June 23, to West Palm Beach. Not to mention younger groups like the seven-headed South Korean monster named BTS.
In '01, when the King of Pop moonwalked through his 30th Anniversary Celebration concert at Madison Square Garden, Britney Spears was the Princess of Pop, dancing with a 7-foot albino Burmese python on the VMAs. AOL named her the year's most-searched person and Forbes listed her as the year's fourth highest-paid celebrity, right behind the only other Top-5  musical act — The Beatles. January's Super Bowl halftime show featured Brit-Brit (as well as 'N Sync). And coming off international record-breaker Oops!… I Did It Again, she did it again with her third album and fourth tour, which stopped at the AAA in December.
Nevertheless, hip-hop had already initiated its infiltration of pop genres that has ostensibly attained total pop immersion with the recent country-rap phenomenon of Old Town Road. On its way, it dropped the mic on rock and became America's dominant genre.
Speaking of dominance: streaming. Twenty years ago music streaming didn't exist. Along came a couple of little 2001 innovations named iTunes and the iPod, hitting fast-forward on a digital musical evolution that eventually begat streaming services like Spotify. Now streaming makes more money than physical CDs, digital downloads and licensing deals combined.
There were a few other auspicious debuts, too. Harry Potter and the Sorcerer's Stone launched a franchise, spellbound a zillion fanatics and bewitched the year's box office; The Fellowship of the Ring set off The Lord of the Rings trilogy, one of the highest-grossing film series ever; and the prototypical British version of The Office cleared the desk for our beloved Scranton branch. Oh, and let's not forget a pro wrestler by the name of The Rock, who laid a diving knee drop on Hollywood with his first movie role as the Scorpion King in The Mummy Returns.
"Is there anything Dwayne Johnson can't do?" asked writer John Parkyn in our August 2001 "Cause Celeb" column. "Now, with Hollywood beckoning, he is hoping he can parlay his formidable charisma into a movie career."
Mission accomplished, you might say. A resident of Davie at the time, Johnson has gone on to make over 65 movies and become the biggest movie star in the world. (He plummeted all the way down to No. 2 last year.)
The Rock, who owns a $5 million Miami mansion, is just one of a litany of celebrities — from Cher to Shaquille to Shakira — attracted by the balmy magic of South Florida. That much was clear going back to our first issue, in which professional celebrity hound Jose Lambiet and illustrator Bonnie Lallky-Seibert created a "Map to the Stars" that placed dozens of celebs in Broward, Miami and Palm Beach. In the accompanying "The Insider" column, one of them who famously haunted Fort Lauderdale, Dennis Rodman, explained the attraction (at least for him):
"Hey, South Florida is a cool place, know what I'm saying? The women are sexy, the weather's nice. And the clubs are fun. Here, I can be Dennis Rodman."
In South Beach, there was something about Cameron Diaz's pan-Asian restaurant, Bambú, that was attracting big names like Clooney, Ford and Pacino. The actress was too busy working on five new films to actually frequent the place herself, as noted in the aforementioned "Cause Celeb" column. Or maybe it was that, "according to her friends, her favorite fare is a cheeseburger and 'the greasiest French fries she can find.'"
Dining
On the subject of restaurants and VIPs, "The Insider" also gave props to Fort Lauderdale, where Cafe Martorano (now marking a 30th anniversary of its own) was attaining star status as a celebrity hangout just off the beach on Oakland Park Boulevard.
"One night last year, the pricey 12-table restaurant looked like a scene out of The Sopranos," Lambiet said. "Most of the cast members of the celebrated HBO series, in town for a promotional junket, descended on the place like mobsters on a backroom gambling parlor."
He noted that another "made man," Robert De Niro, could often be seen mangia-ing homemade mozzarella just up the street at Rino's Cafe.
In South Florida and beyond, the cult of the celebrity chef was starting to heat up. For one, Rachel Ray was putting her 30-Minute Meals into the Food Network oven and setting the timer for 11 years. New episodes are set to resume this year.
Our August-September issue rode the South Florida wave of the craze and named the area's five best: Norman Van Aken (then at Norman's, Coral Gables), Eduardo Pria (Eduardo de San Angel, Fort Lauderdale), Angelo Elia (Casa D'Angelo Ristorante, Fort Lauderdale), Oliver Saucy (Cafe Maxx, Pompano Beach) and Michelle Bernstein (Azul, Miami).
A tribute to their prowess and our writer's prescience, all have stood the test of time in South Florida's mercurial dining market and pre-Covid were still tempting palates at original or newer establishments or with catering enterprises.
As always, brunch was big in 2001 when our April-May's issue's "Fine Dining" feature by Judith Stocks mimosa-ed its way through eight of the best spots for the Sunday ritual, such Martha's on the Intracoastal in Hollywood. Now dearly departed, Martha's was memorable for its sweeping waterfront views as well as its dramatic dining-room flambé-ing of Bananas Foster.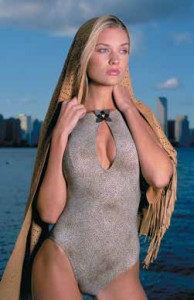 Fashion
Miami Fashion Week was only 3 years old in 2001, when models from around the world stood out like seductive South Beach tourist attractions in a city already strutting like an international fashion capital. And fashion was also an indispensable presence in City & Shore, with the first year's stories covering party fashion (from formal gowns to snakeskin pants), bridal wear (photographed on the Broward Center stage), menswear (for men and women) and, of course, the de rigueur SoFla ensemble — swimsuits.
Accompanying stunning photos by Sun Sentinel photographer Robert Duyos, fashion oracle Rod Hagwood brought his distinctive flair to our first swimsuit spread:
"This season designers are floating their hopes on the return of the itsy-bitsy bikini and sleek one-pieces slathered in sheen. The texture comes from crocheted fabrics, beading and even fringe — all reminiscent of '70s glam. If you stare at the photos long enough, you can hear the disco thump of a fashion show over the crash of waves."
Today, the bikini is back in black. "Investing in a sophisticated black two-piece is the beach and poolside equivalent of a little black dress," according to Vogue's 2021 forecast.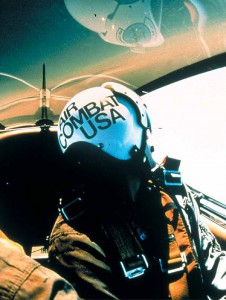 Travel
City & Shore's several special travel issues that "Explore Florida" have followed the lead of our first issue's "Destinations" column on weekend getaways. One featured a pretty wild airborne adventure offered by Kissimmee's Air Combat USA, which let civilians ride shotgun with a "fighter pilot" in a Marchetti aircraft and play a $900 game of dogfight laser tag.
For more conventional flights, going to the airport was a lot less stressful when that first issue of the magazine dropped in January. You could show up to check your bags a half-hour before a domestic flight. When you got to the security checkpoint, you'd be surprised if there was a long line, and you'd never have to take off your shoes before skipping through the metal detector while sipping your super-sized Sprite.
You wouldn't have to show an ID. You'd rarely be subjected to a pat-down and you'd never have to pose for a full body scan. You could even carry on a box-cutter, a knife with a four-inch blade or a cigarette lighter.
There was only a 5 percent chance your checked bag would be screened; today, all checked luggage is. And — get this — when you arrived at your destination, your friends and family could actually meet you at the gate!
Of course, that was all before 9/11. And any remembrance of what life was like 20 years ago could not ignore the consequences of that horrific day, which fundamentally altered our country and still reverberate today. For most Americans, the lucky ones, the effects have perhaps been felt most tangibly at airports — or in entering buildings with increased security like automatic-locking doors and keypads requiring codes for employees, who now must always wear a security badge.
Immeasurably beyond such inconveniences, the lives of many Americans have been lost or decimated by al-Qaeda's attacks and the subsequent wars that have killed over 7,000 U.S. troops and wounded over 52,000. But on the early morning of Sept. 11, 2001, Osama bin Laden was virtually unknown and the United States was not officially at war.
Before the ensuing War on Terror, our attitudes and concerns about safety, vigilance and privacy were dramatically different. Within two months of the attack, the passing of the Patriot Act expanded the government's authority over phone and email communications. Formed about a year later, the Department of Homeland Security has now grown into the third-largest federal cabinet department. Before both came along, our surveillance state was a fraction of its current size and the U.S. deported half the number of people it does now.
And in November 2001, the Transportation Security Administration was created. Soon, our trips to the airport would bear little resemblance to the easy-sailing scenario that opened this section.
Millennial Miscellany
When the new millennium officially began in 2001:
President George W. Bush was sworn in following an eerily familiar election controversy climaxed by the 5-4 Supreme Court decision that ended the Florida recount.
Wikipedia went online.
Blogging was big, but there was no such thing as social media. It would be three years before Facebook was launched (and four before YouTube streamed its first video).
The first draft of the complete human genome was published in Nature.
The Netherlands became the first country to make same-sex marriage legal.
Tiger Woods won the Masters, becoming the first golfer to hold all four professional major titles at once.
The first Apple Store opened, in New York.
The Xbox was released in the United States.
The People's Republic of China was granted permanent normal trade status with the United States.
The Oscars went to Gladiator, its star Russell Crowe and Julia Erin Brockovich Roberts, while The West Wing, Sex and the City and America's favorite Mafioso sweethearts, James Gandolfini and Edie Falco, took home the Emmys.
Tom Cruise topped Forbes' list of the world's 100 highest-paid celebrities.
Robert Mueller was confirmed as FBI director.
Some things envisioned in the 1968 film 2001: A Space Odyssey seemed a bit anachronistic — such as the haircuts, clothing styles and the general sense of formality. However, though not mainstream by 2001, videophones and conversing with computers did ring true. "Play Mariah Carey on Pandora, HAL."
— Greg Carannante
Related Articles
Share
About Author
(0) Readers Comments