By Greg Carannante
City & Shore Magazine
It's 1991. A moment of truth arrives for a 30-something Italian-American from a mob-muscled neighborhood in South Philly.
He started out slinging hoagies out of his mother's basement, but now he has a wife and two kids and he's gotta man up — try to sidestep a life that would almost surely amount to no good.
At the urging of his "Uncle" Ray, a dear family friend in Fort Lauderdale, he's come down to scout restaurant locations. But it's been three days and nothing's clicked. He's giving it up, resigned to the inevitable mobster destiny awaiting him back in Philadelphia.
He's on his way there now, airport-bound on I-95. "Uncle" Ray hasn't given up, though. He's relentless. He's found the perfect place, he says. It's in Lauderdale. "Do me a favor. Just take a look."
At the last minute, the Philly guy gives in, says what the hell and pulls off onto the East Oakland Park Boulevard exit. He follows it almost all the way to the ocean, to a little strip mall with an unlisted restaurant that "Uncle" Ray somehow knew was up for sale.
And what do you know. It's the perfect place.
It's an offer he couldn't refuse.
It's the moment Steve Martorano becomes a different kind of made man — a self-made man.
And it's the moment that arguably Fort Lauderdale's most famous restaurant is born.
****
Café Martorano is the Italian stallion of local restaurants, its fluke of an origin story crystalized this year by a 30th anniversary. It's somehow fitting that it is in a sense the godchild of another Fort Lauderdale hotspot whose celebrity extended far beyond South Florida — Bachelor's III, the '70s-era nightclub co-owned by football legend Joe Namath. One of the other two bachelors? Namath's teammate, "Uncle" Ray Abruzzese.
Like its made-man vibe, everything about Café Martorano is a hyper-extension of its owner's personality — informed by his love for music and gangster movies and a Philly family style that's cooked into everything, from the culinary influence of his Sicilian grandparents to what he calls pasta ("macaroni") to what he calls everybody ("cuz").
He didn't set out to be a restaurateur. He started out as a nightclub DJ.
"But it didn't happen like it was supposed to. So I thought, I liked food, right? I watched my mother and my grandmother cook. I said, let me start a business. I had no money — no matter what you think, most guys that are connected are broke. Most of them are just chasing that money."
He opened a one-man sandwich business out of his South Philly apartment, eventually relocating to his mom's basement.
"I was cooking. I had my mother answering the phone. I had my grandmother washing dishes. I hired a delivery guy, and before you know it, we had a nice business."
He parlayed it into a takeout place and then a sit-down restaurant, but was eventually waylaid by the economic downturn of the 1980s.
And that's where "Uncle" Ray comes in.
Three decades later, Café Martorano still enjoys a success that enables it to eschew reservations, as well as a lifespan rarely found in the mercurial milieu of Fort Lauderdale dining. It's a place where you're having dinner and a disco breaks out, where the "don't bust balls" attitude is inscribed on the menu and the food keeps 'em coming back anyway, where the flat-screen TVs play The Godfather and the music is almost as important as the meatballs. And it has stirred up more than its share of celebrity, perhaps no more so than on the August night in 2001 when a dozen Sopranos cast members came to break bread.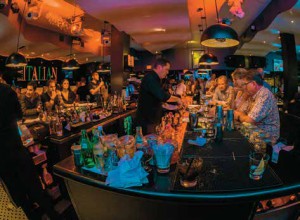 "You can't name me one place 30 years ago that even thought about having a DJ," says Martorano, whose maestro-chef persona is itself a draw. "But now wherever you go, there's DJs. I'm a little guy in South Florida saying, I did this 30 years ago. Nobody did that. Nobody. And it's not just a DJ. The owner was cooking — and he's spinning music. Try to find that today!"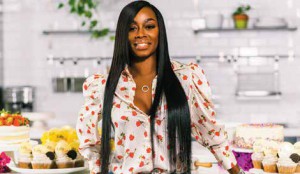 Marsha Daley-Martorano
Actually, you can find a version of that in Las Vegas and Atlantic City, where Martorano locations were opened under the leadership of Steve's co-owner, pastry chef and wife, Marsha Daley-Martorano. More enterprises are on the way, too, including a Pittsburgh steakhouse and the rollout of Lilly Cakes, Marsha's dessert brand. And plans for a casual-style eatery with takeout were inspired by the bang-up business the restaurant did when it converted to takeout for a month at the beginning of the pandemic.
"It blew up," says Martorano, who has 38,000 Instagram followers. "I had people coming from Miami to West Palm Beach — and I want to say this on the record: I gotta be the most expensive Italian-American restaurant in the country. I gotta be. And the reason why is the quality and the way we do things. But who do you know that's gonna drive from West Palm Beach or Miami for takeout food? And by the time they got it home, it was still hot!"
Martorano never shut it down during the pandemic.
"From day one, I made a vow not to close my doors. I did not let anybody go. But you know, I've got guys that worked for me for 28 years. And all of a sudden, the younger people in their late 20s, early 30s were coming in. They were saying: 'We just don't want to eat. We want to have an experience.' Before you know it, my whole crowd has turned around and it's all new faces who are becoming regulars. That to me is amazing."
At 64, muscle-bound and tatted, Martorano continues "tossing macaroni" and spinning his music at the Italian-American institution that his "Uncle" Ray found for him.
"What kept us going all these years has been the food, the consistency of the food. I'm not that smart," he says. "I'm just a working guy that's been blessed."
In a conversation with City & Shore, he broke it all down from the beginning.
****
What was your life like in Philly?
I never had a goal, never had a dream, never had a vision. I never went to school. I mean, I went to high school, but I never had to go to class because I was always doing favors for the teachers. My family was a very influential family in Philadelphia — just read between the lines. So my life was to be a gangster because that's my family, that's what we were. That's what I wanted to be.
But before you know it, a lot of my friends are getting locked up. Then one of my cousins got life without parole for a marijuana charge, and that's where I was headed. I knew in my head, the end of the road was either you're going to die or go to prison. One of the two. So I said, I got to do something now.
How'd you end up in Fort Lauderdale?
I had a very dear friend of mine, I call him 'Uncle' Ray, who played with Joe Namath. He lived in a penthouse on Oakland Park and he owned Bachelors III. I call him. He says, Steve, what are you doing? I say, I'm losing everything. Business ain't good here. I don't want to go back on the street. And he goes, why don't you come to Florida?
I had two kids. My wife has a girlfriend in Coral Springs, so I go to Coral Springs. I'm staying at these people's house. They bring me around to restaurants. Everybody was in bed like at 10 o'clock in Coral Springs. And I say, wait a minute, my restaurant's got to be open till 11, 12. I want to have a little bit of music. This ain't right for me. I want to go back to Philly.
I call Ray. He says, What are you doing in Coral Springs? I say, I got kids and it's the best school system. He says, no, you open the business in Lauderdale. That's where you belong. You drive home every night. What's the big deal?
I say, listen, I'm leaving in an hour to get to the airport. I ain't got time. This is how my life changes. He says these exact words: Stop being a South Philly jerk—. Do me a favor. There's a place across the street. It's called Michael's. He's packed. There's no sign but I know it's for sale. Just look at it.
I say, Ray, it's not for me, Florida. I want to get back home. He calls me 30 times. On the way to the airport, as I'm driving on 95, I say, listen, let me just go — just to please this guy. I come off of 95. I pull into the parking lot. I walk over to the window and I look inside and they have five tables, a stove and a pizza oven. And just like that, I say this is for me. It's perfect.
I got back on the plane, went home, made the deal, bought a house in Coral Springs. By the time I put the product in the restaurant, I had $40 to my name. And that's how my life changed. And from there I went to work seven days a week. And I did that for 30 years now. 
Congratulations on the anniversary. 
I tell you what, there ain't too many places that can say it. Our place is busier, more exciting, more of an experience when people come in now. It's been amazing. But think about that. I don't get off 95, I go straight to the airport? I know I'd be dead or in jail. That's the bottom line.
How long did it take for the restaurant to catch on?
When we opened, I had nobody. I was the cook. I had a kid washing dishes by hand. I had my first wife as a waitress. And my mother was at the register. So it took about two years. And before you know it, the phone rings and one of my new guys says Tony Bennett wants to come and eat. Then Dan Marino came in with his wife. That clicked. And then Wilt Chamberlain came in. He loved my mother. That clicked.
I had these two little speakers and I was playing soul music, 'cause that's what I liked. And I was playing The Godfather on TV because I love Italian-American movies. When I wasn't busy, I was watching TV or listening to my music. So I just incorporated that. All that just grew like a baby. There was no foresight, it was just my personality. That's what it was.
When the rappers started to come, I would say, do me a favor, sing something. I would give them the mic and they would just kick it up. And before you know it, Jamie Foxx is singing. Ludacris comes in, he's singing. When was the last time you went to a restaurant and a performer just got up — not a guy singing Sinatra or Dean Martin — a performer from today, singing hits and just doing a show while you're having dinner. Where? Nowhere.
You want to have a conversation? You come at 6 all the way up to like 9 o'clock. And then, if the crowd warrants it — it warrants it every Friday and Saturday — but if it happens to be a Tuesday or Wednesday and it's got a nice vibe, you see somebody get up on top of a chair and start moving, then I raise the volume up and it turns into a club. I have a beautiful light show. I got headphones on. I'm tossing macaroni and I'm spinning. And people are just having a ball.
What's the highest compliment of your food that you can receive?
When someone comes over to me, and it happens so often: 'My mother passed away. You brought me back home. I haven't had these flavors since.' Realistically, it's just Italian-American cooking with a high level of quality. Everybody could have veal, ours is different. Everybody could have olive oil, ours is different. We took Italian-American to the next level with quality.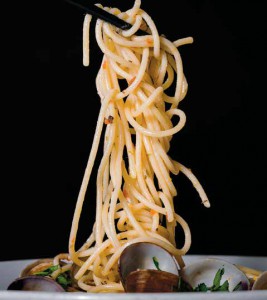 What's your favorite dish on the menu?
Linguine and clams. I grew up with Progresso clam sauce in a can. If I'm at home and don't have any clams, I always got the Progresso in, cuz. I could eat it out of the can without heating it up. Think about that.
It says something that though 'pasta' is the common word now, you still call it 'macaroni.'
I don't remember anybody in my family saying pasta. My mother would say, Steve, go get a pound of macaroni. Now what that meant was go get any kind you wanted.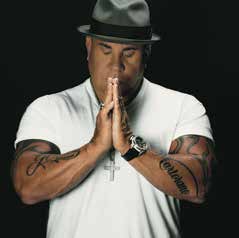 And what did you get?
My favorite was perciatelli. Bucatini, they also say. No, one thing I learned was, no matter how successful you become, always remember where you came from. Don't ever be ashamed of how you grew up. I try to keep that tradition alive.
Photos courtesy Steve Martorano.
Related Articles
Share
About Author
(0) Readers Comments