By Eric Barton
City & Shore Magazine
Tourism really didn't exist in Puerto Rico before the island's government built a hotel in 1946, hoping somebody would come operate it. The only one who would was famed hotelier Conrad Hilton, who imagined building an industry on a peninsula between the calm waters of the bay and ocean waves that break on a beach of caramel sand.
It would become the Caribe Hilton, Puerto Rico's iconic hotel, and it would also become the birthplace of perhaps the world's most recognizable cocktail. Looking to create a welcome drink handed to guests when they arrived, Caribe Hilton bartender Ramón "Monchito" Marrero in 1954 grated fresh coconut into a creamy pulp, added pineapple juice and shaved ice and called it the Piña Colada. Somebody equally brilliant later decided to add rum.
Of course, you can order something close to that original recipe now at resorts from the Maldives to Maui. And even if you shun anything garnished with Corvette-red cherries and tiny umbrellas, there's something undeniably lovable about the Piña Colada, some power it seems to have to bring us to a state of vacation. Like hearing calypso music from a beachfront tiki bar or watching the sun set over Mallory Square, it tastes of afternoons whittled away poolside, happy hour on an upper deck, a lawn chair at a lazy backyard barbecue.
It's also a drink so often made poorly. You've maybe watched a cruise ship bartender pour ice and a cloyingly sweet Piña Colada mix out of a plastic jug into a blender and call it a cocktail. There are undoubtedly some who think of it as too fruity, too sweet, the bar order of an inexperienced spring breaker. So, we went on a hunt for a truly fine Piña Colada in Old San Juan, right where it was invented, a place that claims the cocktail in the same way some places remember somebody famous who grew up there.
The obvious first stop is the Caribe Hilton, which got an extensive $150 million renovation in 2019. The open-air bar where Marrero invented the drink is now down a few steps from the lobby, with windows facing out to the poolside palms constantly in motion from a salty ocean breeze. Just minutes off the plane, we ask the bartender for the original. He explains that every day the hotel mixes coconut cream, heavy cream and pineapple juice together, storing it in jugs to be blended later with crushed ice.
Marrero didn't mix his in a blender, but this version is exactly what you likely picture as a Piña Colada: as creamy as a milkshake, sweet, fruity, and icy enough to cut the heat of a Puerto Rican summer day.
Heading west on the island that holds the Old San Juan neighborhood, weaving down narrow streets covered in bricks the color of old jeans, there's a restaurant that also bills itself as theinventor of the Piña Colada. Barrachina makes the claim on a big metal plaque outside and emblazoned on well-trod rugs that seem fused to saltillo tile. It has the character of the French Quarter's Pat O'Brien's or maybe Margaritaville, and it's a place Anthony Bourdain, in his Puerto Rico episode, hated real hard.
They say Marrero worked here before going to the Caribe Hilton, and the story goes that he created a drink at Barrachina that uses coconut cream and frozen pineapple juice – no shaved ice. To get one nowadays you stand in line, quite possibly with a crowd of cruise ship passengers or tour bus riders, in a hallway with a downwardsloping
roof from the stairwell that runs overhead. The cashier dispenses the drinks from a slushy style machine. It would be easy to have a Bourdain-level disgust for the whole process. We take the little plastic cup of perfectly mixed yellowish drink to the restaurant's courtyard. And, damn, it's quite good.
The frozen drink dispensers make it perfectly blended, and it tastes fruitier since there's no added ice. It doesn't really seem like a Piña Colada, though, not as we define it today; it's just too pineapple-heavy, with little coconut flavor, and as sweet as a tray of pecan brittle – a rough draft before Marrero perfected his drink at the Caribe.
So the next stop is a place that promises something more elevated, a new take on the classic. La Factoria is a bar up on the hill of Old San Juan, an open-air space that looks like somebody started to redo a colonial building and then stopped halfway through, the plaster walls artfully peeling and a big, imposing bar in front of mismatched living room furniture. They don't have a Piña Colada, the Brooklyn-cool server explains, but he promises we're going to love an approximation. It's served on the rocks, tasting like coconut and pineapple and also overwhelmingly of ginger. It's not a Piña Colada by a long shot, but you might think it's good – maybe great – and unlike the original, a whole lot of us could have three of them in a night.
The following evening we find an even better update to the drink at what might be San Juan's best restaurant, Jose Enrique. Here it's called Naturola, served over crushed ice and rum or vodka, coconut water, pineapple and passion fruit. That last addition gives it a bit of a tang missing in the original Piña Colada, and it makes for a far more balanced drink.
Neither of those cocktails that somebody more sophisticated might call elevated are true to the original. It can't be a Piña without being frozen, and without tasting first and foremost of pineapple and coconut. So we spend the dinner at Jose Enrique dreaming up a new recipe, something that could still be rightfully called a Piña Colada but more drinkable.
It could start with pineapple-infused rum to pick up the flavor of the fruit without the sweetness and coconut water ice cubes to make it slushy without becoming overly rich. The recipe comes up on a morning drive to the Carabalí Rainforest Adventure Park. Our tour guide offers advice: use frozen pineapple chunks for a fruitier flavor and thicker consistency – a fine addition.
We zoom up muddy paths deep into the jungle and stop halfway through at an open-air restaurant, the smell of barbecued chicken skewers luring us into the shade of the corrugated metal roof. A young woman behind the counter uses a machete to chop the tops off coconuts that she then fills with coconut milk, pineapple juice and chunky ice. It's far simpler than any other Piña Colada we've had, and yet it's so refreshing it's hard not to drink it down in two big sips.
The next day, on the final stop of the search, we head to El Patio De Sam, just down the block from San Juan's recently renovated 16th century church. El Patio has the feel of a well-liked establishment, a place where locals and tourists go for big orders of buttery mofongo and rich red beans and rice. They sit us in an enclosed courtyard covered in a glass ceiling, and even on a cool afternoon, the place is sweltering with sticky air. The Piña Colada comes out looking like the one you've seen so many times: clear plastic cup, a cherry sinking below the surface and leaving behind a slick of pink. It's good though, maybe even great, not anything new or reinvented, likely the exact recipe Marrero created. Fighting the heat, we make slurping sounds getting the last bits of it from the bottom of the cup.
Is that original from the Caribe the best Piña Colada, the quintessential one that you must try? Is it better than the chefy creation at Jose Enrique?
In the end, it doesn't matter. The best Piña Colada is the one you order on your next vacation, wherever that is, however it's made, as long as it's icy and maybe too sweet and, in a moment, going to take you, at least in your mind, to a faraway beach somewhere.
RECIPES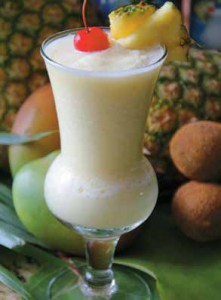 The Caribe Hilton Piña Colada (above)
2 oz. rum
1 oz. Coco Lopez coconut cream
1 oz. heavy cream
6 oz. fresh pineapple juice
1/2 cup crushed ice
The historic Caribe Hilton (caribehilton.com) created the original drink, and this recipe tastes like a vacation in a glass, equal parts creamy, sweet and fruity. Add the ingredients to a blender and mix for 15 seconds or until icy and smooth. Garnish with an umbrella, a cherry and a chunk of pineapple.
The New Piña Colada
1 cup white or dark rum
2 cups pineapple chunks
1 cup coconut water
1/2 cup coconut milk
Inspired by the original but updated for a time when cream and sweet juice aren't as popular, this version might take a few days, but this recipe for two drinks is a downright crowd-pleaser. First, soak the rum in half the pineapple for at least three days before straining. Place the other half of the pineapple chunks in the freezer until solid and freeze the coconut water in an ice cube tray. Add the infused rum, coconut water ice cubes, coconut milk and frozen pineapple chunks to a blender and blend on high for 15 seconds. Umbrella optional.
Related Articles
Share
About Author
(0) Readers Comments